Honda Cross Reference Software

This software allows you to find those obscure parts for your ride.

Includes Motorcycles and ATVs from all over the world.

Make sure your model and country are included.

Zedder Enterprises is in no way affiliated with Honda.

Click here for a list of included models

Run Program and list the 5537 models included
Click on a model to get a list of parts used. In this case we see the 2000 TRX300 is comprised of 954 different parts.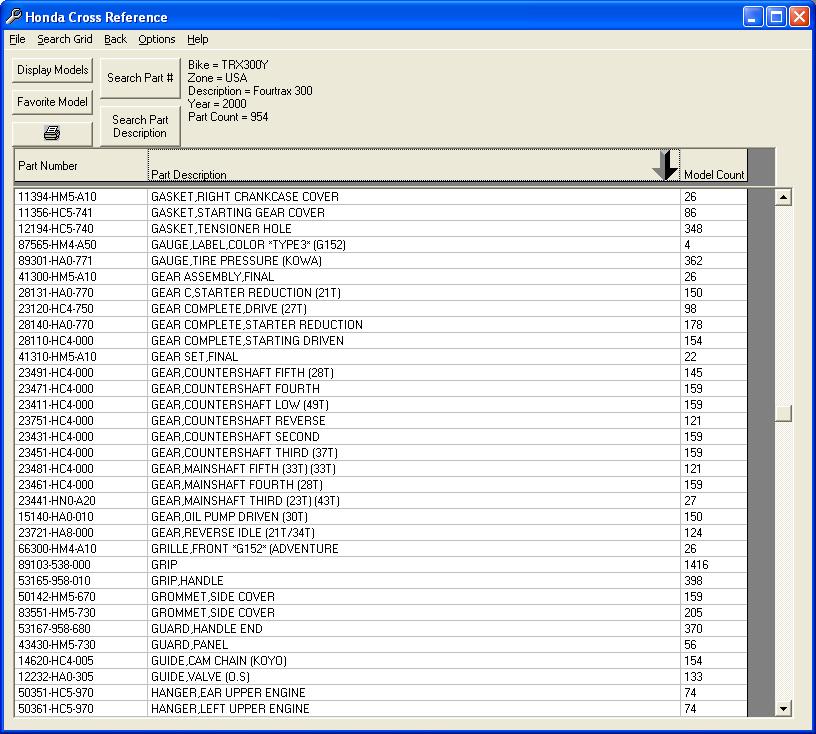 Click a part to see which model this part also fits. In this case we see the Countershaft Fifth Gear also fits 145 other models.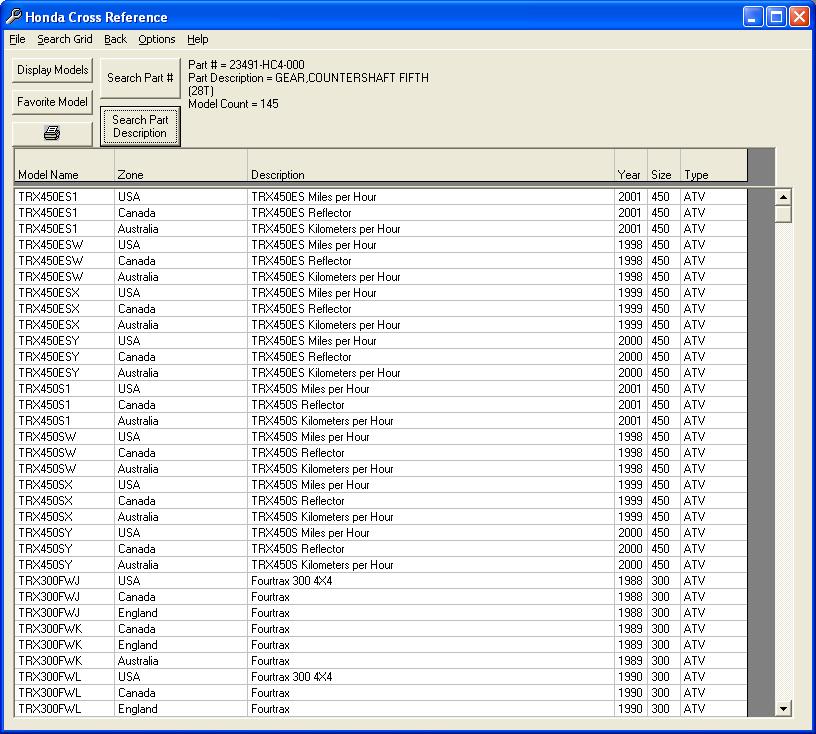 You can also search by part number. Here we see there are two parts starting with 123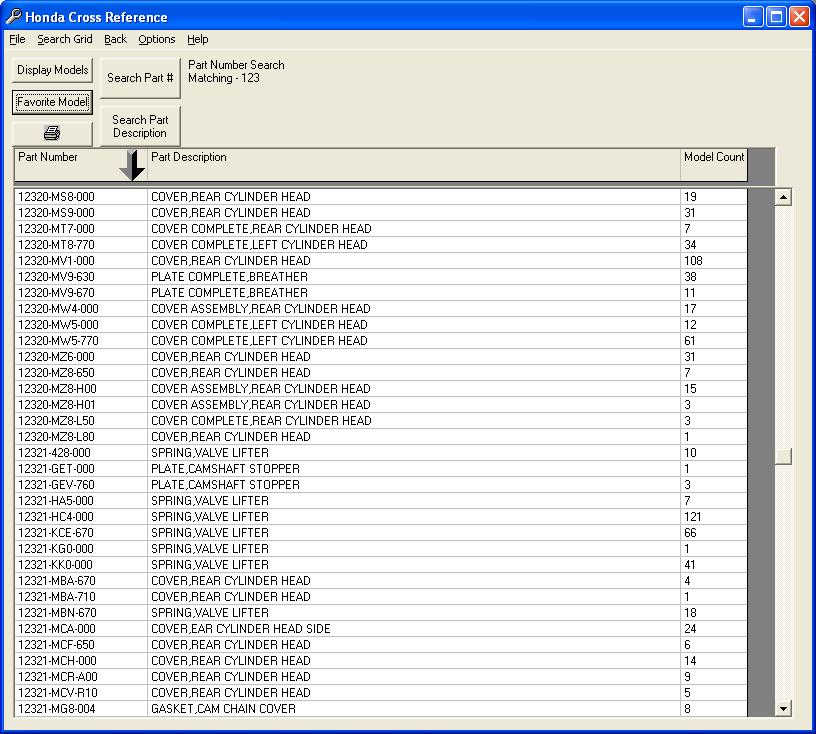 Models Included in this cross reference are

Model Zone Desc Year
ANF1253 England ANF125 2003
ANF1253 European Direct Sales ANF125 2003
ANF125 England ANF125 2005
ANF1255 European Direct Sales ANF125 2005
ANF1255 France ANF125 2005
ANF125T5 England ANF125T 2005
ANF125T5 European Direct Sales ANF125T 2005
ANF125T5 France ANF125T 2005
ATC250ESH Canada ATC250ES Made in Kumamoto 1987
ATC250ESH Canada ATC250ES Made in Hamamatsu 1987
ATC250ESH England ATC250ES 1987
ATC250ESH European Direct Sales ATC250ES 1987
ATC250ESH Australia ATC250ES 1987
ATC250ESJ Canada ATC250ES 1988
ATC250ESJ England ATC250ES 1988
ATC250ESJ European Direct Sales ATC250ES 1988
ATC250ESJ Australia ATC250ES 1988
C50J Greece C50 1988
C50N Greece C50 1992
C50P Greece C50 1993
C50SN England C50S 1992
C50SN Greece C50S 1992
C50SP Greece C50S Kilometers per Hour Rectangle Back Mirror 1993
C50SP General Export Spanish C50S Miles per Hour 1993
C50ST Greece C50S Kilometers per Hour 1996
C50ST General Export Spanish C50S Miles per Hour 1996
C50SWR General Export KPM C50SW 1994
C50T Greece C50 Miles per Hour 1996
C50Z2P General Export KPH C50Z2 Kilometers per Hour 1993
C70CWR BU C70CW Square Headlight 1994
C70CWR General Export KPH C70CW Square Headlight 1994
C70CWR Signapore C70CW Square Headlight 1994
C70ZP General Export KPH C70Z Kilometers per Hour 1993
C90CWR General Export KPH C90CW Square Headlight 1994
C90CWV General Export KPH C90CW Square Headlight 1997
C90MN England C90M Self Starter Square Signals 1992
C90MP England C90M Self Starter 1993
C90MP Greece C90M Self Starter 1993
C90MT England C90M 1996
C90MT Greece C90M 1996
C90N England C90 Square Signals 1992
C90P England C90 1993
C90P Greece C90 1993
C90ST2 Mexico C90ST Round Signal 2002
C90STR Mexico C90ST Round Signal Single Seat 1994
C90STW Mexico C90ST Round Signal Single Seat 1998
C90STX Mexico C90ST Round Signal Single Seat 1999
C90STY Mexico C90ST Round Signal 2000
C90T England C90 1996
C90T Greece C90 1996
C90ZN Mexico C90Z Kilometers per Hour Made in Kumamoto Single Seat 1992
C90ZN Mexico C90Z Kilometers per Hour Made in Suzuka Single Seat 1992
C90ZP General Export KPH C90Z Kilometers per Hour 1993
C90ZP Mexico C90Z Kilometers per Hour Single Seat 1993
CA125S Austria Rebel Kilometers per Hour 1995
CA125S Belgium Rebel Kilometers per Hour 1995
CA125S England Rebel Miles/Kilometers per Hour 1995
CA125S France Rebel Caution Label in French Kilometers per Hour 1995
CA125S Germany Rebel Kilometers per Hour 1995
CA125S Netherlands Rebel Kilometers per Hour 1995
CA125S Italy Rebel Kilometers per Hour 1995
CA125S Portugal Rebel Kilometers per Hour 1995
CA125S Spain Rebel Kilometers per Hour 1995
CA125S Switzerland Rebel Kilometers per Hour 1995
CA125T Austria Rebel Kilometers per Hour 1996
CA125T Belgium Rebel Kilometers per Hour 1996
CA125T England Rebel Miles/Kilometers per Hour 1996
CA125T France Rebel Caution Label in French Kilometers per Hour 1996
CA125T Germany Rebel Kilometers per Hour 1996
CA125T Netherlands Rebel Kilometers per Hour 1996
CA125T Italy Rebel Kilometers per Hour 1996
CA125T Portugal Rebel Kilometers per Hour 1996
CA125T Spain Rebel Kilometers per Hour 1996
CA125T Switzerland Rebel Kilometers per Hour 1996
CA125V Austria Rebel Kilometers per Hour 1997
CA125V Belgium Rebel Kilometers per Hour 1997
CA125V England Rebel Miles/Kilometers per Hour 1997
CA125V European Direct Sales Rebel Kilometers per Hour 1997
CA125V France Rebel Caution Label in French Kilometers per Hour 1997
CA125V Germany Rebel Kilometers per Hour 1997
CA125V Germany Rebel Kilometers per Hour Speed Limit 1997
CA125V Switzerland Rebel Kilometers per Hour 1997
CA125W Austria Rebel Kilometers per Hour 1998
CA125W England Rebel Miles/Kilometers per Hour 1998
CA125W European Direct Sales Rebel Kilometers per Hour 1998
CA125W France Rebel Kilometers per Hour 1998
CA125W Germany Rebel Kilometers per Hour 1998
CA125W Germany Rebel Kilometers per Hour Speed Limit 1998
CA125W Switzerland Rebel Kilometers per Hour 1998
CA125X Austria Rebel Kilometers per Hour 1999
CA125X England Rebel Miles/Kilometers per Hour 1999
CA125X European Direct Sales Rebel Kilometers per Hour 1999
CA125X France Rebel Caution Label in French Kilometers per Hour 1999
CA125X Germany Rebel Kilometers per Hour 1999
CA125X Germany Rebel Kilometers per Hour Speed Limit 1999
CA125X Switzerland Rebel Kilometers per Hour 1999
CB1000FP Austria CB1000F Kilometers per Hour 1993
CB1000FP England CB1000F Miles/Kilometers per Hour 1993
CB1000FP European Direct Sales CB1000F Kilometers per Hour 1993
CB1000FP France CB1000F Caution Label in French Kilometers per Hour 1993
CB1000FP Germany CB1000F Kilometers per Hour 1993
CB1000FP Germany CB1000F Kilometers per Hour 50 HP 1993
CB1000FP Northern Europe CB1000F Kilometers per Hour 1993
CB1000FP Spain CB1000F Kilometers per Hour 1993
CB1000FP Switzerland CB1000F Kilometers per Hour 1993
CB1000FR Austria CB1000F Kilometers per Hour 1994
CB1000FR England CB1000F Miles/Kilometers per Hour 1994
CB1000FR European Direct Sales CB1000F Kilometers per Hour 1994
CB1000FR France CB1000F Caution Label in French Kilometers per Hour 1994
CB1000FR Germany CB1000F Kilometers per Hour 1994
CB1000FR Germany CB1000F Kilometers per Hour 50 HP 1994
CB1000FR Northern Europe CB1000F Kilometers per Hour 1994
CB1000FR Spain CB1000F Kilometers per Hour 1994
CB1000FR Switzerland CB1000F Kilometers per Hour 1994
CB1000FS Austria CB1000F Kilometers per Hour 1995
CB1000FS England CB1000F Miles/Kilometers per Hour 1995
CB1000FS European Direct Sales CB1000F Kilometers per Hour 1995
CB1000FS France CB1000F Caution Label in French Kilometers per Hour 1995
CB1000FS Germany CB1000F Kilometers per Hour 1995
CB1000FS Germany CB1000F Kilometers per Hour 50 HP 1995
CB1000FS Northern Europe CB1000F Kilometers per Hour 1995
CB1000FS Australia CB1000F Kilometers per Hour 1995
CB1000FT Austria CB1000F Kilometers per Hour 1996
CB1000FT England CB1000F Miles/Kilometers per Hour 1996
CB1000FT European Direct Sales CB1000F Kilometers per Hour 1996
CB1000FT France CB1000F Caution Label in French Kilometers per Hour 1996
CB1000FT Germany CB1000F Kilometers per Hour 1996
CB1000FT Germany CB1000F Kilometers per Hour 50 HP 1996
CB1000FT Northern Europe CB1000F Kilometers per Hour 1996
CB1000FT Spain CB1000F Kilometers per Hour 1996
CB1000FT Switzerland CB1000F Kilometers per Hour 1996
CB1100SF1 England CB1100SF 2001
CB1100SF1 European Direct Sales CB1100SF 2001
CB1100SF1 France CB1100SF 100 HP 2001
CB1100SFY England CB1100SF 2000
CB1100SFY European Direct Sales CB1100SF 2000
CB1100SFY France CB1100SF 100 HP 2000
CB125TDJ England CB125TD 1988
CB125TDJ France CB125TD 1988
CB125TP Singapore CB125T 1993
CB13005 England CB1300 Super Four Miles/Kilometers per Hour 2005
CB13005 England CB1300 Super Four Miles/Kilometers per Hour 3E 2005
CB13005 European Direct Sales CB1300 Super Four Kilometers per Hour 2005
CB13005 European Direct Sales CB1300 Super Four Kilometers per Hour 2ED 2005
CB13005 EK CB1300 Super Four Kilometers per Hour 2005
CB13005 EK CB1300 Super Four Kilometers per Hour 4EK 2005
CB13005 France CB1300 Super Four Caution Label in French Kilometers per Hour 2005
CB13005 France CB1300 Super Four Caution Label in French Kilometers per Hour 2F 2005
CB13005 Australia CB1300 Super Four Kilometers per Hour 2005
CB1300A5 England CB1300 Super Four Miles/Kilometers per Hour 2005
CB1300A5 England CB1300 Super Four Miles/Kilometers per Hour 3E 2005
CB1300A5 European Direct Sales CB1300 Super Four Kilometers per Hour 2005
CB1300A5 European Direct Sales CB1300 Super Four Kilometers per Hour 2ED 2005
CB1300A5 EK CB1300 Super Four Kilometers per Hour 2005
CB1300A5 EK CB1300 Super Four Kilometers per Hour 4EK 2005
CB1300A5 France CB1300 Super Four Caution Label in French Kilometers per Hour 2005
CB1300A5 France CB1300 Super Four Caution Label in French Kilometers per Hour 2F 2005
CB1300A5 Korea CB1300 Super Four Kilometers per Hour 2005
CB1300F13 England CB1300 Super Four 2003
CB1300F13 European Direct Sales CB1300 Super Four 2003
CB1300F13 France CB1300 Super Four Caution Label in French 2003
CB1300F13 Australia CB1300 Super Four 2003
CB1300F3 England CB1300 Super Four 2003
CB1300F3 European Direct Sales CB1300 Super Four 2003
CB1300F3 France CB1300 Super Four Caution Label in French 2003
CB1300F3 Australia CB1300 Super Four 2003
CB1300S5 Australia CB1300 Super Bol d`Or 2005
CB1300SA5 England CB1300 Super Bol d`Or Miles/Kilometers per Hour 2005
CB1300SA5 England CB1300 Super Bol d`Or Miles/Kilometers per Hour 3E 2005
CB1300SA5 European Direct Sales CB1300 Super Bol d`Or Kilometers per Hour 2005
CB1300SA5 European Direct Sales CB1300 Super Bol d`Or Kilometers per Hour 2ED 2005
CB1300SA5 EK CB1300 Super Bol d`Or Kilometers per Hour 2005
CB1300SA5 EK CB1300 Super Bol d`Or Kilometers per Hour 4EK 2005
CB1300SA5 France CB1300 Super Bol d`Or Caution Label in French Kilometers per Hour 2005
CB1300SA5 France CB1300 Super Bol d`Or Caution Label in French Kilometers per Hour 2F 2005
CB1300SA5 Korea CB1300 Super Bol d`Or Kilometers per Hour 2005
CB2501 Belgium CB250 2001
CB2501 Netherlands CB250 2001
CB2501 Portugal CB250 2001
CB2501 Spain CB250 2001
CB2504 HK CB250 2004
CB250M Canada Nighthawk Kilometers per Hour 1991
CB250M Mexico Nighthawk Kilometers per Hour 1991
CB250N Canada Nighthawk Kilometers per Hour 1992
CB250N England Two Fifty Miles per Hour 1992
CB250N Spain CB250 1992
CB250N Australia Two Fifty Kilometers per Hour 1992
CB250P Singapore Nighthawk Kilometers per Hour 1993
CB250P4 HK CB250 Patrol Light Red 2004
CB250P4 HK CB250 Patrol Light Red Single Seat 2004
CB250P5 CH CB250 2005
CB250PT CH CB250 Patrol Light Blue 1996
CB250PT CH CB250 Patrol Light Blue Single Seat 1996
CB250PT CH CB250 Patrol Light Red 1996
CB250PT CH CB250 Patrol Light Red Single Seat 1996
CB250PT PL CB250 Patrol Light Blue 1996
CB250PT PL CB250 Patrol Light Red 1996
CB250PT RT CB250 Patrol Light Blue 1996
CB250PT RT CB250 Patrol Light Red 1996
CB250R Belgium CB250 1994
CB250R France CB250 1994
CB250R Netherlands CB250 1994
CB250R Portugal CB250 1994
CB250R Spain CB250 1994
CB250R Spain CB250 Spoke 1994
CB250T England Two Fifty Miles per Hour 1996
CB250W England Two Fifty Kilometers per Hour 1998
CB250W England Two Fifty Miles per Hour 1998
CB250W HK CB250 1998
CB250W Mexico Two Fifty Kilometers per Hour 1998
CB250W Australia Two Fifty Kilometers per Hour 1998
CB250X Belgium CB250 1999
CB250X France CB250 1999
CB250X Italy CB250 1999
CB250X Mexico Two Fifty Miles per Hour 1999
CB250X Portugal CB250 1999
CB250X Spain CB250 1999
CB250Y England Two Fifty Miles per Hour 2000
CB250Y Mexico Nighthawk Miles per Hour 2000
CB250Y Portugal CB250 2000
CB250Y Spain CB250 2000
CB250Y Australia Two Fifty Kilometers per Hour 2000
CB450SJ Canada CB450S 1988
CB450SJ Denmark CB450S 1988
CB450SJ European Direct Sales CB450S 1988
CB450SJ France CB450S Yellow Bulb 1988
CB450SJ Germany CB450S 1988
CB450SJ Germany CB450S 27 HP 1988
CB5002 England CB500 2002
CB5002 France CB500 2002
CB5002 France CB500 25 KW 2002
CB5002 Germany CB500 2002
CB5002 Germany CB500 25 KW 2002
CB5002 Germany CB500 37 KW 2002
CB5002 Italy CB500 2002
CB5002 Northern Europe CB500 2002
CB5002 Switzerland CB500 2002
CB500R Austria CB500 Kilometers per Hour 1994
CB500R England CB500 Miles per Hour 1994
CB500R France CB500 Kilometers per Hour 1994
CB500R Germany CB500 Kilometers per Hour 1994
CB500R Germany CB500 Kilometers per Hour 27 HP 1994
CB500R Germany CB500 Kilometers per Hour 50 HP 1994
CB500R Italy CB500 Kilometers per Hour 1994
CB500R Italy CB500 Kilometers per Hour 50 HP 1994
CB500R Spain CB500 Kilometers per Hour 1994
CB500R Switzerland CB500 Kilometers per Hour 1994
CB500R SY CB500 Kilometers per Hour 1994
CB500S2 England CB500 2002
CB500S2 France CB500 2002
CB500S2 France CB500 25 KW 2002
CB500S2 Germany CB500 2002
CB500S2 Germany CB500 25 KW 2002
CB500S2 Germany CB500 37 KW 2002
CB500S2 Italy CB500 2002
CB500S2 Northern Europe CB500 2002
CB500S2 Switzerland CB500 2002
CB500SW Austria CB500S 2002
CB500SW Austria CB500S 34 HP 2002
CB500SW England CB500S 2002
CB500SW France CB500S 2002
CB500SW Germany CB500S 2002
CB500SW Germany CB500S 34 HP 2002
CB500SW Germany CB500S 50 HP 2002
CB500SW Italy CB500S 2002
CB500SW Italy CB500S 34 HP 2002
CB500SW Northern Europe CB500S 2002
CB500SW Portugal CB500S 2002
CB500SW Switzerland CB500S 2002
CB500SX Austria CB500S 1999
CB500SX Austria CB500S 34 HP 1999
CB500SX England CB500S 1999
CB500SX France CB500S 1999
CB500SX Germany CB500S 1999
CB500SX Germany CB500S 34 HP 1999
CB500SX Germany CB500S 50 HP 1999
CB500SX Italy CB500S 1999
CB500SX Italy CB500S 34 HP 1999
CB500SX Northern Europe CB500S 1999
CB500SX Portugal CB500S 1999
CB500SX Switzerland CB500S 1999
CB500SY Austria CB500S 2000
CB500SY Austria CB500S 34 HP 2000
CB500SY England CB500S 2000
CB500SY France CB500S 2000
CB500SY France CB500S 34 HP 2000
CB500SY Germany CB500S 2000
CB500SY Germany CB500S 34 HP 2000
CB500SY Germany CB500S 50 HP 2000
CB500SY Italy CB500S 2000
CB500SY Italy CB500S 34 HP 2000
CB500SY Northern Europe CB500S 2000
CB500SY Portugal CB500S 2000
CB500SY Switzerland CB500S 2000
CB500T Austria CB500 1996
CB500T England CB500 1996
CB500T France CB500 1996
CB500T Germany CB500 1996
CB500T Germany CB500 27 HP 1996
CB500T Germany CB500 50 HP 1996
CB500T Italy CB500 1996
CB500T Italy CB500 27 HP 1996
CB500T Northern Europe CB500 1996
CB500T Portugal CB500 1996
CB500T Spain CB500 1996
CB500T Switzerland CB500 1996
CB500V Austria CB500 1997
CB500V Austria CB500 34 HP 1997
CB500V England CB500 1997
CB500V France CB500 1997
CB500V Germany CB500 1997
CB500V Germany CB500 34 HP 1997
CB500V Germany CB500 50 HP 1997
CB500V Italy CB500 1997
CB500V Italy CB500 34 HP 1997
CB500V Northern Europe CB500 1997
CB500V Portugal CB500 1997
CB500V Spain CB500 1997
CB500V Switzerland CB500 1997
CB500W Austria CB500 1998
CB500W Austria CB500 34 HP 1998
CB500W England CB500 1998
CB500W France CB500 1998
CB500W Germany CB500 1998
CB500W Germany CB500 34 HP 1998
CB500W Germany CB500 50 HP 1998
CB500W Italy CB500 1998
CB500W Italy CB500 34 HP 1998
CB500W Northern Europe CB500 1998
CB500W Portugal CB500 1998
CB500W Switzerland CB500 1998
CB500X Austria CB500 1999
CB500X Austria CB500 34 HP 1999
CB500X England CB500 1999
CB500X France CB500 1999
CB500X Germany CB500 1999
CB500X Germany CB500 34 HP 1999
CB500X Germany CB500 50 HP 1999
CB500X Italy CB500 1999
CB500X Italy CB500 34 HP 1999
CB500X Northern Europe CB500 1999
CB500X Portugal CB500 1999
CB500X Switzerland CB500 1999
CB500Y Austria CB500 2000
CB500Y Austria CB500 34 HP 2000
CB500Y England CB500 2000
CB500Y France CB500 2000
CB500Y France CB500 34 HP 2000
CB500Y Germany CB500 2000
CB500Y Germany CB500 34 HP 2000
CB500Y Germany CB500 50 HP 2000
CB500Y Italy CB500 2000
CB500Y Italy CB500 34 HP 2000
CB500Y Northern Europe CB500 2000
CB500Y Portugal CB500 2000
CB500Y Switzerland CB500 2000
CB600F1 England CB600F Miles/Kilometers per Hour 2001
CB600F1 European Direct Sales Hornet Kilometers per Hour 2001
CB600F1 European Direct Sales Hornet Kilometers per Hour 34 HP 2001
CB600F1 European Direct Sales Hornet Kilometers per Hour 50 HP 2001
CB600F1 France Hornet Kilometers per Hour 2001
CB600F1 France Hornet Kilometers per Hour 34 HP 2001
CB600F1 Netherlands CB600F Kilometers per Hour 2001
CB600F1 Netherlands CB600F Kilometers per Hour 34 HP 2001
CB600F1 Switzerland Hornet Kilometers per Hour 2001
CB600F2 England CB600S Miles/Kilometers per Hour 2002
CB600F2 European Direct Sales Hornet S 2002
CB600F2 European Direct Sales Hornet S Kilometers per Hour 2002
CB600F2 European Direct Sales Hornet S Kilometers per Hour 34 HP 2002
CB600F2 France Hornet S Kilometers per Hour 2002
CB600F2 France Hornet S Kilometers per Hour 34 HP 2002
CB600F2 Netherlands CB600S 2002
CB600F2 Netherlands CB600S Kilometers per Hour 34 HP 2002
CB600F2 Switzerland Hornet S 2002
CB600F21 England CB600S Miles/Kilometers per Hour 2001
CB600F21 European Direct Sales Hornet S 2001
CB600F21 European Direct Sales Hornet S Kilometers per Hour 2001
CB600F21 European Direct Sales Hornet S Kilometers per Hour 34 HP 2001
CB600F21 France Hornet S Kilometers per Hour 2001
CB600F21 France Hornet S Kilometers per Hour 34 HP 2001
CB600F21 Netherlands CB600S 2001
CB600F21 Netherlands CB600S Kilometers per Hour 34 HP 2001
CB600F21 Switzerland Hornet S 2001
CB600F21 Australia Hornet S Kilometers per Hour 2001
CB600F22 England CB600S Bikini Cowl Miles/Kilometers per Hour 2002
CB600F22 European Direct Sales Hornet S Bikini Cowl 2002
CB600F22 European Direct Sales Hornet S Bikini Cowl Kilometers per Hour 2002
CB600F22 European Direct Sales Hornet S Bikini Cowl Kilometers per Hour 34 HP 2002
CB600F22 France Hornet S Bikini Cowl Kilometers per Hour 2002
CB600F22 France Hornet S Bikini Cowl Kilometers per Hour 34 HP 2002
CB600F22 Netherlands CB600S Bikini Cowl 2002
CB600F22 Netherlands CB600S Bikini Cowl Kilometers per Hour 34 HP 2002
CB600F22 Switzerland Hornet S Bikini Cowl 2002
CB600F2Y England Hornet HC Miles/Kilometers per Hour 2000
CB600F2Y European Direct Sales Hornet HC Kilometers per Hour 2000
CB600F2Y European Direct Sales Hornet HC Kilometers per Hour 34 HP 2000
CB600F2Y European Direct Sales Hornet HC Kilometers per Hour 50 HP 2000
CB600F2Y France Hornet Caution Label in French HC Kilometers per Hour 2000
CB600F2Y France Hornet Caution Label in French HC Kilometers per Hour 34 HP 2000
CB600F2Y Netherlands CB600F HC Kilometers per Hour 2000
CB600F2Y Netherlands CB600F HC Kilometers per Hour 34 HP 2000
CB600F2Y Switzerland Hornet HC Kilometers per Hour 2000
CB600F2Y Australia Hornet HC Kilometers per Hour 2000
CB600F3 England Hornet 2003
CB600F3 European Direct Sales Hornet 2003
CB600F3 European Direct Sales Hornet 25 KW 2003
CB600F3 European Direct Sales Hornet 37 KW 2003
CB600F3 France Hornet 2003
CB600F3 France Hornet 25 KW 2003
CB600F3 Netherlands CB600F 2003
CB600F3 Netherlands CB600F 25 KW 2003
CB600F4 England Hornet 2004
CB600F4 European Direct Sales Hornet 2004
CB600F4 European Direct Sales Hornet 25 KW 2004
CB600F4 European Direct Sales Hornet 37 KW 2004
CB600F4 France Hornet 2004
CB600F4 France Hornet 25 KW 2004
CB600F4 Netherlands CB600F 2004
CB600F4 Netherlands CB600F 25 KW 2004
CB600F5 England Hornet 2005
CB600F5 European Direct Sales Hornet 2005
CB600F5 European Direct Sales Hornet 25 KW 2005
CB600F5 EK Hornet 2005
CB600F5 France Hornet 2005
CB600F5 Netherlands CB600F 2005
CB600FW England CB600F Miles/Kilometers per Hour 1998
CB600FW European Direct Sales Hornet Kilometers per Hour 1998
CB600FW European Direct Sales Hornet Kilometers per Hour 34 HP 1998
CB600FW European Direct Sales Hornet Kilometers per Hour 50 HP 1998
CB600FW France Hornet Caution Label in French Kilometers per Hour 1998
CB600FW Germany Hornet Kilometers per Hour 1998
CB600FW Netherlands CB600F Kilometers per Hour 1998
CB600FW Switzerland Hornet Kilometers per Hour 1998
CB600FW Australia Hornet Kilometers per Hour 1998
CB600FX England CB600F Miles/Kilometers per Hour 1999
CB600FX European Direct Sales Hornet Kilometers per Hour 1999
CB600FX European Direct Sales Hornet Kilometers per Hour 34 HP 1999
CB600FX European Direct Sales Hornet Kilometers per Hour 50 HP 1999
CB600FX France Hornet Caution Label in French Kilometers per Hour 1999
CB600FX Netherlands CB600F Kilometers per Hour 1999
CB600FX Netherlands CB600F Kilometers per Hour 34 HP 1999
CB600FX Switzerland Hornet Kilometers per Hour 1999
CB600FX Australia Hornet Kilometers per Hour 1999
CB600FY England Hornet Miles/Kilometers per Hour Standard 2000
CB600FY European Direct Sales Hornet Kilometers per Hour Standard 2000
CB600FY European Direct Sales Hornet Kilometers per Hour Standard 34 HP 2000
CB600FY European Direct Sales Hornet Kilometers per Hour Standard 50 HP 2000
CB600FY France Hornet Caution Label in French Kilometers per Hour Standard 2000
CB600FY France Hornet Caution Label in French Kilometers per Hour Standard 34 HP 2000
CB600FY Netherlands CB600F Kilometers per Hour Standard 2000
CB600FY Netherlands CB600F Kilometers per Hour Standard 34 HP 2000
CB600FY Switzerland Hornet Kilometers per Hour Standard 2000
CB750F21 Austria Seven Fifty Kilometers per Hour 2001
CB750F21 England Seven Fifty Miles/Kilometers per Hour 2001
CB750F21 European Direct Sales Seven Fifty Kilometers per Hour 2001
CB750F21 France Seven Fifty Caution Label in French Kilometers per Hour 2001
CB750F21 Germany Seven Fifty Kilometers per Hour 2001
CB750F21 Germany Seven Fifty Kilometers per Hour 34 HP 2001
CB750F21 Portugal Seven Fifty Kilometers per Hour 34 HP 2001
CB750F21 Sweden Seven Fifty Kilometers per Hour 2001
CB750F21 Spain Seven Fifty Kilometers per Hour 2001
CB750F21 Switzerland Seven Fifty Kilometers per Hour 2001
CB750F2N Austria Seven Fifty Kilometers per Hour 1992
CB750F2N England Seven Fifty Miles per Hour 1992
CB750F2N European Direct Sales Seven Fifty Kilometers per Hour 1992
CB750F2N France Seven Fifty Kilometers per Hour 1992
CB750F2N Germany Seven Fifty Kilometers per Hour 1992
CB750F2N Germany Seven Fifty Kilometers per Hour 27 HP 1992
CB750F2N Germany Seven Fifty Kilometers per Hour 50 HP 1992
CB750F2N Spain Seven Fifty Kilometers per Hour 1992
CB750F2N Switzerland Seven Fifty Kilometers per Hour 1992
CB750F2N Australia Seven Fifty Kilometers per Hour 1992
CB750F2R Austria Seven Fifty Kilometers per Hour 1994
CB750F2R England Seven Fifty Miles per Hour 1994
CB750F2R European Direct Sales Seven Fifty Kilometers per Hour 1994
CB750F2R France Seven Fifty Kilometers per Hour 1994
CB750F2R Germany Seven Fifty Kilometers per Hour 1994
CB750F2R Germany Seven Fifty Kilometers per Hour 27 HP 1994
CB750F2R Germany Seven Fifty Kilometers per Hour 50 HP 1994
CB750F2R Spain Seven Fifty Kilometers per Hour 1994
CB750F2R Switzerland Seven Fifty Kilometers per Hour 1994
CB750F2R Australia Seven Fifty Kilometers per Hour 1994
CB750F2S Austria Seven Fifty Kilometers per Hour 1995
CB750F2S England Seven Fifty Miles per Hour 1995
CB750F2S European Direct Sales Seven Fifty Kilometers per Hour 1995
CB750F2S France Seven Fifty Kilometers per Hour 1995
CB750F2S Germany Seven Fifty Kilometers per Hour 1995
CB750F2S Germany Seven Fifty Kilometers per Hour 27 HP 1995
CB750F2S Germany Seven Fifty Kilometers per Hour 50 HP 1995
CB750F2S Portugal Seven Fifty Kilometers per Hour 50 HP 1995
CB750F2S Spain Seven Fifty Kilometers per Hour 1995
CB750F2S Switzerland Seven Fifty Kilometers per Hour 1995
CB750F2S Australia Seven Fifty Kilometers per Hour 1995
CB750F2T Austria Seven Fifty Kilometers per Hour 1996
CB750F2T England Seven Fifty Miles per Hour 1996
CB750F2T European Direct Sales Seven Fifty Kilometers per Hour 1996
CB750F2T France Seven Fifty Kilometers per Hour 1996
CB750F2T Germany Seven Fifty Kilometers per Hour 1996
CB750F2T Germany Seven Fifty Kilometers per Hour 34 HP 1996
CB750F2T Sweden Seven Fifty Kilometers per Hour 1996
CB750F2T Spain Seven Fifty Kilometers per Hour 1996
CB750F2T Australia Seven Fifty Kilometers per Hour 1996
CB750F2V Austria Seven Fifty Kilometers per Hour 1997
CB750F2V England Seven Fifty Miles/Kilometers per Hour 1997
CB750F2V European Direct Sales Seven Fifty Kilometers per Hour 1997
CB750F2V France Seven Fifty Caution Label in French Kilometers per Hour 1997
CB750F2V Germany Seven Fifty Kilometers per Hour 1997
CB750F2V Germany Seven Fifty Kilometers per Hour 34 HP 1997
CB750F2V Portugal Seven Fifty Kilometers per Hour 34 HP 1997
CB750F2V Sweden Seven Fifty Kilometers per Hour 1997
CB750F2V Spain Seven Fifty Kilometers per Hour 1997
CB750F2V Switzerland Seven Fifty Kilometers per Hour 1997
CB750F2V Australia Seven Fifty Kilometers per Hour 1997
CB750F2W Austria Seven Fifty Kilometers per Hour 1998
CB750F2W England Seven Fifty Kilometers per Hour Miles/Kilometers per Hour 1998
CB750F2W European Direct Sales Seven Fifty Kilometers per Hour 1998
CB750F2W France Seven Fifty Caution Label in French Kilometers per Hour 1998
CB750F2W Germany Seven Fifty Kilometers per Hour 1998
CB750F2W Germany Seven Fifty Kilometers per Hour 34 HP 1998
CB750F2W Portugal Seven Fifty Kilometers per Hour 34 HP 1998
CB750F2W Sweden Seven Fifty Kilometers per Hour 1998
CB750F2W Spain Seven Fifty Kilometers per Hour 1998
CB750F2W Switzerland Seven Fifty Kilometers per Hour 1998
CB750F2W Australia Seven Fifty Kilometers per Hour 1998
CB750F2X Austria Seven Fifty Kilometers per Hour 1999
CB750F2X England Seven Fifty Miles/Kilometers per Hour 1999
CB750F2X European Direct Sales Seven Fifty Kilometers per Hour 1999
CB750F2X France Seven Fifty Caution Label in French Kilometers per Hour 1999
CB750F2X Germany Seven Fifty Kilometers per Hour 1999
CB750F2X Germany Seven Fifty Kilometers per Hour 34 HP 1999
CB750F2X Portugal Seven Fifty Kilometers per Hour 34 HP 1999
CB750F2X Sweden Seven Fifty Kilometers per Hour 1999
CB750F2X Spain Seven Fifty Kilometers per Hour 1999
CB750F2X Switzerland Seven Fifty Kilometers per Hour 1999
CB750F2X Australia Seven Fifty Kilometers per Hour 1999
CB750M Canada Nighthawk Miles/Kilometers per Hour 1991
CB750N Canada Nighthawk Miles/Kilometers per Hour 1992
CB900F2 Canada Hornet 900 2002
CB900F2 England Hornet 900 2002
CB900F2 European Direct Sales Hornet 900 2002
CB900F2 France Hornet 900 2002
CB900F2 Germany Hornet 900 2002
CB900F2 Netherlands CB900F 2002
CB900F2 Australia CB900 Hornet 2002
CB900F3 Canada 919 2003
CB900F3 England Hornet 900 2003
CB900F3 European Direct Sales Hornet 900 2003
CB900F3 France Hornet 900 2003
CB900F3 Germany Hornet 900 2003
CB900F3 Netherlands CB900F 2003
CB900F3 Korea CB900 Hornet 2003
CB900F3 Australia CB900 Hornet 2003
CB900F4 England Hornet 900 2004
CB900F4 European Direct Sales Hornet 900 2004
CB900F4 France Hornet 900 2004
CB900F4 Netherlands CB900F 2004
CB900F4 Korea Hornet 900 2004
CB900F4 Australia Hornet 900 2004
CB900F5 England Hornet 900 2005
CB900F5 European Direct Sales Hornet 900 2005
CB900F5 EK Hornet 900 2005
CB900F5 France Hornet 900 2005
CB900F5 Netherlands CB900F 2005
CB900F5 Korea Hornet 900 2005
CB900F5 Australia Hornet 900 2005
CBF2504 England CBF250 2004
CBF2504 European Direct Sales CBF250 2004
CBF5004 England CBF500 2004
CBF5004 European Direct Sales CBF500 2004
CBF5004 European Direct Sales CBF500 3ED 2004
CBF5004 EK CBF500 2004
CBF5004 France CBF500 Caution Label in French 2004
CBF500A4 England CBF500A ABS 2004
CBF500A4 European Direct Sales CBF500A ABS 2004
CBF500A4 European Direct Sales CBF500A ABS 3ED 2004
CBF500A4 EK CBF500A ABS 2004
CBF500A4 France CBF500A ABS Caution Label in French 2004
CBF600N4 England CBF600N Miles per Hour 2004
CBF600N4 European Direct Sales CBF600N Kilometers per Hour 2004
CBF600N4 European Direct Sales CBF600N Kilometers per Hour 25 KW 2004
CBF600N4 France CBF600N Caution Label in French Kilometers per Hour 2004
CBF600N5 England CBF600N Miles/Kilometers per Hour Special Color 2005
CBF600N5 England CBF600N Miles per Hour 2005
CBF600N5 European Direct Sales CBF600N Kilometers per Hour 2005
CBF600N5 European Direct Sales CBF600N Kilometers per Hour 25 KW 2005
CBF600N5 European Direct Sales CBF600N Kilometers per Hour Special Color 2005
CBF600N5 European Direct Sales CBF600N Kilometers per Hour Special Color 25 KW 2005
CBF600N5 EK CBF600N Kilometers per Hour 2005
CBF600N5 EK CBF600N Kilometers per Hour Special Color 2005
CBF600N5 France CBF600N Caution Label in French Kilometers per Hour 2005
CBF600N5 France CBF600N Caution Label in French Kilometers per Hour Special Color 2005
CBF600NA4 England CBF600NA Miles per Hour 2004
CBF600NA4 European Direct Sales CBF600NA Kilometers per Hour 2004
CBF600NA4 European Direct Sales CBF600NA Kilometers per Hour 25 KW 2004
CBF600NA4 France CBF600NA Caution Label in French Kilometers per Hour 2004
CBF600NA5 England CBF600NA Miles/Kilometers per Hour Special Color 2005
CBF600NA5 England CBF600NA Miles per Hour 2005
CBF600NA5 European Direct Sales CBF600NA Kilometers per Hour 2005
CBF600NA5 European Direct Sales CBF600NA Kilometers per Hour 25 KW 2005
CBF600NA5 European Direct Sales CBF600NA Kilometers per Hour Special Color 2005
CBF600NA5 European Direct Sales CBF600NA Kilometers per Hour Special Color 25 KW 2005
CBF600NA5 France CBF600NA Caution Label in French Kilometers per Hour 2005
CBF600NA5 France CBF600NA Caution Label in French Kilometers per Hour Special Color 2005
CBF600S4 England CBF600S Miles per Hour 2004
CBF600S4 European Direct Sales CBF600S Kilometers per Hour 2004
CBF600S4 European Direct Sales CBF600S Kilometers per Hour 25 KW 2004
CBF600S4 France CBF600S Caution Label in French Kilometers per Hour 2004
CBF600S5 England CBF600S Miles per Hour 2005
CBF600S5 European Direct Sales CBF600S Kilometers per Hour 2005
CBF600S5 European Direct Sales CBF600S Kilometers per Hour 25 KW 2005
CBF600S5 EK CBF600S Kilometers per Hour 2005
CBF600S5 France CBF600S Caution Label in French Kilometers per Hour 2005
CBF600SA4 England CBF600SA Miles per Hour 2004
CBF600SA4 European Direct Sales CBF600SA Kilometers per Hour 2004
CBF600SA4 European Direct Sales CBF600SA Kilometers per Hour 25 KW 2004
CBF600SA4 France CBF600SA Caution Label in French Kilometers per Hour 2004
CBF600SA5 England CBF600SA Miles per Hour 2005
CBF600SA5 European Direct Sales CBF600SA Kilometers per Hour 2005
CBF600SA5 European Direct Sales CBF600SA Kilometers per Hour 25 KW 2005
CBF600SA5 EK CBF600SA Kilometers per Hour 2005
CBF600SA5 France CBF600SA Caution Label in French Kilometers per Hour 2005
CBR1000FH Austria CBR1000F 1987
CBR1000FH Canada Hurricane 1987
CBR1000FH England CBR1000F 1987
CBR1000FH European Direct Sales CBR1000F 1987
CBR1000FH France CBR1000F Yellow Bulb 1987
CBR1000FH Finland CBR1000F 1987
CBR1000FH Germany CBR1000F 1987
CBR1000FH Italy CBR1000F 1987
CBR1000FH Northern Europe CBR1000F 1987
CBR1000FH Sweden CBR1000F 1987
CBR1000FH Spain CBR1000F 1987
CBR1000FH Switzerland CBR1000F 1987
CBR1000FH Australia CBR1000F 1987
CBR1000FJ Austria CBR1000F 1988
CBR1000FJ Canada Hurricane 1988
CBR1000FJ England CBR1000F 1988
CBR1000FJ European Direct Sales CBR1000F 1988
CBR1000FJ France CBR1000F Yellow Bulb 1988
CBR1000FJ Finland CBR1000F 1988
CBR1000FJ Germany CBR1000F 1988
CBR1000FJ Italy CBR1000F 1988
CBR1000FJ Mexico CBR1000F 1988
CBR1000FJ Norway CBR1000F 1988
CBR1000FJ Sweden CBR1000F 1988
CBR1000FJ Spain CBR1000F 1988
CBR1000FJ Switzerland CBR1000F 1988
CBR1000FK Austria CBR1000F Dual Bulb Headlight 1989
CBR1000FK Denmark CBR1000F Dual Bulb Headlight 1989
CBR1000FK England CBR1000F Dual Bulb Headlight 1989
CBR1000FK European Direct Sales CBR1000F Dual Bulb Headlight 1989
CBR1000FK France CBR1000F Dual Bulb Headlight Yellow Bulb 1989
CBR1000FK Finland CBR1000F Dual Bulb Headlight 1989
CBR1000FK Germany CBR1000F Dual Bulb Headlight 1989
CBR1000FK Italy CBR1000F 1989
CBR1000FK Norway CBR1000F Dual Bulb Headlight 1989
CBR1000FK Sweden CBR1000F Dual Bulb Headlight 1989
CBR1000FK Spain CBR1000F Dual Bulb Headlight 1989
CBR1000FK Switzerland CBR1000F 1989
CBR1000FK Switzerland CBR1000F Dual Bulb Headlight 1989
CBR1000FK Australia CBR1000F Dual Bulb Headlight 1989
CBR1000FL Austria CBR1000F 1990
CBR1000FL Denmark CBR1000F 1990
CBR1000FL England CBR1000F 1990
CBR1000FL European Direct Sales CBR1000F 1990
CBR1000FL France CBR1000F Yellow Bulb 1990
CBR1000FL Finland CBR1000F 1990
CBR1000FL Germany CBR1000F 1990
CBR1000FL Italy CBR1000F 1990
CBR1000FL Norway CBR1000F 1990
CBR1000FL Sweden CBR1000F 1990
CBR1000FL Spain CBR1000F 1990
CBR1000FL Switzerland CBR1000F 1990
CBR1000FL Australia CBR1000F 1990
CBR1000FM Austria CBR1000F 1991
CBR1000FM England CBR1000F 1991
CBR1000FM European Direct Sales CBR1000F 1991
CBR1000FM France CBR1000F Yellow Bulb 1991
CBR1000FM Finland CBR1000F 1991
CBR1000FM Germany CBR1000F 1991
CBR1000FM Italy CBR1000F 1991
CBR1000FM Mexico CBR1000F 1991
CBR1000FM Norway CBR1000F 1991
CBR1000FM Sweden CBR1000F 1991
CBR1000FM Spain CBR1000F 1991
CBR1000FM Switzerland CBR1000F 1991
CBR1000FM Australia CBR1000F 1991
CBR1000FN Austria CBR1000F 1992
CBR1000FN Denmark CBR1000F 1992
CBR1000FN England CBR1000F 1992
CBR1000FN European Direct Sales CBR1000F 1992
CBR1000FN France CBR1000F Yellow Bulb 1992
CBR1000FN Germany CBR1000F 1992
CBR1000FN Italy CBR1000F 1992
CBR1000FN Norway CBR1000F 1992
CBR1000FN Sweden CBR1000F 1992
CBR1000FN Spain CBR1000F 1992
CBR1000FN Switzerland CBR1000F 1992
CBR1000FN Australia CBR1000F 1992
CBR1000FP Austria CBR1000F 1993
CBR1000FP Brazil CBR1000F 1993
CBR1000FP Canada CBR1000F Caution Label in French 1993
CBR1000FP England CBR1000F 1993
CBR1000FP European Direct Sales CBR1000F 1993
CBR1000FP France CBR1000F 1993
CBR1000FP Germany CBR1000F 1993
CBR1000FP Italy CBR1000F 1993
CBR1000FP Northern Europe CBR1000F 1993
CBR1000FP Spain CBR1000F 1993
CBR1000FP Switzerland CBR1000F 1993
CBR1000FP Australia CBR1000F 1993
CBR1000FR Austria CBR1000F 1994
CBR1000FR Brazil CBR1000F 1994
CBR1000FR Canada CBR1000F Caution Label in French 1994
CBR1000FR England CBR1000F 1994
CBR1000FR European Direct Sales CBR1000F 1994
CBR1000FR France CBR1000F 1994
CBR1000FR Germany CBR1000F 1994
CBR1000FR Italy CBR1000F 1994
CBR1000FR Northern Europe CBR1000F 1994
CBR1000FR Spain CBR1000F 1994
CBR1000FR Switzerland CBR1000F 1994
CBR1000FR Australia CBR1000F 1994
CBR1000FS Austria CBR1000F 1995
CBR1000FS Brazil CBR1000F 1995
CBR1000FS Canada CBR1000F Caution Label in French 1995
CBR1000FS England CBR1000F 1995
CBR1000FS European Direct Sales CBR1000F 1995
CBR1000FS France CBR1000F 1995
CBR1000FS Germany CBR1000F 1995
CBR1000FS Italy CBR1000F 1995
CBR1000FS Northern Europe CBR1000F 1995
CBR1000FS Spain CBR1000F 1995
CBR1000FS Switzerland CBR1000F 1995
CBR1000FS Australia CBR1000F 1995
CBR1000FT Austria CBR1000F 1996
CBR1000FT Brazil CBR1000F 1996
CBR1000FT Canada CBR1000F Caution Label in French 1996
CBR1000FT England CBR1000F 1996
CBR1000FT European Direct Sales CBR1000F 1996
CBR1000FT France CBR1000F 1996
CBR1000FT Germany CBR1000F 1996
CBR1000FT Italy CBR1000F 1996
CBR1000FT Northern Europe CBR1000F 1996
CBR1000FT Switzerland CBR1000F 1996
CBR1000FT Australia CBR1000F 1996
CBR1000FV Austria CBR1000F 1997
CBR1000FV England CBR1000F 1997
CBR1000FV European Direct Sales CBR1000F 1997
CBR1000FV France CBR1000F 1997
CBR1000FV Germany CBR1000F 1997
CBR1000FV Italy CBR1000F 1997
CBR1000FV Northern Europe CBR1000F 1997
CBR1000FV Switzerland CBR1000F 1997
CBR1000FV Australia CBR1000F 1997
CBR1000FX Austria CBR1000F 1999
CBR1000FX England CBR1000F 1999
CBR1000FX European Direct Sales CBR1000F 1999
CBR1000FX France CBR1000F 1999
CBR1000FX Germany CBR1000F 1999
CBR1000FX Italy CBR1000F 1999
CBR1000FX Northern Europe CBR1000F 1999
CBR1000FX Australia CBR1000F 1999
CBR1000RR4 Brazil CBR1000RR Kilometers per Hour 2004
CBR1000RR4 England CBR1000RR Kilomters/Miles per Hour 2004
CBR1000RR4 European Direct Sales CBR1000RR Kilometers per Hour 2004
CBR1000RR4 France CBR1000RR Caution Label in French Kilometers per Hour 2004
CBR1000RR4 Germany CBR1000RR Kilometers per Hour 2004
CBR1000RR4 Korea CBR1000RR Kilometers per Hour 2004
CBR1000RR4 Mexico CBR1000RR Kilometers per Hour 2004
CBR1000RR4 Australia CBR1000RR Kilometers per Hour 2004
CBR1000RR5 Austria CBR1000RR Kilometers per Hour 2005
CBR1000RR5 England CBR1000RR Kilomters/Miles per Hour 2005
CBR1000RR5 England CBR1000RR Kilomters/Miles per Hour Special Color 3E 2005
CBR1000RR5 European Direct Sales CBR1000RR Kilometers per Hour 2005
CBR1000RR5 European Direct Sales CBR1000RR Kilometers per Hour Special Color 2ED 2005
CBR1000RR5 EK CBR1000RR Kilometers per Hour 2005
CBR1000RR5 EK CBR1000RR Kilometers per Hour Special Color 4EK 2005
CBR1000RR5 France CBR1000RR Caution Label in French Kilometers per Hour 2005
CBR1000RR5 France CBR1000RR Caution Label in French Kilometers per Hour Special Color 2F 2005
CBR1000RR5 Germany CBR1000RR Kilometers per Hour 2005
CBR1000RR5 Germany CBR1000RR Kilometers per Hour Special Color 2G 2005
CBR1000RR5 Korea CBR1000RR 2005
CBR1000RR5 Korea CBR1000RR Kilometers per Hour 2005
CBR1000RR5 Mexico CBR1000RR Kilometers per Hour 2005
CBR1000RR5 Australia CBR1000RR Kilometers per Hour 2005
CBR1000RR5 Australia CBR1000RR Special Color 2U 2005
CBR1100XX1 Brazil Super Blackbird Kilometers per Hour 2001
CBR1100XX1 Canada Super Blackbird Kilomters/Miles per Hour 2001
CBR1100XX1 England Super Blackbird Miles/Kilometers per Hour 2001
CBR1100XX1 European Direct Sales Super Blackbird Kilometers per Hour 2001
CBR1100XX1 France Super Blackbird Kilometers per Hour 2001
CBR1100XX1 Australia Super Blackbird Kilometers per Hour 2001
CBR1100XX2 Brazil Super Blackbird 2002
CBR1100XX2 Canada Super Blackbird 2002
CBR1100XX2 England Super Blackbird 2002
CBR1100XX2 European Direct Sales Super Blackbird 2002
CBR1100XX2 France Super Blackbird 2002
CBR1100XX2 Australia Super Blackbird 2002
CBR1100XX3 Brazil Super Blackbird 2003
CBR1100XX3 Canada Super Blackbird 2003
CBR1100XX3 England Super Blackbird 2003
CBR1100XX3 European Direct Sales Super Blackbird 2003
CBR1100XX3 France Super Blackbird 2003
CBR1100XX3 Australia Super Blackbird 2003
CBR1100XX4 Brazil Super Blackbird Air Suction Valve Kilometers per Hour 2004
CBR1100XX4 England Super Blackbird Air Suction Valve Miles/Kilometers per Hour 2004
CBR1100XX4 England Super Blackbird Air Suction Valve Miles/Kilometers per Hour Type 3 2004
CBR1100XX4 European Direct Sales Super Blackbird Air Suction Valve Kilometers per Hour 2004
CBR1100XX4 European Direct Sales Super Blackbird Air Suction Valve Kilometers per Hour Type 2 2004
CBR1100XX4 France Super Blackbird Air Suction Valve Kilometers per Hour 2004
CBR1100XX4 France Super Blackbird Air Suction Valve Kilometers per Hour Type 2 2004
CBR1100XX4 Australia Super Blackbird Air Suction Valve Kilometers per Hour 2004
CBR1100XX4 Australia Super Blackbird Air Suction Valve Kilometers per Hour Type 2 2004
CBR1100XX5 Brazil Super Blackbird 2005
CBR1100XX5 England Super Blackbird 2005
CBR1100XX5 England Super Blackbird Two Tone 2005
CBR1100XX5 European Direct Sales Super Blackbird 2005
CBR1100XX5 European Direct Sales Super Blackbird Two Tone 2005
CBR1100XX5 EK Super Blackbird 2005
CBR1100XX5 EK Super Blackbird Two Tone 2005
CBR1100XX5 France Super Blackbird Caution Label in French 2005
CBR1100XX5 France Super Blackbird Caution Label in French Two Tone 2005
CBR1100XX5 Australia Super Blackbird 2005
CBR1100XX5 Australia Super Blackbird Two Tone 2005
CBR1100XXV Austria Super Blackbird Kilometers per Hour 1997
CBR1100XXV Canada Super Blackbird Kilometers per Hour 1997
CBR1100XXV England Super Blackbird Miles/Kilometers per Hour 1997
CBR1100XXV European Direct Sales Super Blackbird Kilometers per Hour 1997
CBR1100XXV France Super Blackbird Kilometers per Hour 1997
CBR1100XXV Germany Super Blackbird Air Suction Valve Kilometers per Hour 1997
CBR1100XXV Germany Super Blackbird Kilometers per Hour 1997
CBR1100XXV Northern Europe Super Blackbird Kilometers per Hour 1997
CBR1100XXV Switzerland Super Blackbird Kilometers per Hour 1997
CBR1100XXV Australia Super Blackbird Kilometers per Hour 1997
CBR1100XXW Austria Super Blackbird Kilometers per Hour 1998
CBR1100XXW Canada Super Blackbird Kilomters/Miles per Hour 1998
CBR1100XXW England Super Blackbird Miles/Kilometers per Hour 1998
CBR1100XXW European Direct Sales Super Blackbird Kilometers per Hour 1998
CBR1100XXW France Super Blackbird Kilometers per Hour 1998
CBR1100XXW Germany Super Blackbird Kilometers per Hour 1998
CBR1100XXW Northern Europe Super Blackbird Kilometers per Hour 1998
CBR1100XXW Sweden Super Blackbird Kilometers per Hour 1998
CBR1100XXW Switzerland Super Blackbird Kilometers per Hour 1998
CBR1100XXW Australia Super Blackbird Kilometers per Hour 1998
CBR1100XXX Canada Super Blackbird Kilomters/Miles per Hour 1999
CBR1100XXX England Super Blackbird Miles/Kilometers per Hour 1999
CBR1100XXX European Direct Sales Super Blackbird Kilometers per Hour 1999
CBR1100XXX France Super Blackbird Kilometers per Hour 1999
CBR1100XXX Germany Super Blackbird Kilometers per Hour 1999
CBR1100XXX Sweden Super Blackbird Kilometers per Hour 1999
CBR1100XXX Switzerland Super Blackbird Kilometers per Hour 1999
CBR1100XXX Australia Super Blackbird Kilometers per Hour 1999
CBR1100XXY Brazil Super Blackbird Kilometers per Hour 2000
CBR1100XXY Canada Super Blackbird Kilomters/Miles per Hour 2000
CBR1100XXY England Super Blackbird Miles/Kilometers per Hour 2000
CBR1100XXY European Direct Sales Super Blackbird Kilometers per Hour 2000
CBR1100XXY France Super Blackbird Kilometers per Hour 2000
CBR1100XXY Germany Super Blackbird Kilometers per Hour 2000
CBR1100XXY Sweden Super Blackbird Kilometers per Hour 2000
CBR1100XXY Switzerland Super Blackbird Kilometers per Hour 2000
CBR1100XXY Australia Super Blackbird Kilometers per Hour 2000
CBR125R4 England CBR125R 2004
CBR125R4 European Direct Sales CBR125R 2004
CBR125R4 France CBR125R 2004
CBR125R4 Korea CBR125R 2004
CBR125R5 England CBR125R 2005
CBR125R5 European Direct Sales CBR125R 2005
CBR125R5 France CBR125R 2005
CBR125R5 Korea CBR125R 2005
CBR125RS5 England CBR125RS 2005
CBR125RS5 European Direct Sales CBR125RS 2005
CBR125RS5 France CBR125RS 2005
CBR125RS5 Korea CBR125RS 2005
CBR125RW5 England CBR125RW 2005
CBR125RW5 European Direct Sales CBR125RW 2005
CBR125RW5 France CBR125RW 2005
CBR125RW5 Korea CBR125RW 2005
CBR500FH Austria CBR500F 1987
CBR500FJ Austria CBR500F 1988
CBR500FK Austria CBR500F 1989
CBR500FK Mexico CBR500F 1989
CBR500FL Austria CBR500F 1990
CBR500FM Austria CBR500F 1991
CBR600F1 Brazil CBR600F 2001
CBR600F1 England CBR600F 2001
CBR600F1 European Direct Sales CBR600F 2001
CBR600F1 European Direct Sales CBR600F 25 KW 2001
CBR600F1 France CBR600F 2001
CBR600F1 Germany CBR600F Catalyzer 2001
CBR600F1 Mexico CBR600F 2001
CBR600F2 Brazil CBR600F 2002
CBR600F2 England CBR600F 2002
CBR600F2 European Direct Sales CBR600F 2002
CBR600F2 European Direct Sales CBR600F 25 KW 2002
CBR600F2 France CBR600F 2002
CBR600F2 Germany CBR600F 2002
CBR600F2 Mexico CBR600F 2002
CBR600F2M Canada CBR600F2 Miles/Kilometers per Hour 1991
CBR600F2N Canada CBR600F2 Miles/Kilometers per Hour 1992
CBR600F2P Canada CBR600F2 Miles/Kilometers per Hour 1993
CBR600F2R Canada CBR600F2 Miles/Kilometers per Hour 1994
CBR600F3 Brazil CBR600F 2003
CBR600F3 England CBR600F 2003
CBR600F3 European Direct Sales CBR600F 2003
CBR600F3 European Direct Sales CBR600F 25 KW 2003
CBR600F3 France CBR600F 2003
CBR600F3 Germany CBR600F 2003
CBR600F3 Mexico CBR600F 2003
CBR600F3S Canada CBR600F3 Miles/Kilometers per Hour 1995
CBR600F3T Canada CBR600F3 Miles/Kilometers per Hour 1996
CBR600F3V Canada CBR600F3 1997
CBR600F3W Canada CBR600F3 1998
CBR600F4 England CBR600F 2004
CBR600F4 European Direct Sales CBR600F 2004
CBR600F4 France CBR600F 2004
CBR600F4 Germany CBR600F 2004
CBR600F41 Canada CBR600F4 Reflector 2001
CBR600F41 Korea CBR600F4 2001
CBR600F41 Australia CBR600F4 2001
CBR600F42 Canada CBR600F4 F4 Model 2002
CBR600F42 Korea CBR600F4 Caution Label in Japanese F4 Model 2002
CBR600F42 Korea CBR600F4 F4 Model 2002
CBR600F42 Australia CBR600F4 F4 Model 2002
CBR600F43 Canada CBR600F4 F4 Model 2003
CBR600F43 Korea CBR600F4 Caution Label in Japanese F4 Model 2003
CBR600F43 Korea CBR600F4 F4 Model 2003
CBR600F43 Australia CBR600F4 F4 Model 2003
CBR600F44 Australia CBR600F4 2004
CBR600F4X Canada CBR600F4 1999
CBR600F4Y Canada CBR600F4 2000
CBR600F5 England CBR600F 2005
CBR600F5 European Direct Sales CBR600F 2005
CBR600F5 EK CBR600F 2005
CBR600F5 Australia CBR600F 2005
CBR600FH Canada CBR600F Miles/Kilometers per Hour 1987
CBR600FH England CBR600F Miles/Kilometers per Hour 1987
CBR600FH European Direct Sales CBR600F Kilometers per Hour 1987
CBR600FH France CBR600F Kilometers per Hour Yellow Bulb 1987
CBR600FH Germany CBR600F Kilometers per Hour 1987
CBR600FH Germany CBR600F Kilometers per Hour 50 HP 1987
CBR600FH Italy CBR600F Kilometers per Hour 1987
CBR600FH Norway CBR600F Kilometers per Hour 1987
CBR600FH Sweden CBR600F Kilometers per Hour 1987
CBR600FH Spain CBR600F Kilometers per Hour 1987
CBR600FH Switzerland CBR600F Kilometers per Hour 1987
CBR600FH Australia CBR600F Kilometers per Hour 1987
CBR600FJ Canada CBR600F Miles/Kilometers per Hour 1988
CBR600FJ England CBR600F Miles/Kilometers per Hour 1988
CBR600FJ European Direct Sales CBR600F Kilometers per Hour 1988
CBR600FJ France CBR600F Kilometers per Hour Yellow Bulb 1988
CBR600FJ Germany CBR600F Kilometers per Hour 1988
CBR600FJ Germany CBR600F Kilometers per Hour 50 HP 1988
CBR600FJ Italy CBR600F Kilometers per Hour 1988
CBR600FJ Sweden CBR600F Kilometers per Hour 1988
CBR600FJ Spain CBR600F Kilometers per Hour 1988
CBR600FJ Switzerland CBR600F Kilometers per Hour 1988
CBR600FK Canada CBR600F Miles/Kilometers per Hour 1989
CBR600FK England CBR600F Miles/Kilometers per Hour 1989
CBR600FK European Direct Sales CBR600F Kilometers per Hour 1989
CBR600FK France CBR600F Kilometers per Hour Yellow Bulb 1989
CBR600FK Germany CBR600F Kilometers per Hour 1989
CBR600FK Germany CBR600F Kilometers per Hour 50 HP 1989
CBR600FK Italy CBR600F Kilometers per Hour 1989
CBR600FK Norway CBR600F Kilometers per Hour 1989
CBR600FK Sweden CBR600F Kilometers per Hour 1989
CBR600FK Spain CBR600F Kilometers per Hour 1989
CBR600FK Switzerland CBR600F Kilometers per Hour 1989
CBR600FL Canada CBR600F Miles/Kilometers per Hour 1990
CBR600FL England CBR600F Miles/Kilometers per Hour 1990
CBR600FL European Direct Sales CBR600F Kilometers per Hour 1990
CBR600FL France CBR600F Kilometers per Hour Yellow Bulb 1990
CBR600FL Germany CBR600F Kilometers per Hour 1990
CBR600FL Germany CBR600F Kilometers per Hour 50 HP 1990
CBR600FL Italy CBR600F Kilometers per Hour 1990
CBR600FL Mexico CBR600F Kilometers per Hour 1990
CBR600FL Norway CBR600F Kilometers per Hour 1990
CBR600FL Sweden CBR600F Kilometers per Hour 1990
CBR600FL Spain CBR600F Kilometers per Hour 1990
CBR600FL Switzerland CBR600F Kilometers per Hour 1990
CBR600FM Austria CBR600F Kilometers per Hour 1991
CBR600FM England CBR600F Kilometers per Hour 1991
CBR600FM European Direct Sales CBR600F Kilometers per Hour 50 HP 1991
CBR600FM France CBR600F Kilometers per Hour Yellow Bulb 1991
CBR600FM Germany CBR600F Kilometers per Hour 1991
CBR600FM Germany CBR600F Kilometers per Hour 27 HP 1991
CBR600FM Germany CBR600F Kilometers per Hour 50 HP 1991
CBR600FM Mexico CBR600F Kilometers per Hour 1991
CBR600FM Spain CBR600F Kilometers per Hour 1991
CBR600FM Switzerland CBR600F Kilometers per Hour 1991
CBR600FN Austria CBR600F Kilometers per Hour 1992
CBR600FN England CBR600F Kilometers per Hour 1992
CBR600FN European Direct Sales CBR600F Kilometers per Hour 1992
CBR600FN France CBR600F Kilometers per Hour Yellow Bulb 1992
CBR600FN Germany CBR600F Kilometers per Hour 1992
CBR600FN Germany CBR600F Kilometers per Hour 27 HP 1992
CBR600FN Germany CBR600F Kilometers per Hour 50 HP 1992
CBR600FN Mexico CBR600F Kilometers per Hour 1992
CBR600FN Spain CBR600F Kilometers per Hour 1992
CBR600FN Switzerland CBR600F Kilometers per Hour 1992
CBR600FN Australia CBR600F Kilometers per Hour 1992
CBR600FP Austria CBR600F Kilometers per Hour 1993
CBR600FP Brazil CBR600F Kilometers per Hour 1993
CBR600FP England CBR600F Kilometers per Hour 1993
CBR600FP European Direct Sales CBR600F Kilometers per Hour 1993
CBR600FP France CBR600F Kilometers per Hour Yellow Bulb 1993
CBR600FP Germany CBR600F Kilometers per Hour 1993
CBR600FP Germany CBR600F Kilometers per Hour 27 HP 1993
CBR600FP Germany CBR600F Kilometers per Hour 50 HP 1993
CBR600FP Mexico CBR600F Kilometers per Hour 1993
CBR600FP Spain CBR600F Kilometers per Hour 1993
CBR600FP Switzerland CBR600F Kilometers per Hour 1993
CBR600FP Australia CBR600F Kilometers per Hour 1993
CBR600FR Austria CBR600F 1994
CBR600FR Brazil CBR600F 1994
CBR600FR England CBR600F Kilometers per Hour 1994
CBR600FR European Direct Sales CBR600F Kilometers per Hour 1994
CBR600FR France CBR600F Kilometers per Hour 1994
CBR600FR Germany CBR600F 34 HP 1994
CBR600FR Germany CBR600F Kilometers per Hour 1994
CBR600FR Germany CBR600F Kilometers per Hour 50 HP 1994
CBR600FR Mexico CBR600F Kilometers per Hour 1994
CBR600FR Spain CBR600F Kilometers per Hour 1994
CBR600FR Switzerland CBR600F Kilometers per Hour 1994
CBR600FR1 England CBR600FR 2001
CBR600FR1 European Direct Sales CBR600FR 2001
CBR600FR1 France CBR600FR 2001
CBR600FR1 Germany CBR600FR 2001
CBR600FR Australia CBR600F Kilometers per Hour 1994
CBR600FR2 England CBR600FR FR Model 2001
CBR600FR2 European Direct Sales CBR600FR FR Model 2001
CBR600FR2 France CBR600FR FR Model 2001
CBR600FR2 Germany CBR600FR FR Model 2001
CBR600FR2 Australia CBR600FR FR Model 2001
CBR600FR2 Australia CBR600FR FR Model 500 Victories Commemorative Model 2001
CBR600FS Austria CBR600F Kilometers per Hour 1995
CBR600FS Brazil CBR600F Kilometers per Hour 1995
CBR600FS England CBR600F Miles/Kilometers per Hour 1995
CBR600FS European Direct Sales CBR600F Kilometers per Hour 1995
CBR600FS France CBR600F Kilometers per Hour 1995
CBR600FS Germany CBR600F Kilometers per Hour 34 HP 1995
CBR600FS Germany CBR600F Kilometers per Hour 50 HP 1995
CBR600FS Germany CBR600F Kilometers per Hour 98 HP 1995
CBR600FS Korea CBR600F Kilometers per Hour 1995
CBR600FS Mexico CBR600F Kilometers per Hour 1995
CBR600FS Portugal CBR600F Kilometers per Hour 34 HP 1995
CBR600FS1 England CBR600FS 2001
CBR600FS1 European Direct Sales CBR600FS 2001
CBR600FS1 France CBR600FS 2001
CBR600FS1 Germany CBR600FS 2001
CBR600FS Spain CBR600F Kilometers per Hour 1995
CBR600FS Switzerland CBR600F Kilometers per Hour 1995
CBR600FS Australia CBR600F Kilometers per Hour 1995
CBR600FS England CBR600FS FS Model 2002
CBR600FS2 European Direct Sales CBR600FS FS Model 2002
CBR600FS2 France CBR600FS FS Model 2002
CBR600FS2 Germany CBR600FS FS Model 2002
CBR600FT Austria CBR600F Kilometers per Hour 1996
CBR600FT Brazil CBR600F Kilometers per Hour 1996
CBR600FT England CBR600F Miles/Kilometers per Hour 1996
CBR600FT European Direct Sales CBR600F Kilometers per Hour 1996
CBR600FT France CBR600F Kilometers per Hour 1996
CBR600FT Germany CBR600F Kilometers per Hour 34 HP 1996
CBR600FT Germany CBR600F Kilometers per Hour 50 HP 1996
CBR600FT Germany CBR600F Kilometers per Hour 98 HP 1996
CBR600FT Spain CBR600F Kilometers per Hour 1996
CBR600FT Switzerland CBR600F Kilometers per Hour 1996
CBR600FT Australia CBR600F Kilometers per Hour 1996
CBR600FV Austria CBR600F 1997
CBR600FV Brazil CBR600F 1997
CBR600FV England CBR600F 1997
CBR600FV European Direct Sales CBR600F 1997
CBR600FV France CBR600F 1997
CBR600FV Germany CBR600F 1997
CBR600FV Germany CBR600F 34 HP 1997
CBR600FV Germany CBR600F 50 HP 1997
CBR600FV Korea CBR600F 1997
CBR600FV Mexico CBR600F 1997
CBR600FV Portugal CBR600F 50 HP 1997
CBR600FV Switzerland CBR600F 1997
CBR600FV Australia CBR600F 1997
CBR600FW Austria CBR600F 1998
CBR600FW England CBR600F 1998
CBR600FW European Direct Sales CBR600F 1998
CBR600FW France CBR600F 1998
CBR600FW Germany CBR600F 1998
CBR600FW Germany CBR600F 34 HP 1998
CBR600FW Germany CBR600F 50 HP 1998
CBR600FW Korea CBR600F 1998
CBR600FW Mexico CBR600F 1998
CBR600FW Portugal CBR600F 50 HP 1998
CBR600FW Switzerland CBR600F 1998
CBR600FW Australia CBR600F 1998
CBR600FX Denmark CBR600F 1999
CBR600FX England CBR600F 1999
CBR600FX European Direct Sales CBR600F 1999
CBR600FX European Direct Sales CBR600F 25 KW 1999
CBR600FX France CBR600F 1999
CBR600FX Korea CBR600F 1999
CBR600FX Mexico CBR600F 1999
CBR600FX Switzerland CBR600F 1999
CBR600FX Australia CBR600F 1999
CBR600FY Brazil CBR600F 2000
CBR600FY Denmark CBR600F 2000
CBR600FY England CBR600F 2000
CBR600FY European Direct Sales CBR600F 2000
CBR600FY European Direct Sales CBR600F 34 HP 2000
CBR600FY France CBR600F 2000
CBR600FY Korea CBR600F 2000
CBR600FY Mexico CBR600F 2000
CBR600FY Switzerland CBR600F 2000
CBR600FY Australia CBR600F 2000
CBR600RR3 Brazil CBR600RR 2003
CBR600RR3 Canada CBR600RR 2003
CBR600RR3 England CBR600RR 2003
CBR600RR3 European Direct Sales CBR600RR 2003
CBR600RR3 France CBR600RR 2003
CBR600RR3 Germany CBR600RR 2003
CBR600RR3 Korea CBR600RR 2003
CBR600RR3 Mexico CBR600RR 2003
CBR600RR3 Australia CBR600RR 2003
CBR600RR4 Brazil CBR600RR 2004
CBR600RR4 England CBR600RR 2004
CBR600RR4 European Direct Sales CBR600RR 2004
CBR600RR4 France CBR600RR 2004
CBR600RR4 Germany CBR600RR 2004
CBR600RR4 Korea CBR600RR 2004
CBR600RR4 Mexico CBR600RR 2004
CBR600RR4 Australia CBR600RR 2004
CBR600RR5 England CBR600RR 2005
CBR600RR5 European Direct Sales CBR600RR 2005
CBR600RR5 EK CBR600RR 2005
CBR600RR5 France CBR600RR 2005
CBR600RR5 Germany CBR600RR 2005
CBR600RR5 Korea CBR600RR 2005
CBR600RR5 Mexico CBR600RR 2005
CBR600RR5 Australia CBR600RR 2005
CBR600SET Canada CBR600SE Miles/Kilometers per Hour 1996
CBR600SEW Canada CBR600SE 1998
CBR600SEW Australia CBR600SE 1998
CBR900RE1 Canada CBR900RE License Light Reflector 2001
CBR900RE1 Australia CBR900RE 2001
CBR900RR1 Brazil Fire Blade 2001
CBR900RR1 Canada CBR900RR License Light Reflector 2001
CBR900RR1 England Fire Blade 2001
CBR900RR1 European Direct Sales Fire Blade 2001
CBR900RR1 France Fire Blade 2001
CBR900RR1 Germany Fire Blade 2001
CBR900RR1 Mexico Fire Blade 2001
CBR900RR1 Singapore CBR900RR 2001
CBR900RR1 Australia Fire Blade 2001
CBR900RR2 Brazil Fire Blade 2002
CBR900RR2 Canada CBR900RR License Light Reflector 2002
CBR900RR2 England Fire Blade 2002
CBR900RR2 European Direct Sales Fire Blade 2002
CBR900RR2 France Fire Blade 2002
CBR900RR2 Germany Fire Blade 2002
CBR900RR2 Korea Fire Blade 2002
CBR900RR2 Mexico Fire Blade 2002
CBR900RR2 Singapore Fire Blade 2002
CBR900RR2 Australia Fire Blade 2002
CBR900RR3 Brazil Fire Blade 2003
CBR900RR3 Canada CBR900RR License Light Reflector 2003
CBR900RR3 England Fire Blade 2003
CBR900RR3 European Direct Sales Fire Blade 2003
CBR900RR3 France Fire Blade 2003
CBR900RR3 Germany Fire Blade 2003
CBR900RR3 Korea Fire Blade 2003
CBR900RR3 Mexico Fire Blade 2003
CBR900RR3 Singapore Fire Blade 2003
CBR900RR3 Australia Fire Blade 2003
CBR900RRN Austria Fire Blade 1992
CBR900RRN Canada Fire Blade 1992
CBR900RRN England Fire Blade 1992
CBR900RRN European Direct Sales Fire Blade 1992
CBR900RRN France Fire Blade Yellow Bulb 1992
CBR900RRN Germany Fire Blade 1992
CBR900RRN Germany Fire Blade 50 HP 1992
CBR900RRN Netherlands Fire Blade 1992
CBR900RRN Italy Fire Blade 1992
CBR900RRN Mexico Fire Blade 1992
CBR900RRN Northern Europe Fire Blade 1992
CBR900RRN Spain Fire Blade 1992
CBR900RRN Switzerland Fire Blade 1992
CBR900RRN Australia Fire Blade 1992
CBR900RRP Austria Fire Blade 1993
CBR900RRP Canada Fire Blade 1993
CBR900RRP Denmark Fire Blade 1993
CBR900RRP England Fire Blade 1993
CBR900RRP European Direct Sales Fire Blade 1993
CBR900RRP France Fire Blade 1993
CBR900RRP Germany Fire Blade 1993
CBR900RRP Germany Fire Blade 50 HP 1993
CBR900RRP Netherlands Fire Blade 1993
CBR900RRP Italy Fire Blade 1993
CBR900RRP Mexico Fire Blade 1993
CBR900RRP Northern Europe Fire Blade 1993
CBR900RRP Spain Fire Blade 1993
CBR900RRP Switzerland Fire Blade 1993
CBR900RRP Australia Fire Blade 1993
CBR900RRR Germany Fire Blade 50 HP 1994
CBR900RRR Austria Fire Blade 1994
CBR900RRR Canada Fire Blade 1994
CBR900RRR England Fire Blade 1994
CBR900RRR European Direct Sales Fire Blade 1994
CBR900RRR France Fire Blade 1994
CBR900RRR Germany Fire Blade 1994
CBR900RRR Netherlands Fire Blade 1994
CBR900RRR Italy Fire Blade 1994
CBR900RRR Northern Europe Fire Blade 1994
CBR900RRR Singapore Fire Blade 1994
CBR900RRR Spain Fire Blade 1994
CBR900RRR Switzerland Fire Blade 1994
CBR900RRR Australia Fire Blade 1994
CBR900RRS Austria Fire Blade 1995
CBR900RRS Canada Fire Blade 1995
CBR900RRS England Fire Blade 1995
CBR900RRS European Direct Sales Fire Blade 1995
CBR900RRS France Fire Blade 1995
CBR900RRS Germany Fire Blade 1995
CBR900RRS Germany Fire Blade 50 HP 1995
CBR900RRS Netherlands Fire Blade 1995
CBR900RRS Italy Fire Blade 1995
CBR900RRS Mexico Fire Blade 1995
CBR900RRS Northern Europe Fire Blade 1995
CBR900RRS Singapore Fire Blade 1995
CBR900RRS Spain Fire Blade 1995
CBR900RRS Switzerland Fire Blade 1995
CBR900RRS Australia Fire Blade 1995
CBR900RRT Austria Fire Blade 1996
CBR900RRT Brazil Fire Blade 1996
CBR900RRT Canada Fire Blade 1996
CBR900RRT England Fire Blade 1996
CBR900RRT European Direct Sales Fire Blade 1996
CBR900RRT France Fire Blade 1996
CBR900RRT Germany Fire Blade 1996
CBR900RRT Italy Fire Blade 1996
CBR900RRT Northern Europe Fire Blade 1996
CBR900RRT Sweden Fire Blade 1996
CBR900RRT Singapore Fire Blade 1996
CBR900RRT Switzerland Fire Blade 1996
CBR900RRT Australia Fire Blade 1996
CBR900RRV Austria Fire Blade 1997
CBR900RRV Brazil Fire Blade 1997
CBR900RRV Canada Fire Blade 1997
CBR900RRV England Fire Blade 1997
CBR900RRV European Direct Sales Fire Blade 1997
CBR900RRV France Fire Blade 1997
CBR900RRV Germany Fire Blade 1997
CBR900RRV Italy Fire Blade 1997
CBR900RRV Mexico Fire Blade 1997
CBR900RRV Northern Europe Fire Blade 1997
CBR900RRV Sweden Fire Blade 1997
CBR900RRV Singapore Fire Blade 1997
CBR900RRV Switzerland Fire Blade 1997
CBR900RRV Australia Fire Blade 1997
CBR900RRW Austria Fire Blade Kilometers per Hour 1998
CBR900RRW Canada Fire Blade Kilomters/Miles per Hour 1998
CBR900RRW England Fire Blade 1998
CBR900RRW European Direct Sales Fire Blade Kilometers per Hour 1998
CBR900RRW France Fire Blade Kilometers per Hour 1998
CBR900RRW Germany Fire Blade Kilometers per Hour 1998
CBR900RRW Mexico Fire Blade Kilometers per Hour 1998
CBR900RRW Northern Europe Fire Blade Kilometers per Hour 1998
CBR900RRW Sweden Fire Blade Kilometers per Hour 1998
CBR900RRW Singapore Fire Blade Kilometers per Hour 1998
CBR900RRW Switzerland Fire Blade Kilometers per Hour 1998
CBR900RRW Australia Fire Blade Kilometers per Hour 1998
CBR900RRX Austria Fire Blade Kilometers per Hour 1999
CBR900RRX Canada Fire Blade Kilomters/Miles per Hour 1999
CBR900RRX England Fire Blade Miles/Kilometers per Hour 1999
CBR900RRX European Direct Sales Fire Blade Kilometers per Hour 1999
CBR900RRX France Fire Blade Kilometers per Hour 1999
CBR900RRX Germany Fire Blade Kilometers per Hour 1999
CBR900RRX Mexico Fire Blade Kilometers per Hour 1999
CBR900RRX Northern Europe Fire Blade Kilometers per Hour 1999
CBR900RRX Sweden Fire Blade Kilometers per Hour 1999
CBR900RRX Singapore Fire Blade Kilometers per Hour 1999
CBR900RRX Switzerland Fire Blade Kilometers per Hour 1999
CBR900RRX Australia Fire Blade Kilometers per Hour 1999
CBR900RRY Brazil Fire Blade Black Wheel 2000
CBR900RRY Canada CBR900RR Gray Wheel 2000
CBR900RRY England Fire Blade Black Wheel 2000
CBR900RRY European Direct Sales Fire Blade Black Wheel 2000
CBR900RRY France Fire Blade Black Wheel 2000
CBR900RRY Germany Fire Blade Black Wheel 2000
CBR900RRY Mexico Fire Blade Gray Wheel 2000
CBR900RRY Singapore Fire Blade Gray Wheel License Light Reflector 2000
CBR900RRY Australia Fire Blade Black Wheel 2000
CBX750P21 General Export KPH CBX750P2 MOT Patrol Light Red Type 3 2001
CBX750P21 General Export KPH CBX750P2 Patrol Light Blue Type 2 2001
CBX750P21 General Export KPH CBX750P2 Patrol Light Blue Type 6 2001
CBX750P21 General Export KPH CBX750P2 Patrol Light Red 2001
CBX750P21 General Export KPH CBX750P2 Patrol Light Red Type 4 2001
CBX750P21 General Export KPH CBX750P2 Patrol Light Red Type 5 2001
CBX750P21 MO CBX750P2 Black Patrol Light Blue 2001
CBX750P2H General Export KPH CBX750P2 Patrol Light Blue 1987
CBX750P2H General Export KPH CBX750P2 Patrol Light Red Wind Screen 1987
CBX750P2H General Export MPH CBX750P2 Patrol Light Blue 1987
CBX750P2H General Export MPH CBX750P2 Patrol Light Red 1987
CBX750P2H General Export Spanish CBX750P2 Patrol Light Blue 1987
CBX750P2H Korea CBX750P2 Patrol Light Red Wind Screen 1987
CBX750P2H MO CBX750P2 Patrol Light Blue 1987
CBX750P2L Mexico CBX750P2 Patrol Light Red 1990
CBX750P2R HK CBX750P2 Patrol Light Blue 1994
CBX750P2T TH CBX750P2 1996
CBX750P2V HK CBX750P2 1997
CBX750P2W TH CBX750P2 1998
CBX750P2W TH CBX750P2 Yellow 1998
CBX750PH General Export KPH CBX750P Patrol Light Red 1987
CBX750PH Korea CBX750P 1987
CBX750PH MA CBX750P Patrol Light Red 1987
CD250UJ England CD250U 1988
CD250UK England CD250U 1989
CD250UK Australia CD250U 1989
CG1251 General Export KPH CG125 2001
CG125ES4 England CG125ES 2004
CG125ES4 European Direct Sales CG125ES 2004
CG125M1 England CG125M Miles/Kilometers per Hour 2001
CG125M1 European Direct Sales CG125M 2001
CG125M1 France CG125M Kilometers per Hour 2001
CG125M1 Singapore CG125M 2001
CG125P General Export KPH CG125 1993
CG125P General Export KPH CG125 Single Seat 1993
CG125P Singapore CG125 1993
CG125S England CG125 1995
CG125T England CG125 1996
CG125W England CG125 Miles/Kilometers per Hour 1998
CG125W France CG125 Kilometers per Hour 1998
CG125W Germany CG125 Kilometers per Hour 1998
CG125W Germany CG125 Kilometers per Hour Speed Limit 1998
CG125W Mexico CG125 Single Seat 1998
CG125W Portugal CG125 Kilometers per Hour 1998
CG125W Spain CG125 Kilometers per Hour 1998
CG125X Mexico CG125 Single Seat 1999
CG125Y Mexico CG125 2000
CH125J France Spacy 125 Yellow Bulb 1988
CH125J Switzerland Spacy 125 1988
CH125L Switzerland Spacy 125 1990
CH125M Switzerland Spacy 125 1990
CH125N France Spacy 125 Yellow Bulb 1992
CH125P France Spacy 125 1993
CH125P Italy Spacy 125 1993
CH125P Italy Spacy 125 License Light 1993
CH125P Switzerland Spacy 125 1993
CH125R France Spacy 125 1994
CH125R Italy Spacy 125 1994
CH125R Switzerland Spacy 125 1994
CH125T France CH125 Caution Label in French 1996
CH125T Italy CH125 1996
CH125T Switzerland CH125 1996
CLR125W England City Fly Miles/Kilometers per Hour 1998
CLR125W European Direct Sales City Fly 1998
CLR125W France City Fly Caution Label in French 1998
CLR125W Germany City Fly 1998
CM125CH Switzerland CM125C Kilometers per Hour 1987
CM125CJ France CM125C Kilometers per Hour 1988
CM125CJ Switzerland CM125C Kilometers per Hour 1988
CM125CM Switzerland CM125C Kilometers per Hour 1991
CM125CN European Direct Sales CM125C Kilometers per Hour 1992
CM125CN France CM125C Kilometers per Hour 1992
CM125CN Switzerland CM125C Kilometers per Hour 1992
CM125CP European Direct Sales CM125C Kilometers per Hour 1993
CM125CP France CM125C Kilometers per Hour 1993
CM125CP Switzerland CM125C Kilometers per Hour 1993
CM125CR European Direct Sales CM125C Kilometers per Hour 1994
CM125CR France CM125C Kilometers per Hour 1994
CM125CR Singapore CM125C Kilometers per Hour 1994
CM125CR Switzerland CM125C Kilometers per Hour 1994
CM125CX European Direct Sales CM125C Kilometers per Hour 1999
CM125CX France CM125C Kilometers per Hour 1999
CM125CX Switzerland CM125C Kilometers per Hour 1999
CMX250C1 Canada Rebel 2001
CMX250C2 Canada Rebel 2002
CMX250C3 Canada Rebel 2003
CMX250CT Austria Rebel Kilometers per Hour 1996
CMX250CT Belgium Rebel Kilometers per Hour 1996
CMX250CT Canada Rebel 1996
CMX250CT England Rebel 1996
CMX250CT France Rebel Kilometers per Hour 1996
CMX250CT Germany Rebel Kilometers per Hour 1996
CMX250CT Netherlands Rebel Kilometers per Hour 1996
CMX250CT Italy Rebel Kilometers per Hour 1996
CMX250CT Portugal Rebel Kilometers per Hour 1996
CMX250CT Spain Rebel Kilometers per Hour 1996
CMX250CT Switzerland Rebel Kilometers per Hour 1996
CMX250CV Austria Rebel Kilometers per Hour 1997
CMX250CV Canada Rebel 1997
CMX250CV England Rebel Miles/Kilometers per Hour 1997
CMX250CV European Direct Sales Rebel Kilometers per Hour 1997
CMX250CV France Rebel Caution Label in French Kilometers per Hour 1997
CMX250CV Germany Rebel Kilometers per Hour 1997
CMX250CV Switzerland Rebel Kilometers per Hour 1997
CMX250CW Austria Rebel Kilometers per Hour 1998
CMX250CW England Rebel Miles/Kilometers per Hour 1998
CMX250CW European Direct Sales Rebel Kilometers per Hour 1998
CMX250CW France Rebel Caution Label in French Kilometers per Hour 1998
CMX250CW Germany Rebel Kilometers per Hour 1998
CMX250CW Switzerland Rebel Kilometers per Hour 1998
CMX250CX Austria Rebel 1999
CMX250CX England Rebel 1999
CMX250CX European Direct Sales Rebel 1999
CMX250CX France Rebel 1999
CMX250CX Germany Rebel 1999
CMX250CX Switzerland Rebel 1999
CMX250CY Canada Rebel 2000
CMX450CH European Direct Sales CMX450C Kilometers per Hour 1987
CMX450CH Italy CMX450C Kilometers per Hour 1987
CMX450CJ Austria CMX450C Kilometers per Hour 1988
CN250H Canada Helix Kilometers per Hour 1987
CN250J France CN250 Kilometers per Hour Yellow Bulb 1988
CN250J Italy CN250 Kilometers per Hour 1988
CN250J Switzerland CN250 Kilometers per Hour 1988
CN250L England CN250 Miles per Hour 1990
CN250M England CN250 Miles per Hour 1991
CN250M France CN250 Kilometers per Hour Yellow Bulb 1991
CN250M Italy CN250 Kilometers per Hour 1991
CN250M Switzerland CN250 Kilometers per Hour 1991
CN250P Singapore Helix Kilometers per Hour 1993
CN250R England CN250 Miles per Hour 1994
CN250R France CN250 Kilometers per Hour 1994
CN250R Italy CN250 Kilometers per Hour 1994
CN250R Switzerland CN250 Kilometers per Hour 1994
CN250S Italy CN250 Kilometers per Hour 1995
CN250T France CN250 Kilometers per Hour 1996
CN250T Italy CN250 Kilometers per Hour 1996
CN250T Switzerland CN250 Kilometers per Hour 1996
CN250V England CN250 Miles per Hour 1997
CN250V France CN250 Kilometers per Hour 1997
CN250V Italy CN250 Kilometers per Hour 1997
CN250V Switzerland CN250 Kilometers per Hour 1997
CN250X Italy CN250 1999
CR125R1 Canada CR125R Caution Label in French 2001
CR125R1 European Direct Sales CR125R Caution Label in French 2001
CR125R1 Australia CR125R 2001
CR125R2 Canada CR125R 2002
CR125R2 European Direct Sales CR125R 2002
CR125R2 Australia CR125R 2002
CR125R3 Canada CR125R 2003
CR125R3 European Direct Sales CR125R 2003
CR125R3 Australia CR125R 2003
CR125R4 European Direct Sales CR125R 2004
CR125R4 Australia CR125R 2004
CR125R5 European Direct Sales CR125R 2005
CR125R5 Australia CR125R 2005
CR125RH Canada CR125R Caution Label in French 1987
CR125RH European Direct Sales CR125R Caution Label in French 1987
CR125RH Australia CR125R 1987
CR125RJ Canada CR125R 1988
CR125RJ European Direct Sales CR125R 1988
CR125RJ Sweden CR125R 1988
CR125RJ Australia CR125R 1988
CR125RK Canada CR125R 1989
CR125RK European Direct Sales CR125R 1989
CR125RK Sweden CR125R 1989
CR125RK Australia CR125R 1989
CR125RL Canada CR125R Caution Label in French 1990
CR125RL European Direct Sales CR125R Caution Label in French 1990
CR125RL Germany CR125R 1990
CR125RL Sweden CR125R 1990
CR125RL Australia CR125R 1990
CR125RM Canada CR125R Caution Label in French 1991
CR125RM European Direct Sales CR125R Caution Label in French 1991
CR125RM Germany CR125R 1991
CR125RM Sweden CR125R 1991
CR125RM Spain CR125R Caution Label in French 1991
CR125RM Australia CR125R 1991
CR125RN Canada CR125R Caution Label in French 1992
CR125RN European Direct Sales CR125R Caution Label in French 1992
CR125RN Spain CR125R Caution Label in French 1992
CR125RN Australia CR125R 1992
CR125RP Canada CR125R Caution Label in French 1993
CR125RP European Direct Sales CR125R Caution Label in French 1993
CR125RP Australia CR125R 1993
CR125RR Canada CR125R Caution Label in French 1994
CR125RR European Direct Sales CR125R Caution Label in French 1994
CR125RR Netherlands CR125R Caution Label in French 1994
CR125RR Spain CR125R Caution Label in French 1994
CR125RR Australia CR125R 1994
CR125RS Canada CR125R Caution Label in French 1995
CR125RS European Direct Sales CR125R Caution Label in French 1995
CR125RS Netherlands CR125R Caution Label in French 1995
CR125RS Australia CR125R 1995
CR125RT Canada CR125R Caution Label in French 1996
CR125RT European Direct Sales CR125R Caution Label in French 1996
CR125RT Netherlands CR125R Caution Label in French 1996
CR125RT Australia CR125R 1996
CR125RV Canada CR125R Caution Label in French 1997
CR125RV European Direct Sales CR125R Caution Label in French 1997
CR125RV Netherlands CR125R Caution Label in French 1997
CR125RV Australia CR125R 1997
CR125RW Canada CR125R Caution Label in French 1998
CR125RW European Direct Sales CR125R Caution Label in French 1998
CR125RW Netherlands CR125R Caution Label in French 1998
CR125RW Australia CR125R 1998
CM125RX Canada CR125R Caution Label in French 1999
CR125RX European Direct Sales CR125R Caution Label in French 1999
CR125RX Netherlands CR125R Caution Label in French 1999
CR125RX Australia CR125R 1999
CR125RY Canada CR125R Caution Label in French 2000
CR125RY European Direct Sales CR125R Caution Label in French 2000
CR125RY Netherlands CR125R Caution Label in French 2000
CR125RY Australia CR125R 2000
CR250R1 Canada CR250R Caution Label in French 2001
CR250R1 European Direct Sales CR250R Caution Label in French 2001
CR250R1 Australia CR250R 2001
CR250R2 Canada CR250R 2002
CR250R2 European Direct Sales CR250R 2002
CR250R2 Australia CR250R 2002
CR250R3 Canada CR250R 2003
CR250R3 European Direct Sales CR250R 2003
CR250R3 Australia CR250R 2003
CR250R4 European Direct Sales CR250R 2004
CR250R4 Australia CR250R 2004
CR250R5 European Direct Sales CR250R 2005
CR250R5 Australia CR250R 2005
CR250RH Canada CR250R Caution Label in French 1987
CR250RH European Direct Sales CR250R Caution Label in French 1987
CR250RH Australia CR250R 1987
CR250RJ Canada CR250R 1988
CR250RJ European Direct Sales CR250R 1988
CR250RJ Sweden CR250R 1988
CR250RJ Australia CR250R 1988
CR250RK Canada CR250R 1989
CR250RK European Direct Sales CR250R 1989
CR250RK Sweden CR250R 1989
CR250RK Australia CR250R 1989
CR250RL Canada CR250R 1990
CR250RL European Direct Sales CR250R 1990
CR250RL Germany CR250R 1990
CR250RL Sweden CR250R 1990
CR250RL Australia CR250R 1990
CR250RM Canada CR250R 1991
CR250RM European Direct Sales CR250R 1991
CR250RM Germany CR250R 1991
CR250RM Sweden CR250R 1991
CR250RM Spain CR250R 1991
CR250RM Australia CR250R 1991
CR250RN Canada CR250R 1992
CR250RN European Direct Sales CR250R 1992
CR250RN Spain CR250R 1992
CR250RN Australia CR250R 1992
CR250RP Canada CR250R 1993
CR250RP European Direct Sales CR250R 1993
CR250RP Spain CR250R 1993
CR250RP Australia CR250R 1993
CR250RR Canada CR250R 1994
CR250RR European Direct Sales CR250R 1994
CR250RR Spain CR250R 1994
CR250RR Australia CR250R 1994
CR250RS Canada CR250R 1995
CR250RS European Direct Sales CR250R 1995
CR250RS Australia CR250R 1995
CR250RT Canada CR250R 1996
CR250RT European Direct Sales CR250R 1996
CR250RT Australia CR250R 1996
CR250RV Canada CR250R Caution Label in French 1997
CR250RV European Direct Sales CR250R Caution Label in French 1997
CR250RV Australia CR250R 1997
CR250RW Canada CR250R Caution Label in French 1998
CR250RW European Direct Sales CR250R Caution Label in French 1998
CR250RW Australia CR250R 1998
CR250RX Canada CR250R Caution Label in French 1999
CR250RX European Direct Sales CR250R Caution Label in French 1999
CR250RX Australia CR250R 1999
CR250RY Canada CR250R Caution Label in French 2000
CR250RY European Direct Sales CR250R Caution Label in French 2000
CR250RY Australia CR250R 2000
CR500R1 Canada CR500R Caution Label in French 2001
CR500R1 European Direct Sales CR500R Caution Label in French 2001
CR500R1 Australia CR500R 2001
CR500RL Canada CR500R Caution Label in French 1990
CR500RL European Direct Sales CR500R Caution Label in French 1990
CR500RL Germany CR500R Caution Label in French 1990
CR500RL Sweden CR500R Caution Label in French 1990
CR500RL Australia CR500R 1990
CR500RM Canada CR500R Caution Label in French 1991
CR500RM European Direct Sales CR500R Caution Label in French 1991
CR500RM Germany CR500R 1991
CR500RM Sweden CR500R 1991
CR500RM Australia CR500R 1991
CR500RN Canada CR500R Caution Label in French 1992
CR500RN European Direct Sales CR500R Caution Label in French 1992
CR500RN Australia CR500R 1992
CR500RP Canada CR500R 1993
CR500RP European Direct Sales CR500R 1993
CR500RP Australia CR500R 1993
CR500RR Canada CR500R Caution Label in French 1994
CR500RR European Direct Sales CR500R Caution Label in French 1994
CR500RR Australia CR500R 1994
CR500RS Canada CR500R Caution Label in French 1995
CR500RS European Direct Sales CR500R Caution Label in French 1995
CR500RS Australia CR500R 1995
CR500RT Canada CR500R Caution Label in French 1996
CR500RT European Direct Sales CR500R Caution Label in French 1996
CR500RT Australia CR500R 1996
CR500RV Canada CR500R Caution Label in French 1997
CR500RV European Direct Sales CR500R Caution Label in French 1997
CR500RV Australia CR500R 1997
CR500RW Canada CR500R Caution Label in French 1998
CR500RW European Direct Sales CR500R Caution Label in French 1998
CR500RW Australia CR500R 1998
CR500RX Canada CR500R Caution Label in French 1999
CR500RX European Direct Sales CR500R Caution Label in French 1999
CR500RX Australia CR500R 1999
CR500RY Canada CR500R Caution Label in French 2000
CR500RY European Direct Sales CR500R Caution Label in French 2000
CR500RY Australia CR500R 2000
CR80R1 Canada CR80R 2001
CR80R1 European Direct Sales CR80R 2001
CR80R1 Australia CR80R 2001
CR80R2 Canada CR80R 2002
CR80R2 European Direct Sales CR80R 2002
CR80R2 Australia CR80R 2002
CR80RB1 Canada CR80RB 2001
CR80RB1 European Direct Sales CR80RB 2001
CR80RB1 Australia CR80RB 2001
CR80RB2 Canada CR80RB 2002
CR80RB2 European Direct Sales CR80RB 2002
CR80RB2 Australia CR80RB 2002
CR80RBT Canada CR80RB Caution Label in French 19 Inch Front Tire 1996
CR80RBT European Direct Sales CR80RB Caution Label in French 19 Inch Front Tire 1996
CR80RBT Australia CR80RB 19 Inch Front Tire 1996
CR80RBV Canada CR80RB Caution Label in French 19 Inch Front Tire 1997
CR80RBV European Direct Sales CR80RB Caution Label in French 19 Inch Front Tire 1997
CR80RBV Australia CR80RB 19 Inch Front Tire 1997
CR80RBW Canada CR80RB Caution Label in French 19 Inch Front Tire 1998
CR80RBW European Direct Sales CR80RB Caution Label in French 19 Inch Front Tire 1998
CR80RBW Australia CR80RB 19 Inch Front Tire 1998
CR80RBX Canada CR80RB Caution Label in French 19 Inch Front Tire 1999
CR80RBX European Direct Sales CR80RB Caution Label in French 19 Inch Front Tire 1999
CR80RBX Australia CR80RB 19 Inch Front Tire 1999
CR80RBY Canada CR80RB 2000
CR80RBY European Direct Sales CR80RB 2000
CR80RBY Australia CR80RB 2000
CR80RH Canada CR80R 1987
CR80RH European Direct Sales CR80R 1987
CR80RH Australia CR80R 1987
CR80RJ Canada CR80R 1988
CR80RJ European Direct Sales CR80R 1988
CR80RJ Sweden CR80R 1988
CR80RJ Australia CR80R 1988
CR80RK Canada CR80R 1989
CR80RK European Direct Sales CR80R 1989
CR80RK Sweden CR80R 1989
CR80RK Australia CR80R 1989
CR80RL Canada CR80R Caution Label in French 1990
CR80RL European Direct Sales CR80R Caution Label in French 1990
CR80RL Sweden CR80R 1990
CR80RL Australia CR80R 1990
CR80RM Canada CR80R Caution Label in French 1991
CR80RM European Direct Sales CR80R Caution Label in French 1991
CR80RM Sweden CR80R 1991
CR80RM Australia CR80R 1991
CR80RN Canada CR80R Caution Label in French 1992
CR80RN European Direct Sales CR80R Caution Label in French 1992
CR80RN Australia CR80R 1992
CR80RP Canada CR80R Caution Label in French 1993
CR80RP European Direct Sales CR80R Caution Label in French 1993
CR80RP Australia CR80R 1993
CR80RR Canada CR80R Caution Label in French 1994
CR80RR European Direct Sales CR80R Caution Label in French 1994
CR80RR Australia CR80R 1994
CR80RS Canada CR80R Caution Label in French 1995
CR80RS European Direct Sales CR80R Caution Label in French 1995
CR80RS Australia CR80R 1995
CR80RT Canada CR80R Caution Label in French 1996
CR80RT European Direct Sales CR80R Caution Label in French 1996
CR80RT Australia CR80R 1996
CR80RV Canada CR80R Caution Label in French 1997
CR80RV European Direct Sales CR80R Caution Label in French 1997
CR80RV Australia CR80R 1997
CR80RW Canada CR80R Caution Label in French 1998
CR80RW European Direct Sales CR80R Caution Label in French 1998
CR80RW Australia CR80R 1998
CR80RX Canada CR80R Caution Label in French 1999
CR80RX European Direct Sales CR80R Caution Label in French 1999
CR80RX Australia CR80R 1999
CR80RY Canada CR80R 2000
CR80RY European Direct Sales CR80R 2000
CR80RY Australia CR80R 2000
CR85R3 Canada CR85R 2003
CR85R3 European Direct Sales CR85R 2003
CR85R3 Australia CR85R 2003
CR85R4 European Direct Sales CR85R 2004
CR85R4 Australia CR85R 2004
CR85R5 European Direct Sales CR85R Caution Label in French 2005
CR85R5 Australia CR85R 2005
CR85RB3 European Direct Sales CR85RB 2003
CR85RB3 Australia CR85RB 2003
CR85RB4 European Direct Sales CR85RB 2004
CR85RB4 Australia CR85RB 2004
CR85RB5 European Direct Sales CR85RB Caution Label in French 2005
CR85RB5 Australia CR85RB 2005
CRF100F4 European Direct Sales CRF100F Caution Label in French 2004
CRF100F5 European Direct Sales CRF100F Caution Label in French 2005
CRF250R5 European Direct Sales CRF250R Caution Label in French 2005
CRF250R5 Australia CRF250R 2005
CRF250X4 European Direct Sales CRF250X Caution Label in French 2004
CRF250X4 Australia CRF250X 2004
CRF250X5 General Export KPH CRF250X 2005
CRF250X5 European Direct Sales CRF250X Caution Label in French 2005
CRF450R2 Canada CRF450R 2002
CRF450R2 European Direct Sales CRF450R 2002
CRF450R2 Australia CRF450R 2002
CRF450R3 Canada CRF450R 2003
CRF450R3 European Direct Sales CRF450R 2003
CRF450R3 Australia CRF450R 2003
CRF450R5 European Direct Sales CRF450R 2005
CRF450R5 Australia CRF450R 2005
CRF450X5 European Direct Sales CRF450X 2005
CRF50F4 European Direct Sales CRF50F 2004
CRF50F5 European Direct Sales CRF50F 2005
CRF70F4 European Direct Sales CRF70F 2004
CRF70F5 European Direct Sales CRF70F 2005
CRF80F4 European Direct Sales CRF80F Caution Label in French 2004
CRF80F4 Mexico CRF80F 2004
CRF80F5 European Direct Sales CRF80F Caution Label in French 2005
CRF80F5 Mexico CRF80F 2005
CRM125RL Austria CRM125R 1990
CRM125RL Belgium CRM125R 1990
CRM125RL France CRM125R Caution Label in French 1990
CRM125RL Italy CRM125R 1990
CRM125RL Portugal CRM125R 1990
CRM125RL Spain CRM125R 1990
CRM125RL Switzerland CRM125R 1990
CRM125RM Belgium CRM125R 1991
CRM125RM France CRM125R Caution Label in French 1991
CRM125RM Finland CRM125R 1991
CRM125RM Italy CRM125R 1991
CRM125RM Portugal CRM125R 1991
CRM125RM Sweden CRM125R 1991
CRM125RM Spain CRM125R 1991
CRM125RN France CRM125R Caution Label in French 1992
CRM125RN Italy CRM125R 1992
CRM125RN Portugal CRM125R 1992
CRM125RN Spain CRM125R 1992
CRM125RP France CRM125R Caution Label in French 1993
CRM125RP Italy CRM125R 1993
CRM125RP Portugal CRM125R 1993
CRM125RP Spain CRM125R 1993
CRM125RR France CRM125R Caution Label in French 1994
CRM125RR Italy CRM125R 1994
CRM125RR Spain CRM125R 1994
CRM125RV Belgium CRM125R 1997
CRM125RV France CRM125R Caution Label in French 1997
CRM125RV Italy CRM125R 1997
CRM125RV Italy CRM125R Licensing System 1997
CRM125RV Portugal CRM125R 1997
CRM125RV Sweden CRM125R 1997
CRM125RV Spain CRM125R 1997
CRM125RX Belgium CRM125R 1999
CRM125RX France CRM125R 1999
CRM125RX Italy CRM125R 1999
CRM125RX Italy CRM125R Licensing System 1999
CRM125RX Portugal CRM125R 1999
CRM125RX Sweden CRM125R 1999
CRM125RX Spain CRM125R 1999
CRM50RN Portugal CRM50R 1992
CRM50RP Portugal CRM50R 1993
CRM50RR Portugal CRM50R 1994
CRM50RT Portugal CRM50R Kilometers per Hour 1996
CRM50RT Portugal CRM50R Kilometers per Hour MP 1996
CRM50RT Spain CRM50R Miles/Kilometers per Hour MP 1996
CRM75RK Spain CRM75R 1989
CRM75RL Spain CRM75R 1990
CRM75RM Spain CRM75R 1991
CRM75RP Spain CRM75R 1993
CRM75RR Spain CRM75R 1994
CT110K Australian Agric CT110 Kilometers per Hour Made in Kumamoto 1989
CT110K Australian Agric CT110 Kilometers per Hour Made in Suzuka 1989
CT110K Australian Postal Ministry CT110 Kilometers per Hour 1989
CT110M Australian Postal Ministry CT110 Kilometers per Hour 1991
CT110P General Export KPH CT110 Kilometers per Hour 1993
CT110P New Zealand CT110 Kilometers per Hour 1993
CT110P Australian Agric CT110 Kilometers per Hour 1993
CT110P Australian Postal Ministry CT110 Kilometers per Hour 1993
FES1251 Austria Pantheon Kilometers per Hour 2001
FES1251 England Pantheon Miles/Kilometers per Hour 2001
FES1251 European Direct Sales Pantheon Miles/Kilometers per Hour 2001
FES1251 France Pantheon Caution Label in French Kilometers per Hour 2001
FES1251 Germany Pantheon Kilometers per Hour 2001
FES1252 Austria Pantheon 2002
FES1252 England Pantheon 2002
FES1252 European Direct Sales Pantheon 2002
FES1252 France Pantheon 2002
FES1252 Germany Pantheon 2002
FES1253 England Pantheon 2003
FES1253 European Direct Sales Pantheon 2003
FES1253 France Pantheon 2003
FES1254 England Pantheon 2004
FES1254 European Direct Sales Pantheon 2004
FES1254 France Pantheon 2004
FES1255 England Pantheon 2005
FES1255 European Direct Sales Pantheon 2005
FES1255 France Pantheon 2005
FES125W Austria Pantheon Kilometers per Hour 1998
FES125W England Pantheon Miles/Kilometers per Hour 1998
FES125W European Direct Sales Pantheon Kilometers per Hour 1998
FES125W France Pantheon Caution Label in French Kilometers per Hour 1998
FES125W Germany Pantheon Kilometers per Hour 1998
FES125Y Austria Pantheon Kilometers per Hour 2000
FES125Y England Pantheon Miles/Kilometers per Hour 2000
FES125Y European Direct Sales Pantheon Kilometers per Hour 2000
FES125Y France Pantheon Caution Label in French Kilometers per Hour 2000
FES125Y Germany Pantheon Kilometers per Hour 2000
FES1501 Austria Pantheon Kilometers per Hour 2001
FES1501 European Direct Sales Pantheon Kilometers per Hour 2001
FES1502 Austria Pantheon 2002
FES1502 European Direct Sales Pantheon 2002
FES1503 England Pantheon 2003
FES1503 European Direct Sales Pantheon 2003
FES1503 France Pantheon 2003
FES1504 European Direct Sales Pantheon 2004
FES1505 European Direct Sales Pantheon 2005
FES150W Austria Pantheon Kilometers per Hour 1998
FES150W European Direct Sales Pantheon Kilometers per Hour 1998
FES150Y Austria Pantheon Kilometers per Hour 2000
FES150Y European Direct Sales Pantheon Kilometers per Hour 2000
FES2501 European Direct Sales Foresight Kilometers per Hour 2001
FES2501 France Foresight Caution Label in French Kilometers per Hour 2001
FES2501 Switzerland Foresight Kilometers per Hour 2001
FES2502 European Direct Sales Foresight 2002
FES2502 European Direct Sales Foresight Kilometers per Hour 2002
FES2502 France Foresight 2002
FES2502 France Foresight Caution Label in French Kilometers per Hour 2002
FES2502 Switzerland Foresight 2002
FES2502 Switzerland Foresight Kilometers per Hour 2002
FES2505 European Direct Sales Foresight 2005
FES2505 France Foresight Caution Label in French 2005
FES250W Austria Foresight Kilometers per Hour 1998
FES250W Belgium Foresight Kilometers per Hour 1998
FES250W England Foresight Kilometers per Hour 1998
FES250W France Foresight Caution Label in French Kilometers per Hour 1998
FES250W Germany Foresight Kilometers per Hour 1998
FES250W Netherlands Foresight Kilometers per Hour 1998
FES250W Italy Foresight Kilometers per Hour 1998
FES250W Portugal Foresight Kilometers per Hour 1998
FES250W Spain Foresight Kilometers per Hour 1998
FES250W Switzerland Foresight Kilometers per Hour 1998
FES250X Austria Foresight Kilometers per Hour 1999
FES250X England Foresight Miles per Hour 1999
FES250X European Direct Sales Foresight Kilometers per Hour 1999
FES250X France Foresight Caution Label in French Kilometers per Hour 1999
FES250X Germany Foresight Kilometers per Hour 1999
FES250X Switzerland Foresight Kilometers per Hour 1999
FES250Y European Direct Sales Foresight Kilometers per Hour 2000
FES250Y France Foresight Caution Label in French Kilometers per Hour 2000
FES250Y Switzerland Foresight Kilometers per Hour 2000
FJS6001 England Silver Wing 2001
FJS6001 European Direct Sales Silver Wing 2001
FJS6001 France Silver Wing 2001
FJS6002 England Silver Wing 2002
FJS6002 European Direct Sales Silver Wing 2002
FJS6002 France Silver Wing 2002
FJS600A3 England Silver Wing ABS 2003
FJS600A3 European Direct Sales Silver Wing ABS 2003
FJS600A3 France Silver Wing ABS 2003
FJS600A4 England Silver Wing ABS 2004
FJS600A4 European Direct Sales Silver Wing ABS 2004
FJS600A4 France Silver Wing ABS 2004
FJS600A5 England Silver Wing ABS 2005
FJS600A5 European Direct Sales Silver Wing ABS 2005
FJS600A5 EK Silver Wing ABS 2005
FJS600A5 France Silver Wing ABS 2005
FJS600D3 England Silver Wing 2003
FJS600D3 European Direct Sales Silver Wing 2003
FJS600D3 France Silver Wing 2003
FJS600D4 England Silver Wing 2004
FJS600D4 European Direct Sales Silver Wing 2004
FJS600D4 France Silver Wing 2004
FJS600D5 England Silver Wing 2005
FJS600D5 European Direct Sales Silver Wing 2005
FJS600D5 EK Silver Wing 2005
FJS600D5 France Silver Wing 2005
FL400RK European Direct Sales FL400R 1989
FL400RL European Direct Sales FL400R 1990
FMX6505 England FMX650 Miles/Kilometers per Hour 2005
FMX6505 European Direct Sales FMX650 Kilometers per Hour 2005
FMX6505 European Direct Sales FMX650 Kilometers per Hour 25 KW 2005
FMX6505 France FMX650 Kilometers per Hour 2005
FX650X England FMX650 Miles per Hour 1999
FX650X European Direct Sales FMX650 25 KW 1999
FX650X European Direct Sales FMX650 Kilometers per Hour 1999
FX650X France FMX650 Kilometers per Hour 1999
FX650X Switzerland FMX650 Kilometers per Hour 1999
FX650Y England FMX650 Miles/Kilometers per Hour 2000
FX650Y European Direct Sales FMX650 Kilometers per Hour 2000
FX650Y European Direct Sales FMX650 Kilometers per Hour 25 KW 2000
FX650Y France FMX650 Kilometers per Hour 2000
FX650Y Switzerland FMX650 Kilometers per Hour 2000
GL1500AM Belgium Goldwing Aspencade Kilometers per Hour 1991
GL1500AM Norway Goldwing Aspencade Kilometers per Hour 1991
GL1500AM Sweden Goldwing Aspencade Kilometers per Hour 1991
GL1500AM Spain Goldwing Aspencade Kilometers per Hour 1991
GL1500AM Australia Goldwing Aspencade Kilometers per Hour 1991
GL1500AN Belgium Goldwing Aspencade Kilometers per Hour 1992
GL1500AN France Goldwing Aspencade Kilometers per Hour Yellow Bulb 1992
GL1500AN Norway Goldwing Aspencade Kilometers per Hour 1992
GL1500AN Sweden Goldwing Aspencade Kilometers per Hour 1992
GL1500AN Spain Goldwing Aspencade Kilometers per Hour 1992
GL1500AP Austria Goldwing Aspencade Kilometers per Hour 1993
GL1500AP European Direct Sales Goldwing Aspencade Kilometers per Hour 1993
GL1500AP France Goldwing Aspencade Kilometers per Hour 1993
GL1500AP Finland Goldwing Aspencade Kilometers per Hour 1993
GL1500AP Sweden Goldwing Aspencade Kilometers per Hour 1993
GL1500AP Spain Goldwing Aspencade Kilometers per Hour 1993
GL1500AP Australia Goldwing Aspencade Kilometers per Hour 1993
GL1500AR Austria Goldwing Aspencade Kilometers per Hour 1994
GL1500AR European Direct Sales Goldwing Aspencade Kilometers per Hour 1994
GL1500AR France Goldwing Aspencade Kilometers per Hour 1994
GL1500AR Finland Goldwing Aspencade Kilometers per Hour 1994
GL1500AR Sweden Goldwing Aspencade Kilometers per Hour 1994
GL1500AR Spain Goldwing Aspencade Kilometers per Hour 1994
GL1500AR Australia Goldwing Aspencade Kilometers per Hour 1994
GL1500AS Austria Goldwing Aspencade Kilometers per Hour 1995
GL1500AS European Direct Sales Goldwing Aspencade Kilometers per Hour 1995
GL1500AS France Goldwing Aspencade Kilometers per Hour 1995
GL1500AS Finland Goldwing Aspencade Kilometers per Hour 1995
GL1500AS Sweden Goldwing Aspencade Kilometers per Hour 1995
GL1500AS Spain Goldwing Aspencade Kilometers per Hour 1995
GL1500AS Australia Goldwing Aspencade Kilometers per Hour 1995
GL1500AT Austria Goldwing Aspencade Kilometers per Hour 1996
GL1500AT European Direct Sales Goldwing Aspencade Kilometers per Hour 1996
GL1500AT France Goldwing Aspencade Kilometers per Hour 1996
GL1500AT Finland Goldwing Aspencade Kilometers per Hour 1996
GL1500AT Sweden Goldwing Aspencade Kilometers per Hour 1996
GL1500AT Spain Goldwing Aspencade Kilometers per Hour 1996
GL1500AT Australia Goldwing Aspencade Kilometers per Hour 1996
GL1500AV Austria Goldwing Aspencade Kilometers per Hour 1997
GL1500AV European Direct Sales Goldwing Aspencade Kilometers per Hour 1997
GL1500AV France Goldwing Aspencade Kilometers per Hour 1997
GL1500AV Finland Goldwing Aspencade Kilometers per Hour 1997
GL1500AV Sweden Goldwing Aspencade Kilometers per Hour 1997
GL1500AV Spain Goldwing Aspencade Kilometers per Hour 1997
GL1500AV Australia Goldwing Aspencade Kilometers per Hour 1997
GL1500AW Australia Goldwing Aspencade Kilometers per Hour 1998
GL1500AX Australia Goldwing Aspencade Kilometers per Hour 1999
GL1500AY Australia Goldwing Aspencade Kilometers per Hour 2000
GL1500C1 Austria GL1500C Kilometers per Hour 2001
GL1500C1 Canada GL1500C Kilomters/Miles per Hour 2001
GL1500C1 England GL1500C Miles/Kilometers per Hour 2001
GL1500C1 European Direct Sales GL1500C Kilometers per Hour 2001
GL1500C1 France GL1500C Caution Label in French Kilometers per Hour 2001
GL1500C1 Germany GL1500C Kilometers per Hour 2001
GL1500C1 Switzerland GL1500C Kilometers per Hour 2001
GL1500C1 Australia GL1500C Kilometers per Hour 2001
GL1500C2 Austria GL1500C Kilometers per Hour 2002
GL1500C2 Canada GL1500C Kilomters/Miles per Hour 2002
GL1500C2 England GL1500C Miles/Kilometers per Hour 2002
GL1500C2 European Direct Sales GL1500C Kilometers per Hour 2002
GL1500C2 France GL1500C Caution Label in French Kilometers per Hour 2002
GL1500C2 Germany GL1500C Kilometers per Hour 2002
GL1500C2 Switzerland GL1500C Kilometers per Hour 2002
GL1500C2 Australia GL1500C Kilometers per Hour 2002
GL1500C3 Canada GL1500C Kilomters/Miles per Hour 2003
GL1500C3 Australia GL1500C Kilometers per Hour 2003
GL1500CD1 Canada GL1500CD Kilomters/Miles per Hour 2001
GL1500CD2 Canada GL1500CD Kilomters/Miles per Hour 2002
GL1500CD3 Canada GL1500CD Kilomters/Miles per Hour 2003
GL1500CTV Canada Valkyrie Rectangular Mirror Wind Screen 1997
GL1500CTV Australia Valkyrie Rectangular Mirror Wind Screen 1997
GL1500CTW Canada Valkyrie Rectangular Mirror Wind Screen 1998
GL1500CTW Australia Valkyrie Rectangular Mirror Wind Screen 1998
GL1500CTX Canada Valkyrie Rectangular Mirror Wind Screen 1999
GL1500CTX Australia Valkyrie Rectangular Mirror Wind Screen 1999
GL1500CTY Canada Valkyrie Rectangular Mirror Wind Screen 2000
GL1500CTY Australia Valkyrie Rectangular Mirror Wind Screen 2000
GL1500CV Austria F6C 1997
GL1500CV Canada Valkyrie Rectangular Mirror 1997
GL1500CV England F6C 1997
GL1500CV European Direct Sales F6C 1997
GL1500CV France F6C 1997
GL1500CV Germany F6C 1997
GL1500CV Switzerland F6C 1997
GL1500CV Australia Valkyrie Rectangular Mirror 1997
GL1500CW Austria F6C 1998
GL1500CW Canada Valkyrie Rectangular Mirror 1998
GL1500CW England F6C 1998
GL1500CW European Direct Sales F6C 1998
GL1500CW France F6C 1998
GL1500CW Germany F6C 1998
GL1500CW Switzerland F6C 1998
GL1500CW Australia Valkyrie Rectangular Mirror 1998
GL1500CX Austria F6C 1999
GL1500CX Canada Valkyrie Rectangular Mirror 1999
GL1500CX England F6C 1999
GL1500CX European Direct Sales F6C 1999
GL1500CX France F6C 1999
GL1500CX Germany F6C 1999
GL1500CX Switzerland F6C 1999
GL1500CX Australia Valkyrie Rectangular Mirror 1999
GL1500CY Austria F6C 2000
GL1500CY Canada Valkyrie Rectangular Mirror 2000
GL1500CY England F6C 2000
GL1500CY European Direct Sales F6C 2000
GL1500CY France F6C 2000
GL1500CY Germany F6C 2000
GL1500CY Switzerland F6C 2000
GL1500CY Australia Valkyrie Rectangular Mirror 2000
GL1500J Austria Goldwing Kilometers per Hour 1988
GL1500J Belgium Goldwing Kilometers per Hour 1988
GL1500J England Goldwing Miles/Kilometers per Hour 1988
GL1500J European Direct Sales Goldwing Kilometers per Hour 1988
GL1500J France Goldwing Kilometers per Hour Yellow Bulb 1988
GL1500J Finland Goldwing Kilometers per Hour 1988
GL1500J Germany Goldwing Kilometers per Hour 1988
GL1500J Italy Goldwing Kilometers per Hour 1988
GL1500J Norway Goldwing Kilometers per Hour 1988
GL1500J Sweden Goldwing Kilometers per Hour 1988
GL1500J Spain Goldwing Kilometers per Hour 1988
GL1500J Switzerland Goldwing Kilometers per Hour 1988
GL1500K Austria Goldwing Kilometers per Hour 1989
GL1500K Belgium Goldwing Kilometers per Hour 1989
GL1500K England Goldwing Miles/Kilometers per Hour 1989
GL1500K European Direct Sales Goldwing Kilometers per Hour 1989
GL1500K France Goldwing Kilometers per Hour Yellow Bulb 1989
GL1500K Finland Goldwing Kilometers per Hour 1989
GL1500K Germany Goldwing Kilometers per Hour 1989
GL1500K Italy Goldwing Kilometers per Hour 1989
GL1500K Norway Goldwing Kilometers per Hour 1989
GL1500K Sweden Goldwing Kilometers per Hour 1989
GL1500K Spain Goldwing Kilometers per Hour 1989
GL1500K Switzerland Goldwing Kilometers per Hour 1989
GL1500L Austria Goldwing Kilometers per Hour 1990
GL1500L Belgium Goldwing Kilometers per Hour 1990
GL1500L England Goldwing Miles/Kilometers per Hour 1990
GL1500L European Direct Sales Goldwing 1990
GL1500L France Goldwing Yellow Bulb 1990
GL1500L Finland Goldwing Kilometers per Hour 1990
GL1500L Germany Goldwing 1990
GL1500L Italy Goldwing Kilometers per Hour 1990
GL1500L Norway Goldwing Kilometers per Hour 1990
GL1500L Sweden Goldwing Kilometers per Hour 1990
GL1500L Switzerland Goldwing 1990
GL1500L Australia Goldwing 1990
GL1500SEM Austria Goldwing SE Kilometers per Hour 1991
GL1500SEM Belgium Goldwing SE Kilometers per Hour 1991
GL1500SEM England Goldwing SE Miles/Kilometers per Hour 1991
GL1500SEM France Goldwing SE Kilometers per Hour Yellow Bulb 1991
GL1500SEM Finland Goldwing SE Kilometers per Hour 1991
GL1500SEM Germany Goldwing SE Kilometers per Hour 1991
GL1500SEM Italy Goldwing SE Kilometers per Hour 1991
GL1500SEM Switzerland Goldwing SE Kilometers per Hour 1991
GL1500SEN Austria Goldwing SE Kilometers per Hour 1992
GL1500SEN Belgium Goldwing SE Kilometers per Hour 1992
GL1500SEN England Goldwing SE Miles/Kilometers per Hour 1992
GL1500SEN France Goldwing SE Kilometers per Hour Yellow Bulb 1992
GL1500SEN Finland Goldwing SE Kilometers per Hour 1992
GL1500SEN Germany Goldwing SE Kilometers per Hour 1992
GL1500SEN Italy Goldwing SE Kilometers per Hour 1992
GL1500SEN Switzerland Goldwing SE Kilometers per Hour 1992
GL1500SEP Austria Goldwing SE Kilometers per Hour 1993
GL1500SEP European Direct Sales Goldwing SE Kilometers per Hour 1993
GL1500SEP France Goldwing SE Kilometers per Hour 1993
GL1500SEP Finland Goldwing SE Kilometers per Hour 1993
GL1500SEP Germany Goldwing SE Kilometers per Hour 1993
GL1500SEP Singapore Goldwing SE Cornering Lamp Kilometers per Hour 1993
GL1500SEP Spain Goldwing SE Kilometers per Hour 1993
GL1500SEP Switzerland Goldwing SE Kilometers per Hour 1993
GL1500SER Austria Goldwing SE Kilometers per Hour 1994
GL1500SER England Goldwing SE Miles/Kilometers per Hour 1994
GL1500SER European Direct Sales Goldwing SE Kilometers per Hour 1994
GL1500SER France Goldwing SE Kilometers per Hour 1994
GL1500SER Finland Goldwing SE Kilometers per Hour 1994
GL1500SER Germany Goldwing SE Kilometers per Hour 1994
GL1500SER Singapore Goldwing SE Cornering Lamp Kilometers per Hour 1994
GL1500SER Spain Goldwing SE Kilometers per Hour 1994
GL1500SER Switzerland Goldwing SE Kilometers per Hour 1994
GL1500SES Austria Goldwing SE Kilometers per Hour 1995
GL1500SES England Goldwing SE Miles/Kilometers per Hour 1995
GL1500SES European Direct Sales Goldwing SE Kilometers per Hour 1995
GL1500SES France Goldwing SE Kilometers per Hour 1995
GL1500SES Finland Goldwing SE Kilometers per Hour 1995
GL1500SES Germany Goldwing SE Kilometers per Hour 1995
GL1500SES Singapore Goldwing SE Cornering Lamp Kilometers per Hour 1995
GL1500SES Spain Goldwing SE Kilometers per Hour 1995
GL1500SES Switzerland Goldwing SE Kilometers per Hour 1995
GL1500SET Austria Goldwing SE Kilometers per Hour 1996
GL1500SET England Goldwing SE Miles/Kilometers per Hour 1996
GL1500SET European Direct Sales Goldwing SE Kilometers per Hour 1996
GL1500SET France Goldwing SE Kilometers per Hour 1996
GL1500SET Finland Goldwing SE Kilometers per Hour 1996
GL1500SET Germany Goldwing SE Kilometers per Hour 1996
GL1500SET Singapore Goldwing SE Cornering Lamp Kilometers per Hour 1996
GL1500SET Spain Goldwing SE Kilometers per Hour 1996
GL1500SET Switzerland Goldwing SE Kilometers per Hour 1996
GL1500SEV Austria Goldwing SE Kilometers per Hour 1997
GL1500SEV England Goldwing SE Kilometers per Hour Miles/Kilometers per Hour 1997
GL1500SEV European Direct Sales Goldwing SE Kilometers per Hour 1997
GL1500SEV France Goldwing SE Caution Label in French Kilometers per Hour 1997
GL1500SEV Finland Goldwing SE Kilometers per Hour 1997
GL1500SEV Germany Goldwing SE Kilometers per Hour 1997
GL1500SEV Singapore Goldwing SE Miles/Kilometers per Hour 1997
GL1500SEV Spain Goldwing SE Kilometers per Hour 1997
GL1500SEV Switzerland Goldwing SE Kilometers per Hour 1997
GL1500SEV Australia Goldwing SE Kilometers per Hour 1997
GL1500SEW Austria Goldwing SE Kilometers per Hour 1998
GL1500SEW England Goldwing SE Miles/Kilometers per Hour 1998
GL1500SEW European Direct Sales Goldwing SE Kilometers per Hour 1998
GL1500SEW France Goldwing SE Kilometers per Hour 1998
GL1500SEW Finland Goldwing SE Kilometers per Hour 1998
GL1500SEW Germany Goldwing SE Kilometers per Hour 1998
GL1500SEW Singapore Goldwing SE Miles/Kilometers per Hour 1998
GL1500SEW Spain Goldwing SE Kilometers per Hour 1998
GL1500SEW Switzerland Goldwing SE Kilometers per Hour 1998
GL1500SEW Australia Goldwing SE Kilometers per Hour 1998
GL1500SEX Austria Goldwing SE Kilometers per Hour 1999
GL1500SEX England Goldwing SE Miles/Kilometers per Hour 1999
GL1500SEX European Direct Sales Goldwing SE Kilometers per Hour 1999
GL1500SEX France Goldwing SE Caution Label in French Kilometers per Hour 1999
GL1500SEX Finland Goldwing SE Kilometers per Hour 1999
GL1500SEX Germany Goldwing SE Kilometers per Hour 1999
GL1500SEX Sweden Goldwing SE Kilometers per Hour 1999
GL1500SEX Singapore Goldwing SE Miles/Kilometers per Hour 1999
GL1500SEX Spain Goldwing SE Kilometers per Hour 1999
GL1500SEX Switzerland Goldwing SE Kilometers per Hour 1999
GL1500SEX Australia Goldwing SE Kilometers per Hour 1999
GL1500SEY Austria Goldwing SE Kilometers per Hour 2000
GL1500SEY England Goldwing SE Miles/Kilometers per Hour 2000
GL1500SEY European Direct Sales Goldwing SE Kilometers per Hour 2000
GL1500SEY France Goldwing SE Caution Label in French Kilometers per Hour 2000
GL1500SEY Finland Goldwing SE Kilometers per Hour 2000
GL1500SEY Germany Goldwing SE Kilometers per Hour 2000
GL1500SEY Sweden Goldwing SE Kilometers per Hour 2000
GL1500SEY Singapore Goldwing SE Miles/Kilometers per Hour 2000
GL1500SEY Spain Goldwing SE Kilometers per Hour 2000
GL1500SEY Switzerland Goldwing SE Kilometers per Hour 2000
GL1500SEY Australia Goldwing SE Kilometers per Hour 2000
GL1800A1 Canada GL1800A 2001
GL1800A1 England GL1800A 2001
GL1800A1 European Direct Sales GL1800A 2001
GL1800A1 France GL1800A Caution Label in French 2001
GL1800A1 Australia GL1800A Kilomters/Miles per Hour 2001
GL1800A2 Canada GL1800A 2002
GL1800A2 England GL1800A 2002
GL1800A2 European Direct Sales GL1800A 2002
GL1800A2 France GL1800A Caution Label in French 2002
GL1800A2 Australia GL1800A Kilomters/Miles per Hour 2002
GL1800A3 Canada GL1800A Caution Label in French 2003
GL1800A3 England GL1800A 2003
GL1800A3 European Direct Sales GL1800A 2003
GL1800A3 France GL1800A Caution Label in French 2003
GL1800A3 Australia GL1800A Kilomters/Miles per Hour 2003
GL1800A4 England GL1800A 2004
GL1800A4 European Direct Sales GL1800A 2004
GL1800A4 France GL1800A 2004
GL1800A4 Australia GL1800A 2004
GL1800A5 England GL1800A 2005
GL1800A5 European Direct Sales GL1800A 2005
GL1800A5 EK GL1800A 2005
GL1800A5 France GL1800A Caution Label in French 2005
GL1800A5 Australia GL1800A 2005
H100SJ England H100S 1988
MT50FL European Direct Sales MT50F 1990
MT50FP General Export KPH MT50F 1993
MT50SL Belgium MT50S 1990
MT50SL England MT50S 1990
MT50SL Netherlands MT50S 1990
MT50SL Norway MT50S 1990
MT50SL Sweden MT50S 1990
MT50SM Sweden MT50S 1991
MT50SP Norway MT50S 1993
MT50SP Sweden MT50S 1993
MT50ST Norway MT50S 1996
MT50ST Sweden MT50S 1996
MTX125RWH England MTX125RW 1987
MTX125RWH France MTX125RW Yellow Bulb 1987
MTX125RWH France MTX125RW Yellow Bulb 15.6 HP 1987
MTX125RWL England MTX125RW 1990
NE50L Spain NE50 1990
NE50R Spain NE50 1994
NES1251 England NES125 Miles/Kilometers per Hour 2001
NES1251 European Direct Sales NES125 Kilometers per Hour 2001
NES1251 France NES125 Kilometers per Hour 2001
NES1252 England NES125 Idle Stop System Miles/Kilometers per Hour 2002
NES1252 England NES125 Kilometers per Hour Two Tone 2002
NES1252 England NES125 Miles/Kilometers per Hour 2002
NES1252 European Direct Sales NES125 Idle Stop System Kilometers per Hour 2002
NES1252 European Direct Sales NES125 Kilometers per Hour 2002
NES1252 European Direct Sales NES125 Kilometers per Hour Two Tone 2002
NES1252 France NES125 Caution Label in French Idle Stop System Kilometers per Hour 2002
NES1252 France NES125 Caution Label in French Kilometers per Hour 2002
NES1252 France NES125 Caution Label in French Kilometers per Hour Two Tone 2002
NES1253 England NES125 Idle Stop System Miles/Kilometers per Hour 2003
NES1253 England NES125 Miles/Kilometers per Hour 2003
NES1253 England NES125 Miles/Kilometers per Hour Two Tone 2003
NES1253 European Direct Sales NES125 Idle Stop System Kilometers per Hour 2003
NES1253 European Direct Sales NES125 Kilometers per Hour 2003
NES1253 European Direct Sales NES125 Kilometers per Hour Two Tone 2003
NES1253 France NES125 Caution Label in French Idle Stop System Kilometers per Hour 2003
NES1253 France NES125 Caution Label in French Kilometers per Hour 2003
NES1253 France NES125 Caution Label in French Kilometers per Hour Two Tone 2003
NES1254 England NES125 2004
NES1254 European Direct Sales NES125 2004
NES1254 European Direct Sales NES125 Idle Stop System 2004
NES1254 France NES125 Caution Label in French 2004
NES1254 France NES125 Idle Stop System 2004
NES1255 England NES125 2005
NES1255 European Direct Sales NES125 2005
NES1255 France NES125 Caution Label in French 2005
NES125Y England NES125 Miles/Kilometers per Hour 2000
NES125Y European Direct Sales NES125 Kilometers per Hour 2000
NES125Y France NES125 Kilometers per Hour 2000
NES1501 England NES150 Idle Stop System Miles/Kilometers per Hour 2001
NES1501 European Direct Sales NES150 Idle Stop System Kilometers per Hour 2001
NES1501 France NES150 Idle Stop System Kilometers per Hour 2001
NES1502 European Direct Sales NES150 Idle Stop System Kilometers per Hour 2002
NES1502 European Direct Sales NES150 Kilometers per Hour 2002
NES1502 European Direct Sales NES150 Kilometers per Hour Two Tone 2002
NES1503 European Direct Sales NES150 2003
NES1503 European Direct Sales NES150 Idle Stop System 2003
NES1503 European Direct Sales NES150 Two Tone 2003
NES1504 European Direct Sales NES150 2004
NES1504 European Direct Sales NES150 Idle Stop System 2004
NES1505 European Direct Sales NES150 2005
NES150Y England NES150 Miles/Kilometers per Hour 2000
NES150Y European Direct Sales NES150 Kilometers per Hour 2000
NES150Y France NES150 Kilometers per Hour 2000
NH50MSK Germany NH50MS Kilometers per Hour 1989
NH50MSL Germany NH50MS Kilometers per Hour Made in Kumamoto 1990
NH50MSL Germany NH50MS Kilometers per Hour Made in Suzuka 1990
NH80MDK Australia NH80MD Kilometers per Hour Made in Kumamoto 1989
NH80MDK Australia NH80MD Kilometers per Hour Made in Suzuka 1989
NH80MDP General Export KPH NH80MD Kilometers per Hour 1993
NH80MDP England NH80MD Miles per Hour 1993
NH80MDR England NH80MD 1994
NH80MSN France NH80MS Kilometers per Hour 1992
NH80MSP France NH80MS Kilometers per Hour 1993
NH80MSR France NH80M 1994
NH90M Spain NH90 1991
NH90P Spain NH90 1993
NH90R Spain NH90 1994
NPS503 Canada NPS50 2003
NPS505 England NPS50 Miles/Kilometers per Hour 2005
NPS505 European Direct Sales NPS50 Kilometers per Hour 2005
NPS505 France NPS50 Caution Label in French Kilometers per Hour 2005
NR750N Austria NR750 1992
NR750N England NR750 1992
NR750N European Direct Sales NR750 1992
NR750N France NR750 Yellow Bulb 1992
NR750N Germany NR750 1992
NR750N Spain NR750 1992
NR750N Switzerland NR750 1992
NSR125FJ Portugal NSR125F Kilometers per Hour 1988
NSR125FJ Spain NSR125F Kilometers per Hour 1988
NSR125FK Italy NSR125F Kilometers per Hour 1989
NSR125FL Italy NSR125F Kilometers per Hour 1990
NSR125FL Spain NSR125F Kilometers per Hour 1990
NSR125FM England NSR125F Miles/Kilometers per Hour 1991
NSR125FM Italy NSR125F Kilometers per Hour 1991
NSR125FM Spain NSR125F Kilometers per Hour 1991
NSR125FN Italy NSR125F Kilometers per Hour 1992
NSR125FN Spain NSR125F Kilometers per Hour 1992
NSR125FP France NSR125F Caution Label in French 1993
NSR125FP Italy NSR125F 1993
NSR125FP Portugal NSR125F 1993
NSR125FP Spain NSR125F 1993
NSR125FP Switzerland NSR125F 1993
NSR125R1 England NSR125R 2001
NSR125R1 European Direct Sales NSR125R 2001
NSR125R1 France NSR125R Caution Label in French 2001
NSR125R1 Italy NSR125R 2001
NSR125R1 Switzerland NSR125R 2001
NSR125RK England NSR125R Miles/Kilometers per Hour 1989
NSR125RK France NSR125R Kilometers per Hour 1989
NSR125RK Finland NSR125R Kilometers per Hour 1989
NSR125RK Italy NSR125R Kilometers per Hour 1989
NSR125RK Portugal NSR125R Kilometers per Hour 1989
NSR125RK Sweden NSR125R Kilometers per Hour 1989
NSR125RK Spain NSR125R Kilometers per Hour 1989
NSR125RK Switzerland NSR125R Kilometers per Hour 1989
NSR125RL England NSR125R Miles/Kilometers per Hour 1990
NSR125RL France NSR125R Kilometers per Hour 1990
NSR125RL Finland NSR125R Kilometers per Hour 1990
NSR125RL Italy NSR125R Kilometers per Hour 1990
NSR125RL Portugal NSR125R Kilometers per Hour 1990
NSR125RL Sweden NSR125R Kilometers per Hour 1990
NSR125RL Spain NSR125R Kilometers per Hour 1990
NSR125RL Switzerland NSR125R Kilometers per Hour 1990
NSR125RM England NSR125R Miles/Kilometers per Hour 1991
NSR125RM France NSR125R Kilometers per Hour 1991
NSR125RM Finland NSR125R Kilometers per Hour 1991
NSR125RM Italy NSR125R Kilometers per Hour 1991
NSR125RM Portugal NSR125R Kilometers per Hour 1991
NSR125RM Sweden NSR125R Kilometers per Hour 1991
NSR125RM Spain NSR125R Kilometers per Hour 1991
NSR125RN England NSR125R Miles/Kilometers per Hour 1992
NSR125RN France NSR125R Kilometers per Hour 1992
NSR125RN Italy NSR125R Kilometers per Hour 1992
NSR125RN Portugal NSR125R Kilometers per Hour 1992
NSR125RN Spain NSR125R Kilometers per Hour 1992
NSR125RN Switzerland NSR125R Kilometers per Hour 1992
NSR125RP England NSR125R 1993
NSR125RP France NSR125R Caution Label in French 1993
NSR125RP Finland NSR125R 1993
NSR125RP Italy NSR125R 1993
NSR125RP Portugal NSR125R 1993
NSR125RP Spain NSR125R 1993
NSR125RP Switzerland NSR125R 1993
NSR125RR England NSR125R 1994
NSR125RR France NSR125R Caution Label in French 1994
NSR125RR Italy NSR125R 1994
NSR125RR Portugal NSR125R 1994
NSR125RR Spain NSR125R 1994
NSR125RR Switzerland NSR125R 1994
NSR125RS Italy NSR125R 1995
NSR125RS Spain NSR125R 1995
NSR125RS Switzerland NSR125R 1995
NSR125RV Belgium NSR125R 1997
NSR125RV England NSR125R 1997
NSR125RV France NSR125R Caution Label in French 1997
NSR125RV Finland NSR125R 1997
NSR125RV Italy NSR125R 1997
NSR125RV Italy NSR125R Licensing System 1997
NSR125RV Portugal NSR125R 1997
NSR125RV Sweden NSR125R 1997
NSR125RV Spain NSR125R 1997
NSR125RV Switzerland NSR125R 1997
NSR125RW England NSR125R 1998
NSR125RW France NSR125R Caution Label in French 1998
NSR125RW Italy NSR125R 1998
NSR125RW Italy NSR125R Licensing System 1998
NSR125RW Portugal NSR125R 1998
NSR125RW Spain NSR125R 1998
NSR125RW Switzerland NSR125R 1998
NSR125RX England NSR125R 1999
NSR125RX France NSR125R Caution Label in French 1999
NSR125RX Italy NSR125R 1999
NSR125RX Italy NSR125R Licensing System 1999
NSR125RX Portugal NSR125R 1999
NSR125RX Spain NSR125R 1999
NSR125RX Switzerland NSR125R 1999
NSR125RY England NSR125R 2000
NSR125RY European Direct Sales NSR125R 2000
NSR125RY France NSR125R Caution Label in French 2000
NSR125RY Italy NSR125R Licensing System 2000
NSR125RY Switzerland NSR125R 2000
NSR50FP Portugal NSR50F 1993
NSR50FR Portugal NSR50F 1994
NSR50FS Portugal NSR50F 1995
NSR50RV Portugal NSR50R 1997
NSR50RV Spain NSR50R 1997
NSR50RW Portugal NSR50R 1998
NSR50RW Spain NSR50R 1998
NSR50RX Portugal NSR50R 1999
NSR50RX Portugal NSR50R Repsol Color 1999
NSR50RX Spain NSR50R 1999
NSR50RX Spain NSR50R Repsol Color 1999
NSR50RY Portugal NSR50R 2000
NSR50RY Spain NSR50R 2000
NSR50SK Germany NSR50S HOR 1989
NSR50SP Belgium NSR50S HOR 1993
NSR50SP Germany NSR50S HOR 1993
NSR50SP Netherlands NSR50S Bell 1993
NSR50SR Belgium NSR50S HOR 1994
NSR50SR Germany NSR50S HOR 1994
NSR50SR Netherlands NSR50S Bell 1994
NSR50SS Belgium NSR50S HOR 1995
NSR50SS Germany NSR50S HOR 1995
NSR50SS Netherlands NSR50S Bell 1995
NSR75N Spain NSR75 1992
NSR75P Spain NSR75 1993
NSR75R Spain NSR75 HRC Color 1994
NSR75R Spain NSR75 Repsol Color 1994
NSR75X Spain NSR75 1999
NSR75X Spain NSR75 Repsol Color 1999
NSR75Y Spain NSR75 Repsol Color 2000
NSS2501 England NSS250 Miles/Kilometers per Hour 2001
NSS2501 European Direct Sales NSS250 Kilometers per Hour 2001
NSS2501 England Jazz Miles/Kilometers per Hour 2001
NSS2501 European Direct Sales Jazz Kilometers per Hour 2001
NSS2502 Korea Jazz Kilometers per Hour 2002
NSS2503 European Direct Sales NSS250 Kilometers per Hour 2003
NSS2504 European Direct Sales NSS250 Kilometers per Hour 2004
NSS250A1 European Direct Sales Jazz NSS250A ABS 2001
NSS250A3 European Direct Sales Jazz NSS250A ABS 2003
NSS250A4 European Direct Sales Jazz NSS250A ABS 2004
NT650V1 England Deauville 2001
NT650V1 European Direct Sales Deauville 2001
NT650V1 European Direct Sales Deauville 25 KW 2001
NT650V1 France Deauville 2001
NT650V1 France Deauville 25 KW 2001
NT650V1 Germany Deauville 2001
NT650V1 Germany Deauville 25 KW 2001
NT650V1 Germany Deauville 50 HP 2001
NT650V1 Switzerland Deauville 2001
NT650V2 England Deauville 2002
NT650V2 European Direct Sales Deauville 2002
NT650V2 European Direct Sales Deauville 25 KW 2002
NT650V2 France Deauville 2002
NT650V2 France Deauville 25 KW 2002
NT650V2 Germany Deauville 50 HP 2002
NT650V3 England Deauville 2003
NT650V3 European Direct Sales Deauville 2003
NT650V3 European Direct Sales Deauville 25 KW 2003
NT650V3 France Deauville 2003
NT650V3 France Deauville 25 KW 2003
NT650V3 Germany Deauville 25 KW 2003
NT650V4 England Deauville 2004
NT650V4 European Direct Sales Deauville 2004
NT650V4 European Direct Sales Deauville 25 KW 2004
NT650V4 France Deauville 2004
NT650V4 France Deauville 25 KW 2004
NT650V4 Germany Deauville 50 HP 2004
NT650V4 Australia Deauville 2004
NT650V5 England Deauville 2005
NT650V5 European Direct Sales Deauville 2005
NT650V5 European Direct Sales Deauville 25 KW 2005
NT650V5 EK Deauville 2005
NT650V5 France Deauville 2005
NT650V5 France Deauville 25 KW 2005
NT650V5 Germany Deauville 50 HP 2005
NT650V5 Australia Deauville 2005
NT650VW England Deauville 1998
NT650VW European Direct Sales Deauville 1998
NT650VW European Direct Sales Deauville 25 KW 1998
NT650VW France Deauville 1998
NT650VW France Deauville 25 KW 1998
NT650VW Germany Deauville 1998
NT650VW Germany Deauville 25 KW 1998
NT650VW Germany Deauville 50 HP 1998
NT650VW Switzerland Deauville 1998
NT650VX England Deauville 1999
NT650VX European Direct Sales Deauville 1999
NT650VX European Direct Sales Deauville 25 KW 1999
NT650VX France Deauville 1999
NT650VX France Deauville 25 KW 1999
NT650VX Germany Deauville 1999
NT650VX Germany Deauville 25 KW 1999
NT650VX Germany Deauville 50 HP 1999
NT650VX Switzerland Deauville 1999
NT650VY England Deauville 2000
NT650VY European Direct Sales Deauville 2000
NT650VY European Direct Sales Deauville 25 KW 2000
NT650VY France Deauville 2000
NT650VY France Deauville 25 KW 2000
NT650VY Germany Deauville 2000
NT650VY Germany Deauville 25 KW 2000
NT650VY Germany Deauville 50 HP 2000
NT650VY Switzerland Deauville 2000
NTV600J England NTV600 1988
NTV600K England NTV600 1989
NTV600M England NTV600 1991
NTV650J Austria NTV650 1988
NTV650J European Direct Sales NTV650 1988
NTV650J France NTV650 Yellow Bulb 1988
NTV650J Finland NTV650 1988
NTV650J Germany NTV650 1988
NTV650J Germany NTV650 27 HP 1988
NTV650J Germany NTV650 50 HP 1988
NTV650J Italy NTV650 1988
NTV650J Spain NTV650 1988
NTV650J Switzerland NTV650 1988
NTV650K Austria NTV650 1989
NTV650K European Direct Sales NTV650 1989
NTV650K France NTV650 Yellow Bulb 1989
NTV650K Finland NTV650 1989
NTV650K Germany NTV650 1989
NTV650K Germany NTV650 34 HP 1989
NTV650K Germany NTV650 50 HP 1989
NTV650K Italy NTV650 1989
NTV650K Spain NTV650 1989
NTV650L Australia NTV650 1990
NTV650M European Direct Sales NTV650 1991
NTV650M France NTV650 Yellow Bulb 1991
NTV650M Germany NTV650 1991
NTV650M Germany NTV650 27 HP 1991
NTV650M Germany NTV650 50 HP 1991
NTV650M Spain NTV650 1991
NTV650M Switzerland NTV650 1991
NTV650M Australia NTV650 1991
NTV650P England NTV650 1993
NTV650P European Direct Sales NTV650 1993
NTV650P France NTV650 1993
NTV650P Germany NTV650 1993
NTV650P Germany NTV650 27 HP 1993
NTV650P Germany NTV600 34 HP 1993
NTV650P Germany NTV650 50 HP 1993
NTV650P Spain NTV650 1993
NTV650P Switzerland NTV650 1993
NTV650S England NTV650 Miles/Kilometers per Hour 1995
NTV650S European Direct Sales NTV650 Miles/Kilometers per Hour 1995
NTV650S France NTV650 Miles/Kilometers per Hour 1995
NTV650S Germany NTV650 Miles/Kilometers per Hour 1995
NTV650S Germany NTV650 Miles/Kilometers per Hour 34 HP 1995
NTV650S Germany NTV650 Miles/Kilometers per Hour 50 HP 1995
NTV650S Switzerland NTV650 Miles/Kilometers per Hour 1995
NTV650T England NTV650 Miles/Kilometers per Hour 1996
NTV650T European Direct Sales NTV650 Miles/Kilometers per Hour 1996
NTV650T France NTV650 Miles/Kilometers per Hour 1996
NTV650T Germany NTV650 Miles/Kilometers per Hour 1996
NTV650T Germany NTV650 Miles/Kilometers per Hour 34 HP 1996
NTV650T Germany NTV650 Miles/Kilometers per Hour 50 HP 1996
NTV650T Spain NTV650 Miles/Kilometers per Hour 1996
NTV650T Switzerland NTV650 Miles/Kilometers per Hour 1996
NTV650V England NTV650 Miles/Kilometers per Hour 1997
NTV650V European Direct Sales NTV650 Miles/Kilometers per Hour 1997
NTV650V France NTV650 Miles/Kilometers per Hour 1997
NTV650V Germany NTV650 Miles/Kilometers per Hour 1997
NTV650V Germany NTV650 Miles/Kilometers per Hour 34 HP 1997
NTV650V Germany NTV650 Miles/Kilometers per Hour 50 HP 1997
NTV650V Spain NTV650 Miles/Kilometers per Hour 1997
NV400CS Singapore NV400C Kilometers per Hour 1995
NV400CV Singapore NV400C Kilometers per Hour 1997
NV600CP Korea NV600C Kilometers per Hour 1993
NV600CR Korea NV600C Kilometers per Hour 1994
NV750C2X Korea NV750C2 Kilometers per Hour Made in Kumamoto 1999
NX125K France NX125 Caution Label in French 1989
NX125K Italy NX125 1989
NX125S France NX125 Caution Label in French 1995
NX125S Italy NX125 1995
NX125V France NX125 Caution Label in French 1997
NX125V Italy NX125 1997
NX2502L European Direct Sales NX2502 Made in Kumamoto 1990
NX2502L European Direct Sales NX2502 Made in Hamamatsu 1990
NX2502L France NX2502 Made in Kumamoto 1990
NX2502L France NX2502 Made in Hamamatsu 1990
NX2502L Germany NX2502 Made in Kumamoto 1990
NX2502L Germany NX2502 Made in Kumamoto 15.6 HP 1990
NX2502L Germany NX2502 Made in Hamamatsu 1990
NX2502L Germany NX2502 Made in Hamamatsu 15.6 HP 1990
NX2502L Spain NX2502 Made in Kumamoto 1990
NX2502L Spain NX2502 Made in Hamamatsu 1990
NX2502P European Direct Sales NX2502 1993
NX2502P France NX2502 1993
NX2502P Germany NX2502 1993
NX2502P Germany NX2502 15.6 HP 1993
NX2502P Spain NX2502 Made in Kumamoto 1993
NX2502P Spain NX2502 Made in Hamamatsu 1993
NX250J Canada NX250 1988
NX250J European Direct Sales NX250 1988
NX250J France NX250 1988
NX250J Germany NX250 1988
NX250J Germany NX250 15.6 HP 1988
NX250J Northern Europe NX250 1988
NX250J Spain NX250 1988
NX250K Denmark NX250 1989
NX250K Finland NX250 1989
NX250K Germany NX250 1989
NX250K Germany NX250 15.6 HP 1989
NX250L European Direct Sales NX250 Made in Kumamoto 1990
NX250L European Direct Sales NX250 Made in Hamamatsu 1990
NX250L France NX250 1990
NX250L Germany NX250 1990
NX250L Germany NX250 15.6 HP 1990
NX250L Spain NX250 1990
NX250M Switzerland NX250 Made in Kumamoto 1991
NX250M Switzerland NX250 Made in Hamamatsu 1991
NX250P European Direct Sales NX250 Made in Kumamoto 1993
NX250P European Direct Sales NX250 Made in Hamamatsu 1993
NX250P Switzerland NX250 1993
NX500J Austria NX500 1988
NX500K Austria NX500 1989
NX500L Austria NX500 1990
NX500M Austria NX500 1991
NX500N Austria Dominator Kilometers per Hour 1992
NX500P Austria Dominator Kilometers per Hour 1993
NX500R Austria Dominator Kilometers per Hour 1994
NX500S Austria Dominator 1995
NX500T Austria Dominator 20 KW 1996
NX500V Austria Dominator 1997
NX500W Austria Dominator 1998
NX500X Austria Dominator 1999
NX6502L England NX6502 Miles/Kilometers per Hour 1990
NX6502L European Direct Sales NX6502 1990
NX6502L France NX6502 Yellow Bulb 1990
NX6502L Germany NX6502 1990
NX6502L Germany NX6502 27 HP 1990
NX6502L Spain NX6502 1990
NX650J Belgium NX650 1988
NX650J England NX650 Miles/Kilometers per Hour 1988
NX650J European Direct Sales NX650 1988
NX650J France NX650 Yellow Bulb 1988
NX650J Germany NX650 1988
NX650J Germany NX650 27 HP 1988
NX650J Italy NX650 1988
NX650J Norway NX650 1988
NX650J Sweden NX650 1988
NX650J Spain NX650 1988
NX650J Switzerland NX650 1988
NX650J Australia NX650 1988
NX650K Belgium NX650 1989
NX650K England NX650 Miles/Kilometers per Hour 1989
NX650K European Direct Sales NX650 1989
NX650K France NX650 Yellow Bulb 1989
NX650K Italy NX650 1989
NX650K Sweden NX650 1989
NX650K Spain NX650 1989
NX650K Switzerland NX650 1989
NX650K Australia NX650 1989
NX650L Belgium NX650 1990
NX650L England NX650 Miles/Kilometers per Hour 1990
NX650L European Direct Sales NX650 1990
NX650L France NX650 Yellow Bulb 1990
NX650L Germany NX650 1990
NX650L Germany NX650 27 HP 1990
NX650L Italy NX650 1990
NX650L Sweden NX650 1990
NX650L Spain NX650 1990
NX650L Switzerland NX650 1990
NX650L Australia NX650 1990
NX650M England NX650 Miles/Kilometers per Hour 1991
NX650M European Direct Sales NX650 1991
NX650M France NX650 Yellow Bulb 1991
NX650M Germany NX650 1991
NX650M Germany NX650 27 HP 1991
NX650M Italy NX650 1991
NX650M Sweden NX650 1991
NX650M Spain NX650 1991
NX650M Switzerland NX650 1991
NX650N England Dominator Kilometers per Hour 1992
NX650N European Direct Sales Dominator Miles/Kilometers per Hour 1992
NX650N France Dominator Miles/Kilometers per Hour 1992
NX650N Germany Dominator Miles/Kilometers per Hour 1992
NX650N Germany Dominator Miles/Kilometers per Hour 27 HP 1992
NX650N Northern Europe Dominator Miles/Kilometers per Hour 1992
NX650N Spain Dominator Miles/Kilometers per Hour 1992
NX650N Switzerland Dominator Miles/Kilometers per Hour 1992
NX650N Australia Dominator Kilometers per Hour 1992
NX650P Brazil Dominator Miles/Kilometers per Hour 1993
NX650P England Dominator Kilometers per Hour 1993
NX650P European Direct Sales Dominator Miles/Kilometers per Hour 1993
NX650P France Dominator Miles/Kilometers per Hour 1993
NX650P Germany Dominator Miles/Kilometers per Hour 1993
NX650P Germany Dominator Miles/Kilometers per Hour 27 HP 1993
NX650P Spain Dominator Miles/Kilometers per Hour 1993
NX650P Switzerland Dominator Miles/Kilometers per Hour 1993
NX650P Australia Dominator Kilometers per Hour 1993
NX650R England Dominator Kilometers per Hour 1994
NX650R European Direct Sales Dominator Miles/Kilometers per Hour 1994
NX650R France Dominator Miles/Kilometers per Hour 1994
NX650R Germany Dominator Miles/Kilometers per Hour 1994
NX650R Germany Dominator Miles/Kilometers per Hour 20 KW 1994
NX650R Spain Dominator Miles/Kilometers per Hour 1994
NX650R Australia Dominator Kilometers per Hour 1994
NX650S England Dominator 1995
NX650S European Direct Sales Dominator 1995
NX650S France Dominator Caution Label in French 1995
NX650S Germany Dominator 1995
NX650S Germany Dominator 25 HP 1995
NX650S Italy Dominator 1995
NX650S Italy Dominator 25 HP 1995
NX650S Northern Europe Dominator 1995
NX650S Switzerland Dominator 1995
NX650S Australia Dominator 1995
NX650T England Dominator 1996
NX650T European Direct Sales Dominator 1996
NX650T European Direct Sales Dominator 25 KW 1996
NX650T France Dominator Caution Label in French 1996
NX650T Germany Dominator 1996
NX650T Germany Dominator 25 HP 1996
NX650T Italy Dominator 1996
NX650T Italy Dominator 25 HP 1996
NX650T Northern Europe Dominator 1996
NX650T Switzerland Dominator 1996
NX650T Australia Dominator 1996
NX650V England Dominator 1997
NX650V European Direct Sales Dominator 1997
NX650V European Direct Sales Dominator 34 HP 1997
NX650V France Dominator Caution Label in French 1997
NX650V Germany Dominator 1997
NX650V Germany Dominator 34 HP 1997
NX650V Italy Dominator 1997
NX650V Italy Dominator 34 HP 1997
NX650V Northern Europe Dominator 1997
NX650V Switzerland Dominator 1997
NX650V Australia Dominator 1997
NX650W England Dominator 1998
NX650W European Direct Sales Dominator 1998
NX650W European Direct Sales Dominator 34 HP 1998
NX650W France Dominator Caution Label in French 1998
NX650W France Dominator Caution Label in French 34 HP 1998
NX650W Germany Dominator 1998
NX650W Germany Dominator 34 HP 1998
NX650W Italy Dominator 1998
NX650W Italy Dominator 34 HP 1998
NX650W Northern Europe Dominator 1998
NX650W Switzerland Dominator 1998
NX650W Australia Dominator 1998
NX650X England Dominator 1999
NX650X European Direct Sales Dominator 1999
NX650X European Direct Sales Dominator 25 KW 1999
NX650X France Dominator 1999
NX650X France Dominator 25 KW 1999
NX650X Germany Dominator 1999
NX650X Germany Dominator 25 KW 1999
NX650X Italy Dominator 1999
NX650X Italy Dominator 25 KW 1999
NX650X Northern Europe Dominator 1999
NX650X Switzerland Dominator 1999
NX650X Australia Dominator 1999
PAC16A1Y Italy Racoon NH446M 2000
PAC16A2Y Italy Racoon PB301M 2000
PC800K Canada Pacafic Coast 1989
PC800K France Pacafic Coast Yellow Bulb 1989
PC800K Italy Pacafic Coast 1989
PC800L Canada Pacafic Coast 1990
PC800L Italy Pacafic Coast 1990
PK501 Belgium PK50 Moped 2001
PK501 Netherlands PK50 Moped 2001
PK501 Norway PK50 Moped 2001
PK50L Belgium PK50 1990
PK50L France PK50 1990
PK50L Italy PK50 1990
PK50L Spain PK50 1990
PK50M Netherlands PK50 1991
PK50M Norway PK50 1991
PK50M1 Belgium PK50M Moped Self Starter 2001
PK50M1 Spain PK50M Moped Self Starter 2001
PK50ML Belgium PK50M Self Starter 1990
PK50ML France PK50M Self Starter 1990
PK50ML Italy PK50M Self Starter 1990
PK50ML Portugal PK50M Self Starter 1990
PK50ML Spain PK50M Self Starter 1990
PK50MM Belgium PK50M Self Starter 1991
PK50MN France PK50M Self Starter 1992
PK50MN Portugal PK50M Self Starter 1992
PK50MN Spain PK50M Self Starter 1992
PK50MP Belgium PK50M Self Starter 1993
PK50MP France PK50M Self Starter 1993
PK50MP Italy PK50M Self Starter 1993
PK50MP Portugal PK50M Self Starter 1993
PK50MP Spain PK50M Self Starter 1993
PK50MR Belgium PK50M Self Starter 1994
PK50MR France PK50M Self Starter 1994
PK50MR Italy PK50M Self Starter 1994
PK50MR Portugal PK50M Self Starter 1994
PK50MR Spain PK50M Self Starter 1994
PK50MS Belgium PK50M Caution Label in French 1995
PK50MS Spain PK50M 1995
PK50MX Belgium Wallaroo Deluxe Moped Self Starter 1999
PK50MX Sweden Wallaroo Deluxe Moped Self Starter 1999
PK50MX Spain Wallaroo Deluxe Moped Self Starter 1999
PK50MY Belgium Wallaroo Deluxe Moped Self Starter 2000
PK50MY Spain Wallaroo Deluxe Moped Self Starter 2000
PK50N Belgium PK50 1992
PK50N France PK50 1992
PK50N Norway PK50 1992
PK50N Spain PK50 1992
PK50P Belgium PK50 1993
PK50P France PK50 Self Starter 1993
PK50P Netherlands PK50 1993
PK50P Italy PK50 1993
PK50P Norway PK50 1993
PK50R Belgium PK50 1994
PK50R France PK50 1994
PK50R Netherlands PK50 1994
PK50R Italy PK50 1994
PK50R Norway PK50 1994
PK50S Belgium PK50 Caution Label in French 1995
PK50S Netherlands PK50 1995
PK50S Spain PK50 1995
PK50S1 Belgium PK50S 2001
PK50SL Belgium PK50S 1990
PK50SM1 Belgium PK50SM Self Starter 2001
PK50SML Belgium PK50SM Self Starter 1990
PK50SMM Belgium PK50SM Self Starter 1991
PK50SMP Belgium PK50SM Self Starter 25 KW 1993
PK50SMR Belgium PK50SM Self Starter 25 KW 1994
PK50SMS Belgium PK50SM Caution Label in French 1995
PK50SMX Belgium Wallaroo Deluxe Self Starter 1999
PK50SMY Belgium Wallaroo Deluxe Self Starter 2000
PK50SN Belgium PK50S 25 KW 1992
PK50SP Belgium PK50S 25 KW 1993
PK50SR Belgium PK50S 25 KW 1994
PK50SS Belgium PK50S Caution Label in French 1995
PK50SX Belgium Wallaroo Standard 1999
PK50SY Belgium Wallaroo Standard 2000
PK50X Belgium Wallaroo Moped Standard 1999
PK50X Denmark Wallaroo Moped Standard 1999
PK50X Netherlands Wallaroo Moped Standard 1999
PK50X Norway Wallaroo Moped Standard 1999
PK50X Spain Wallaroo Moped Standard 1999
PK50Y Belgium Wallaroo Moped Standard 2000
PK50Y Netherlands Wallaroo Moped Standard 2000
PK50Y Norway Wallaroo Moped Standard 2000
QR50M European Direct Sales QR50 1991
QR50M Australia QR50 1991
QR50R European Direct Sales QR50 1994
QR50R Australia QR50 1994
QR50V European Direct Sales QR50 1997
QR50W Mexico QR50 1998
QR50Y Mexico QR50 2000
RVF750RR Austria RVF750R Kilometers per Hour 1994
RVF750RR Canada RVF750R Kilometers per Hour 1994
RVF750RR England RVF750R Miles/Kilometers per Hour 1994
RVF750RR European Direct Sales RVF750R Kilometers per Hour 1994
RVF750RR France RVF750R Kilometers per Hour 1994
RVF750RR Germany RVF750R Kilometers per Hour 1994
RVF750RR Netherlands RVF750R Kilometers per Hour 1994
RVF750RR Italy RVF750R Kilometers per Hour 1994
RVF750RR Spain RVF750R Kilometers per Hour 1994
RVF750RR Switzerland RVF750R Kilometers per Hour 1994
RVF750RS Austria RVF750R Kilometers per Hour 1995
RVF750RS Canada RVF750R Kilometers per Hour 1995
RVF750RS England RVF750R Miles/Kilometers per Hour 1995
RVF750RS European Direct Sales RVF750R Kilometers per Hour 1995
RVF750RS France RVF750R Kilometers per Hour 1995
RVF750RS Germany RVF750R Kilometers per Hour 1995
RVF750RS Spain RVF750R Kilometers per Hour 1995
SA50J Belgium SA50 1988
SA50J England SA50 1988
SA50J France SA50 1988
SA50J Netherlands SA50 1988
SA50J Portugal SA50 1988
SA50K Switzerland SA50 1989
SA50L Italy SA50 1990
SA50M Belgium SA50 Moped 1991
SA50M England SA50 1991
SA50M France SA50 1991
SA50M Netherlands SA50 1991
SA50M Italy SA50 1991
SA50M Portugal SA50 1991
SA50P Belgium SA50 Caution Label in French 1993
SA50P England SA50 1993
SA50P France SA50 Caution Label in French 1993
SA50P Germany SA50 Moped 1993
SA50P Netherlands SA50 1993
SA50P Italy SA50 1993
SA50P Portugal SA50 1993
SA50P Switzerland SA50 1993
SA50R Belgium SA50 Caution Label in French 1994
SA50R England SA50 1994
SA50R France SA50 Caution Label in French 1994
SA50R Germany SA50 1994
SA50R Netherlands SA50 1994
SA50R Italy SA50 1994
SA50R Portugal SA50 1994
SA50R Switzerland SA50 1994
SA50S Belgium SA50 Caution Label in French Moped 1995
SA50S Netherlands SA50 1995
SA50S Switzerland SA50 1995
SA50SJ Belgium SA50S 1988
SA50SM Belgium SA50S 25 KW 1991
SA50SP Belgium SA50S Caution Label in French 1993
SA50SR Belgium SA50S Caution Label in French 1994
SA50SS Belgium SA50S Caution Label in French 1995
SA75K Spain SA75 1989
SA75M Belgium SA75 1991
SA75M Spain SA75 1991
SA75P Spain SA75 1993
SCV1003 England Lead 2003
SCV1003 European Direct Sales Lead 2003
SCV1003 France Lead Caution Label in French 2003
SCV1003 Korea Lead 2003
SCV100F5 England Lead 2005
SCV100F5 European Direct Sales Lead 2005
SCV100F5 France Lead Caution Label in French 2005
SCV100F5 Korea Lead Caution Label in French 2005
SES1252 England SES125 2002
SES1252 European Direct Sales SES125 2002
SES1252 France SES125 2002
SES1253 England SES125 Type 1 2003
SES1253 England SES125 Type 2 2003
SES1253 European Direct Sales SES125 Type 1 2003
SES1253 European Direct Sales SES125 Type 2 2003
SES1253 France SES125 Type 1 2003
SES1253 France SES125 Type 2 2003
SES1254 England SES125 2004
SES1254 European Direct Sales SES125 2004
SES1254 France SES125 2004
SES1502 England SES150 2002
SES1502 European Direct Sales SES150 2002
SES1502 France SES150 2002
SES1503 England SES150 Type 1 2003
SES1503 England SES150 Type 2 2003
SES1503 European Direct Sales SES150 Type 1 2003
SES1503 European Direct Sales SES150 Type 2 2003
SES1503 France SES150 Type 1 2003
SES1503 France SES150 Type 2 2003
SES1504 European Direct Sales SES150 2004
SFX501 Belgium SFX50 2001
SFX501 England SFX50 2001
SFX501 France SFX50 2001
SFX501 Germany SFX50 2001
SFX501 Netherlands SFX50 Moped 2001
SFX501 Portugal SFX50 2001
SFX501 Portugal SFX50 Moped 2001
SFX501 Spain SFX50 2001
SFX501 Switzerland SFX50 2001
SFX50MMW Belgium SFX50MM 1998
SFX50MMW England SFX50MM 1998
SFX50MMW France SFX50MM Caution Label in French 1998
SFX50MMW Germany SFX50MM 1998
SFX50MMW Netherlands SFX50MM 1998
SFX50MMW Italy SFX50MM 1998
SFX50MMW Portugal SFX50MM 1998
SFX50MMW Spain SFX50MM 1998
SFX50MMW Switzerland SFX50MM 1998
SFX50MMX Belgium SFX50MM 1999
SFX50MMX England SFX50MM 1999
SFX50MMX France SFX50MM 1999
SFX50MMX Germany SFX50MM 1999
SFX50MMX Netherlands SFX50MM 1999
SFX50MMX Italy SFX50MM 1999
SFX50MMX Portugal SFX50MM 1999
SFX50MMX Spain SFX50MM 1999
SFX50MMX Switzerland SFX50MM 1999
SFX50S England SFX50 Miles/Kilometers per Hour 1995
SFX50S France SFX50 Caution Label in French 1995
SFX50S Italy SFX50 1995
SFX50S Portugal SFX50 1995
SFX50S Spain SFX50 1995
SFX50S1 Belgium SFX50S 2001
SFX50SMMW Belgium SFX50SMM 1998
SFX50SMMX Belgium SFX50SMM 1999
SFX50SV Belgium SFX50S 1997
SFX50SW Belgium SFX50S 1998
SFX50SX Belgium SFX50S 1999
SFX50SY Belgium SFX50S 2000
SFX50T England SFX50 Miles/Kilometers per Hour 1996
SFX50T France SFX50 Caution Label in French 1996
SFX50T Italy SFX50 1996
SFX50T Portugal SFX50 1996
SFX50T Portugal SFX50 Moped 1996
SFX50T Spain SFX50 1996
SFX50V Belgium SFX50 1997
SFX50V England SFX50 1997
SFX50V France SFX50 Caution Label in French 1997
SFX50V Germany SFX50 1997
SFX50V Netherlands SFX50 1997
SFX50V Italy SFX50 1997
SFX50V Portugal SFX50 1997
SFX50V Portugal SFX50 Moped 1997
SFX50V Spain SFX50 Moped 1997
SFX50V Switzerland SFX50 Moped 1997
SFX50W Belgium SFX50 1998
SFX50W England SFX50 1998
SFX50W France SFX50 1998
SFX50W Germany SFX50 1998
SFX50W Netherlands SFX50 1998
SFX50W Italy SFX50 1998
SFX50W Portugal SFX50 1998
SFX50W Portugal SFX50 Moped 1998
SFX50W Spain SFX50 1998
SFX50W Switzerland SFX50 1998
SFX50X Belgium SFX50 1999
SFX50X England SFX50 1999
SFX50X France SFX50 1999
SFX50X Germany SFX50 1999
SFX50X Netherlands SFX50 1999
SFX50X Italy SFX50 1999
SFX50X Portugal SFX50 1999
SFX50X Portugal SFX50 Moped 1999
SFX50X Spain SFX50 1999
SFX50X Switzerland SFX50 1999
SFX50Y Belgium SFX50 2000
SFX50Y England SFX50 2000
SFX50Y France SFX50 2000
SFX50Y Netherlands SFX50 Moped 2000
SFX50Y Spain SFX50 2000
SFX50Y Switzerland SFX50 2000
SGX501 Belgium SGX50 2001
SGX501 Belgium SGX50 Deluxe 2001
SGX501 Belgium SGX50 Standard 2001
SGX501 England SGX50 2001
SGX501 England SGX50 Deluxe 2001
SGX501 England SGX50 Standard 2001
SGX501 Italy SGX50 2001
SGX501 Italy SGX50 Deluxe 2001
SGX501 Italy SGX50 Standard 2001
SGX501 Portugal SGX50 2001
SGX501 Portugal SGX50 Deluxe 2001
SGX501 Portugal SGX50 Deluxe Skeleton 2001
SGX501 Portugal SGX50 Moped Standard 2001
SGX501 Portugal SGX50 Skeleton 2001
SGX501 Portugal SGX50 Standard 2001
SGX501 Spain SGX50 2001
SGX501 Spain SGX50 Deluxe 2001
SGX501 Spain SGX50 Standard 2001
SGX501 Switzerland SGX50 2001
SGX501 Switzerland SGX50 Deluxe 2001
SGX501 Switzerland SGX50 Standard 2IT 2001
SGX50S1 Belgium SGX50S 2001
SGX50S1 Belgium SGX50S Deluxe 2001
SGX50S1 Belgium SGX50S Standard 2001
SGX50SV Belgium SGX50S Miles/Kilometers per Hour 1997
SGX50SW Belgium SGX50S Miles/Kilometers per Hour 1998
SGX50SX Belgium SGX50S 1999
SGX50SX Belgium SGX50S 50th Anniversary 1999
SGX50SX Belgium SGX50S Deluxe 1999
SGX50SX Belgium SGX50S Standard 1999
SGX50SY Belgium SGX50S 2000
SGX50SY Belgium SGX50S Deluxe 2000
SGX50SY Belgium SGX50S Standard 2000
SGX50V Belgium SGX50 Miles/Kilometers per Hour 1997
SGX50V England SGX50 Kilometers per Hour 1997
SGX50V France SGX50 Caution Label in French Miles/Kilometers per Hour 1997
SGX50V Germany SGX50 Miles/Kilometers per Hour 1997
SGX50V Netherlands SGX50 Miles/Kilometers per Hour 1997
SGX50V Italy SGX50 Miles/Kilometers per Hour 1997
SGX50V Portugal SGX50 Miles/Kilometers per Hour 1997
SGX50V Portugal SGX50 Miles/Kilometers per Hour Moped 1997
SGX50V Spain SGX50 Miles/Kilometers per Hour 1997
SGX50V Switzerland SGX50 Miles/Kilometers per Hour 1997
SGX50W Belgium SGX50 Miles/Kilometers per Hour 1998
SGX50W England SGX50 Kilometers per Hour 1998
SGX50W France SGX50 Miles/Kilometers per Hour 1998
SGX50W Germany SGX50 Miles/Kilometers per Hour 1998
SGX50W Netherlands SGX50 Miles/Kilometers per Hour 1998
SGX50W Italy SGX50 Miles/Kilometers per Hour 1998
SGX50W Portugal SGX50 Miles/Kilometers per Hour 1998
SGX50W Portugal SGX50 Miles/Kilometers per Hour Moped 1998
SGX50W Spain SGX50 Miles/Kilometers per Hour 1998
SGX50W Switzerland SGX50 Miles/Kilometers per Hour 1998
SGX50X Belgium SGX50 1999
SGX50X Belgium SGX50 50th Anniversary 1999
SGX50X Belgium SGX50 Deluxe 1999
SGX50X Belgium SGX50 Standard 1999
SGX50X England SGX50 1999
SGX50X England SGX50 50th Anniversary 1999
SGX50X England SGX50 Deluxe 1999
SGX50X England SGX50 Standard 1999
SGX50X France SGX50 1999
SGX50X France SGX50 50th Anniversary 1999
SGX50X France SGX50 Deluxe 1999
SGX50X France SGX50 Standard 1999
SGX50X Germany SGX50 1999
SGX50X Germany SGX50 50th Anniversary 1999
SGX50X Germany SGX50 Deluxe 1999
SGX50X Germany SGX50 Standard 1999
SGX50X Netherlands SGX50 1999
SGX50X Netherlands SGX50 50th Anniversary 1999
SGX50X Netherlands SGX50 Deluxe 1999
SGX50X Netherlands SGX50 Standard 1999
SGX50X Italy SGX50 1999
SGX50X Italy SGX50 50th Anniversary 1999
SGX50X Italy SGX50 Deluxe 1999
SGX50X Italy SGX50 Standard 1999
SGX50X Portugal SGX50 1999
SGX50X Portugal SGX50 50th Anniversary 1999
SGX50X Portugal SGX50 Deluxe 1999
SGX50X Portugal SGX50 Deluxe Moped 1999
SGX50X Portugal SGX50 Moped 1999
SGX50X Portugal SGX50 Moped 50th Anniversary 1999
SGX50X Portugal SGX50 Moped Standard 1999
SGX50X Portugal SGX50 Standard 1999
SGX50X Spain SGX50 1999
SGX50X Spain SGX50 50th Anniversary 1999
SGX50X Spain SGX50 Deluxe 1999
SGX50X Spain SGX50 Standard 1999
SGX50X Switzerland SGX50 1999
SGX50X Switzerland SGX50 50th Anniversary 1999
SGX50X Switzerland SGX50 Deluxe 1999
SGX50X Switzerland SGX50 Standard 1999
SGX50Y Belgium SGX50 2000
SGX50Y Belgium SGX50 Deluxe 2000
SGX50Y Belgium SGX50 Standard 2000
SGX50Y England SGX50 2000
SGX50Y England SGX50 Deluxe 2000
SGX50Y England SGX50 Standard 2000
SGX50Y Italy SGX50 Deluxe 2000
SGX50Y Italy SGX50 Deluxe 4IT 2000
SGX50Y Italy SGX50 Skeleton Standard 3IT 2000
SGX50Y Italy SGX50 Skeleton Standard 6IT 2000
SGX50Y Italy SGX50 Standard 2IT 2000
SGX50Y Italy SGX50 Standard 5IT 2000
SGX50Y Portugal SGX50 2000
SGX50Y Portugal SGX50 Deluxe 2000
SGX50Y Portugal SGX50 Deluxe Moped 2000
SGX50Y Portugal SGX50 Moped 2000
SGX50Y Portugal SGX50 Moped Standard 2000
SGX50Y Portugal SGX50 Standard 2000
SGX50Y Spain SGX50 2000
SGX50Y Spain SGX50 Deluxe 2000
SGX50Y Spain SGX50 Standard 2000
SGX50Y Switzerland SGX50 2000
SGX50Y Switzerland SGX50 Deluxe 2000
SGX50Y Switzerland SGX50 Standard 2000
SH1001 Spain Scoopy 2001
SH1001 Spain Scoopy Accurate Silver Metallic 2001
SH100T France SH100 Caution Label in French 1996
SH100T Italy SH100 1996
SH100T Spain SH100 1996
SH100W France SH100 Caution Label in French 1998
SH100W Italy SH100 1998
SH100W Spain SH100 1998
SH100X France SH100 1999
SH100X Italy SH100 1999
SH100X Spain SH100 1999
SH100Y Italy SH100 2000
SH100Y Italy SH100 Winter Lake Blue Metallic 2000
SH100Y Spain SH100 2000
SH100Y Spain Scoopy Winter Lake Blue Metallic 2000
SH1251 England SH125 2001
SH1251 European Direct Sales SH125 Kilometers per Hour 2001
SH1251 France SH125 Caution Label in French Kilometers per Hour 2001
SH1253 England SH125 2003
SH1253 European Direct Sales SH125 Kilometers per Hour 2003
SH1253 France SH125 Caution Label in French Kilometers per Hour 2003
SH1254 England SH125 2004
SH1254 England SH125 2E 2004
SH1254 European Direct Sales SH125 2004
SH1254 European Direct Sales SH125 2ED 2004
SH1254 France SH125 2004
SH1254 France SH125 2F 2004
SH1255 England SH125 Miles per Hour 2005
SH1255 England SH125 Miles per Hour 2E 2005
SH1255 European Direct Sales SH125 Miles/Kilometers per Hour 2005
SH1255 European Direct Sales SH125 Miles/Kilometers per Hour 2ED 2005
SH1255 France SH125 Caution Label in French Miles/Kilometers per Hour 2005
SH1255 France SH125 Caution Label in French Miles/Kilometers per Hour 2F 2005
SH1501 England SH150 2001
SH1501 European Direct Sales SH150 Kilometers per Hour 2001
SH1501 France SH150 Caution Label in French Kilometers per Hour 2001
SH1503 England SH150 2003
SH1503 European Direct Sales SH150 Kilometers per Hour 2003
SH1503 France SH150 Caution Label in French Kilometers per Hour 2003
SH1504 European Direct Sales SH150 2004
SH1504 European Direct Sales SH150 2ED 2004
SH1505 European Direct Sales SH150 Miles/Kilometers per Hour 2005
SH1505 European Direct Sales SH150 Miles/Kilometers per Hour 2ED 2005
SH501 Belgium Scoopy Kilometers per Hour 2001
SH501 England Scoopy Miles/Kilometers per Hour 2001
SH501 Netherlands Scoopy Kilometers per Hour 2001
SH501 Italy SH Fifty Kilometers per Hour 2001
SH501 Italy SH Fifty Kilometers per Hour Paint Type 2001
SH501 Portugal Scoopy Kilometers per Hour 2001
SH501 Spain Scoopy Kilometers per Hour 2001
SH501 Spain Scoopy Kilometers per Hour Paint Type 2001
SH50DP Belgium Scoopy Caution Label in French Kilometers per Hour 1993
SH50DP England Scoopy Miles/Kilometers per Hour 1993
SH50DP France Scoopy Caution Label in French Kilometers per Hour 1993
SH50DP Netherlands Scoopy Kilometers per Hour 1993
SH50DP Italy Scoopy Kilometers per Hour 1993
SH50DP Norway Scoopy Kilometers per Hour 1993
SH50DP Portugal Scoopy Kilometers per Hour 1993
SH50DS France Scoopy Caution Label in French Kilometers per Hour 1995
SH50DS Italy SH Fifty Kilometers per Hour 1995
SH50DS Norway Scoopy Kilometers per Hour 1995
SH50DS Portugal Scoopy Kilometers per Hour 1995
SH50P Belgium Scoopy Caution Label in French Kilometers per Hour 1993
SH50P England Scoopy Miles/Kilometers per Hour 1993
SH50P France Scoopy Caution Label in French Kilometers per Hour 1993
SH50P Netherlands Scoopy Kilometers per Hour 1993
SH50P Italy Scoopy Kilometers per Hour 1993
SH50P Norway Scoopy Kilometers per Hour 1993
SH50P Portugal Scoopy Kilometers per Hour 1993
SH50S Belgium Scoopy Caution Label in French Kilometers per Hour 1995
SH50S England SH Fifty Miles/Kilometers per Hour 1995
SH50S Netherlands Scoopy Kilometers per Hour 1995
SH50S Italy SH Fifty Kilometers per Hour 1995
SH50T Belgium SH50 Kilometers per Hour 1996
SH50T England SH50 Miles/Kilometers per Hour 1996
SH50T France SH50 Caution Label in French 1996
SH50T Germany SH50 Kilometers per Hour 1996
SH50T Netherlands SH50 Kilometers per Hour 1996
SH50T Italy SH50 Kilometers per Hour 1996
SH50T Portugal SH50 Kilometers per Hour 1996
SH50T Spain SH50 Kilometers per Hour 1996
SH50W Belgium SH50 Kilometers per Hour 1998
SH50W England SH50 Miles/Kilometers per Hour 1998
SH50W France SH50 Kilometers per Hour 1998
SH50W Germany SH50 Kilometers per Hour 1998
SH50W Netherlands SH50 Kilometers per Hour 1998
SH50W Italy SH50 Kilometers per Hour 1998
SH50W Portugal SH50 Kilometers per Hour 1998
SH50W Spain SH50 Kilometers per Hour 1998
SH50X Belgium SH50 Kilometers per Hour 1999
SH50X England SH50 Miles/Kilometers per Hour 1999
SH50X France SH50 Caution Label in French 1999
SH50X Germany SH50 Kilometers per Hour 1999
SH50X Netherlands SH50 Kilometers per Hour 1999
SH50X Italy SH50 Kilometers per Hour 1999
SH50X Portugal SH50 Kilometers per Hour 1999
SH50X Spain SH50 Kilometers per Hour 1999
SH50Y Belgium Scoopy Kilometers per Hour 2000
SH50Y England SH50 Miles/Kilometers per Hour 2000
SH50Y Netherlands Scoopy Kilometers per Hour 2000
SH50Y Italy SH50 Kilometers per Hour Paint Type 2000
SH50Y Portugal Scoopy Kilometers per Hour 2000
SH50Y Spain Scoopy Kilometers per Hour 2000
SH50Y Spain Scoopy Kilometers per Hour Paint Type 2000
SH75DP Spain SH75D 1993
SH75DS Spain SH75D 1995
SH75H Spain SH75 1987
SH75K Spain SH75 1989
SH75M Spain SH75 1991
SH75P Spain SH75 1993
SH75S Spain SH75 1995
SJ100T England Bali EX 1996
SJ100T France Bali EX Caution Label in French 1996
SJ100T Germany Bali EX 1996
SJ100T Italy Bali EX 1996
SJ100T Spain Bali EX 1996
SJ100T Australia Bali EX 1996
SJ100V England Bali EX 1997
SJ100V France Bali EX Caution Label in French 1997
SJ100V Germany Bali EX 1997
SJ100V Italy Bali EX 1997
SJ100V Spain Bali EX 1997
SJ100V Australia Bali EX 1997
SJ100W England Bali EX 1998
SJ100W France Bali EX Caution Label in French 1998
SJ100W Germany Bali EX 1998
SJ100W Italy Bali EX 1998
SJ100W Spain Bali EX 1998
SJ100W Australia Bali EX 1998
SJ100X England Bali EX 1999
SJ100X France Bali EX 1999
SJ100X Germany Bali EX 1999
SJ100X Italy Bali EX 1999
SJ100X Spain Bali EX 1999
SJ100X Australia Bali EX 1999
SJ50P England Bali 1993
SJ50P France Bali Caution Label in French 1993
SJ50P Italy Bali 1993
SJ50P Portugal Bali 1993
SJ50R Belgium Bali Caution Label in French 1994
SJ50R England Bali 1994
SJ50R France Bali Caution Label in French 1994
SJ50R Italy Bali 1994
SJ50R Portugal Bali 1994
SJ50S Belgium Bali Caution Label in French 1995
SJ50S England Bali 1995
SJ50S France Bali Caution Label in French 1995
SJ50S Germany Bali 1995
SJ50S Italy Bali 1995
SJ50S Portugal Bali 1995
SJ50T Belgium Bali Caution Label in French 1996
SJ50T England Bali 1996
SJ50T France Bali Caution Label in French 1996
SJ50T Germany Bali 1996
SJ50T Italy Bali 1996
SJ50T Portugal Bali 1996
SJ50T Portugal Bali Moped 1996
SJ50T Spain Bali Moped 1996
SJ50V Belgium Bali Caution Label in French Kilometers per Hour 1997
SJ50V England Bali Miles/Kilometers per Hour 1997
SJ50V France Bali CMH Kilometers per Hour 1997
SJ50V Germany Bali Kilometers per Hour 1997
SJ50V Italy Bali Kilometers per Hour 1997
SJ50V Portugal Bali Kilometers per Hour 1997
SJ50V Portugal Bali Kilometers per Hour Moped 1997
SJ50V Spain Bali Kilometers per Hour 1997
SJ50V Switzerland Bali Kilometers per Hour 1997
SJ50W Belgium Bali Caution Label in French Kilometers per Hour 1998
SJ50W England Bali Miles/Kilometers per Hour 1998
SJ50W France Bali Caution Label in French Kilometers per Hour 1998
SJ50W Germany Bali Kilometers per Hour 1998
SJ50W Italy Bali Kilometers per Hour 1998
SJ50W Portugal Bali Kilometers per Hour 1998
SJ50W Portugal Bali Kilometers per Hour Moped 1998
SJ50W Spain Bali Kilometers per Hour 1998
SJ50W Switzerland Bali Kilometers per Hour 1998
SJ50X Belgium Bali Caution Label in French Kilometers per Hour Moped 1999
SJ50X England Bali Miles/Kilometers per Hour Moped 1999
SJ50X France Bali Caution Label in French Kilometers per Hour Moped 1999
SJ50X Germany Bali Kilometers per Hour Moped 1999
SJ50X Italy Bali Kilometers per Hour Moped 1999
SJ50X Portugal Bali Kilometers per Hour 1999
SJ50X Portugal Bali Kilometers per Hour Moped 1999
SJ50X Spain Bali Kilometers per Hour Moped 1999
SJ50X Switzerland Bali Kilometers per Hour 1999
SK50MN Canada SK50M 1992
SK50MN Australia SK50M 1992
SK50MP Canada SK50M 1993
SK50MP Portugal SK50M 1993
SK50MP Spain SK50M 1993
SK50MR Canada SK50M 1994
SK50MR Spain SK50M 1994
SK50MT Canada SK50M 1996
SK50MT Australia SK50M 1996
SK50MV Canada SK50M 1997
SK50MV Australia SK50M 1997
SK50MY Canada SK50M 2000
SK50MY Australia SK50M 2000
SLR650V Austria SLR650 Kilometers per Hour 1997
SLR650V England SLR650 Miles/Kilometers per Hour 1997
SLR650V European Direct Sales SLR650 Kilometers per Hour 1997
SLR650V European Direct Sales SLR650 Kilometers per Hour 34 HP 1997
SLR650V France SLR650 Kilometers per Hour 1997
SLR650V Germany SLR650 Kilometers per Hour 1997
SLR650V Germany SLR650 Kilometers per Hour 34 HP 1997
SLR650V Northern Europe SLR650 Kilometers per Hour 1997
SLR650V Spain SLR650 Kilometers per Hour 1997
SLR650V Switzerland SLR650 Kilometers per Hour 1997
SLR650W Austria SLR650 Kilometers per Hour 1998
SLR650W England SLR650 Miles/Kilometers per Hour 1998
SLR650W European Direct Sales SLR650 Kilometers per Hour 1998
SLR650W European Direct Sales SLR650 Kilometers per Hour 34 HP 1998
SLR650W France SLR650 Kilometers per Hour 1998
SLR650W Germany SLR650 Kilometers per Hour 1998
SLR650W Germany SLR650 Kilometers per Hour 34 HP 1998
SLR650W Northern Europe SLR650 Kilometers per Hour 1998
SLR650W Spain SLR650 Kilometers per Hour 1998
SLR650W Switzerland SLR650 Kilometers per Hour 1998
SRX50W France SRX50 Caution Label in French 1998
SRX50W Italy SRX50 1998
SRX50W Portugal SRX50 1998
SRX50W Spain SRX50 1998
SRX50X France SRX50 Caution Label in French 1999
SRX50X Italy SRX50 1999
SRX50X Portugal SRX50 1999
SRX50X Spain SRX50 1999
SRX90W France SRX90 Caution Label in French 1998
SRX90W Italy SRX90 1998
SRX90W Spain SRX90 1998
SRX90X France SRX90 Caution Label in French 1999
SRX90X Italy SRX90 1999
SRX90X Spain SRX90 1999
ST11001 Canada ST1100 2001
ST11002 Canada ST1100 2002
ST1100A1 Canada ST1100A ABS 2001
ST1100A2 Canada ST1100A ABS 2002
ST1100AN Austria ST1100A Kilometers per Hour 1992
ST1100AN Canada ST1100A Kilometers per Hour 1992
ST1100AN England ST1100A Miles/Kilometers per Hour 1992
ST1100AN European Direct Sales ST1100A Kilometers per Hour 1992
ST1100AN France ST1100A Yellow Bulb 1992
ST1100AN Germany ST1100A Kilometers per Hour 1992
ST1100AN Italy ST1100A Kilometers per Hour 1992
ST1100AN Spain ST1100A Kilometers per Hour 1992
ST1100AN Switzerland ST1100A Kilometers per Hour 1992
ST1100AP Austria ST1100A Kilometers per Hour 1993
ST1100AP Canada ST1100A Kilometers per Hour 1993
ST1100AP England ST1100A Kilometers per Hour 1993
ST1100AP European Direct Sales ST1100A Kilometers per Hour 1993
ST1100AP France ST1100A Yellow Bulb 1993
ST1100AP Germany ST1100A Kilometers per Hour 1993
ST1100AP Northern Europe ST1100A Kilometers per Hour 1993
ST1100AP Spain ST1100A Kilometers per Hour 1993
ST1100AP Switzerland ST1100A Kilometers per Hour 1993
ST1100AR Austria ST1100A Kilometers per Hour 1994
ST1100AR Canada ST1100A Kilometers per Hour 1994
ST1100AR England ST1100A Miles/Kilometers per Hour 1994
ST1100AR European Direct Sales ST1100A Kilometers per Hour 1994
ST1100AR France ST1100A Kilometers per Hour 1994
ST1100AR Germany ST1100A Kilometers per Hour 1994
ST1100AR Italy ST1100A Kilometers per Hour 1994
ST1100AR Spain ST1100A Kilometers per Hour 1994
ST1100AS Austria ST1100A 1995
ST1100AS Canada ST1100A 1995
ST1100AS England ST1100A 1995
ST1100AS European Direct Sales ST1100A 1995
ST1100AS France ST1100A 1995
ST1100AS Germany ST1100A 1995
ST1100AS Italy ST1100A 1995
ST1100AS Spain ST1100A 1995
ST1100AS Switzerland ST1100A 1995
ST1100AS Australia ST1100A 1995
ST1100AT Austria ST1100A 1996
ST1100AT Canada ST1100A 1996
ST1100AT England ST1100A 1996
ST1100AT European Direct Sales ST1100A 1996
ST1100AT France ST1100A 1996
ST1100AT Germany ST1100A 1996
ST1100AT Italy ST1100A 1996
ST1100AT Spain ST1100A 1996
ST1100AT Switzerland ST1100A 1996
ST1100AT Australia ST1100A 1996
ST1100AV Austria ST1100A 1997
ST1100AV Canada ST1100A 1997
ST1100AV England ST1100A 1997
ST1100AV European Direct Sales ST1100A 1997
ST1100AV France ST1100A 1997
ST1100AV Finland ST1100A 1997
ST1100AV Germany ST1100A 1997
ST1100AV Italy ST1100A 1997
ST1100AV Norway ST1100A 1997
ST1100AV Spain ST1100A 1997
ST1100AV Switzerland ST1100A 1997
ST1100AV Australia ST1100A ABS 1997
ST1100AW Austria ST1100A 1998
ST1100AW Canada ST1100A 1998
ST1100AW England ST1100A 1998
ST1100AW European Direct Sales ST1100A 1998
ST1100AW France ST1100A 1998
ST1100AW Finland ST1100A 1998
ST1100AW Germany ST1100A 1998
ST1100AW Italy ST1100A 1998
ST1100AW Norway ST1100A 1998
ST1100AW Spain ST1100A 1998
ST1100AW Switzerland ST1100A 1998
ST1100AW Australia ST1100A ABS 1998
ST1100AX Austria ST1100A ABS 1999
ST1100AX Austria ST1100A ABS 50th Anniversary 1999
ST1100AX Canada ST1100A ABS 1999
ST1100AX England ST1100A ABS 1999
ST1100AX England ST1100A ABS 50th Anniversary 1999
ST1100AX European Direct Sales ST1100A ABS 1999
ST1100AX European Direct Sales ST1100A ABS 50th Anniversary 1999
ST1100AX France ST1100A ABS 1999
ST1100AX France ST1100A ABS 50th Anniversary 1999
ST1100AX Finland ST1100A ABS 1999
ST1100AX Finland ST1100A ABS 50th Anniversary 1999
ST1100AX Germany ST1100A ABS 1999
ST1100AX Germany ST1100A ABS 50th Anniversary 1999
ST1100AX Italy ST1100A ABS 1999
ST1100AX Italy ST1100A ABS 50th Anniversary 1999
ST1100AX Norway ST1100A ABS 1999
ST1100AX Norway ST1100A ABS 50th Anniversary 1999
ST1100AX Spain ST1100A ABS 1999
ST1100AX Spain ST1100A ABS 50th Anniversary 1999
ST1100AX Switzerland ST1100A ABS 1999
ST1100AX Switzerland ST1100A ABS 50th Anniversary 1999
ST1100AX Australia ST1100A ABS 1999
ST1100AX Australia ST1100A ABS 50th Anniversary 1999
ST1100AY Austria ST1100A ABS 2000
ST1100AY Canada ST1100A ABS 2000
ST1100AY England ST1100A ABS 2000
ST1100AY European Direct Sales ST1100A ABS 2000
ST1100AY France ST1100A ABS 2000
ST1100AY Finland ST1100A ABS 2000
ST1100AY Germany ST1100A ABS 2000
ST1100AY Italy ST1100A ABS 2000
ST1100AY Norway ST1100A ABS 2000
ST1100AY Spain ST1100A ABS 2000
ST1100AY Switzerland ST1100A ABS 2000
ST1100AY Australia ST1100A ABS 2000
ST1100L Austria ST1100 Kilometers per Hour 1990
ST1100L Canada ST1100 Kilometers per Hour 1990
ST1100L England ST1100 Miles per Hour 1990
ST1100L European Direct Sales ST1100 Kilometers per Hour 1990
ST1100L France ST1100 Yellow Bulb 1990
ST1100L Finland ST1100 Kilometers per Hour 1990
ST1100L Germany ST1100 Kilometers per Hour 1990
ST1100L Italy ST1100 Kilometers per Hour 1990
ST1100L Norway ST1100 Kilometers per Hour 1990
ST1100L Northern Europe ST1100 Kilometers per Hour 1990
ST1100L Spain ST1100 Kilometers per Hour 1990
ST1100L Switzerland ST1100 Kilometers per Hour 1990
ST1100L Australia ST1100 Kilometers per Hour 1990
ST1100M Austria ST1100 Kilometers per Hour 1991
ST1100M Canada ST1100 Kilometers per Hour 1991
ST1100M England ST1100 Miles per Hour 1991
ST1100M European Direct Sales ST1100 Miles per Hour 1991
ST1100M France ST1100 Yellow Bulb 1991
ST1100M Finland ST1100 Kilometers per Hour 1991
ST1100M Germany ST1100 Kilometers per Hour 1991
ST1100M Italy ST1100 Kilometers per Hour 1991
ST1100M Norway ST1100 Kilometers per Hour 1991
ST1100M Northern Europe ST1100 Kilometers per Hour 1991
ST1100M Spain ST1100 Kilometers per Hour 1991
ST1100M Switzerland ST1100 Kilometers per Hour 1991
ST1100N Austria ST1100 Kilometers per Hour 1992
ST1100N Canada ST1100 Kilometers per Hour 1992
ST1100N England ST1100 Miles/Kilometers per Hour 1992
ST1100N European Direct Sales ST1100 Kilometers per Hour 1992
ST1100N France ST1100 Yellow Bulb 1992
ST1100N Germany ST1100 Kilometers per Hour 1992
ST1100N Italy ST1100 Kilometers per Hour 1992
ST1100N Northern Europe ST1100 Kilometers per Hour 1992
ST1100N Spain ST1100 Kilometers per Hour 1992
ST1100P Austria ST1100 Kilometers per Hour 1993
ST1100P Canada ST1100 Kilometers per Hour 1993
ST1100P England ST1100 Miles/Kilometers per Hour 1993
ST1100P European Direct Sales ST1100 Kilometers per Hour 1993
ST1100P France ST1100 Yellow Bulb 1993
ST1100P Finland ST1100 Kilometers per Hour 1993
ST1100P Germany ST1100 Kilometers per Hour 1993
ST1100P Northern Europe ST1100 Kilometers per Hour 1993
ST1100P Spain ST1100 Kilometers per Hour 1993
ST1100P Australia ST1100 Kilometers per Hour 1993
ST1100PP Austria ST1100P Kilometers per Hour 1993
ST1100PP England ST1100P Miles/Kilometers per Hour 1993
ST1100PP European Direct Sales ST1100P Kilometers per Hour 1993
ST1100PP Spain ST1100P Kilometers per Hour 1993
ST1100PS England ST1100P Miles/Kilometers per Hour 1995
ST1100PS European Direct Sales ST1100P Kilometers per Hour 1995
ST1100PS Australia ST1100P Kilometers per Hour 1995
ST1100PT Austria ST1100P Kilometers per Hour 1996
ST1100PT England ST1100P Miles/Kilometers per Hour 1996
ST1100PT European Direct Sales ST1100P Kilometers per Hour 1996
ST1100PT Spain ST1100P Kilometers per Hour 1996
ST1100PT Australia ST1100P Kilometers per Hour 1996
ST1100PY Austria ST1100P Kilometers per Hour 2000
ST1100PY England ST1100P Miles/Kilometers per Hour 2000
ST1100PY European Direct Sales ST1100P Kilometers per Hour 2000
ST1100PY Spain ST1100P Kilometers per Hour 2000
ST1100PY Australia ST1100P Kilometers per Hour 2000
ST1100R Austria ST1100 Kilometers per Hour 1994
ST1100R Canada ST1100 Kilometers per Hour 1994
ST1100R England ST1100 Miles/Kilometers per Hour 1994
ST1100R European Direct Sales ST1100 Kilometers per Hour 1994
ST1100R France ST1100 Kilometers per Hour 1994
ST1100R Germany ST1100 Kilometers per Hour 1994
ST1100R Northern Europe ST1100 Kilometers per Hour 1994
ST1100R Spain ST1100 Kilometers per Hour 1994
ST1100R Australia ST1100 Kilometers per Hour 1994
ST1100S Austria ST1100 1995
ST1100S Canada ST1100 1995
ST1100S England ST1100 1995
ST1100S European Direct Sales ST1100 1995
ST1100S France ST1100 1995
ST1100S Germany ST1100 1995
ST1100S Norway ST1100 1995
ST1100S Spain ST1100 1995
ST1100S Switzerland ST1100 1995
ST1100S Australia ST1100 1995
ST1100T Austria ST1100 1996
ST1100T Canada ST1100 1996
ST1100T England ST1100 1996
ST1100T European Direct Sales ST1100 1996
ST1100T France ST1100 1996
ST1100T Germany ST1100 1996
ST1100T Norway ST1100 1996
ST1100T Spain ST1100 1996
ST1100T Switzerland ST1100 1996
ST1100T Australia ST1100 1996
ST1100V Austria ST1100 1997
ST1100V Canada ST1100 1997
ST1100V England ST1100 1997
ST1100V European Direct Sales ST1100 1997
ST1100V France ST1100 1997
ST1100V Finland ST1100 1997
ST1100V Germany ST1100 1997
ST1100V Italy ST1100 1997
ST1100V Norway ST1100 1997
ST1100V Spain ST1100 1997
ST1100V Switzerland ST1100 1997
ST1100V Australia ST1100 1997
ST1100W Austria ST1100 1998
ST1100W Canada ST1100 1998
ST1100W England ST1100 1998
ST1100W European Direct Sales ST1100 1998
ST1100W France ST1100 1998
ST1100W Finland ST1100 1998
ST1100W Germany ST1100 1998
ST1100W Italy ST1100 1998
ST1100W Norway ST1100 1998
ST1100W Spain ST1100 1998
ST1100W Switzerland ST1100 1998
ST1100W Australia ST1100 1998
ST1100X Austria ST1100 1999
ST1100X Canada ST1100 1999
ST1100X England ST1100 1999
ST1100X European Direct Sales ST1100 1999
ST1100X France ST1100 1999
ST1100X Finland ST1100 1999
ST1100X Germany ST1100 1999
ST1100X Italy ST1100 1999
ST1100X Norway ST1100 1999
ST1100X Spain ST1100 1999
ST1100X Switzerland ST1100 1999
ST1100X Australia ST1100 1999
ST1100Y Austria ST1100 2000
ST1100Y Canada ST1100 2000
ST1100Y England ST1100 2000
ST1100Y European Direct Sales ST1100 2000
ST1100Y France ST1100 2000
ST1100Y Finland ST1100 2000
ST1100Y Germany ST1100 2000
ST1100Y Italy ST1100 2000
ST1100Y Norway ST1100 2000
ST1100Y Spain ST1100 2000
ST1100Y Switzerland ST1100 2000
ST13002 England ST1300 2002
ST13002 European Direct Sales ST1300 2002
ST13002 France ST1300 2002
ST13003 Canada ST1300 2003
ST13003 Australia ST1300 2003
ST13004 England ST1300 2004
ST13004 European Direct Sales ST1300 2004
ST13004 EK ST1300 2004
ST13004 France ST1300 2004
ST13004 Australia ST1300 2004
ST1300A2 England ST1300A ABS 2002
ST1300A2 European Direct Sales ST1300A ABS 2002
ST1300A2 France ST1300A ABS 2002
ST1300A3 Canada ST1300A ABS 2003
ST1300A3 Australia ST1300A ABS 2003
ST1300A4 England ST1300A ABS 2004
ST1300A4 European Direct Sales ST1300A ABS 2004
ST1300A4 EK ST1300A ABS 2004
ST1300A4 France ST1300A ABS 2004
ST1300A4 Australia ST1300A ABS 2004
ST50J England DAX 1988
ST50J Germany DAX 1988
ST50K England DAX 1989
ST50K Germany DAX 1989
ST50L Germany DAX 1990
ST50N Germany ST50 1992
ST50R Germany ST50 1994
ST50T Germany ST50 1996
ST70K General Export KPH DAX Made in Kumamoto 1989
ST70K General Export KPH DAX Made in Suzuka 1989
ST70K France DAX Caution Label in French 1989
ST70K Spain DAX 1989
ST70L France DAX Caution Label in French Made in Kumamoto 1990
ST70L France DAX Caution Label in French Made in Suzuka 1990
ST70L Spain DAX Made in Kumamoto 1990
ST70L Spain DAX Made in Suzuka 1990
ST70N General Export KPH ST70 1992
ST70N France ST70 1992
ST70N Spain ST70 1992
ST70R General Export KPH ST70 1994
ST70R France ST70 1994
ST70R Spain ST70 1994
ST70T France ST70 1996
ST70T Spain ST70 1996
SZX50S1 Belgium X8R-S 13 Inch Tire 2001
SZX50S1 England X8R-S 13 Inch Tire 2001
SZX50S1 France X8R-S 13 Inch Tire 2001
SZX50S1 Germany X8R-S 13 Inch Tire 2001
SZX50S1 Netherlands X8R-S 13 Inch Tire 2001
SZX50S1 Italy X8R-S 13 Inch Tire 2001
SZX50S1 Portugal X8R-S Moped 13 Inch Tire 2001
SZX50S1 Portugal X8R-S 13 Inch Tire 2001
SZX50S1 Spain X8R-S 13 Inch Tire 2001
SZX50S1 Switzerland X8R-S 13 Inch Tire 2001
SZX50SW Belgium X8R-S 13 Inch Tire 1998
SZX50SW England X8R-S 13 Inch Tire 1998
SZX50SW France X8R-S 13 Inch Tire 1998
SZX50SW Germany X8R-S 13 Inch Tire 1998
SZX50SW Netherlands X8R-S 13 Inch Tire 1998
SZX50SW Italy X8R-S 13 Inch Tire 1998
SZX50SW Portugal X8R-S Moped 13 Inch Tire 1998
SZX50SW Portugal X8R-S 13 Inch Tire 1998
SZX50SW Spain X8R-S 13 Inch Tire 1998
SZX50SW Switzerland X8R-S 13 Inch Tire 1998
SZX50SX Belgium X8R-S 13 Inch Tire 1999
SZX50SX England X8R-S 13 Inch Tire 1999
SZX50SX France X8R-S 13 Inch Tire 1999
SZX50SX Germany X8R-S 13 Inch Tire 1999
SZX50SX Netherlands X8R-S 13 Inch Tire 1999
SZX50SX Italy X8R-S 13 Inch Tire 1999
SZX50SX Portugal X8R-S Moped 13 Inch Tire 1999
SZX50SX Portugal X8R-S 13 Inch Tire 1999
SZX50SX Spain X8R-S 13 Inch Tire 1999
SZX50SX Switzerland X8R-S 13 Inch Tire 1999
SZX50SY Italy X8R-S 13 Inch Tire 2000
SZX50X1 Belgium X8R-X 12 Inch Tire 2001
SZX50X1 England X8R-X 12 Inch Tire 2001
SZX50X1 France X8R-X 12 Inch Tire 2001
SZX50X1 Germany X8R-X 12 Inch Tire 2001
SZX50X1 Netherlands X8R-X 12 Inch Tire 2001
SZX50X1 Italy X8R-X 12 Inch Tire 2001
SZX50X1 Portugal X8R-X Moped 12 Inch Tire 2001
SZX50X1 Portugal X8R-X 12 Inch Tire 2001
SZX50X1 Spain X8R-X 12 Inch Tire 2001
SZX50X1 Switzerland X8R-X 12 Inch Tire 2001
SZX50XW Belgium X8R-X 12 Inch Tire 1998
SZX50XW England X8R-X 12 Inch Tire 1998
SZX50XW France X8R-X 12 Inch Tire 1998
SZX50XW Germany X8R-X 12 Inch Tire 1998
SZX50XW Netherlands X8R-X 12 Inch Tire 1998
SZX50XW Italy X8R-X 12 Inch Tire 1998
SZX50XW Portugal X8R-X Moped 12 Inch Tire 1998
SZX50XW Portugal X8R-X 12 Inch Tire 1998
SZX50XW Spain X8R-X 12 Inch Tire 1998
SZX50XW Switzerland X8R-X 12 Inch Tire 1998
SZX50XX Belgium X8R-X 12 Inch Tire 1999
SZX50XX England X8R-X 12 Inch Tire 1999
SZX50XX France X8R-X 12 Inch Tire 1999
SZX50XX Germany X8R-X 12 Inch Tire 1999
SZX50XX Netherlands X8R-X 12 Inch Tire 1999
SZX50XX Italy X8R-X 12 Inch Tire 1999
SZX50XX Portugal X8R-X Moped 12 Inch Tire 1999
SZX50XX Portugal X8R-X 12 Inch Tire 1999
SZX50XX Spain X8R-X 12 Inch Tire 1999
SZX50XX Switzerland X8R-X 12 Inch Tire 1999
SZX50XY Italy X8R-X 12 Inch Tire 2000
TL125J France TL125 1988
TRX125H Canada Fourtrax 125 Reflector 1987
TRX125J Canada Fourtrax 125 Reflector 1988
TRX125J England Fourtrax 125 1988
TRX200D USA Fourtrax 200 1994
TRX200D New Hampshire Fourtrax 200 Square Signal 1994
TRX200DM USA Fourtrax 200 1991
TRX200DM New Hampshire Fourtrax 200 Square Signal 1991
TRX200DM Canada Fourtrax 200 1991
TRX200DN USA Fourtrax 200 1992
TRX200DN New Hampshire Fourtrax 200 Square Signal 1992
TRX200DN Canada Fourtrax 200 1992
TRX200DP USA Fourtrax 200 1993
TRX200DP New Hampshire Fourtrax 200 Square Signal 1993
TRX200DP Canada Fourtrax 200 1993
TRX200DR Canada Fourtrax 200 1994
TRX200DR European Direct Sales Fourtrax 200 1994
TRX200DS USA Fourtrax 200 1995
TRX200DS New Hampshire Fourtrax 200 Square Signal 1995
TRX200DS Canada Fourtrax 200 1995
TRX200DS European Direct Sales Fourtrax 200 1995
TRX200DT USA Fourtrax 200 1996
TRX200DT New Hampshire Fourtrax 200 Square Signal 1996
TRX200DT Canada Fourtrax 200 1996
TRX200DT European Direct Sales Fourtrax 200 1996
TRX200DV Canada Fourtrax 1997
TRX200DV European Direct Sales Fourtrax 1997
TRX200L USA Fourtrax 200 1990
TRX200L Canada Fourtrax 200 Caution Label in French 1990
TRX200M USA Fourtrax 200 1991
TRX200M New Hampshire Fourtrax 200 Square Signal 1991
TRX200M Canada Fourtrax 200 Caution Label in French 1991
TRX200SXH Canada Fourtrax 200 SX 1987
TRX200SXH England TRX 200 SX 1987
TRX200SXH Australia TRX 200 SX 1987
TRX200SXJ European Direct Sales Fourtrax 200 SX 1988
TRX2501 USA Recon 2001
TRX2501 Canada TRX250 Fourtrax Caution Label in French 2001
TRX2501 CQ TRX250 Fourtrax Stop Light Set 2001
TRX2501 Australia TRX250 Fourtrax Trailer Hitch 2001
TRX250EX1 USA Sportrax 250 EX 2001
TRX250EX1 Canada Sportrax 250 EX Reflector 2001
TRX250EX1 CQ Sportrax 250 EX Stop Light Set 2001
TRX250EX2 USA Sportrax 250 EX 2002
TRX250EX2 Canada Sportrax 250 EX Reflector 2002
TRX250EX2 CQ Sportrax 250 EX Stop Light Set 2002
TRX250EX3 USA Sportrax 250 EX 2003
TRX250EX3 Canada Sportrax 250 EX Reflector 2003
TRX250EX3 CQ Sportrax 250 EX Stop Light Set 2003
TRX250EX3 Australia Sportrax 250 EX 2003
TRX250EX4 Australia Sportrax 250 EX 2004
TRX250EX5 Australia Sportrax 250 EX 2005
TRX250H Canada Sportrax 250 1987
TRX250H England TRX 250 1987
TRX250H Australia TRX 250 HOR 1987
TRX250RH Canada Fourtrax 250R 1987
TRX250RJ Canada Fourtrax 250R 1988
TRX250RJ European Direct Sales Fourtrax 250R 1988
TRX250RK European Direct Sales Fourtrax 250R 1988
TRX250TE2 USA Fourtrax Recon ES Electric Charge 2002
TRX250TE2 Canada Fourtrax Recon ES Electric Charge Reflector 2002
TRX250TE2 CQ Fourtrax Recon ES Electric Charge 2002
TRX250TE2 Australia Fourtrax Recon ES Electric Charge Reflector 2002
TRX250TE3 USA Fourtrax Recon ES Electric Charge 2003
TRX250TE3 Canada Fourtrax Recon ES Electric Charge Reflector 2003
TRX250TE3 CQ Fourtrax Recon ES Electric Charge 2003
TRX250TE3 Australia Fourtrax Recon ES Electric Charge Reflector 2003
TRX250TE4 Australia Fourtrax Recon ES Electric Charge Reflector 2004
TRX250TE5 Australia Fourtrax Recon ES Electric Charge Reflector 2005
TRX250TM2 USA Fourtrax Recon 2002
TRX250TM2 Canada Fourtrax Recon Reflector 2002
TRX250TM2 CQ Fourtrax Recon 2002
TRX250TM2 Australia Fourtrax Recon Reflector 2002
TRX250TM3 USA Fourtrax Recon 2003
TRX250TM3 Canada Fourtrax Recon Reflector 2003
TRX250TM3 CQ Fourtrax Recon 2003
TRX250TM3 Australia Fourtrax Recon Reflector 2003
TRX250TM4 Australia Fourtrax Recon Electric Charge 2004
TRX250TM5 Australia Fourtrax Recon Reflector 2005
TRX250V USA Recon 1997
TRX250V California Recon 1997
TRX250V AM TRX250 Fourtrax Stop Light Set 1997
TRX250V Canada TRX250 Fourtrax Caution Label in French 1997
TRX250V Australia TRX250 Fourtrax Trailer Hitch 1997
TRX250W USA Recon 1998
TRX250W California Recon 1998
TRX250W AM TRX250 Fourtrax Stop Light Set 1998
TRX250W Canada TRX250 Fourtrax Caution Label in French 1998
TRX250W Australia TRX250 Fourtrax Trailer Hitch 1998
TRX250X USA Recon 1999
TRX250X Canada TRX250 Fourtrax Caution Label in French 1999
TRX250X CQ TRX250 Fourtrax Stop Light Set 1999
TRX250X Australia TRX250 Fourtrax Trailer Hitch 1999
TRX250Y USA Recon 2000
TRX250Y Canada TRX250 Fourtrax Caution Label in French 2000
TRX250Y CQ TRX250 Fourtrax Stop Light Set 2000
TRX250Y Australia TRX250 Fourtrax Trailer Hitch 2000
TRX300EX1 USA Sportrax 2001
TRX300EX1 Canada Sportrax 300EX Reflector 2001
TRX300EX1 CQ Sportrax 300EX Stop Light Set 2001
TRX300EX2 USA Sportrax 2002
TRX300EX2 Canada Sportrax 300EX Reflector 2002
TRX300EX2 CQ Sportrax 300EX Stop Light Set 2002
TRX300EX3 USA Sportrax 2003
TRX300EX3 Canada Sportrax 300EX Reflector 2003
TRX300EX3 CQ Sportrax 300EX Stop Light Set 2003
TRX300EX4 USA Sportrax 2004
TRX300EX4 Canada Sportrax 2004
TRX300EX4 CQ Sportrax 2004
TRX300EX5 USA Sportrax 2005
TRX300EX5 Canada Sportrax 2005
TRX300EXP USA Fourtrax 300 EX 1993
TRX300EXP New Hampshire Fourtrax 300 EX Square Signal 1993
TRX300EXP Canada Fourtrax 300 EX 1993
TRX300EXR USA Fourtrax 300 EX 1994
TRX300EXR New Hampshire Fourtrax 300 EX Square Signal 1994
TRX300EXR Canada Fourtrax 300 EX 1994
TRX300EXS USA Fourtrax 300 EX 1995
TRX300EXS New Hampshire Fourtrax 300 EX Square Signal 1995
TRX300EXS Canada Fourtrax 300 EX 1995
TRX300EXT USA Fourtrax 300 EX 1996
TRX300EXT New Hampshire Fourtrax 300 EX Square Signal 1996
TRX300EXT Canada Fourtrax 300 EX 1996
TRX300EXV USA Fourtrax 300 EX 1997
TRX300EXV New Hampshire Fourtrax 300 EX Square Signal 1997
TRX300EXV Canada Fourtrax 300 EX 1997
TRX300EXW USA Fourtrax 300 EX 1998
TRX300EXW California Fourtrax 300 EX 1998
TRX300EXW New Hampshire Fourtrax 300 EX Square Signal 1998
TRX300EXW Canada Fourtrax 300 EX 1998
TRX300EXX USA Fourtrax 300 EX 1999
TRX300EXX Canada Fourtrax 300 EX 1999
TRX300EXX CQ Fourtrax 300 EX Stop Light Set 1999
TRX300EXY USA Fourtrax 300 EX 2000
TRX300EXY Canada Fourtrax 300 EX 2000
TRX300EXY CQ Fourtrax 300 EX Stop Light Set 2000
TRX300FWJ USA Fourtrax 300 4X4 1988
TRX300FWJ Canada Fourtrax 1988
TRX300FWJ England Fourtrax 1988
TRX300FWK Canada Fourtrax 1989
TRX300FWK England Fourtrax 1989
TRX300FWK Australia Fourtrax 1989
TRX300FWL USA Fourtrax 300 4X4 1990
TRX300FWL Canada Fourtrax 1990
TRX300FWL England Fourtrax 1990
TRX300FWL Australia Fourtrax 1990
TRX300FWM USA Fourtrax 300 4X4 1991
TRX300FWM New Hampshire Fourtrax 300 4X4 1991
TRX300FWM Canada Fourtrax 1991
TRX300FWM England Fourtrax 1991
TRX300FWM European Direct Sales Fourtrax 1991
TRX300FWM Sweden Fourtrax 1991
TRX300FWM Australia Fourtrax Silver Purple Metallic 1991
TRX300FWN USA Fourtrax 300 4X4 1992
TRX300FWN New Hampshire Fourtrax 300 4X4 1992
TRX300FWN Canada Fourtrax 300 4X4 1992
TRX300FWN England Fourtrax 300 4X4 1992
TRX300FWN Sweden Fourtrax 300 4X4 1992
TRX300FWN Australia Fourtrax 300 4X4 1992
TRX300FWP USA Fourtrax 300 4X4 1993
TRX300FWP New Hampshire Fourtrax 300 4X4 1993
TRX300FWP Canada Fourtrax 300 4X4 1993
TRX300FWP Sweden Fourtrax 300 4X4 1993
TRX300FWP Australia Fourtrax 300 4X4 1993
TRX300FWR USA Fourtrax 300 4X4 1994
TRX300FWR New Hampshire Fourtrax 300 4X4 1994
TRX300FWR Canada Fourtrax 300 4X4 1994
TRX300FWR Sweden Fourtrax 300 4X4 1994
TRX300FWS USA Fourtrax 300 4X4 1995
TRX300FWS New Hampshire Fourtrax 300 4X4 1995
TRX300FWS Canada Fourtrax 300 4X4 1995
TRX300FWS Australia Fourtrax 300 4X4 1995
TRX300FWT USA Fourtrax 300 4X4 1996
TRX300FWT New Hampshire Fourtrax 300 4X4 1996
TRX300FWT Canada Fourtrax Reflector 1996
TRX300FWT England Fourtrax Reflector 1996
TRX300FWT European Direct Sales Fourtrax Reflector 1996
TRX300FWT Sweden Fourtrax Reflector 1996
TRX300FWT Australia Fourtrax Silver Purple Metallic 1996
TRX300FWV USA Fourtrax 300 4X4 1997
TRX300FWV New Hampshire Fourtrax 300 4X4 1997
TRX300FWV Canada Fourtrax Reflector 1997
TRX300FWV Sweden Fourtrax Reflector 1997
TRX300FWV Australia Fourtrax Reflector 1997
TRX300FWW USA Fourtrax 300 4X4 1998
TRX300FWW California Fourtrax 300 4X4 1998
TRX300FWW AM Fourtrax 300 4X4 Stop Light Set 1998
TRX300FWW Canada Fourtrax Reflector 1998
TRX300FWW Sweden Fourtrax Reflector 1998
TRX300FWW Australia Fourtrax Reflector 1998
TRX300FWX USA Fourtrax 300 4X4 1999
TRX300FWX California Fourtrax 300 4X4 1999
TRX300FWX Canada Fourtrax Reflector 1999
TRX300FWX CQ Fourtrax 1999
TRX300FWX Australia Fourtrax Reflector 1999
TRX300FWY USA Fourtrax 300 4X4 2000
TRX300FWY California Fourtrax 300 4X4 2000
TRX300FWY Canada Fourtrax 300 4X4 Dual Bulb Headlight Reflector 2000
TRX300FWY CQ Fourtrax 300 4X4 Stop Light Set Square Signal 2000
TRX300FWY Sweden Fourtrax 300 4X4 Dual Bulb Headlight Reflector 2000
TRX300FWY Australia Fourtrax 300 4X4 Dual Bulb Headlight Reflector 2000
TRX300J USA Fourtrax 300 1988
TRX300J Canada Fourtrax 1988
TRX300J European Direct Sales Fourtrax 1988
TRX300J Australia Fourtrax 1988
TRX300K USA Fourtrax 300 1989
TRX300K Canada Fourtrax 1989
TRX300K England Fourtrax 1989
TRX300K European Direct Sales Fourtrax 1989
TRX300K Australia Fourtrax 1989
TRX300L USA Fourtrax 300 1990
TRX300L Canada Fourtrax 1990
TRX300L England Fourtrax 1990
TRX300L Australia Fourtrax 1990
TRX300M USA Fourtrax 300 1991
TRX300M New Hampshire Fourtrax 300 1991
TRX300M Canada Fourtrax 1991
TRX300M England Fourtrax 1991
TRX300M European Direct Sales Fourtrax 1991
TRX300M Australia Fourtrax Silver Purple Metallic 1991
TRX300N USA Fourtrax 300 1992
TRX300N New Hampshire Fourtrax 300 1992
TRX300N Canada Fourtrax 300 1992
TRX300N England Fourtrax 300 1992
TRX300N Australia Fourtrax 300 1992
TRX300P USA Fourtrax 300 1993
TRX300P New Hampshire Fourtrax 300 1993
TRX300P Canada Fourtrax 300 1993
TRX300P England Fourtrax 300 1993
TRX300P Australia Fourtrax 300 1993
TRX300R USA Fourtrax 300 1994
TRX300R New Hampshire Fourtrax 300 1994
TRX300R Canada Fourtrax 300 1994
TRX300R Australia Fourtrax 300 1994
TRX300S USA Fourtrax 300 1995
TRX300S New Hampshire Fourtrax 300 1995
TRX300S Canada Fourtrax 300 1995
TRX300S Australia Fourtrax 300 1995
TRX300T USA Fourtrax 300 1996
TRX300T New Hampshire Fourtrax 300 1996
TRX300T Canada Fourtrax Reflector 1996
TRX300T England Fourtrax Reflector 1996
TRX300T European Direct Sales Fourtrax Reflector 1996
TRX300T Australia Fourtrax Silver Purple Metallic 1996
TRX300V USA Fourtrax 300 1997
TRX300V New Hampshire Fourtrax 300 1997
TRX300V Canada Fourtrax Reflector 1997
TRX300V Australia Fourtrax Reflector 1997
TRX300W USA Fourtrax 300 1998
TRX300W California Fourtrax 300 1998
TRX300W AM Fourtrax 300 Stop Light Set 1998
TRX300W Canada Fourtrax Reflector 1998
TRX300W Australia Fourtrax Reflector 1998
TRX300X USA Fourtrax 300 1999
TRX300X California Fourtrax 300 1999
TRX300X Canada Fourtrax Reflector 1999
TRX300X CQ Fourtrax 1999
TRX300X Australia Fourtrax Reflector 1999
TRX300Y USA Fourtrax 300 2000
TRX300Y California Fourtrax 300 2000
TRX300Y Canada Fourtrax 300 Dual Bulb Headlight Reflector 2000
TRX300Y CQ Fourtrax 300 Stop Light Set Square Signal 2000
TRX300Y Australia Fourtrax 300 Dual Bulb Headlight Reflector 2000
TRX350DH England Fourtrax Made in Hamamatsu Sub Light 1987
TRX350DH England Fourtrax Sub Light 1987
TRX350DH England Fourtrax Sub Light 1987
TRX350DJ England Fourtrax Sub Light 1988
TRX350DJ European Direct Sales Fourtrax Sub Light 1988
TRX350DK England Fourtrax Sub Light 1989
TRX350DK European Direct Sales Fourtrax Sub Light 1989
TRX350FE1 CQ Fourtrax 350 4X4ES 2001
TRX350FE1 Australia Fourtrax 350 4X4ES 2001
TRX350FE1 Australia Fourtrax 350 4X4ES Electric Charge 2001
TRX350FE2 CQ Fourtrax 350 4X4ES Electric Charge Stop Light Set 2002
TRX350FE3 CQ Fourtrax 350 4X4ES Electric Charge Stop Light Set 2003
TRX350FE4 Australia Fourtrax ES 2004
TRX350FE4 Australia Fourtrax ES Type 2 2004
TRX350FE5 Australia Fourtrax ES 2005
TRX350FEY USA Rancher 4X4ES 2000
TRX350FEY Canada Fourtrax 350 4X4ES Caution Label in French Reflector 2000
TRX350FEY CQ Fourtrax 350 4X4ES Stop Light Set 2000
TRX350FEY Australia Fourtrax 350 4X4ES 2000
TRX350FM1 Brazil Rancher 4X4S 2001
TRX350FM1 CQ Fourtrax 350 4X4 Stop Light Set 2001
TRX350FM2 Canada Fourtrax 350 4X4 2002
TRX350FM2 Canada Fourtrax 350 4X4 Caution Label in French Reflector 2002
TRX350FM3 CQ Fourtrax 350 4X4 Stop Light Set 2003
TRX350FM4 Australia Fourtrax 2004
TRX350FM4 Australia Fourtrax Type 2 2004
TRX350FM5 Australia Fourtrax 2004
TRX350FMY USA Rancher 4X4 2000
TRX350FMY Canada Fourtrax 350 4X4 Caution Label in French Reflector 2000
TRX350FMY CQ Fourtrax 350 4X4 Stop Light Set 2000
TRX350FMY Australia Fourtrax 350 4X4 2000
TRX350H Canada Fourtrax Made in Kumamoto 1987
TRX350H Canada Fourtrax Made in Hamamatsu 1987
TRX350H Australia Fourtrax Made in Kumamoto 1987
TRX350H Australia Fourtrax Made in Hamamatsu 1987
TRX350J Australia Fourtrax 1988
TRX350K Canada Fourtrax 1989
TRX350L Canada Fourtrax 1990
TRX350M Canada Fourtrax Sub Light 1991
TRX350N Canada Fourtrax Sub Light 1992
TRX350P Canada Fourtrax Sub Light 1993
TRX350TE1 USA Rancher ES 2001
TRX350TE1 Canada Fourtrax 350 ES 2001
TRX350TE1 CQ Fourtrax 350 ES 2001
TRX350TE1 Australia Fourtrax 350 ES 2001
TRX350TE2 CQ Fourtrax 350 ES Electric Charge Stop Light Set 2002
TRX350TE3 CQ Fourtrax 350 ES Electric Charge Stop Light Set 2003
TRX350TE4 Australia Fourtrax ES 2004
TRX350TE4 Australia Fourtrax ES Type 2 2004
TRX350TE5 Australia Fourtrax ES 2005
TRX350TEY USA Rancher ES 2000
TRX350TEY Canada Fourtrax 350 ES Caution Label in French Reflector 2000
TRX350TEY CQ Fourtrax 350 ES Stop Light Set 2000
TRX350TEY Australia Fourtrax 350 ES 2000
TRX350TM1 USA Rancher 2001
TRX350TM1 Brazil Rancher S 2001
TRX350TM1 Canada Fourtrax 350 Caution Label in French Reflector 2001
TRX350TM1 CQ Fourtrax 350 Stop Light Set 2001
TRX350TM1 Australia Fourtrax 350 2001
TRX350TM2 Canada Fourtrax 350 2002
TRX350TM2 Canada Fourtrax 350 Caution Label in French Reflector 2002
TRX350TM3 CQ Fourtrax 350 Stop Light Set 2003
TRX350TM4 Australia Fourtrax 2004
TRX350TM4 Australia Fourtrax Type 2 2004
TRX350TM5 Australia Fourtrax 2005
TRX350TMY USA Rancher 2000
TRX350TMY Canada Fourtrax 350 Caution Label in French Reflector 2000
TRX350TMY CQ Fourtrax 350 Stop Light Set 2000
TRX350TMY Australia Fourtrax 350 2000
TRX400EX1 USA Fourtrax 400 EX 2001
TRX400EX1 Canada Fourtrax 400 EX Caution Label in French 2001
TRX400EX1 CQ Fourtrax 400 Stop Light Set 2001
TRX400EX2 USA Sportax 400 EX 2002
TRX400EX2 Canada Sportax 400 EX Caution Label in French 2002
TRX400EX2 CQ Sportax 400 EX Stop Light Set 2002
TRX400EX3 USA Sportax 400 EX 2003
TRX400EX3 Canada Sportax 400 EX Caution Label in French 2003
TRX400EX3 CQ Sportax 400 EX Stop Light Set 2003
TRX400EX3 Australia Sportax 400 EX Caution Label in French 2003
TRX400EX4 Australia Sportax 400 EX 2004
TRX400EX5 Australia Sportax 400 EX Caution Label in French Stop Light Set 2005
TRX400EXX USA Fourtrax 400 EX 1999
TRX400EXX Canada Fourtrax 400 EX Caution Label in French 1999
TRX400EXX CQ Fourtrax 400 EX Stop Light Set 1999
TRX400EXY USA Fourtrax 400 EX 2000
TRX400EXY Canada Fourtrax 400 EX Caution Label in French 2000
TRX400EXY CQ Fourtrax 400 EX Stop Light Set 2000
TRX400FA4 Australia Fourtrax AT 2004
TRX400FA5 Australia Fourtrax AT 2005
TRX400FW1 USA Fourtrax Foreman 2001
TRX400FW1 Canada Fourtrax Foreman 2001
TRX400FW1 CQ Fourtrax Foreman Stop Light Set 2001
TRX400FW2 USA Fourtrax Foreman 2002
TRX400FW2 Canada Fourtrax Foreman 2002
TRX400FW2 CQ Fourtrax Foreman Stop Light Set 2002
TRX400FWS USA Fourtrax Foreman 1995
TRX400FWS New Hampshire Fourtrax Foreman 1995
TRX400FWS Canada Fourtrax Foreman 1995
TRX400FWT USA Fourtrax Foreman 1996
TRX400FWT New Hampshire Fourtrax Foreman 1996
TRX400FWT Canada Fourtrax Foreman 1996
TRX400FWT England Fourtrax Foreman 1996
TRX400FWT Sweden Fourtrax Foreman HOR 1996
TRX400FWT Australia Fourtrax Foreman HOR 1996
TRX400FWV USA Fourtrax Foreman 1997
TRX400FWV New Hampshire Fourtrax Foreman 1997
TRX400FWV Canada Fourtrax Foreman 1997
TRX400FWV Sweden Fourtrax Foreman HOR 1997
TRX400FWV Australia Fourtrax Foreman HOR 1997
TRX400FWW USA Fourtrax Foreman 1998
TRX400FWW California Fourtrax Foreman 1998
TRX400FWW Canada Fourtrax Foreman 1998
TRX400FWW Australia Fourtrax Foreman HOR 1998
TRX400FWX USA Fourtrax Foreman 1999
TRX400FWX Canada Fourtrax Foreman 1999
TRX400FWX CQ Fourtrax Foreman Stop Light Set 1999
TRX400FWX Australia Fourtrax Foreman 1999
TRX400FWY USA Fourtrax Foreman 2000
TRX400FWY Canada Fourtrax Foreman 2000
TRX400FWY CQ Fourtrax Foreman Stop Light Set 2000
TRX400FWY Australia Fourtrax Foreman HOR 2000
TRX450ES1 USA TRX450ES Miles per Hour 2001
TRX450ES1 Canada TRX450ES Reflector 2001
TRX450ES1 CQ TRX450ES Stop Light Set 2001
TRX450ES1 Australia TRX450ES Kilometers per Hour 2001
TRX450ESW USA TRX450ES Miles per Hour 1998
TRX450ESW AM TRX450ES Stop Light Set 1998
TRX450ESW Canada TRX450ES Reflector 1998
TRX450ESW Australia TRX450ES Kilometers per Hour 1998
TRX450ESX USA TRX450ES Miles per Hour 1999
TRX450ESX Canada TRX450ES Reflector 1999
TRX450ESX CQ TRX450ES Stop Light Set 1999
TRX450ESX Australia TRX450ES Kilometers per Hour 1999
TRX450ESY USA TRX450ES Miles per Hour 2000
TRX450ESY Canada TRX450ES Reflector 2000
TRX450ESY CQ TRX450ES Stop Light Set 2000
TRX450ESY Australia TRX450ES Kilometers per Hour 2000
TRX450FE2 USA TRX450FE 2002
TRX450FE2 Canada TRX450FE 2002
TRX450FE2 CQ TRX450FE 2002
TRX450FE2 Australia TRX450FE 2002
TRX450FE3 USA TRX450FE 2003
TRX450FE3 Canada TRX450FE 2003
TRX450FE3 CQ TRX450FE 2003
TRX450FE3 Australia TRX450FE 2003
TRX450FE4 Australia TRX450FE 2004
TRX450FM2 USA TRX450FM 2002
TRX450FM2 Canada TRX450FM 2002
TRX450FM2 CQ TRX450FM 2002
TRX450FM2 Australia TRX450FM 2002
TRX450FM3 USA TRX450FM 2003
TRX450FM3 Canada TRX450FM 2003
TRX450FM3 CQ TRX450FM 2003
TRX450FM3 Australia TRX450FM 2003
TRX450FM4 Australia TRX450FM 2004
TRX450R4 Australia TRX450R 2004
TRX450R5 Australia TRX450R 2005
TRX450S1 USA TRX450S Miles per Hour 2001
TRX450S1 Canada TRX450S Reflector 2001
TRX450S1 CQ TRX450S Stop Light Set 2001
TRX450S1 Australia TRX450S Kilometers per Hour 2001
TRX450SW USA TRX450S Miles per Hour 1998
TRX450SW AM TRX450S Stop Light Set 1998
TRX450SW Canada TRX450S Reflector 1998
TRX450SW Australia TRX450S Kilometers per Hour 1998
TRX450SX USA TRX450S Miles per Hour 1999
TRX450SX Canada TRX450S Reflector 1999
TRX450SX CQ TRX450S Stop Light Set 1999
TRX450SX Australia TRX450S Kilometers per Hour 1999
TRX450SY USA TRX450S Miles per Hour 2000
TRX450SY Canada TRX450S Reflector 2000
TRX450SY CQ TRX450S Stop Light Set 2000
TRX450SY Australia TRX450S Kilometers per Hour 2000
TRX500FA1 USA Fourtrax Foreman Miles per Hour 2001
TRX500FA1 Canada Fourtrax Foreman Caution Label in French 2001
TRX500FA1 CQ Fourtrax Foreman Stop Light Set 2001
TRX500FA1 Australia Fourtrax Foreman Kilometers per Hour 2001
TRX500FA2 USA Fourtrax Foreman Miles per Hour 2002
TRX500FA2 Canada Fourtrax Foreman Caution Label in French 2002
TRX500FA2 CQ Fourtrax Foreman Stop Light Set 2002
TRX500FA2 Australia Fourtrax Foreman Kilometers per Hour 2002
TRX500FA3 USA Fourtrax Foreman Miles per Hour 2003
TRX500FA3 Canada Fourtrax Foreman Caution Label in French 2003
TRX500FA3 CQ Fourtrax Foreman Stop Light Set 2003
TRX500FA3 Australia Fourtrax Foreman Kilometers per Hour 2003
TRX500FA4 Australia Fourtrax Foreman 2004
TRX500FA5 Australia Fourtrax Foreman Caution Label in French Kilometers per Hour 2005
TRX650FA3 Canada TRX650FA 2003
TRX650FA3 Australia TRX650FA 2003
TRX650FA4 Australia TRX650FA 2004
TRX650FA5 Australia TRX650FA 2005
TRX901 USA Fourtrax 90 Standard 2001
TRX901 Canada Fourtrax 90 Reflector 2001
TRX902 USA Sportrax 90 Standard 2002
TRX902 Canada Sportrax 90 Reflector 2002
TRX903 USA Sportrax 90 Standard 2003
TRX903 Canada Sportrax 90 Reflector 2003
TRX903 Australia Sportrax 90 2003
TRX904 Australia Sportrax 90 2004
TRX905 Australia Sportrax 90 2005
TRX90P USA TRX90 1993
TRX90R USA TRX90 1994
TRX90S USA TRX90 1995
TRX90T USA TRX90 1996
TRX90V USA TRX90 1997
TRX90W USA TRX90 1998
TRX90X USA TRX90 Air Suction Valve 1999
TRX90Y USA TRX90 Air Suction Valve 2000
VF750C1 Canada VF750C Reflector 2001
VF750C2 Canada VF750C 2002
VF750C2V Canada VF750C2 Kilomters/Miles per Hour 1997
VF750C2W Canada VF750C2 1998
VF750C2X Canada VF750C2 1999
VF750C2Y Canada VF750C2 2000
VF750CDT Canada VF750CD Kilomters/Miles per Hour 1996
VF750CP Austria VF750C Kilometers per Hour 1993
VF750CP England VF750C Miles/Kilometers per Hour 1993
VF750CP European Direct Sales VF750C Kilometers per Hour 1993
VF750CP France VF750C Kilometers per Hour 1993
VF750CP Germany VF750C Kilometers per Hour 1993
VF750CP Spain VF750C Kilometers per Hour 1993
VF750CP Switzerland VF750C Kilometers per Hour 1993
VF750CR Austria VF750C Kilometers per Hour 1994
VF750CR Canada VF750C Kilomters/Miles per Hour 1994
VF750CR England VF750C Miles/Kilometers per Hour 1994
VF750CR European Direct Sales VF750C Kilometers per Hour 1994
VF750CR France VF750C Kilometers per Hour 1994
VF750CR Germany VF750C Kilometers per Hour 1994
VF750CR Germany VF750C Kilometers per Hour 34 HP 1994
VF750CR Germany VF750C Kilometers per Hour 50 HP 1994
VF750CR Spain VF750C Kilometers per Hour 1994
VF750CR Switzerland VF750C Kilometers per Hour 1994
VF750CS Austria VF750C Kilometers per Hour 1995
VF750CS Canada VF750C Kilomters/Miles per Hour 1995
VF750CS England VF750C 1995
VF750CS European Direct Sales VF750C Kilometers per Hour 1995
VF750CS France VF750C Kilometers per Hour 1995
VF750CS Germany VF750C Kilometers per Hour 1995
VF750CS Germany VF750C Kilometers per Hour 34 HP 1995
VF750CS Germany VF750C Kilometers per Hour 50 HP 1995
VF750CS Spain VF750C Kilometers per Hour 1995
VF750CS Switzerland VF750C Kilometers per Hour 1995
VF750CT Austria VF750C Kilometers per Hour 1996
VF750CT Canada VF750C Kilomters/Miles per Hour 1996
VF750CT England VF750C 1996
VF750CT European Direct Sales VF750C Kilometers per Hour 1996
VF750CT France VF750C Kilometers per Hour 1996
VF750CT Germany VF750C Kilometers per Hour 1996
VF750CT Germany VF750C Kilometers per Hour 34 HP 1996
VF750CT Germany VF750C Kilometers per Hour 50 HP 1996
VF750CT Korea VF750C Kilometers per Hour 1996
VF750CT Spain VF750C Kilometers per Hour 1996
VF750CT Switzerland VF750C Kilometers per Hour 1996
VF750CT Australia VF750C Kilometers per Hour 1996
VF750CV Austria VF750C Kilometers per Hour 1997
VF750CV Canada VF750C Kilomters/Miles per Hour 1997
VF750CV England VF750C Miles/Kilometers per Hour 1997
VF750CV European Direct Sales VF750C Kilometers per Hour 1997
VF750CV France VF750C Kilometers per Hour 1997
VF750CV Germany VF750C Kilometers per Hour 1997
VF750CV Germany VF750C Kilometers per Hour 34 HP 1997
VF750CV Germany VF750C Kilometers per Hour 50 HP 1997
VF750CV Spain VF750C Kilometers per Hour 1997
VF750CV Switzerland VF750C Kilometers per Hour 1997
VF750CV Australia VF750C Kilometers per Hour 1997
VF750CW Canada VF750C Reflector 1998
VF750CX Austria VF750C Air Suction Valve 1999
VF750CX Canada VF750C Reflector 1999
VF750CX England VF750C Miles/Kilometers per Hour 1999
VF750CX European Direct Sales VF750C Kilometers per Hour 1999
VF750CX France VF750C Kilometers per Hour 1999
VF750CX Germany VF750C 34 HP 1999
VF750CX Germany VF750C 50 HP 1999
VF750CX Germany VF750C Kilometers per Hour 1999
VF750CX Korea VF750C Kilometers per Hour 1999
VF750CX Spain VF750C Kilometers per Hour 1999
VF750CX Switzerland VF750C Air Suction Valve 1999
VF750CY Canada VF750C Reflector 2000
VF750CY Korea VF750C Kilometers per Hour 2000
VFR400R3L Austria VFR400R3 1990
VFR400R3L England VFR400R3 1990
VFR400R3M Austria VFR400R3 1991
VFR400R3M England VFR400R3 1991
VFR400R3M France VFR400R3 Yellow Bulb 1991
VFR400R3M Germany VFR400R3 1991
VFR750FH Austria VFR750F Kilometers per Hour Reflector 1987
VFR750FH England VFR750F Miles per Hour 1987
VFR750FH European Direct Sales VFR750F Kilometers per Hour 1987
VFR750FH France VFR750F Kilometers per Hour Yellow Bulb 1987
VFR750FH Finland VFR750F Kilomters/Miles per Hour Mud Guard 1987
VFR750FH Germany VFR750F Kilometers per Hour 1987
VFR750FH Italy VFR750F Kilomters/Miles per Hour 1987
VFR750FH Northern Europe VFR750F Kilometers per Hour 1987
VFR750FH South Africa VFR750F Kilometers per Hour 1987
VFR750FH Sweden VFR750F Kilomters/Miles per Hour 1987
VFR750FH Spain VFR750F Kilometers per Hour 1987
VFR750FH Switzerland VFR750F Kilometers per Hour Mud Guard 1987
VFR750FH Australia VFR750F Kilometers per Hour 1987
VFR750FJ Austria VFR750F Kilometers per Hour Reflector 1988
VFR750FJ England VFR750F Miles/Kilometers per Hour 1988
VFR750FJ European Direct Sales VFR750F Kilometers per Hour 1988
VFR750FJ France VFR750F Kilometers per Hour Yellow Bulb 1988
VFR750FJ Finland VFR750F Kilometers per Hour Mud Guard 1988
VFR750FJ Germany VFR750F Kilometers per Hour 1988
VFR750FJ Italy VFR750F Kilometers per Hour 1988
VFR750FJ Northern Europe VFR750F Kilometers per Hour 1988
VFR750FJ Sweden VFR750F Kilometers per Hour 1988
VFR750FJ Spain VFR750F Kilometers per Hour 1988
VFR750FJ Switzerland VFR750F Air Suction Valve Kilometers per Hour Mud Guard 1988
VFR750FJ Australia VFR750F Kilometers per Hour 1988
VFR750FK Austria VFR750F Kilometers per Hour Reflector 1989
VFR750FK England VFR750F Miles/Kilometers per Hour 1989
VFR750FK European Direct Sales VFR750F Kilometers per Hour 1989
VFR750FK France VFR750F Kilometers per Hour Yellow Bulb 1989
VFR750FK Finland VFR750F Kilometers per Hour Mud Guard 1989
VFR750FK Germany VFR750F Kilometers per Hour 1989
VFR750FK Italy VFR750F Kilometers per Hour 1989
VFR750FK Northern Europe VFR750F Kilometers per Hour 1989
VFR750FK Sweden VFR750F Kilometers per Hour 1989
VFR750FK Spain VFR750F Kilometers per Hour 1989
VFR750FK Switzerland VFR750F Air Suction Valve Kilometers per Hour Mud Guard 1989
VFR750FK Australia VFR750F Kilometers per Hour 1989
VFR750FL Austria VFR750F 1990
VFR750FL Canada VFR750F 1990
VFR750FL England VFR750F 1990
VFR750FL European Direct Sales VFR750F 1990
VFR750FL France VFR750F Yellow Bulb 1990
VFR750FL Finland VFR750F 1990
VFR750FL Germany VFR750F 1990
VFR750FL Italy VFR750F 1990
VFR750FL Northern Europe VFR750F 1990
VFR750FL Spain VFR750F 1990
VFR750FL Switzerland VFR750F 1990
VFR750FL Australia VFR750F 1990
VFR750FM Austria VFR750F 1991
VFR750FM Canada VFR750F 1991
VFR750FM England VFR750F 1991
VFR750FM European Direct Sales VFR750F 1991
VFR750FM France VFR750F Yellow Bulb 1991
VFR750FM Finland VFR750F 1991
VFR750FM Germany VFR750F 1991
VFR750FM Italy VFR750F 1991
VFR750FM Northern Europe VFR750F 1991
VFR750FM Spain VFR750F 1991
VFR750FM Switzerland VFR750F 1991
VFR750FM Australia VFR750F 1991
VFR750FN Austria VFR750F 1992
VFR750FN Canada VFR750F 1992
VFR750FN England VFR750F 1992
VFR750FN European Direct Sales VFR750F 1992
VFR750FN France VFR750F Yellow Bulb 1992
VFR750FN Germany VFR750F 1992
VFR750FN Italy VFR750F 1992
VFR750FN Spain VFR750F 1992
VFR750FN Switzerland VFR750F 1992
VFR750FN Australia VFR750F 1992
VFR750FP Austria VFR750F 1993
VFR750FP Canada VFR750F 1993
VFR750FP England VFR750F 1993
VFR750FP European Direct Sales VFR750F 1993
VFR750FP France VFR750F 1993
VFR750FP Germany VFR750F 1993
VFR750FP Italy VFR750F 1993
VFR750FP Spain VFR750F 1993
VFR750FP Switzerland VFR750F 1993
VFR750FP Australia VFR750F 1993
VFR750FR Austria VFR750F 1994
VFR750FR Canada VFR750F 1994
VFR750FR England VFR750F 1994
VFR750FR European Direct Sales VFR750F 1994
VFR750FR France VFR750F 1994
VFR750FR Germany VFR750F 1994
VFR750FR Italy VFR750F 1994
VFR750FR Spain VFR750F 1994
VFR750FR Switzerland VFR750F 1994
VFR750FR Australia VFR750F 1994
VFR750FS Austria VFR750F 1995
VFR750FS Canada VFR750F 1995
VFR750FS England VFR750F 1995
VFR750FS European Direct Sales VFR750F 1995
VFR750FS France VFR750F 1995
VFR750FS Germany VFR750F 1995
VFR750FS Italy VFR750F 1995
VFR750FS Spain VFR750F 1995
VFR750FS Switzerland VFR750F 1995
VFR750FS Australia VFR750F 1995
VFR750FT Austria VFR750F 1996
VFR750FT Canada VFR750F 1996
VFR750FT England VFR750F 1996
VFR750FT European Direct Sales VFR750F 1996
VFR750FT France VFR750F 1996
VFR750FT Germany VFR750F 1996
VFR750FT Italy VFR750F 1996
VFR750FT Spain VFR750F 1996
VFR750FT Australia VFR750F 1996
VFR750FV Austria VFR750F 1997
VFR750FV Canada VFR750F 1997
VFR750FV England VFR750F 1997
VFR750FV European Direct Sales VFR750F 1997
VFR750FV France VFR750F 1997
VFR750FV Germany VFR750F 1997
VFR750FV Netherlands VFR750F 1997
VFR750FV Switzerland VFR750F 1997
VFR750FV Australia VFR750F 1997
VFR750RJ Austria VFR750R 1988
VFR750RJ Belgium VFR750R 1988
VFR750RJ Canada VFR750R 1988
VFR750RJ England VFR750R 1988
VFR750RJ European Direct Sales VFR750R 1988
VFR750RJ France VFR750R Yellow Bulb 1988
VFR750RJ Finland VFR750R 1988
VFR750RJ Germany VFR750R 1988
VFR750RJ Italy VFR750R 1988
VFR750RJ Norway VFR750R 1988
VFR750RJ New Zealand VFR750R 1988
VFR750RJ Sweden VFR750R 1988
VFR750RJ Spain VFR750R 1988
VFR750RJ Switzerland VFR750R Square Headlight 1988
VFR750RJ Australia VFR750R 1988
VFR750RK Austria VFR750R 1989
VFR750RK Belgium VFR750R 1989
VFR750RK Canada VFR750R 1989
VFR750RK England VFR750R 1989
VFR750RK European Direct Sales VFR750R 1989
VFR750RK France VFR750R Yellow Bulb 1989
VFR750RK Germany VFR750R 1989
VFR750RK Italy VFR750R 1989
VFR750RK Sweden VFR750R 1989
VFR750RK Spain VFR750R 1989
VFR750RK Switzerland VFR750R Square Headlight 1989
VFR750RK Australia VFR750R 1989
VFR750RL England VFR750R 1990
VFR8002 Canada VFR800 2002
VFR8002 England VFR800 2002
VFR8002 European Direct Sales VFR800 2002
VFR8002 France VFR800 2002
VFR8002 Australia VFR800 2002
VFR8003 Canada VFR800 2003
VFR8003 England VFR800 2003
VFR8003 European Direct Sales VFR800 2003
VFR8003 France VFR800 2003
VFR8003 Australia VFR800 2003
VFR8004 England VFR800 2004
VFR8004 European Direct Sales VFR800 2004
VFR8004 France VFR800 2004
VFR8004 Australia VFR800 2004
VFR8005 England VFR800 2005
VFR8005 European Direct Sales VFR800 2005
VFR8005 EK VFR800 2005
VFR8005 France VFR800 Caution Label in French 2005
VFR8005 Australia VFR800 2005
VFR800A2 Canada VFR800A ABS 2002
VFR800A2 England VFR800A ABS 2002
VFR800A2 European Direct Sales VFR800A ABS 2002
VFR800A2 France VFR800A ABS 2002
VFR800A3 Canada VFR800A ABS 2003
VFR800A3 England VFR800A ABS 2003
VFR800A3 European Direct Sales VFR800A ABS 2003
VFR800A3 France VFR800A ABS 2003
VFR800A4 England VFR800A ABS 2004
VFR800A4 European Direct Sales VFR800A ABS 2004
VFR800A4 France VFR800A ABS 2004
VFR800A5 England VFR800A ABS 2005
VFR800A5 European Direct Sales VFR800A ABS 2005
VFR800A5 EK VFR800A ABS 2005
VFR800A5 France VFR800A ABS Caution Label in French 2005
VFR800FI1 Canada VFR800FI Kilomters/Miles per Hour 2001
VFR800FI1 Denmark VFR800FI Immobilizer Kilometers per Hour 2001
VFR800FI1 England VFR800FI Immobilizer Miles/Kilometers per Hour 2001
VFR800FI1 European Direct Sales VFR800FI Immobilizer Kilometers per Hour 2001
VFR800FI1 France VFR800FI Immobilizer Kilometers per Hour 2001
VFR800FI1 Australia VFR800FI Kilometers per Hour 2001
VFR800FIW Canada VFR800FI 1998
VFR800FIW England VFR800FI 1998
VFR800FIW European Direct Sales VFR800FI 1998
VFR800FIW France VFR800FI 1998
VFR800FIW Germany VFR800FI 1998
VFR800FIW Northern Europe VFR800FI 1998
VFR800FIW Switzerland VFR800FI 1998
VFR800FIW Australia VFR800FI 1998
VFR800FIX Canada VFR800FI 1999
VFR800FIX England VFR800FI 1999
VFR800FIX England VFR800FI 50th Anniversary 1999
VFR800FIX European Direct Sales VFR800FI 1999
VFR800FIX European Direct Sales VFR800FI 50th Anniversary 1999
VFR800FIX France VFR800FI 1999
VFR800FIX France VFR800FI 50th Anniversary 1999
VFR800FIX Germany VFR800FI 1999
VFR800FIX Germany VFR800FI 50th Anniversary 1999
VFR800FIX Northern Europe VFR800FI 1999
VFR800FIX Northern Europe VFR800FI 50th Anniversary 1999
VFR800FIX Switzerland VFR800FI 1999
VFR800FIX Switzerland VFR800FI 50th Anniversary 1999
VFR800FIX Australia VFR800FI 1999
VFR800FIX Australia VFR800FI 50th Anniversary 1999
VFR800FIY Canada VFR800FI 2000
VFR800FIY Denmark VFR800FI 2000
VFR800FIY England VFR800FI 2000
VFR800FIY European Direct Sales VFR800FI 2000
VFR800FIY France VFR800FI 2000
VFR800FIY Australia VFR800FI 2000
VT1100C21 Canada VT1100C2 Kilomters/Miles per Hour 2001
VT1100C21 Australia VT1100C2 Kilometers per Hour 2001
VT1100C22 Canada VT1100C2 2002
VT1100C22 European Direct Sales VT1100C2 2002
VT1100C22 France VT1100C2 2002
VT1100C22 Australia VT1100C2 2002
VT1100C23 Canada VT1100C2 2003
VT1100C23 Australia VT1100C2 2003
VT1100C24 Australia VT1100C2 2004
VT1100C25 Australia VT1100C2 Kilometers per Hour 2005
VT1100C2S Austria VT1100C2 Air Suction Valve 1995
VT1100C2S Canada VT1100C2 Rectangular Mirror 1995
VT1100C2S European Direct Sales VT1100C2 1995
VT1100C2S France VT1100C2 1995
VT1100C2S Germany VT1100C2 1995
VT1100C2S Germany VT1100C2 25 KW 1995
VT1100C2S Spain VT1100C2 1995
VT1100C2S Switzerland VT1100C2 Air Suction Valve 1995
VT1100C2S Australia VT1100C2 Rectangular Mirror 1995
VT1100C2T Austria VT1100C2 Air Suction Valve 1996
VT1100C2T Canada VT1100C2 Rectangular Mirror 1996
VT1100C2T European Direct Sales VT1100C2 1996
VT1100C2T France VT1100C2 1996
VT1100C2T Germany VT1100C2 1996
VT1100C2T Spain VT1100C2 1996
VT1100C2T Switzerland VT1100C2 Air Suction Valve 1996
VT1100C2T Australia VT1100C2 Rectangular Mirror 1996
VT1100C2V Austria VT1100C2 Air Suction Valve 1997
VT1100C2V Austria VT1100C2 Air Suction Valve White Ribbon Tire 1997
VT1100C2V Canada VT1100C2 Rectangular Mirror 1997
VT1100C2V Canada VT1100C2 Rectangular Mirror White Ribbon Tire 1997
VT1100C2V European Direct Sales VT1100C2 1997
VT1100C2V European Direct Sales VT1100C2 White Ribbon Tire 1997
VT1100C2V France VT1100C2 1997
VT1100C2V France VT1100C2 White Ribbon Tire 1997
VT1100C2V Germany VT1100C2 1997
VT1100C2V Germany VT1100C2 White Ribbon Tire 1997
VT1100C2V Spain VT1100C2 1997
VT1100C2V Switzerland VT1100C2 Air Suction Valve 1997
VT1100C2V Australia VT1100C2 Rectangular Mirror 1997
VT1100C2W Austria VT1100C2 Air Suction Valve White Ribbon Tire 1998
VT1100C2W Canada VT1100C2 Rectangular Mirror 1998
VT1100C2W Canada VT1100C2 Rectangular Mirror White Ribbon Tire 1998
VT1100C2W European Direct Sales VT1100C2 White Ribbon Tire 1998
VT1100C2W France VT1100C2 White Ribbon Tire 1998
VT1100C2W Finland VT1100C2 White Ribbon Tire 1998
VT1100C2W Germany VT1100C2 White Ribbon Tire 1998
VT1100C2W Germany VT1100C2 White Ribbon Tire 34 HP 1998
VT1100C2W Spain VT1100C2 White Ribbon Tire 1998
VT1100C2W Switzerland VT1100C2 Air Suction Valve White Ribbon Tire 1998
VT1100C2W Australia VT1100C2 Rectangular Mirror White Ribbon Tire 1998
VT1100C2X Austria VT1100C2 Kilometers per Hour 1999
VT1100C2X Canada VT1100C2 Miles/Kilometers per Hour 1999
VT1100C2X European Direct Sales VT1100C2 Kilometers per Hour 1999
VT1100C2X France VT1100C2 Kilometers per Hour 1999
VT1100C2X Finland VT1100C2 Kilometers per Hour 1999
VT1100C2X Germany VT1100C2 Kilometers per Hour 1999
VT1100C2X Switzerland VT1100C2 Kilometers per Hour 1999
VT1100C2X Australia VT1100C2 Kilometers per Hour 1999
VT1100C2Y Canada VT1100C2 Kilomters/Miles per Hour 2000
VT1100C2Y European Direct Sales VT1100C2 Kilometers per Hour 2000
VT1100C2Y France VT1100C2 Kilometers per Hour 2000
VT1100C2Y Australia VT1100C2 Kilometers per Hour 2000
VT1100C31 Canada VT1100C3 Caution Label in French 2001
VT1100C32 Canada VT1100C3 Caution Label in French 2002
VT1100C3W Austria VT1100C3 1998
VT1100C3W Canada VT1100C3 Caution Label in French 1998
VT1100C3W European Direct Sales VT1100C3 1998
VT1100C3W France VT1100C3 Caution Label in French 1998
VT1100C3W Germany VT1100C3 1998
VT1100C3W Germany VT1100C3 34 HP 1998
VT1100C3W Switzerland VT1100C3 1998
VT1100C3W Australia VT1100C3 1998
VT1100C3X Austria VT1100C3 1999
VT1100C3X Canada VT1100C3 Caution Label in French 1999
VT1100C3X European Direct Sales VT1100C3 1999
VT1100C3X France VT1100C3 Caution Label in French 1999
VT1100C3X Germany VT1100C3 1999
VT1100C3X Germany VT1100C3 34 HP 1999
VT1100C3X Switzerland VT1100C3 1999
VT1100C3X Australia VT1100C3 1999
VT1100C3Y Canada VT1100C3 Caution Label in French 2000
VT1100C3Y Australia VT1100C3 2000
VT1100CH Canada Shadow Kilometers per Hour 1987
VT1100CJ Canada Shadow Kilometers per Hour 1988
VT1100CJ European Direct Sales Shadow Kilometers per Hour 1988
VT1100CJ France Shadow Kilometers per Hour Yellow Bulb 1988
VT1100CJ Germany Shadow Kilometers per Hour 1988
VT1100CJ Italy Shadow Kilometers per Hour 1988
VT1100CJ Norway Shadow Kilometers per Hour 1988
VT1100CJ Switzerland Shadow Kilometers per Hour 1988
VT1100CN Canada Shadow Kilometers per Hour 1992
VT1100CP Canada Shadow 1993
VT1100CR Austria Shadow Kilometers per Hour 1994
VT1100CR Canada Shadow Kilometers per Hour 1994
VT1100CR European Direct Sales Shadow Kilometers per Hour 1994
VT1100CR France Shadow Kilometers per Hour 1994
VT1100CR Germany Shadow Kilometers per Hour 1994
VT1100CR Italy Shadow Kilometers per Hour 1994
VT1100CR Spain Shadow Kilometers per Hour 1994
VT1100CR Switzerland Shadow Kilometers per Hour 1994
VT1100CR Australia Shadow Kilometers per Hour 1994
VT1100CS Austria VT1100C Air Suction Valve Rectangular Mirror 1995
VT1100CS Canada VT1100C Rectangular Mirror 1995
VT1100CS European Direct Sales VT1100C 1995
VT1100CS France VT1100C 1995
VT1100CS Germany VT1100C 1995
VT1100CS Spain VT1100C Rectangular Mirror 1995
VT1100CS Australia VT1100C Rectangular Mirror 1995
VT1100CT Canada VT1100C Rectangular Mirror 1996
VT1100CT Australia VT1100C Rectangular Mirror 1996
VT1100CV Canada VT1100C Rectangular Mirror 1997
VT1100CW Canada VT1100C Rectangular Mirror 1998
VT1100D2X Canada VT1100D2 Miles/Kilometers per Hour 1999
VT125C1 England VT125C Miles/Kilometers per Hour 2001
VT125C1 European Direct Sales VT125C Kilometers per Hour 2001
VT125C1 France VT125C Caution Label in French Kilometers per Hour 2001
VT125C1 Switzerland VT125C Kilometers per Hour 2001
VT125C21 England VT125C2 Miles/Kilometers per Hour 2001
VT125C21 European Direct Sales VT125C2 Kilometers per Hour 2001
VT125C21 France VT125C2 Caution Label in French Kilometers per Hour 2001
VT125C21 Switzerland VT125C2 Kilometers per Hour 2001
VT125C2Y England VT125C2 C2Y Model Kilomters/Miles per Hour 2000
VT125C2Y European Direct Sales VT125C2 C2Y Model Kilometers per Hour 2000
VT125C2Y France VT125C2 C2Y Model Kilometers per Hour 2000
VT125C2Y Germany VT125C2 C2Y Model Kilometers per Hour 2000
VT125C2Y Switzerland VT125C2 C2Y Model Kilometers per Hour 2000
VT125C3 England VT125C Miles/Kilometers per Hour 2003
VT125C3 European Direct Sales VT125C Kilometers per Hour 2003
VT125C3 France VT125C Caution Label in French Kilometers per Hour 2003
VT125C3 Switzerland VT125C Kilometers per Hour 2003
VT125C4 England VT125C Miles/Kilometers per Hour 2004
VT125C4 European Direct Sales VT125C Kilometers per Hour 2004
VT125C4 France VT125C Caution Label in French Kilometers per Hour 2004
VT125CX England VT125C Kilomters/Miles per Hour 1999
VT125CX European Direct Sales VT125C Kilometers per Hour 1999
VT125CX France VT125C Kilometers per Hour 1999
VT125CX Germany VT125C Kilometers per Hour 1999
VT125CX Switzerland VT125C Kilometers per Hour 1999
VT125CY England VT125C Clipper Yellow Model Kilomters/Miles per Hour 2000
VT125CY European Direct Sales VT125C Clipper Yellow Model Kilometers per Hour 2000
VT125CY France VT125C Clipper Yellow Model Kilometers per Hour 2000
VT125CY Germany VT125C Clipper Yellow Model Kilometers per Hour 2000
VT125CY Switzerland VT125C Clipper Yellow Model Kilometers per Hour 2000
VT600CD2X Canada VT600CD2 1999
VT600CD2X Singapore VT600CD2 1999
VT600CDP Canada VT600CD Kilomters/Miles per Hour 1993
VT600CDR Canada VT600CD Miles/Kilometers per Hour 1994
VT600CDS Canada VT600CD Miles/Kilometers per Hour 1995
VT600CDT Canada VT600CD Miles/Kilometers per Hour 1996
VT600CDV Canada VT600CD 1997
VT600CDW Canada VT600CD 1998
VT600CDX Canada VT600CD 1999
VT600CJ Canada VT600C Kilomters/Miles per Hour 1988
VT600CJ European Direct Sales VT600C Kilometers per Hour 1988
VT600CJ France VT600C Kilometers per Hour 1988
VT600CJ Germany VT600C Kilometers per Hour 1988
VT600CJ Germany VT600C Kilometers per Hour 27 HP 1988
VT600CJ Sweden VT600C Kilometers per Hour 1988
VT600CJ Switzerland VT600C Kilometers per Hour 1988
VT600CK Austria VT600C Kilometers per Hour 1989
VT600CK European Direct Sales VT600C Kilometers per Hour 1989
VT600CK France VT600C Kilometers per Hour 1989
VT600CK Germany VT600C Kilometers per Hour 1989
VT600CK Germany VT600C Kilometers per Hour 27 HP 1989
VT600CK Italy VT600C Kilometers per Hour 1989
VT600CK Sweden VT600C Kilometers per Hour 1989
VT600CK Switzerland VT600C Kilometers per Hour 1989
VT600CL Austria VT600C Kilometers per Hour 1990
VT600CL European Direct Sales VT600C Kilometers per Hour 1990
VT600CL France VT600C Kilometers per Hour 1990
VT600CL Finland VT600C Kilometers per Hour 1990
VT600CL Germany VT600C Kilometers per Hour 1990
VT600CL Germany VT600C Kilometers per Hour 27 HP 1990
VT600CL Italy VT600C Kilometers per Hour 1990
VT600CL Norway VT600C Kilometers per Hour 1990
VT600CL Sweden VT600C Kilometers per Hour 1990
VT600CL Spain VT600C Kilometers per Hour 1990
VT600CM Austria VT600C Kilometers per Hour 1991
VT600CM Finland VT600C Kilometers per Hour 1991
VT600CM Norway VT600C Kilometers per Hour 1991
VT600CM Switzerland VT600C Kilometers per Hour 1991
VT600CN Austria VT600C Kilometers per Hour 1992
VT600CN Canada VT600C Kilomters/Miles per Hour 1992
VT600CN England VT600C Miles/Kilometers per Hour 1992
VT600CN European Direct Sales VT600C Kilometers per Hour 1992
VT600CN France VT600C Kilometers per Hour 1992
VT600CN Finland VT600C Kilometers per Hour 1992
VT600CN Germany VT600C Kilometers per Hour 1992
VT600CN Germany VT600C Kilometers per Hour 27 HP 1992
VT600CN Italy VT600C Kilometers per Hour 1992
VT600CN Spain VT600C Kilometers per Hour 1992
VT600CN Switzerland VT600C Kilometers per Hour 1992
VT600CP Austria VT600C Kilometers per Hour 1993
VT600CP Canada VT600C Kilomters/Miles per Hour 1993
VT600CP England VT600C Miles/Kilometers per Hour 1993
VT600CP European Direct Sales VT600C Kilometers per Hour 1993
VT600CP France VT600C Kilometers per Hour 1993
VT600CP Finland VT600C Kilometers per Hour 1993
VT600CP Germany VT600C Kilometers per Hour 1993
VT600CP Germany VT600C Kilometers per Hour 27 HP 1993
VT600CP Italy VT600C Kilometers per Hour 1993
VT600CP Spain VT600C Kilometers per Hour 1993
VT600CP Switzerland VT600C Kilometers per Hour 1993
VT600CR Austria VT600C Kilometers per Hour 1994
VT600CR Canada VT600C Miles/Kilometers per Hour 1994
VT600CR England VT600C Miles/Kilometers per Hour 1994
VT600CR European Direct Sales VT600C Kilometers per Hour 1994
VT600CR France VT600C Kilometers per Hour 1994
VT600CR Germany VT600C Kilometers per Hour 1994
VT600CR Germany VT600C Kilometers per Hour 34 HP 1994
VT600CR Italy VT600C Kilometers per Hour 1994
VT600CR Singapore VT600C Kilometers per Hour 1994
VT600CR Spain VT600C Kilometers per Hour 1994
VT600CR Switzerland VT600C Kilometers per Hour 1994
VT600CR Australia VT600C Kilometers per Hour 1994
VT600CS Austria VT600C Kilometers per Hour 1995
VT600CS Canada VT600C Miles/Kilometers per Hour 1995
VT600CS England VT600C Miles/Kilometers per Hour 1995
VT600CS European Direct Sales VT600C Kilometers per Hour 1995
VT600CS France VT600C Kilometers per Hour 1995
VT600CS Finland VT600C Kilometers per Hour 1995
VT600CS Germany VT600C Kilometers per Hour 1995
VT600CS Germany VT600C Kilometers per Hour 34 HP 1995
VT600CS Italy VT600C Kilometers per Hour 1995
VT600CS Italy VT600C Kilometers per Hour 34 HP 1995
VT600CS Singapore VT600C Kilometers per Hour 1995
VT600CS Spain VT600C Kilometers per Hour 1995
VT600CS Switzerland VT600C Kilometers per Hour 1995
VT600CS Australia VT600C Kilometers per Hour 1995
VT600CT Austria VT600C Kilometers per Hour 1996
VT600CT Canada VT600C Miles/Kilometers per Hour 1996
VT600CT England VT600C Miles/Kilometers per Hour 1996
VT600CT European Direct Sales VT600C Kilometers per Hour 1996
VT600CT France VT600C Kilometers per Hour 1996
VT600CT Germany VT600C Kilometers per Hour 1996
VT600CT Germany VT600C Kilometers per Hour 34 HP 1996
VT600CT Portugal VT600C Kilometers per Hour 34 HP 1996
VT600CT Singapore VT600C Kilometers per Hour 1996
VT600CT Spain VT600C Kilometers per Hour 1996
VT600CT Switzerland VT600C Kilometers per Hour 1996
VT600CT Australia VT600C Kilometers per Hour 1996
VT600CV Austria VT600C 1997
VT600CV Canada VT600C 1997
VT600CV England VT600C 1997
VT600CV European Direct Sales VT600C 1997
VT600CV France VT600C 1997
VT600CV Finland VT600C 1997
VT600CV Germany VT600C 1997
VT600CV Germany VT600C 34 HP 1997
VT600CV Italy VT600C 1997
VT600CV Portugal VT600C 1997
VT600CV Singapore VT600C 1997
VT600CV Spain VT600C 1997
VT600CV Switzerland VT600C 1997
VT600CV Australia VT600C 1997
VT600CW Austria VT600C 1998
VT600CW England VT600C 1998
VT600CW European Direct Sales VT600C 1998
VT600CW France VT600C 1998
VT600CW Finland VT600C 1998
VT600CW Germany VT600C 1998
VT600CW Germany VT600C 34 HP 1998
VT600CW Italy VT600C 1998
VT600CW Portugal VT600C 1998
VT600CW Spain VT600C 1998
VT600CW Switzerland VT600C 1998
VT600CW Australia VT600C 1998
VT600CX Germany VT600C Made in Hamamatsu 1999
VT600CX Italy VT600C Made in Hamamatsu 1999
VT600CX Portugal VT600C Made in Hamamatsu 1999
VT600CX Canada VT600C 1999
VT750C1 Australia VT750C Kilometers per Hour 2001
VT750C21 England VT750C2 Miles/Kilometers per Hour 2001
VT750C21 European Direct Sales VT750C2 Kilometers per Hour 2001
VT750C21 France VT750C2 Kilometers per Hour 2001
VT750C21 Switzerland VT750C2 Kilometers per Hour 2001
VT750C2V Austria VT750C2 Kilometers per Hour 1997
VT750C2V England VT750C2 Miles/Kilometers per Hour Two Tone 1997
VT750C2V European Direct Sales VT750C2 Kilometers per Hour Two Tone 1997
VT750C2V France VT750C2 Caution Label in French Kilometers per Hour Two Tone 1997
VT750C2V Germany VT750C2 Kilometers per Hour Two Tone 1997
VT750C2V Italy VT750C2 Kilometers per Hour Two Tone 1997
VT750C2V Spain VT750C2 Kilometers per Hour Two Tone 1997
VT750C2V Switzerland VT750C2 Kilometers per Hour Two Tone 1997
VT750C2V Australia VT750C2 Kilometers per Hour Two Tone 1997
VT750C2W Austria VT750C2 Kilometers per Hour Two Tone 1998
VT750C2W England VT750C2 Miles/Kilometers per Hour Two Tone 1998
VT750C2W European Direct Sales VT750C2 Kilometers per Hour Two Tone 1998
VT750C2W France VT750C2 Caution Label in French Kilometers per Hour Two Tone 1998
VT750C2W Switzerland VT750C2 Kilometers per Hour Two Tone 1998
VT750C2W Australia VT750C2 Kilometers per Hour Two Tone 1998
VT750C2X Austria VT750C2 Kilometers per Hour Two Tone 1999
VT750C2X England VT750C2 Miles/Kilometers per Hour Two Tone 1999
VT750C2X European Direct Sales VT750C2 Kilometers per Hour Two Tone 1999
VT750C2X France VT750C2 Caution Label in French Kilometers per Hour Two Tone 1999
VT750C2X Switzerland VT750C2 Kilometers per Hour Two Tone 1999
VT750C2X Australia VT750C2 Kilometers per Hour Two Tone 1999
VT750C2Y Austria VT750C2 Kilometers per Hour Made in Kumamoto Two Tone 2000
VT750C2Y England VT750C2 Made in Kumamoto Miles/Kilometers per Hour Two Tone 2000
VT750C2Y European Direct Sales VT750C2 Kilometers per Hour Made in Kumamoto Two Tone 2000
VT750C2Y France VT750C2 Caution Label in French Kilometers per Hour Made in Kumamoto Two Tone 2000
VT750C2Y Switzerland VT750C2 Kilometers per Hour Made in Kumamoto Two Tone 2000
VT750C2Y Australia VT750C2 Kilometers per Hour Made in Kumamoto Two Tone 2000
VT750C31 Canada VT750C3 Kilomters/Miles per Hour Reflector 2001
VT750C3Y Canada VT750C3 Kilometers per Hour Made in Kumamoto 2000
VT750C5 England VT750C 2005
VT750C5 European Direct Sales VT750C 2005
VT750C5 EK VT750C 2005
VT750C5 France VT750C 2005
VT750C5 Korea VT750C 2005
VT750C5 Australia VT750C 2005
VT750CA5 Korea VT750CA 2005
VT750CD31 Canada VT750CD3 Kilomters/Miles per Hour Reflector 2001
VT750CD3Y Canada VT750CD3 Made in Kumamoto Two Tone 2000
VT750CV Austria VT750C Kilometers per Hour 1997
VT750CV England VT750C Miles/Kilometers per Hour 1997
VT750CV European Direct Sales VT750C Kilometers per Hour 1997
VT750CV France VT750C Caution Label in French Kilometers per Hour 1997
VT750CV Germany VT750C Kilometers per Hour 1997
VT750CV Italy VT750C Kilometers per Hour 1997
VT750CV Spain VT750C Kilometers per Hour 1997
VT750CV Switzerland VT750C Kilometers per Hour 1997
VT750CV Australia VT750C Kilometers per Hour 1997
VT750CW Austria VT750C Kilometers per Hour 1998
VT750CW England VT750C Miles/Kilometers per Hour 1998
VT750CW European Direct Sales VT750C Kilometers per Hour 1998
VT750CW France VT750C Caution Label in French Kilometers per Hour 1998
VT750CW Switzerland VT750C Kilometers per Hour 1998
VT750CW Australia VT750C Kilometers per Hour 1998
VT750CX Austria VT750C Kilometers per Hour 1999
VT750CX England VT750C Miles/Kilometers per Hour 1999
VT750CX European Direct Sales VT750C Kilometers per Hour 1999
VT750CX France VT750C Caution Label in French Kilometers per Hour 1999
VT750CX Switzerland VT750C Kilometers per Hour 1999
VT750CX Australia VT750C Kilometers per Hour 1999
VT750CY Austria VT750C Kilometers per Hour Made in Kumamoto 2000
VT750CY England VT750C Made in Kumamoto Miles/Kilometers per Hour 2000
VT750CY European Direct Sales VT750C Kilometers per Hour Made in Kumamoto 2000
VT750CY France VT750C Caution Label in French Kilometers per Hour Made in Kumamoto 2000
VT750CY Switzerland VT750C Kilometers per Hour Made in Kumamoto 2000
VT750CY Australia VT750C Kilometers per Hour Made in Kumamoto 2000
VT750DC1 Canada Shadow Spirit Kilometers per Hour Made in Kumamoto Reflector 2001
VT750DC1 Canada Shadow Spirit Kilometers per Hour Made in Hamamatsu Reflector 2001
VT750DC1 Canada Shadow Spirit Kilometers per Hour Made in Kumamoto 2001
VT750DC1 Canada Shadow Spirit Kilometers per Hour Made in Hamamatsu 2001
VT750DC2 Canada Shadow Spirit Kilomters/Miles per Hour Made in Kumamoto Reflector 2002
VT750DC2 Canada Shadow Spirit Kilomters/Miles per Hour Made in Hamamatsu Reflector 2002
VT750DC2 Canada Shadow Spirit Made in Hamamatsu 2002
VT750DC2 England Shadow 2002
VT750DC2 England Shadow Made in Kumamoto 2002
VT750DC2 England Shadow Made in Hamamatsu 2002
VT750DC2 European Direct Sales Black Widow 2002
VT750DC2 European Direct Sales Black Widow 25 KW 2002
VT750DC2 European Direct Sales Black Widow Made in Kumamoto 2002
VT750DC2 France Black Widow 2002
VT750DC2 France Black Widow Made in Kumamoto 2002
VT750DC2 France Black Widow Made in Hamamatsu 2002
VT750DC2 Netherlands Shadow 2002
VT750DC2 Netherlands Shadow Made in Kumamoto 2002
VT750DC2 Netherlands Shadow Made in Hamamatsu 2002
VT750DC2 Korea Black Widow Made in Kumamoto 2002
VT750DC2 Korea/USA Black Widow Made in Hamamatsu 2002
VT750DC2 Australia Black Widow 2002
VT750DC2 Australia Black Widow Made in Kumamoto 2002
VT750DC2 Australia Black Widow Made in Hamamatsu 2002
VT750DCA3 Canada Shadow Spirit 2003
VT750DCB3 Canada Shadow Spirit 2003
VTR1000F1 Canada Super Hawk Air Suction Valve License Light 2001
VTR1000F1 England Fire Storm Air Suction Valve 2001
VTR1000F1 European Direct Sales Fire Storm Air Suction Valve 2001
VTR1000F1 France Fire Storm Air Suction Valve 2001
VTR1000F1 Germany Fire Storm Air Suction Valve 2001
VTR1000F1 Australia Fire Storm Air Suction Valve 2001
VTR1000F2 England Fire Storm Air Suction Valve 2002
VTR1000F2 European Direct Sales Fire Storm Air Suction Valve 2002
VTR1000F2 France Fire Storm Air Suction Valve 2002
VTR1000F2 Germany Fire Storm Air Suction Valve 2002
VTR1000F2 Australia Fire Storm Air Suction Valve 2002
VTR1000F3 Canada Super Hawk Air Suction Valve License Light 2003
VTR1000F3 England Fire Storm Air Suction Valve 2003
VTR1000F3 England Fire Storm Air Suction Valve 4E 2003
VTR1000F3 European Direct Sales Fire Storm Air Suction Valve 2003
VTR1000F3 European Direct Sales Fire Storm Air Suction Valve 2ED 2003
VTR1000F3 European Direct Sales Fire Storm Air Suction Valve 3ED 2003
VTR1000F3 France Fire Storm Air Suction Valve 2003
VTR1000F3 France Fire Storm Air Suction Valve 3F 2003
VTR1000F3 Australia Fire Storm Air Suction Valve 2003
VTR1000F5 England Fire Storm 2005
VTR1000F5 European Direct Sales Fire Storm 2005
VTR1000F5 EK Fire Storm 2005
VTR1000F5 Australia Fire Storm 2005
VTR1000FV Austria Fire Storm Air Suction Valve 1997
VTR1000FV England Fire Storm 1997
VTR1000FV European Direct Sales Fire Storm 1997
VTR1000FV France Fire Storm 1997
VTR1000FV Germany Fire Storm 1997
VTR1000FV Germany Fire Storm Air Suction Valve 1997
VTR1000FV Italy Fire Storm 1997
VTR1000FV Northern Europe Fire Storm 1997
VTR1000FV Switzerland Fire Storm Air Suction Valve 1997
VTR1000FV Australia Fire Storm 1997
VTR1000FW Austria Fire Storm Air Suction Valve 1998
VTR1000FW Canada Super Hawk Air Suction Valve License Light 1998
VTR1000FW England Fire Storm 1998
VTR1000FW European Direct Sales Fire Storm 1998
VTR1000FW France Fire Storm 1998
VTR1000FW Finland Fire Storm 1998
VTR1000FW Germany Fire Storm 1998
VTR1000FW Germany Fire Storm Air Suction Valve 1998
VTR1000FW Italy Fire Storm 1998
VTR1000FW Northern Europe Fire Storm 1998
VTR1000FW Switzerland Fire Storm Air Suction Valve 1998
VTR1000FW Australia Fire Storm 1998
VTR1000FX Austria Fire Storm Air Suction Valve 1999
VTR1000FX Canada Super Hawk Air Suction Valve License Light 1999
VTR1000FX England Fire Storm 1999
VTR1000FX European Direct Sales Fire Storm 1999
VTR1000FX France Fire Storm 1999
VTR1000FX Finland Fire Storm 1999
VTR1000FX Germany Fire Storm 1999
VTR1000FX Germany Fire Storm Air Suction Valve 1999
VTR1000FX Italy Fire Storm 1999
VTR1000FX Northern Europe Fire Storm 1999
VTR1000FX Switzerland Fire Storm Air Suction Valve 1999
VTR1000FX Australia Fire Storm 1999
VTR1000FY Austria Fire Storm Air Suction Valve 2000
VTR1000FY Canada Super Hawk Air Suction Valve License Light 2000
VTR1000FY England Fire Storm 2000
VTR1000FY European Direct Sales Fire Storm 2000
VTR1000FY France Fire Storm 2000
VTR1000FY Finland Fire Storm 2000
VTR1000FY Germany Fire Storm 2000
VTR1000FY Germany Fire Storm Air Suction Valve 2000
VTR1000FY Italy Fire Storm 2000
VTR1000FY Northern Europe Fire Storm 2000
VTR1000FY Switzerland Fire Storm Air Suction Valve 2000
VTR1000FY Australia Fire Storm 2000
VTR1000SP1 Canada RC51 Caution Label in French 2001
VTR1000SP1 England VTR1000SP-1 Miles per Hour 2001
VTR1000SP1 European Direct Sales VTR1000SP-1 Kilometers per Hour 2001
VTR1000SP1 France VTR1000SP-1 100 HP 2001
VTR1000SP1 Australia VTR1000SP-1 2001
VTR1000SP2 Canada RC51 Caution Label in French 2002
VTR1000SP2 England VTR1000SP-2 Miles per Hour 2002
VTR1000SP2 European Direct Sales VTR1000SP-2 Kilometers per Hour 2002
VTR1000SP2 France VTR1000SP-2 100 HP 2002
VTR1000SP2 Australia VTR1000SP-2 2002
VTR1000SP3 Canada RC51 2003
VTR1000SP3 England VTR1000SP-2 2003
VTR1000SP3 European Direct Sales VTR1000SP-2 2003
VTR1000SP3 France VTR1000SP-2 2003
VTR1000SP3 Australia VTR1000SP-2 2003
VTR1000SP4 England VTR1000SP-2 2004
VTR1000SP4 European Direct Sales VTR1000SP-2 2004
VTR1000SP4 France VTR1000SP-2 Caution Label in French 2004
VTR1000SP4 Australia VTR1000SP-2 2004
VTR1000SP5 England VTR1000SP-2 2005
VTR1000SP5 European Direct Sales VTR1000SP-2 2005
VTR1000SP5 EK VTR1000SP-2 2005
VTR1000SP5 Australia VTR1000SP-2 2005
VTR1000SPY Canada RC51 Caution Label in French 2000
VTR1000SPY England VTR1000SP-1 Miles per Hour 2000
VTR1000SPY European Direct Sales VTR1000SP-1 Kilometers per Hour 2000
VTR1000SPY France VTR1000SP-1 100 HP 2000
VTR1000SPY Australia VTR1000SP-1 2000
VTX1300S3 Canada VTX1300S Rectangular Mirror Reflector 2003
VTX1300S3 England VTX1300S 2003
VTX1300S3 European Direct Sales VTX1300S 2003
VTX1300S3 France VTX1300S 2003
VTX1300S3 Australia VTX1300S Rectangular Mirror 2003
VTX1300S4 England VTX1300S 2004
VTX1300S4 European Direct Sales VTX1300S 2004
VTX1300S4 France VTX1300S 2004
VTX1300S4 Australia VTX1300S 2004
VTX1300S5 England VTX1300S 2005
VTX1300S5 European Direct Sales VTX1300S 2005
VTX1300S5 EK VTX1300S 2005
VTX1300S5 France VTX1300S Caution Label in French 2005
VTX1300S5 Australia VTX1300S Rectangular Mirror 2005
VTX1800C15 England VTX1800C1 2005
VTX1800C15 European Direct Sales VTX1800C1 2005
VTX1800C15 EK VTX1800C1 2005
VTX1800C15 France VTX1800C1 2005
VTX1800C15 Australia VTX1800C1 2005
VTX1800C2 Canada VTX1800C 2002
VTX1800C2 England VTX1800C 2002
VTX1800C2 European Direct Sales VTX1800C 2002
VTX1800C2 France VTX1800C 2002
VTX1800C2 Australia VTX1800C 2002
VTX1800C3 Canada VTX1800C 2003
VTX1800C3 England VTX1800C 2003
VTX1800C3 European Direct Sales VTX1800C 2003
VTX1800C3 France VTX1800C 2003
VTX1800C3 Australia VTX1800C 2003
VTX1800C4 England VTX1800C 2004
VTX1800C4 European Direct Sales VTX1800C 2004
VTX1800C4 France VTX1800C 2004
VTX1800C4 Australia VTX1800C 2004
XBR500H England XBR500 1987
XBR500H European Direct Sales XBR500 1987
XBR500H Germany XBR500 1987
XBR500H Germany XBR500 27 HP 1987
XBR500SH European Direct Sales XBR500S 1987
XBR500SH Germany XBR500S 1987
XBR500SH Germany XBR500S 27 HP 1987
XBR500SH Australia XBR500S 1987
XBR500SJ England XBR500S 1988
XBR500SJ Germany XBR500S 1988
XBR500SJ Germany XBR500S 27 HP 1988
XBR500SJ Norway XBR500S 1988
XL1000V1 England Varadero Miles per Hour 2001
XL1000V1 European Direct Sales Varadero 2001
XL1000V1 France Varadero Caution Label in French 2001
XL1000V1 Australia Varadero 2001
XL1000V2 England Varadero Miles per Hour 2002
XL1000V2 European Direct Sales Varadero 2002
XL1000V2 France Varadero Caution Label in French 2002
XL1000V3 England Varadero 2003
XL1000V3 European Direct Sales Varadero 2003
XL1000V3 France Varadero 2003
XL1000V3 Germany Varadero 2003
XL1000V4 England Varadero 2004
XL1000V4 European Direct Sales Varadero 2004
XL1000V4 France Varadero 2004
XL1000V4 Germany Varadero 2004
XL1000V5 England Varadero 2005
XL1000V5 European Direct Sales Varadero 2005
XL1000V5 EK Varadero 2005
XL1000V5 France Varadero 2005
XL1000V5 Germany Varadero 2005
XL1000VA4 England Varadero ABS 2004
XL1000VA4 European Direct Sales Varadero ABS 2004
XL1000VA4 France Varadero ABS 2004
XL1000VA4 Germany Varadero ABS 2004
XL1000VA5 England Varadero ABS 2005
XL1000VA5 European Direct Sales Varadero ABS 2005
XL1000VA5 EK Varadero ABS 2005
XL1000VA5 France Varadero ABS 2005
XL1000VA5 Germany Varadero ABS 2005
XL1000VX England Varadero 1999
XL1000VX European Direct Sales Varadero 1999
XL1000VX France Varadero 1999
XL1000VX Australia Varadero 1999
XL1000VY England Varadero 2000
XL1000VY European Direct Sales Varadero 2000
XL1000VY France Varadero 2000
XL1000VY Australia Varadero 2000
XL125SH France XL125S Kilometers per Hour 1987
XL125SL-DK General Export KPH XL125SL-DK 1990
XL125V1 England Varadero Miles per Hour 2001
XL125V1 European Direct Sales Varadero 2001
XL125V1 France Varadero Caution Label in French 2001
XL125V1 Germany Varadero 2001
XL125V1 Germany Varadero 80 KM/H 2001
XL125V2 England Varadero Miles per Hour 2002
XL125V2 European Direct Sales Varadero 2002
XL125V2 France Varadero 2002
XL125V2 France Varadero Caution Label in French 2002
XL125V2 Germany Varadero 2002
XL125V2 Germany Varadero 80 KM/H 2002
XL125V3 England Varadero Miles per Hour 2003
XL125V3 European Direct Sales Varadero 2003
XL125V3 France Varadero Caution Label in French 2003
XL125V3 France Varadero Caution Label in French Type 2 2003
XL125V3 Germany Varadero 2003
XL125V3 Germany Varadero 80 KM/H 2003
XL125V4 England Varadero Miles per Hour 2004
XL125V4 EU Varadero 2004
XL125V5 England Varadero Miles per Hour 2005
XL125V5 EU Varadero 2005
XL185SH Canada XL185S 1987
XL185SH Australia XL185S 1987
XL185SJ Australia XL185S 1988
XL185SK Australia XL185S 1989
XL185SL General Export KPH XL185S 1990
XL185SL Australia XL185S 1990
XL185SM Australia XL185S 1991
XL185SN Singapore XL185S 1992
XL185SP General Export KPH XL185S 1993
XL185SP Singapore XL185S 1993
XL185SP Australia XL185S 1993
XL600VH Austria Transalp 1987
XL600VH Canada Transalp 1987
XL600VH England Transalp 1987
XL600VH France Transalp Yellow Bulb 1987
XL600VH Finland Transalp 1987
XL600VH Germany Transalp 1987
XL600VH Germany Transalp 27 HP 1987
XL600VH Italy Transalp 1987
XL600VH Northern Europe Transalp 1987
XL600VH Spain Transalp 1987
XL600VH Switzerland Transalp 1987
XL600VH Australia Transalp 1987
XL600VJ Austria Transalp 1988
XL600VJ Canada Transalp 1988
XL600VJ England Transalp 1988
XL600VJ France Transalp Yellow Bulb 1988
XL600VJ Finland Transalp 1988
XL600VJ Germany Transalp 1988
XL600VJ Germany Transalp 27 HP 1988
XL600VJ Italy Transalp 1988
XL600VJ Northern Europe Transalp 1988
XL600VJ Spain Transalp 1988
XL600VJ Switzerland Transalp 1988
XL600VK Austria Transalp 1989
XL600VK England Transalp 1989
XL600VK France Transalp Yellow Bulb 1989
XL600VK Germany Transalp 1989
XL600VK Germany Transalp 27 HP 1989
XL600VK Italy Transalp 1989
XL600VK Northern Europe Transalp 1989
XL600VK Spain Transalp 1989
XL600VK Switzerland Transalp 1989
XL600VL France Transalp Yellow Bulb 1990
XL600VL Italy Transalp 1990
XL600VL Spain Transalp 1990
XL600VM Austria Transalp 1991
XL600VM England Transalp 1991
XL600VM France Transalp Yellow Bulb 1991
XL600VM Germany Transalp 1991
XL600VM Germany Transalp 27 HP 1991
XL600VM Italy Transalp 1991
XL600VM Spain Transalp 1991
XL600VM Switzerland Transalp 1991
XL600VN Austria Transalp 1992
XL600VN England Transalp 1992
XL600VN France Transalp Yellow Bulb 1992
XL600VN Germany Transalp 1992
XL600VN Germany Transalp 27 HP 1992
XL600VN Italy Transalp 1992
XL600VN Spain Transalp 1992
XL600VN Switzerland Transalp 1992
XL600VP Austria Transalp 1993
XL600VP England Transalp 1993
XL600VP France Transalp Yellow Bulb 1993
XL600VP Germany Transalp 1993
XL600VP Germany Transalp 27 HP 1993
XL600VP Italy Transalp 1993
XL600VP Spain Transalp 1993
XL600VP Switzerland Transalp 1993
XL600VR Austria Transalp 1994
XL600VR England Transalp 1994
XL600VR France Transalp 1994
XL600VR Germany Transalp 1994
XL600VR Germany Transalp 27 HP 1994
XL600VR Italy Transalp 1994
XL600VR Italy Transalp 34 HP 1994
XL600VR Spain Transalp 1994
XL600VR Switzerland Transalp 1994
XL600VT Austria Transalp Kilometers per Hour 1996
XL600VT England Transalp Miles/Kilometers per Hour 1996
XL600VT France Transalp Kilometers per Hour 1996
XL600VT Germany Transalp Kilometers per Hour 1996
XL600VT Germany Transalp Kilometers per Hour 34 HP 1996
XL600VT Italy Transalp Kilometers per Hour 1996
XL600VT Italy Transalp Kilometers per Hour 34 HP 1996
XL600VT Spain Transalp Kilometers per Hour 1996
XL600VT Switzerland Transalp Kilometers per Hour 1996
XL600VV Austria Transalp Kilometers per Hour 1997
XL600VV England Transalp Miles/Kilometers per Hour 1997
XL600VV France Transalp Caution Label in French Kilometers per Hour 1997
XL600VV Germany Transalp Kilometers per Hour 1997
XL600VV Germany Transalp Kilometers per Hour 34 HP 1997
XL600VV Italy Transalp Kilometers per Hour 1997
XL600VV Italy Transalp Kilometers per Hour 34 HP 1997
XL600VV Switzerland Transalp Kilometers per Hour 1997
XL600VW Austria Transalp Kilometers per Hour 1998
XL600VW England Transalp Miles/Kilometers per Hour 1998
XL600VW France Transalp Caution Label in French Kilometers per Hour 1998
XL600VW France Transalp Caution Label in French Kilometers per Hour 34 HP 1998
XL600VW Germany Transalp Kilometers per Hour 1998
XL600VW Germany Transalp Kilometers per Hour 34 HP 1998
XL600VW Italy Transalp Kilometers per Hour 1998
XL600VW Italy Transalp Kilometers per Hour 34 HP 1998
XL600VW Switzerland Transalp Kilometers per Hour 1998
XL600VX Austria Transalp Kilometers per Hour 1999
XL600VX Austria Transalp Kilometers per Hour 50th Anniversary 1999
XL600VX England Transalp Miles/Kilometers per Hour 1999
XL600VX England Transalp Miles/Kilometers per Hour 50th Anniversary 1999
XL600VX France Transalp Caution Label in French Kilometers per Hour 1999
XL600VX France Transalp Caution Label in French Kilometers per Hour 34 HP 1999
XL600VX France Transalp Caution Label in French Kilometers per Hour 34 HP 50th Anniversary 1999
XL600VX France Transalp Caution Label in French Kilometers per Hour 50th Anniversary 1999
XL600VX Germany Transalp Caution Label in French Kilometers per Hour 34 HP 50th Anniversary 1999
XL600VX Germany Transalp Kilometers per Hour 1999
XL600VX Germany Transalp Kilometers per Hour 34 HP 1999
XL600VX Germany Transalp Kilometers per Hour 50th Anniversary 1999
XL600VX Italy Transalp Caution Label in French Kilometers per Hour 34 HP 50th Anniversary 1999
XL600VX Italy Transalp Kilometers per Hour 1999
XL600VX Italy Transalp Kilometers per Hour 34 HP 1999
XL600VX Italy Transalp Kilometers per Hour 50th Anniversary 1999
XL600VX Switzerland Transalp Kilometers per Hour 1999
XL600VX Switzerland Transalp Kilometers per Hour 50th Anniversary 1999
XL650V1 England Transalp 2001
XL650V1 European Direct Sales Transalp 2001
XL650V1 European Direct Sales Transalp 25 KW 2001
XL650V1 France Transalp 2001
XL650V2 England Transalp 2002
XL650V2 European Direct Sales Transalp 2002
XL650V2 European Direct Sales Transalp 25 KW 2002
XL650V2 France Transalp 2002
XL650V3 England Transalp 2003
XL650V3 European Direct Sales Transalp 2003
XL650V3 European Direct Sales Transalp 25 KW 2003
XL650V3 France Transalp 2003
XL650V4 England Transalp 2004
XL650V4 European Direct Sales Transalp 2004
XL650V4 European Direct Sales Transalp 25 KW 2004
XL650V4 France Transalp 2004
XL650V5 England Transalp 2005
XL650V5 England Transalp 5E 2005
XL650V5 European Direct Sales Transalp 2005
XL650V5 European Direct Sales Transalp 2ED 25 KW 2005
XL650V5 European Direct Sales Transalp 3ED 2005
XL650V5 European Direct Sales Transalp 4ED 2005
XL650V5 EK Transalp 2005
XL650V5 EK Transalp 6EK 2005
XL650V5 France Transalp 2005
XL650V5 France Transalp 3F 2005
XL650VY England Transalp 2000
XL650VY European Direct Sales Transalp 2000
XL650VY European Direct Sales Transalp 25 KW 2000
XL650VY France Transalp 2000
XLR125RW England XLR125R Miles/Kilometers per Hour 1998
XLR125RW European Direct Sales XLR125R Kilometers per Hour 1998
XLR125RW France XLR125R Kilometers per Hour 1998
XLR125RW Germany XLR125R Kilometers per Hour 1998
XLR125RW Germany XLR125R Kilometers per Hour Speed Limit 1998
XLX350RJ Spain XLX350R 1988
XR100R1 Canada XR100R Reflector 2001
XR100R1 European Direct Sales XR100R 2001
XR100R2 Canada XR100R Reflector 2002
XR100R2 European Direct Sales XR100R 2002
XR100R3 Canada XR100R Reflector 2003
XR100R3 European Direct Sales XR100R 2003
XR100RP Canada XR100R Reflector 1993
XR100RR Canada XR100R Reflector 1994
XR100RS Canada XR100R Reflector 1995
XR100RT Canada XR100R Reflector 1996
XR100RT European Direct Sales XR100R 1996
XR100RV Canada XR100R Reflector 1997
XR100RV European Direct Sales XR100R 1997
XR100RW Canada XR100R Reflector 1998
XR100RW European Direct Sales XR100R 1998
XR100RX Canada XR100R Reflector 1999
XR100RX European Direct Sales XR100R 1999
XR100RY Canada XR100R Reflector 2000
XR100RY European Direct Sales XR100R 2000
XR125L3 England XR125L Miles/Kilometers per Hour 2003
XR125L3 European Direct Sales XR125L 2003
XR125L3 France XR125L 2003
XR125L4 England XR125L 2004
XR125L4 European Direct Sales XR125L 2004
XR125L4 France XR125L 2004
XR125L5 England XR125L Miles/Kilometers per Hour 2005
XR125L5 European Direct Sales XR125L 2005
XR125L5 France XR125L 2005
XR200R1 Canada XR200R 2001
XR200R1 General Export KPH XR200R 2001
XR200R1 Mexico XR200R 2001
XR200R1 Australia XR200R 2001
XR200R2 Canada XR200R 2002
XR200R2 General Export KPH XR200R 2002
XR200R2 Mexico XR200R 2002
XR200R2 Australia XR200R 2002
XR200RH Canada XR200R Caution Label in French 1987
XR200RH General Export KPH XR200R 1987
XR200RH Australia XR200R 1987
XR200RJ Canada XR200R Caution Label in French 1988
XR200RJ General Export KPH XR200R 1988
XR200RL General Export KPH XR200R 1990
XR200RM Canada XR200R 1991
XR200RM General Export KPH XR200R 1991
XR200RN Canada XR200R 1992
XR200RN General Export KPH XR200R 1992
XR200RP Canada XR200R Reflector 1993
XR200RP General Export KPH XR200R 1993
XR200RP Australia XR200R 1993
XR200RR Canada XR200R Reflector 1994
XR200RR General Export KPH XR200R 1994
XR200RR Australia XR200R 1994
XR200RS Canada XR200R Reflector 1995
XR200RS General Export KPH XR200R 1995
XR200RS Australia XR200R 1995
XR200RT Canada XR200R Reflector 1996
XR200RT General Export KPH XR200R 1996
XR200RT Australia XR200R 1996
XR200RV Canada XR200R Reflector 1997
XR200RV General Export KPH XR200R 1997
XR200RV Australia XR200R 1997
XR200RW Canada XR200R Reflector 1998
XR200RW General Export KPH XR200R 1998
XR200RW Mexico XR200R 1998
XR200RW Australia XR200R 1998
XR200RX Canada XR200R Reflector 1999
XR200RX General Export KPH XR200R 1999
XR200RX Australia XR200R 1999
XR200RY Canada XR200R Reflector 2000
XR200RY General Export KPH XR200R 2000
XR200RY Mexico XR200R 2000
XR200RY Australia XR200R 2000
XR250R1 Canada XR250R Reflector 2001
XR250R1 General Export KPH XR250R Round Signal 2001
XR250R1 European Direct Sales XR250R 2001
XR250R1 Australia XR250R Square Signal 2001
XR250R2 Chile XR250R Round Signal 2002
XR250R2 Canada XR250R Reflector 2002
XR250R2 General Export KPH XR250R Round Signal 2002
XR250R2 European Direct Sales XR250R 2002
XR250R2 Australia XR250R Square Signal 2002
XR250R4 Chile XR250R Round Signal 2004
XR250R4 General Export KPH XR250R Round Signal 2004
XR250R4 European Direct Sales XR250R Caution Label in French 2004
XR250R4 Australia XR250R Square Signal 2004
XR250RH Belgium XR250R Caution Label in French 1987
XR250RH Canada XR250R Caution Label in French 1987
XR250RH General Export KPH XR250R 1987
XR250RH Australia XR250R 1987
XR250RJ Belgium XR250R Caution Label in French 1988
XR250RJ Canada XR250R Caution Label in French 1988
XR250RJ General Export KPH XR250R 1988
XR250RJ Australia XR250R 1988
XR250RK Belgium XR250R 1989
XR250RK Canada XR250R 1989
XR250RK General Export KPH XR250R 1989
XR250RK Australia XR250R 1989
XR250RL Belgium XR250R 1990
XR250RL Belgium XR250R Visor Blue 1990
XR250RL Canada XR250R 1990
XR250RL General Export KPH XR250R 1990
XR250RL Australia XR250R 1990
XR250RM Belgium XR250R 1991
XR250RM Canada XR250R 1991
XR250RM General Export KPH XR250R 1991
XR250RM European Direct Sales XR250R 1991
XR250RM Australia XR250R 1991
XR250RN Belgium XR250R 1992
XR250RN General Export KPH XR250R 1992
XR250RN European Direct Sales XR250R 1992
XR250RN Australia XR250R 1992
XR250RP Belgium XR250R 1993
XR250RP Canada XR250R Caution Label in French 1993
XR250RP General Export KPH XR250R 1993
XR250RP European Direct Sales XR250R 1993
XR250RP Australia XR250R 1993
XR250RR Belgium XR250R 1994
XR250RR Canada XR250R Caution Label in French 1994
XR250RR General Export KPH XR250R 1994
XR250RR European Direct Sales XR250R 1994
XR250RR Australia XR250R 1994
XR250RS Belgium XR250R 1995
XR250RS Canada XR250R Caution Label in French 1995
XR250RS General Export KPH XR250R 1995
XR250RS European Direct Sales XR250R 1995
XR250RS Australia XR250R 1995
XR250RT Canada XR250R Reflector 1996
XR250RT General Export KPH XR250R Round Signal 1996
XR250RT European Direct Sales XR250R 1996
XR250RT Australia XR250R Square Signal 1996
XR250RV Canada XR250R Reflector 1997
XR250RV General Export KPH XR250R Round Signal 1997
XR250RV European Direct Sales XR250R 1997
XR250RV Australia XR250R Square Signal 1997
XR250RW Canada XR250R Made in Kumamoto Reflector 1998
XR250RW Canada XR250R Made in Hamamatsu Reflector 1998
XR250RW General Export KPH XR250R Round Signal Made in Kumamoto 1998
XR250RW General Export KPH XR250R Round Signal Made in Hamamatsu 1998
XR250RW European Direct Sales XR250R Made in Kumamoto 1998
XR250RW European Direct Sales XR250R Made in Hamamatsu 1998
XR250RW Australia XR250R Made in Kumamoto 1998
XR250RW Australia XR250R Made in Hamamatsu Square Signal 1998
XR250RX Canada XR250R Reflector 1999
XR250RX General Export KPH XR250R Round Signal 1999
XR250RX European Direct Sales XR250R 1999
XR250RX Australia XR250R Square Signal 1999
XR250RY Canada XR250R Reflector 2000
XR250RY General Export KPH XR250R Round Signal 2000
XR250RY European Direct Sales XR250R 2000
XR250RY Australia XR250R Square Signal 2000
XR400R1 Canada XR400R Reflector 2001
XR400R1 General Export KPH XR400R 2001
XR400R1 European Direct Sales XR400R 2001
XR400R1 Australia XR400R 2001
XR400R2 Canada XR400R 2002
XR400R2 General Export KPH XR400R 2002
XR400R2 European Direct Sales XR400R 2002
XR400R2 Australia XR400R 2002
XR400R4 General Export KPH XR400R 2004
XR400R4 European Direct Sales XR400R 2004
XR400R4 Australia XR400R 2004
XR400RT Canada XR400R Reflector 1996
XR400RT European Direct Sales XR400R 1996
XR400RT Australia XR400R 1996
XR400RV Canada XR400R Reflector 1997
XR400RV European Direct Sales XR400R 1997
XR400RV Australia XR400R 1997
XR400RW Canada XR400R Made in Kumamoto Reflector 1998
XR400RW Canada XR400R Made in Hamamatsu Reflector 1998
XR400RW European Direct Sales XR400R Made in Kumamoto 1998
XR400RW European Direct Sales XR400R Made in Hamamatsu 1998
XR400RW Australia XR400R Made in Kumamoto 1998
XR400RW Australia XR400R Made in Hamamatsu 1998
XR400RX Canada XR400R Reflector 1999
XR400RX European Direct Sales XR400R 1999
XR400RX Australia XR400R 1999
XR400RY Canada XR400R Reflector 2000
XR400RY European Direct Sales XR400R 2000
XR400RY Australia XR400R 2000
XR50R1 Canada XR50R 2001
XR50R2 Canada XR50R 2002
XR50R2 European Direct Sales XR50R 2002
XR50R3 Canada XR50R 2003
XR50R3 European Direct Sales XR50R 2003
XR50RY Canada XR50R 2000
XR600RH Belgium XR600R 1987
XR600RJ Belgium XR600R 1988
XR600RJ Australia XR600R 1988
XR600RK Belgium XR600R 1989
XR600RK General Export KPH XR600R 1989
XR600RK Australia XR600R 1989
XR600RL Belgium XR600R 1990
XR600RL Belgium XR600R 19.1 HP 1990
XR600RL Canada XR600R 1990
XR600RL General Export KPH XR600R 1990
XR600RL Sweden XR600R 1990
XR600RL Australia XR600R 1990
XR600RM Belgium XR600R 1991
XR600RM Canada XR600R 1991
XR600RM General Export KPH XR600R 1991
XR600RM European Direct Sales XR600R 1991
XR600RM Sweden XR600R 1991
XR600RM Australia XR600R 1991
XR600RN Belgium XR600R 1992
XR600RN Canada XR600R 1992
XR600RN General Export KPH XR600R 1992
XR600RN European Direct Sales XR600R 1992
XR600RN Australia XR600R 1992
XR600RP Belgium XR600R 1993
XR600RP Canada XR600R 1993
XR600RP General Export KPH XR600R 1993
XR600RP European Direct Sales XR600R 1993
XR600RP Australia XR600R 1993
XR600RR Belgium XR600R 1994
XR600RR Canada XR600R 1994
XR600RR General Export KPH XR600R Round Signal 1994
XR600RR European Direct Sales XR600R 1994
XR600RR Australia XR600R 1994
XR600RS Belgium XR600R 1995
XR600RS Canada XR600R 1995
XR600RS General Export KPH XR600R Round Signal 1995
XR600RS European Direct Sales XR600R 1995
XR600RS Australia XR600R 1995
XR600RT Belgium XR600R 1996
XR600RT Canada XR600R 1996
XR600RT General Export KPH XR600R Round Signal 1996
XR600RT European Direct Sales XR600R 1996
XR600RT Australia XR600R 1996
XR600RV Belgium XR600R 1997
XR600RV Canada XR600R 1997
XR600RV General Export KPH XR600R Round Signal 1997
XR600RV European Direct Sales XR600R 1997
XR600RV Australia XR600R 1997
XR600RW Belgium XR600R Made in Kumamoto 1998
XR600RW Belgium XR600R Made in Hamamatsu 1998
XR600RW Canada XR600R Made in Kumamoto 1998
XR600RW Canada XR600R Made in Hamamatsu 1998
XR600RW General Export KPH XR600R Round Signal Made in Kumamoto 1998
XR600RW General Export KPH XR600R Round Signal Made in Hamamatsu 1998
XR600RW European Direct Sales XR600R Made in Kumamoto 1998
XR600RW European Direct Sales XR600R Made in Hamamatsu 1998
XR600RW Australia XR600R Made in Kumamoto 1998
XR600RW Australia XR600R Made in Hamamatsu 1998
XR600RX Canada XR600R Reflector 1999
XR600RX Australia XR600R 1999
XR600RY Canada XR600R Reflector 2000
XR600RY Australia XR600R 2000
XR650R1 Canada XR650R Reflector 2001
XR650R1 General Export KPH XR650R Square Signal 2001
XR650R1 European Direct Sales XR650R 2001
XR650R1 Australia XR650R Round Signal 2001
XR650R2 Canada XR650R Reflector 2002
XR650R2 General Export KPH XR650R Square Signal 2002
XR650R2 European Direct Sales XR650R 2002
XR650R2 Australia XR650R Round Signal 2002
XR650R4 General Export KPH XR650R Round Signal 2004
XR650R4 European Direct Sales XR650R 2004
XR650R4 Australia XR650R Square Signal 2004
XR650R5 General Export KPH XR650R Round Signal 2005
XR650R5 European Direct Sales XR650R 2005
XR650R5 Australia XR650R Square Signal 2005
XR650RY Canada XR650R Reflector 2000
XR650RY General Export KPH XR650R Square Signal 2000
XR650RY European Direct Sales XR650R 2000
XR650RY Australia XR650R Round Signal 2000
XR70R1 Canada XR70R Reflector 2001
XR70R1 European Direct Sales XR70R 2001
XR70R2 Canada XR70R Reflector 2002
XR70R2 European Direct Sales XR70R 2002
XR70R3 Canada XR70R Reflector 2003
XR70R3 European Direct Sales XR70R 2003
XR70RV Canada XR70R Reflector 1997
XR70RV European Direct Sales XR70R 1997
XR70RW Canada XR70R Reflector 1998
XR70RW European Direct Sales XR70R 1998
XR70RX Canada XR70R Reflector 1999
XR70RX European Direct Sales XR70R 1999
XR70RY Canada XR70R Reflector 2000
XR70RY European Direct Sales XR70R 2000
XR80R1 Canada XR80R Caution Label in French Reflector 2001
XR80R1 European Direct Sales XR80R 2001
XR80R1 Mexico XR80R 2001
XR80R2 Canada XR80R Caution Label in French Reflector 2002
XR80R2 European Direct Sales XR80R 2002
XR80R2 Mexico XR80R 2002
XR80R3 Canada XR80R 2003
XR80R3 European Direct Sales XR80R 2003
XR80R3 Mexico XR80R 2003
XR80RH Australia XR80R 1987
XR80RL Canada XR80R Caution Label in French 1990
XR80RL Sweden XR80R 1990
XR80RM Canada XR80R Caution Label in French 1991
XR80RM Sweden XR80R 1991
XR80RN Canada XR80R 1992
XR80RN European Direct Sales XR80R 1992
XR80RN Mexico XR80R 1992
XR80RP Canada XR80R 1993
XR80RP European Direct Sales XR80R 1993
XR80RP Mexico XR80R 1993
XR80RR Canada XR80R Caution Label in French 1994
XR80RR European Direct Sales XR80R 1994
XR80RR Mexico XR80R 1994
XR80RS Canada XR80R Caution Label in French Reflector 1995
XR80RS European Direct Sales XR80R 1995
XR80RT Canada XR80R Caution Label in French Reflector 1996
XR80RV Canada XR80R Caution Label in French Reflector 1997
XR80RV European Direct Sales XR80R 1997
XR80RV Mexico XR80R 1997
XR80RW Canada XR80R Caution Label in French Reflector 1998
XR80RW European Direct Sales XR80R 1998
XR80RW Mexico XR80R 1998
XR80RX Canada XR80R Caution Label in French Reflector 1999
XR80RX European Direct Sales XR80R 1999
XR80RX Mexico XR80R 1999
XR80RY Canada XR80R Caution Label in French Reflector 2000
XR80RY European Direct Sales XR80R 2000
XR80RY Mexico XR80R 2000
XRV650J Austria XRV650 1988
XRV650J Belgium XRV650 1988
XRV650J France XRV650 1988
XRV650J Finland XRV650 1988
XRV650J Germany XRV650 1988
XRV650J Italy XRV650 1988
XRV650J Portugal XRV650 1988
XRV650J Spain XRV650 1988
XRV650J Switzerland XRV650 Square Headlight 1988
XRV650K Austria XRV650 1989
XRV650K Belgium XRV650 1989
XRV650K France XRV650 Yellow Bulb 1989
XRV650K Finland XRV650 1989
XRV650K Germany XRV650 1989
XRV650K Netherlands XRV650 1989
XRV650K Italy XRV650 1989
XRV650K Portugal XRV650 1989
XRV650K Spain XRV650 1989
XRV650K Switzerland XRV650 Square Headlight 1989
XRV750L Austria Africa Twin 1990
XRV750L Belgium Africa Twin 1990
XRV750L England Africa Twin 1990
XRV750L France Africa Twin Yellow Bulb 1990
XRV750L Germany Africa Twin 1990
XRV750L Germany Africa Twin 50 HP 1990
XRV750L Netherlands Africa Twin 1990
XRV750L Italy Africa Twin 1990
XRV750L Northern Europe Africa Twin 1990
XRV750L Spain Africa Twin 1990
XRV750L Switzerland Africa Twin 1990
XRV750M Austria Africa Twin 1991
XRV750M Belgium Africa Twin 1991
XRV750M England Africa Twin 1991
XRV750M France Africa Twin Yellow Bulb 1991
XRV750M Germany Africa Twin 1991
XRV750M Germany Africa Twin 50 HP 1991
XRV750M Netherlands Africa Twin 1991
XRV750M Italy Africa Twin 1991
XRV750M Northern Europe Africa Twin 1991
XRV750M Spain Africa Twin 1991
XRV750M Switzerland Africa Twin 1991
XRV750N Austria Africa Twin 1992
XRV750N Belgium Africa Twin 1992
XRV750N England Africa Twin 1992
XRV750N France Africa Twin Yellow Bulb 1992
XRV750N Germany Africa Twin 1992
XRV750N Germany Africa Twin 50 HP 1992
XRV750N Netherlands Africa Twin 1992
XRV750N Italy Africa Twin 1992
XRV750N Northern Europe Africa Twin 1992
XRV750N Spain Africa Twin 1992
XRV750N Switzerland Africa Twin 1992
XRV750P Austria Africa Twin 1993
XRV750P Belgium Africa Twin 1993
XRV750P England Africa Twin 1993
XRV750P France Africa Twin 1993
XRV750P Germany Africa Twin 1993
XRV750P Germany Africa Twin 50 HP 1993
XRV750P Netherlands Africa Twin 1993
XRV750P Italy Africa Twin 1993
XRV750P Northern Europe Africa Twin 1993
XRV750P Spain Africa Twin 1993
XRV750P Switzerland Africa Twin 1993
XRV750R Austria Africa Twin 1994
XRV750R Belgium Africa Twin 1994
XRV750R England Africa Twin 1994
XRV750R France Africa Twin 1994
XRV750R Germany Africa Twin 1994
XRV750R Germany Africa Twin 50 HP 1994
XRV750R Netherlands Africa Twin 1994
XRV750R Italy Africa Twin 1994
XRV750R Northern Europe Africa Twin 1994
XRV750R Spain Africa Twin 1994
XRV750R Switzerland Africa Twin 1994
XRV750S Austria Africa Twin 1995
XRV750S Belgium Africa Twin 1995
XRV750S England Africa Twin 1995
XRV750S France Africa Twin 1995
XRV750S Germany Africa Twin 1995
XRV750S Germany Africa Twin 50 HP 1995
XRV750S Netherlands Africa Twin 1995
XRV750S Italy Africa Twin 1995
XRV750S Northern Europe Africa Twin 1995
XRV750S Spain Africa Twin 1995
XRV750S Switzerland Africa Twin 1995
XRV750T Austria Africa Twin 1996
XRV750T England Africa Twin 1996
XRV750T European Direct Sales Africa Twin 1996
XRV750T France Africa Twin 1996
XRV750T Germany Africa Twin 1996
XRV750T Germany Africa Twin 50 HP 1996
XRV750T Northern Europe Africa Twin 1996
XRV750T Switzerland Africa Twin 1996
XRV750V Austria Africa Twin 1997
XRV750V England Africa Twin 1997
XRV750V European Direct Sales Africa Twin 1997
XRV750V France Africa Twin 1997
XRV750V Germany Africa Twin 1997
XRV750V Germany Africa Twin 50 HP 1997
XRV750V Netherlands Africa Twin 1997
XRV750V Northern Europe Africa Twin 1997
XRV750V Switzerland Africa Twin 1997
XRV750W Austria Africa Twin 1998
XRV750W England Africa Twin 1998
XRV750W European Direct Sales Africa Twin 1998
XRV750W France Africa Twin 1998
XRV750W Germany Africa Twin 1998
XRV750W Germany Africa Twin 50 HP 1998
XRV750W Netherlands Africa Twin 1998
XRV750W Northern Europe Africa Twin 1998
XRV750W Switzerland Africa Twin 1998
XRV750X Austria Africa Twin 1999
XRV750X England Africa Twin 1999
XRV750X European Direct Sales Africa Twin 1999
XRV750X France Africa Twin 1999
XRV750X Germany Africa Twin 1999
XRV750X Germany Africa Twin 50 HP 1999
XRV750X Netherlands Africa Twin 1999
XRV750X Northern Europe Africa Twin 1999
XRV750X Switzerland Africa Twin 1999
XRV750Y Austria Africa Twin 2000
XRV750Y England Africa Twin 2000
XRV750Y European Direct Sales Africa Twin 2000
XRV750Y France Africa Twin 2000
XRV750Y Germany Africa Twin 2000
XRV750Y Germany Africa Twin 50 HP 2000
XRV750Y Switzerland Africa Twin 2000
Z50J2K Finland Z50J2 Rothmans Color 1989
Z50J3L Finland Z50J3 HP 1990
Z50JJ Finland Z50J 1988
Z50JK Finland Z50J 1989
Z50JM Finland Z50J Made in Kumamoto 1991
Z50JM Finland Z50J Made in Suzuka 1991
Z50JN General Export KPH Z50J Round Signal 1992
Z50JN Finland Z50J 1992
Z50JP General Export KPH Z50J Round Signal 1993
Z50JT Finland Z50J 1996