Yamaha Cross Reference Software

This software allows you to find those obscure parts for your ride.

Includes Motorcycles, ATVs, Outboard motors, Snowmobiles, Utility engines, Generators, Pumps, Personal Water Craft (Wave Runners), Snowblowers and Tractors.

Zedder Enterprises is in no way affiliated with Yamaha Motors.

Click here for a list of included models

Run Program and list the 3117 models included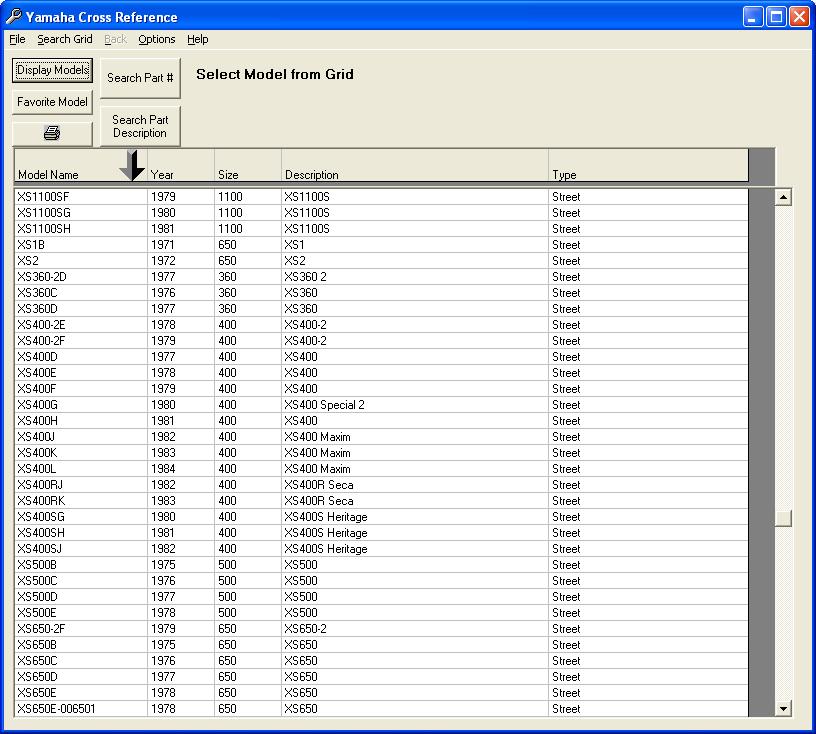 Click on a model to get a list of parts used. In this case we see the '82 XS400RJ is comprised of 1075 different parts.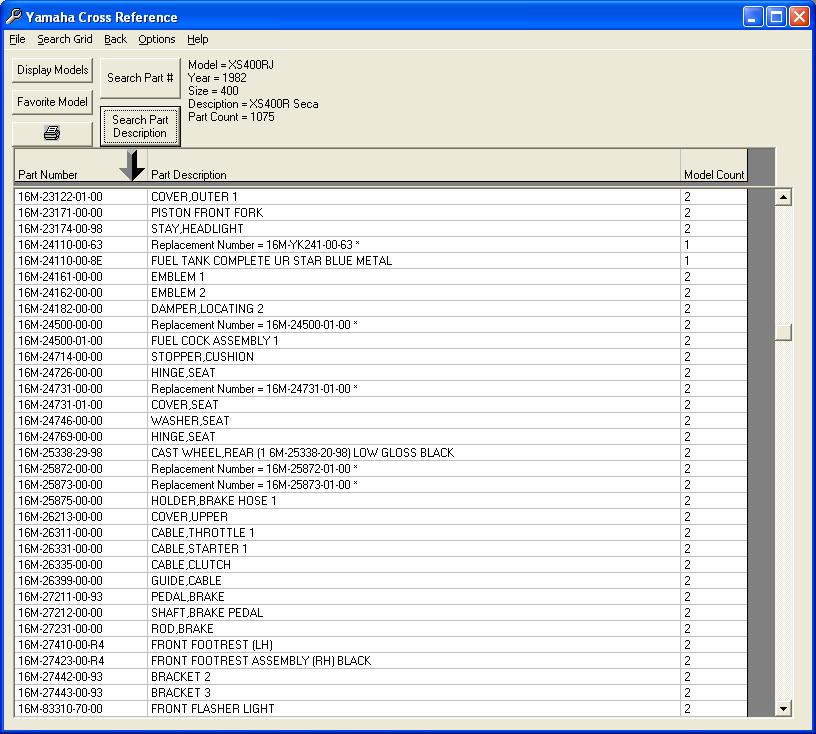 Click a part to see which model this part also fits. In this case we see the Seat Cover also fits 394 other bikes.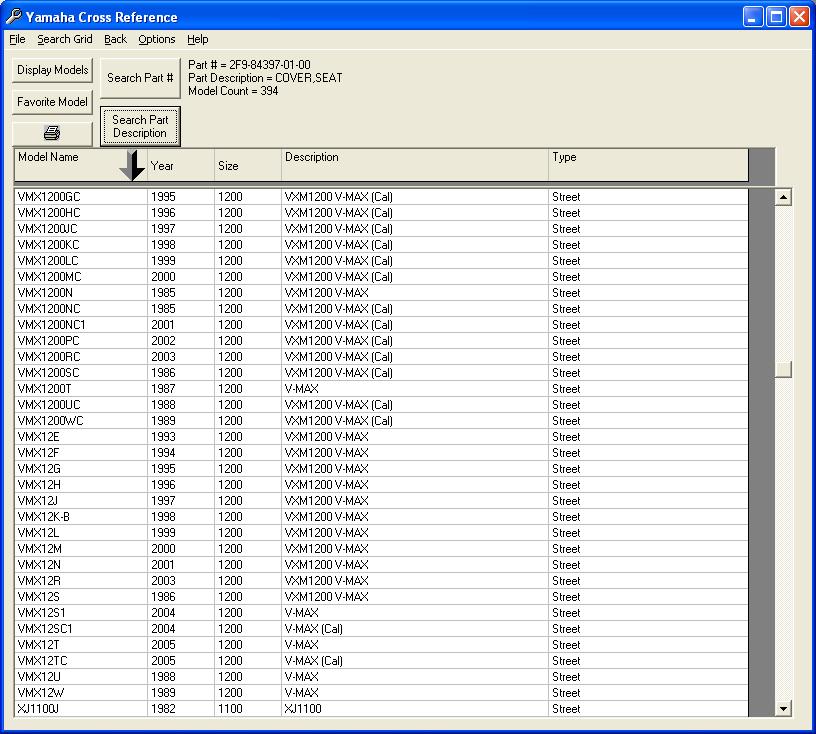 You can also search by part number. Here we see there are two parts starting with 456
Models Included in this cross reference are
List format is Model ID - Year - Size - Model Name - Type

100TLRW 1998 100 100 TLR 100hp 2-Stroke Outboard
100TLRY 2000 100 100 TLR 100hp 2-Stroke Outboard
115ETLD 1990 115 115ETL 115hp Outboard
115ETLF 1989 115 115ETL 115hp Outboard
115ETLG 1988 115 115ETL 115hp Outboard
115ETLH 1987 115 115ETL 115hp Outboard
115ETLJ 1986 115 115ETL 115hp Outboard
115ETLK 1985 115 115ETL 115hp Outboard
115ETLN 1984 115 115ETL 115hp Outboard
115TJRR 1993 115 115TJR 115hp 2-stroke V4 Jet Drive Outboard
115TJRS 1994 115 115TJR 115hp 2-stroke V4 Jet Drive Outboard
115TJRT 1995 115 115TJR 115hp 2-stroke V4 Jet Drive Outboard
115TJRU 1996 115 115TJR 115hp 2-stroke V4 Jet Drive Outboard
115TJRV 1997 115 115TJR 115hp 2-stroke V4 Jet Drive Outboard
115TJRW 1998 115 115TJR 115hp 2-stroke V4 Jet Drive Outboard
115TJRY 2000 115 115TJR 115hp 2-stroke V4 Jet Drive Outboard
115TLRA 2002 115 115TLR 115hp 2-stroke V4 Outboard
115TLRB 2003 115 115TLR 115hp 2-stroke V4 Outboard
115TLRP 1991 115 115TLR 115hp 2-stroke V4 Outboard
115TLRQ 1992 115 115TLR 115hp 2-stroke V4 Outboard
115TLRZ 2001 115 115TLR 115hp 2-stroke V4 Outboard
130TLRA 2002 130 130TLR 130hp 2-stroke V4 Outboard
130TLRB 2003 130 130TLR 130hp 2-stroke V4 Outboard
130TLRY 2000 130 130TLR 130hp 2-stroke V4 Outboard
130TLRZ 2001 130 130TLR 130hp 2-stroke V4 Outboard
150ETLK 1985 150 150ETL 150hp 2-stroke Outboard
150ETLN 1984 150 150ETL 150hp 2-stroke Outboard
150TXRP 1991 150 150TXR 150hp Outboard
150TXRQ 1992 150 150TXR 150hp Outboard
150TXRR 1993 150 150TXR 150hp Outboard
150TXRS 1994 150 150TXR 150hp Outboard
150TXRT 1995 150 150TXR 150hp Outboard
15DEL 1983 15 15DE 15hp Outboard
15LD 1990 15 15L 15hp Outboard
15LF 1989 15 15L 15hp Outboard
15LG 1988 15 15L 15hp Outboard
15LH 1987 15 15L 15hp Outboard
15LJ 1986 15 15L 15hp Outboard
15LK 1985 15 15L 15hp Outboard
15LN 1984 15 15L 15hp Outboard
15MLHQ 1992 15 15MLH 15hp 2-stroke Outboard
15MLHR 1993 15 15MLH 15hp 2-stroke Outboard
15MLHS 1994 15 15MLH 15hp 2-stroke Outboard
15MLHT 1995 15 15MLH 15hp 2-stroke Outboard
15MLHT2 1995 15 15MLH 15hp 2-stroke Outboard
15MLHU 1996 15 15MLH 15hp 2-stroke Outboard
15MLHV 1997 15 15MLH 15hp 2-stroke Outboard
15MLHW 1998 15 15MLH 15hp 2-stroke Outboard
15MLHX 1999 15 15MLH 15hp 2-stroke Outboard
15MLHY 2000 15 15MLH 15hp 2-stroke Outboard
15MSHA 2002 15 15MSH 15hp 2-stroke Outboard
15MSHB 2003 15 15MSH 15hp 2-stroke Outboard
15MSHZ 2001 15 15MSH 15hp 2-stroke Outboard
200ETLD 1990 200 200ETL 200hp Outboard
200ETLF 1989 200 200ETL 200hp Outboard
200ETLG 1988 200 200ETL 200hp Outboard
200ETLH 1987 200 200ETL 200hp Outboard
200ETLJ 1986 200 200ETL 200hp Outboard
200TXRP 1991 200 200TXR 200hp Outboard
20ESD 1990 20 20ES 20hp Outboard
20ESF 1989 20 20ES 20hp Outboard
20ESG 1988 20 20ES 20hp Outboard
20ESHP 1991 20 20ESH 20hp 2-stroke Outboard
20ESHQ 1992 20 20ESH 20hp 2-stroke Outboard
20ESHR 1993 20 20ESH 20hp 2-stroke Outboard
20ESHS 1994 20 20ESH 20hp 2-stroke Outboard
20ESHT 1995 20 20ESH 20hp 2-stroke Outboard
20ESHU 1996 20 20ESH 20hp 2-stroke Outboard
20ESHV 1997 20 20ESH 20hp 2-stroke Outboard
20ESHW2 1998 20 20ESH 20hp 2-stroke Outboard
20LH 1987 20 20L 20hp Outboard
20LJ 1986 20 20L 20hp Outboard
20LK 1985 20 20L 20hp Outboard
20MLHA 2002 20 20MLH 20hp 2-stroke Outboard
20MLHB 2003 20 20MLH 20hp 2-stroke Outboard
20MLHZ 2001 20 20MLH 20hp 2-stroke Outboard
225ETLD 1990 225 225ETL 225hp Outboard
225TLRP 1991 225 225TLR 225hp 2-stroke 3.1L Outboard
225TLRQ 1992 225 225TLR 225hp 2-stroke 3.1L Outboard
225TLRR 1993 225 225TLR 225hp 2-stroke 3.1L Outboard
225TLRS 1994 225 225TLR 225hp 2-stroke 3.1L Outboard
225TLRT 1995 225 225TLR 225hp 2-stroke 3.1L Outboard
225TLRU 1996 225 225TLR 225hp 2-stroke 3.1L Outboard
225TLRV 1997 225 225TLR 225hp 2-stroke 3.1L Outboard
225TXRT 1995 225 225TLR 225hp 2-stroke 3.1L Outboard
250ETXD 1990 250 250ETX 250hp Outboard
250TXRP 1991 250 250TXR 250hp 2-stroke 3.1L Saltwater Series Outboard
250TXRQ 1992 250 250TXR 250hp 2-stroke 3.1L Saltwater Series Outboard
250TXRR 1993 250 250TXR 250hp 2-stroke 3.1L Saltwater Series Outboard
250TXRS 1994 250 250TXR 250hp 2-stroke 3.1L Saltwater Series Outboard
250TXRT 1995 250 250TXR 250hp 2-stroke 3.1L Saltwater Series Outboard
25DEL 1983 25 25DE Outboard
25ELG 1988 25 25EL Outboard
25ELHX3 1999 25 25ELHX3 Outboard
25LH 1987 25 25L Outboard
25LJ 1986 25 25L Outboard
25LK 1985 25 25L Outboard
25LN 1984 25 25L Outboard
25MLHA 2002 25 25MLH Outboard
25MLHB 2003 25 25MLH Outboard
25MLHX3 1999 25 25MLHX3 Outboard
25MLHZ 2001 25 25MLH Outboard
25TLRX3 1999 25 25TLRX3 Outboard
2B 1983 2 2B Outboard
2MSHA 2002 2 2MSH Outboard
2MSHB 2003 2 2MSH Outboard
2MSHR 1993 2 2MSH Outboard
2MSHS 1994 2 2MSH Outboard
2MSHT 1995 2 2MSH Outboard
2MSHU 1996 2 2MSH Outboard
2MSHV 1997 2 2MSH Outboard
2MSHW 1998 2 2MSH Outboard
2MSHX 1999 2 2MSH Outboard
2SD 1990 2 2S Outboard
2SF 1989 2 2S Outboard
2SG 1988 2 2S Outboard
2SH 1987 2 2S Outboard
2SJ 1986 2 2S Outboard
2SK 1985 2 2S Outboard
2SN 1984 2 2S Outboard
30AEL 1983 30 30AE Outboard
30ALJ 1986 30 30AL Outboard
30ELD 1990 30 30EL Outboard
30ELF 1989 30 30EL Outboard
30ELG 1988 30 30EL Outboard
30ELH 1987 30 30EL Outboard
30ELHA 2002 30 30ELH Outboard
30ELHB 2003 30 30ELH Outboard
30ELHZ 2001 30 30ELH Outboard
30ELJ 1986 30 30EL Outboard
30ELK 1985 30 30EL Outboard
30ELN 1984 30 30EL Outboard
30ELRB 2003 30 30ELR Outboard
30ELRQ 1992 30 30ELR Outboard
30ELRR 1993 30 30ELR Outboard
30ELRS 1994 30 30ELR Outboard
30ELRT 1995 30 30ELR Outboard
30ELRU 1996 30 30ELR Outboard
30ELRV 1997 30 30ELR Outboard
30ELRW 1998 30 30ELR Outboard
30ELRX 1999 30 30ELR Outboard
30ELRZ 2001 30 30ELR Outboard
30MLHA 2002 30 30MLH Outboard
30MLHB 2003 30 30MLH Outboard
30MLHX 1999 30 30MLH Outboard
30MLHZ 2001 30 30MLH Outboard
3MSHA 2002 3 3MSH Outboard
3MSHB 2003 3 3MSH Outboard
3MSHR 1993 3 3MSH Outboard
3MSHS 1994 3 3MSH Outboard
3MSHU 1996 3 3MSH Outboard
3MSHV 1997 3 3MSH Outboard
3MSHW 1998 3 3MSH Outboard
3MSHX 1999 3 3MSH Outboard
3SD 1990 3 3S Outboard
3SF 1989 3 3S Outboard
40ELD 1990 40 40EL Outboard
40ELF 1989 40 40EL Outboard
40ELG 1988 40 40EL Outboard
40ELH 1987 40 40EL Outboard
40ELJ 1986 40 40EL Outboard
40ELK 1985 40 40EL Outboard
40ELN 1984 40 40EL Outboard
40ELRP 1991 40 40ELR Outboard
40ELRQ 1992 40 40ELR Outboard
40ELRR 1993 40 40ELR Outboard
40ELRS 1994 40 40ELR Outboard
40ELRT 1995 40 40ELR Outboard
40ELRU 1996 40 40ELR Outboard
40ELRV 1997 40 40ELR Outboard
40ELRW 1998 40 40ELR Outboard
40ELRY 2000 40 40ELR Outboard
40FEL 1983 40 40FE Outboard
40MJHP 1991 40 40MJH Outboard
40MLHY 2000 40 40MLH Outboard
40MLHZ 2001 40 40MLH Outboard
40S-JD 1992 40 40S-JD Outboard
40TLRY 2000 40 40TLR Outboard
40TLRZ 2001 40 40TLR Outboard
4ACL 1983 4 4AC Outboard
4MLHU 1996 4 4MLH Outboard
4MLHV 1997 4 4MLH Outboard
4MLHW 1998 4 4MLH Outboard
4MLHX 1999 4 4MLH Outboard
4MSHQ 1992 4 4MSH Outboard
4MSHR 1993 4 4MSH Outboard
4MSHS 1994 4 4MSH Outboard
4MSHT 1995 4 4MSH Outboard
4MSHZ 2001 4 4MSH Outboard
4SD 1990 4 4S Outboard
4SF 1989 4 4S Outboard
4SG 1988 4 4S Outboard
4SH 1987 4 4S Outboard
4SJ 1986 4 4S Outboard
4SK 1985 4 4S Outboard
4SN 1984 4 4S Outboard
50ELF 1989 50 50EL Outboard
50ELG 1988 50 50EL Outboard
50ELH 1987 50 50EL Outboard
50ETLJ 1986 50 50ETL Outboard
50ETLK 1985 50 50ETL Outboard
50ETLN 1984 50 50ETL Outboard
50TLRY 2000 50 50TLR Outboard
5CSL 1983 5 5CS Outboard
5LK 1985 5 5L Outboard
5LN 1984 5 5L Outboard
60TLRA 2002 60 60TLR Outboard
60TLRB 2003 60 60TLR Outboard
60TLRX 1999 60 60TLR Outboard
60TLRY 2000 60 60TLR Outboard
60TLRZ 2001 60 60TLR Outboard
6LH 1987 6 6L Outboard
6LJ 1986 6 6L Outboard
6MLHU 1996 6 6MLH Outboard
6MSHA 2002 6 6MSH Outboard
6MSHB 2003 6 6MSH Outboard
6MSHR 1993 6 6MSH Outboard
6MSHS 1994 6 6MSH Outboard
6MSHV 1997 6 6MSH Outboard
6MSHZ 2001 6 6MSH Outboard
6SD 1990 6 6S Outboard
6SF 1989 6 6S Outboard
6SG 1988 6 6S Outboard
70ETLD 1990 70 70ETL Outboard
70ETLF 1989 70 70ETL Outboard
70ETLG 1988 70 70ETL Outboard
70ETLH 1987 70 70ETL Outboard
70ETLJ 1986 70 70ETL Outboard
70ETLK 1985 70 70ETL Outboard
70ETLN 1984 70 70ETL Outboard
70TLRP 1991 70 70TLR Outboard
70TLRQ 1992 70 70TLR Outboard
70TLRR 1993 70 70TLR Outboard
70TLRS 1994 70 70TLR Outboard
70TLRT 1995 70 70TLR Outboard
70TLRU 1996 70 70TLR Outboard
75TLRA 2002 75 75TLR Outboard
75TLRB 2003 75 75TLR Outboard
75TLRW 1998 75 75TLR Outboard
75TLRY 2000 75 75TLR Outboard
75TLRZ 2001 75 75TLR Outboard
8CML 1983 8 8CM Outboard
8LK 1985 8 8L Outboard
8LN 1984 8 8L Outboard
8MLHV 1997 8 8MLH Outboard
8MSHA 2002 8 8MSH Outboard
8MSHB 2003 8 8MSH Outboard
8MSHZ 2001 8 8MSH Outboard
9.9ESHX 1999 9.9 9.9ESH Outboard
9.9MLHX 1999 9.9 9.9MLH Outboard
9.9MLHY 2000 9.9 9.9MLH Outboard
9.9MSHA 2002 9.9 9.9MSH Outboard
9.9MSHB 2003 9.9 9.9MSH Outboard
9.9MSHZ 2001 9.9 9.9MSH Outboard
90ETLD 1990 90 90ETL Outboard
90ETLF 1989 90 90ETL Outboard
90ETLG 1988 90 90ETL Outboard
90ETLH 1987 90 90ETL Outboard
90ETLJ 1986 90 90ETL Outboard
90ETLK 1985 90 90ETL Outboard
90ETLN 1984 90 90ETL Outboard
90TJRS 1994 90 90TJR Outboard
90TJRT 1995 90 90TJR Outboard
90TJRU 1996 90 90TJR Outboard
90TJRV 1997 90 90TJR Outboard
90TJRW 1998 90 90TJR Outboard
90TJRY 2000 90 90TJR Outboard
90TLRA 2002 90 90TLR Outboard
90TLRB 2003 90 90TLR Outboard
90TLRP 1991 90 90TLR Outboard
90TLRQ 1992 90 90TLR Outboard
90TLRR 1993 90 90TLR Outboard
90TLRZ 2001 90 90TLR Outboard
ACC N/A N/A Accessories and Clothes Accessory
AS2C 1970 125 AS2C Street Scambler Street
AT1B 1970 125 AT1 Enduro Dual-Purpose
AT1C 1971 125 AT1 Enduro Dual-Purpose
AT1E 1969 125 AT1 Enduro Dual-Purpose
AT1M 1969 125 AT1M Enduro Dual-Purpose
AT1MB 1970 125 AT1M Enduro Dual-Purpose
AT1MX 1971 125 AT1MX Enduro Dual-Purpose
AT2 1972 125 AT2 Enduro Dual-Purpose
AT2M 1972 125 AT2M Enduro Dual-Purpose
AT3 1973 125 AT3 Enduro Dual-Purpose
ATMX 1973 125 ATMX Enduro Dual-Purpose
BR250F 1982 250 BR250 Bravo Snowmobile
BR250G 1983 250 BR250 Bravo Snowmobile
BR250H 1984 250 BR250 Bravo Snowmobile
BR250J 1985 250 BR250 Bravo Snowmobile
BR250K 1986 250 BR250 Bravo Snowmobile
BR250L 1987 250 BR250 Bravo Snowmobile
BR250M 1988 250 BR250 Bravo Snowmobile
BR250N 1989 250 BR250 Bravo Snowmobile
BR250P 1990 250 BR250 Bravo Snowmobile
BR250R 1991 250 BR250 Bravo Snowmobile
BR250S 1992 250 BR250 Bravo Snowmobile
BR250T 1993 250 BR250 Bravo Snowmobile
BR250TA 1997 250 BR250T Bravo Snowmobile
BR250TB 1998 250 BR250T Bravo Snowmobile
BR250TC 1999 250 BR250T Bravo Snowmobile
BR250TD 2000 250 BR250T Bravo Snowmobile
BR250TF 2001 250 BR250T Bravo Snowmobile
BR250TG 2002 250 BR250T Bravo Snowmobile
BR250TH 2003 250 BR250T Bravo Snowmobile
BR250TJ 1985 250 BR250T Bravo Snowmobile
BR250TK 1986 250 BR250T Bravo Snowmobile
BR250TL 1987 250 BR250T Bravo Snowmobile
BR250TM 1988 250 BR250T Bravo Snowmobile
BR250TN 1989 250 BR250T Bravo Snowmobile
BR250TP 1990 250 BR250T Bravo Snowmobile
BR250TR 1991 250 BR250T Bravo Snowmobile
BR250TS 1992 250 BR250T Bravo Snowmobile
BR250TSA 1997 250 BR250TS Bravo Snowmobile
BR250TSH 1984 250 BR250TS Bravo Snowmobile
BR250TSJ 1985 250 BR250TS Bravo Snowmobile
BR250TSK 1986 250 BR250TS Bravo Snowmobile
BR250TSL 1987 250 BR250TS Bravo Snowmobile
BR250TSM 1988 250 BR250TS Bravo Snowmobile
BR250TSN 1989 250 BR250TS Bravo Snowmobile
BR250TSP 1990 250 BR250TS Bravo Snowmobile
BR250TSR 1991 250 BR250TS Bravo Snowmobile
BR250TSS 1992 250 BR250TS Bravo Snowmobile
BR250TST 1993 250 BR250TS Bravo Snowmobile
BR250TSU 1994 250 BR250TS Bravo Snowmobile
BR250TSV 1995 250 BR250TS Bravo Snowmobile
BR250TSW 1996 250 BR250TS Bravo Snowmobile
BR250TT 1993 250 BR250T Bravo Snowmobile
BR250TU 1994 250 BR250T Bravo Snowmobile
BR250TV 1995 250 BR250T Bravo Snowmobile
BR250TW 1996 250 BR250T Bravo Snowmobile
BR250U 1994 250 BR250 Bravo Snowmobile
BS15 1988 N/A BS15 ATV Attachment
BS24 1988 N/A BS24 ATV Attachment
BW200ES 1986 200 BW200E BIG WHEEL ELEC START Off-Road
BW200ET 1987 200 BW200E BIG WHEEL ELEC START Off-Road
BW200EU 1988 200 BW200E BIG WHEEL ELEC START Off-Road
BW200N 1985 200 BW200 BIG WHEEL Off-Road
BW200S 1986 200 BW200 BIG WHEEL Off-Road
BW350T 1987 350 BW350 BIG WHEEL Off-Road
BW350U 1988 350 BW350 BIG WHEEL Off-Road
BW80A 1990 80 BW80 BIG WHEEL Off-Road
BW80S 1986 80 BW80 BIG WHEEL Off-Road
BW80T 1987 80 BW80 BIG WHEEL Off-Road
BW80U 1988 80 BW80 BIG WHEEL Off-Road
BW80W 1989 80 BW80 BIG WHEEL Off-Road
C115TLRQ 1992 115 C115TLR Outboard
C115TLRR 1993 115 C115TLR Outboard
C115TLRS 1994 115 C115TLR Outboard
C115TLRT 1995 115 C115TLR Outboard
C115TLRU 1996 115 C115TLR Outboard
C115TLRV 1997 115 C115TLR Outboard
C115TLRW 1998 115 C115TLR Outboard
C115TLRY 2000 115 C115TLR Outboard
C115TLRZ 2001 115 C115TLR Outboard
C20MLHQ 1992 20 C20MLH Outboard
C20MLHR 1993 20 C20MLH Outboard
C20MLHS 1994 20 C20MLH Outboard
C20MLHT 1995 20 C20MLH Outboard
C20MLHU 1996 20 C20MLH Outboard
C20MLHV 1997 20 C20MLH Outboard
C25MLHT 1995 25 C20MLH Outboard
C25MLHU 1996 25 C20MLH Outboard
C25MLHV2 1997 25 C20MLH Outboard
C25MLHW 1998 25 C20MLH Outboard
C30ELRQ 1992 30 C30ELR Outboard
C30ELRR 1993 30 C30ELR Outboard
C30ELRS 1994 30 C30ELR Outboard
C40ELRQ 1992 40 C30ELR Outboard
C40ELRR 1993 40 C30ELR Outboard
C40ELRS 1994 40 C30ELR Outboard
C40ELRT 1995 40 C30ELR Outboard
C40ELRU 1996 40 C30ELR Outboard
C40ELRV 1997 40 C30ELR Outboard
C40ELRW 1998 40 C30ELR Outboard
C40ELRY 2000 40 C30ELR Outboard
C40MLHA 2002 40 C40MLH Outboard
C40MLHB 2003 40 C40MLH Outboard
C40MLHW 1998 40 C40MLH Outboard
C40MLHY 2000 40 C40MLH Outboard
C40MLHZ 2001 40 C40MLH Outboard
C40TLRA 2002 40 C40TLR Outboard
C40TLRB 2003 40 C40TLR Outboard
C40TLRW 1998 40 C40TLR Outboard
C40TLRY 2000 40 C40TLR Outboard
C50TLRZ 2001 50 C40TLR Outboard
C55ELRQ 1992 55 C55ELR Outboard
C55ELRR 1993 55 C55ELR Outboard
C55ELRS 1994 55 C55ELR Outboard
C55ELRT 1995 55 C55ELR Outboard
C60ELRU 1996 60 C55ELR Outboard
C60ELRV 1997 60 C55ELR Outboard
C60ELRW 1998 60 C55ELR Outboard
C60ELRY 2000 60 C55ELR Outboard
C60TLRY 2000 60 C60TLR Outboard
C60TLRZ 2001 60 C60TLR Outboard
C75TLRW 1998 75 C75TLR Outboard
C75TLRY 2000 75 C75TLR Outboard
C75TLRZ 2001 75 C75TLR Outboard
C80TLRV 1997 80 C80TLR Outboard
C85TLRP 1991 85 C85TLR Outboard
C85TLRQ 1992 85 C85TLR Outboard
C85TLRR 1993 85 C85TLR Outboard
C85TLRS 1994 85 C85TLR Outboard
C85TLRT 1995 85 C85TLR Outboard
C85TLRU 1996 85 C85TLR Outboard
C90TLRW 1998 90 C85TLR Outboard
C90TLRY 2000 90 C85TLR Outboard
C90TLRZ 2001 90 C85TLR Outboard
CA50L 1984 50 CA50 Riva Scooter
CE50T 1987 50 CE50 Riva Scooter
CF300K 1986 300 CF300 Inviter Snowmobile
CF300L 1987 300 CF300 Inviter Snowmobile
CF300M 1988 300 CF300 Inviter Snowmobile
CF300N 1989 300 CF300 Inviter Snowmobile
CF300P 1990 300 CF300 Inviter Snowmobile
CG50U 1988 50 CG50 Riva Scooter
CG50W 1989 50 CG50 Riva Scooter
CS340EA 1997 340 CS340E Ovation Snowmobile
CS340EB 1998 340 CS340E Ovation Snowmobile
CS340EC 1999 340 CS340E Ovation Snowmobile
CS340ED 2000 340 CS340E Ovation Snowmobile
CS340EN 1989 340 CS340E Ovation Snowmobile
CS340EP 1990 340 CS340E Ovation Snowmobile
CS340ER 1991 340 CS340E Ovation Snowmobile
CS340ES 1992 340 CS340E Ovation Snowmobile
CS340ET 1993 340 CS340E Ovation Snowmobile
CS340EU 1994 340 CS340E Ovation Snowmobile
CS340EV 1995 340 CS340E Ovation Snowmobile
CS340EW 1996 340 CS340E Ovation Snowmobile
CS340N 1989 340 CS340 Ovation Snowmobile
CS340P 1990 340 CS340 Ovation Snowmobile
CS3B 1971 200 CS3 Street
CS3C 1970 250 CS3 Street
CS5 1972 200 CS5 Street
CT1 1969 175 CT1 Dual Purpose
CT1B 1970 175 CT1 Dual Purpose
CT1C 1971 175 CT1 Dual Purpose
CT2 1972 175 CT2 Dual Purpose
CT3 1973 175 CT3 Dual Purpose
CV115ETLD 1990 115 CV115ETLD Outboard
CV20SD 1990 20 CV20SD Outboard
CV30ELD 1990 30 CV30ELD Outboard
CV40ELD 1990 40 CV40ELD Outboard
CV55ELD 1990 55 CV55ELD Outboard
CV85ELD 1990 85 CV85ELD Outboard
CW50 2001 50 CW50 Zuma Scooter
CW50H 1996 50 CW50 Zuma Scooter
CW50J-L 1997 50 CW50 Zuma Scooter
CW50L 1999 50 CW50 Zuma Scooter
CW50N 2001 50 CW50 Zuma Scooter
CW50TA 1990 50 CW50 Zuma Scooter
CW50W 1989 50 CW50 Zuma Scooter
CY50B 1991 50 CY50 Jog Scooter
CY50D 1992 50 CY50 Jog Scooter
CY50E 1993 50 CY50 Jog Scooter
CY50F 1994 50 CY50 Jog Scooter
CY50H 1996 50 CY50 Jog Scooter
CY50J-B 1997 50 CY50 Jog Scooter
CY50M-B 2000 50 CY50 Jog Scooter
D150TLRV 1997 150 D150TLRV Outboard
DS6B 1970 250 DS6 Street
DS6C 1969 250 DS6 Street
DS7 1972 250 DS7 Street
DT1 1968 250 DT1 Dual Purpose
DT100A 1974 100 DT100 Dual Purpose
DT100B 1975 100 DT100 Dual Purpose
DT100C 1976 100 DT100 Dual Purpose
DT100D 1977 100 DT100 Dual Purpose
DT100E 1978 100 DT100 Dual Purpose
DT100F 1979 100 DT100 Dual Purpose
DT100G 1980 100 DT100 Dual Purpose
DT100H 1981 100 DT100 Dual Purpose
DT100J 1982 100 DT100 Dual Purpose
DT100K 1983 100 DT100 Dual Purpose
DT125A 1974 125 DT125 Dual Purpose
DT125B 1975 125 DT125 Dual Purpose
DT125C 1976 125 DT125 Dual Purpose
DT125E 1978 125 DT125 Dual Purpose
DT125F 1979 125 DT125 Dual Purpose
DT125G 1980 125 DT125 Dual Purpose
DT125H 1981 125 DT125 Dual Purpose
DT175A 1974 175 DT175 Dual Purpose
DT175B 1975 175 DT175 Dual Purpose
DT175C 1976 175 DT175 Dual Purpose
DT175E 1978 175 DT175 Dual Purpose
DT175F 1979 175 DT175 Dual Purpose
DT175G 1980 175 DT175 Dual Purpose
DT175H 1981 175 DT175 Dual Purpose
DT1B 1969 250 DT1 Dual Purpose
DT1C 1970 250 DT1 Dual Purpose
DT1C-MX 1970 250 DT1MX Dual Purpose
DT1E 1971 250 DT1 Dual Purpose
DT1MX 1971 250 DT1MX Dual Purpose
DT1S 1969 250 DT1S Dual Purpose
DT2 1973 250 DT2 Dual Purpose
DT200RA 1990 200 DT200R Dual Purpose
DT200RG 1995 200 DT200R Dual Purpose
DT200RH 1996 200 DT200R Dual Purpose
DT200RW 1989 200 DT200R Dual Purpose
DT200S 1986 200 DT200 Dual Purpose
DT200T 1987 200 DT200 Dual Purpose
DT200U 1988 200 DT200 Dual Purpose
DT250A 1974 250 DT250 Dual Purpose
DT250B 1975 250 DT250 Dual Purpose
DT250C 1976 250 DT250 Dual Purpose
DT250D 1977 250 DT250 Dual Purpose
DT250E 1978 250 DT250 Dual Purpose
DT250F 1979 250 DT250 Dual Purpose
DT2MX 1972 250 DT2MX Dual Purpose
DT3 1973 250 DT3 Dual Purpose
DT360A 1974 360 DT360 Dual Purpose
DT400B 1975 400 DT400 Dual Purpose
DT400C 1976 400 DT400 Dual Purpose
DT400D 1977 400 DT400 Dual Purpose
DT400E 1978 400 DT400 Dual Purpose
DT50A 1990 50 DT50 ENDURO DTL/C Dual Purpose
DT50B 1991 50 DT50 ENDURO DTL/C Dual Purpose
DT50D 1992 50 DT50 ENDURO DTL/C Dual Purpose
DT50E 1993 50 DT50 ENDURO DTL/C Dual Purpose
DT50F 1994 50 DT50 ENDURO DTL/C Dual Purpose
DT50G 1995 50 DT50 ENDURO DTL/C Dual Purpose
DT50U 1988 50 DT50 ENDURO DTL/C Dual Purpose
DT50W 1989 50 DT50 ENDURO DTL/C Dual Purpose
DT80H 1981 80 DT80 Dual Purpose
DT80J 1982 80 DT80 Dual Purpose
DT80K 1983 80 DT80 Dual Purpose
DX150TLRA 2002 150 DX150TLR Outboard
DX150TLRB 2003 150 DX150TLR Outboard
DX150TLRX 1999 150 DX150TLR Outboard
DX150TLRY 2000 150 DX150TLR Outboard
DX150TLRZ 2001 150 DX150TLR Outboard
E25LJ 1986 25 E25L Outboard
E25LK 1985 25 E25L Outboard
E30LD 1990 30 E30L Outboard
E30LF 1989 30 E30L Outboard
E30LG 1988 30 E30L Outboard
E30LH 1987 30 E30L Outboard
E30LJ 1986 30 E30L Outboard
E30LK 1985 30 E30L Outboard
E30LN 1984 30 E30L Outboard
E30MLHQ 1992 30 E30MLH Outboard
E40GL 1983 40 E40G Outboard
E40LD 1990 40 E40L Outboard
E40LF 1989 40 E40L Outboard
E40LG 1988 40 E40L Outboard
E40LH 1987 40 E40L Outboard
E40LJ 1986 40 E40L Outboard
E40LK 1985 40 E40L Outboard
E40LN 1984 40 E40L Outboard
E40MLHQ 1992 40 E40MLH Outboard
E40MLHS 1994 40 E40MLH Outboard
E40MLHT 1995 40 E40MLH Outboard
E40MLHU 1996 40 E40MLH Outboard
E40MLHV 1997 40 E40MLH Outboard
E40MLHW 1998 40 E40MLH Outboard
E40MLHY 2000 40 E40MLH Outboard
E40MLHZ 2001 40 E40MLH Outboard
E60ELD 1990 60 E60EL Outboard
E60ELF 1989 60 E60EL Outboard
E60ELG 1988 60 E60EL Outboard
E60ELH 1987 60 E60EL Outboard
E60ELHA 2002 60 E60ELH Outboard
E60ELHB 2003 60 E60ELH Outboard
E60ELHP 1991 60 E60ELH Outboard
E60ELHQ 1992 60 E60ELH Outboard
E60ELHS 1994 60 E60ELH Outboard
E60ELHT 1995 60 E60ELH Outboard
E60ELHU 1996 60 E60ELH Outboard
E60ELHV 1997 60 E60ELH Outboard
E60ELHW 1998 60 E60ELH Outboard
E60ELHY 2000 60 E60ELH Outboard
E60ELHZ 2001 60 E60ELH Outboard
E60ELJ 1986 60 E60EL Outboard
E60MLHA 2002 60 E60MLH Outboard
E60MLHB 2003 60 E60MLH Outboard
E60MLHY 2000 60 E60MLH Outboard
E60MLHZ 2001 60 E60MLH Outboard
E75MXHP 1991 75 E75MXH Outboard
E75MXHQ 1992 75 E75MXH Outboard
E75XD 1990 75 E75X Outboard
E75XF 1989 75 E75X Outboard
EC340J 1985 340 EC340 Excel III Snowmobile
EC340K 1986 340 EC340 Excel III Snowmobile
EC340L 1987 340 EC340 Excel III Snowmobile
EC340M 1988 340 EC340 Excel III Snowmobile
EDL6500S N/A 6500 EDL6500S Generator
EF1000 N/A 1000 EF1000 Generator
EF1000B N/A 1000 EF1000B Generator
EF1000iS N/A 1000 EF1000iS Generator
EF1000iS-4 2004 1000 EF1000iS 2004 Generator
EF12000DEX-0 2000 12000 EF12000DEX 2000 Generator
EF12000DEX-1 2001 12000 EF12000DEX 2001 Generator
EF1400 N/A 1400 EF1400 Generator
EF1600 N/A 1600 EF1600 Generator
EF2000 N/A 2000 EF2000 Generator
EF2500 N/A 2500 EF2500 Generator
EF2600A N/A 2600 EF2600A Generator
EF2600A-4 2004 2600 EF2600A 2004 Generator
EF2600X N/A 2600 EF2600X Generator
EF2800 N/A 2800 EF2800 Generator
EF2800i 2001 2800 EF2800i 2001 Generator
EF3000iSEP N/A 3000 EF3000iSEP Generator
EF3800DV N/A 3800 EF3800DV Generator
EF4000DVE N/A 4000 EF4000DVE Generator
EF4000DX 2001 4000 EF4000DX 2001 Generator
EF4600A N/A 4600 EF4600A Generator
EF4600DEX 2000 4600 EF4600DEX 2000 Generator
EF4600DX N/A 4600 EF4600DX Generator
EF4600DX-0 2000 4600 EF4600DX 2000 Generator
EF5500NDEX-1 2001 5500 EF5500NDEX 2001 Generator
EF5500NDEX-2 2002 5500 EF5500NDEX 2002 Generator
EF600 N/A 600 EF600 Generator
EF6000DVE(7LV1) N/A 6000 EF6000DVE(7LV1) Generator
EF6000DVE(7LV2) N/A 6000 EF6000DVE(7LV2) Generator
EF6000DVE(7LV4) N/A 6000 EF6000DVE(7LV4) Generator
EF6200PDEX-1 2001 6200 EF6200PDEX 2001 Generator
EF6200PDEX-2 2002 6200 EF6200PDEX 2002 Generator
EF6600A N/A 6600 EF6600A Generator
ET250D 1980 250 ET250 Enticer Snowmobile
ET250E 1981 250 ET250 Enticer Snowmobile
ET300D 1980 300 ET300 Enticer Snowmobile
ET300F 1982 300 ET300 Enticer Snowmobile
ET300G 1983 300 ET300 Enticer Snowmobile
ET300H 1984 300 ET300 Enticer Snowmobile
ET340D 1980 340 ET340 Enticer Snowmobile
ET340E 1981 340 ET340 Enticer Snowmobile
ET340ED 1980 340 ET340E Enticer Snowmobile
ET340F 1982 340 ET340 Enticer Snowmobile
ET340G 1983 340 ET340 Enticer Snowmobile
ET340H 1984 340 ET340 Enticer Snowmobile
ET340J 1985 340 ET340 Enticer Snowmobile
ET340K 1986 340 ET340 Enticer Snowmobile
ET340L 1987 340 ET340 Enticer Snowmobile
ET340M 1988 340 ET340 Enticer Snowmobile
ET340TE 1981 340 ET340T Enticer Snowmobile
ET340TF 1982 340 ET340T Enticer Snowmobile
ET340TG 1983 340 ET340T Enticer Snowmobile
ET340TH 1984 340 ET340T Enticer Snowmobile
ET340TJ 1985 340 ET340T Enticer Snowmobile
ET340TK 1986 340 ET340T Enticer Snowmobile
ET340TL 1987 340 ET340T Enticer Snowmobile
ET340TM 1988 340 ET340T Enticer Snowmobile
ET340TRK 1986 340 ET340TR Enticer Snowmobile
ET340TRL 1987 340 ET340TR Enticer Snowmobile
ET340TRM 1988 340 ET340TR Enticer Snowmobile
ET400TN 1989 400 ET400T Enticer Snowmobile
ET400TP 1990 400 ET400T Enticer Snowmobile
ET400TR 1991 400 ET400T Enticer Snowmobile
ET400TRN 1989 400 ET400TR Enticer Snowmobile
ET400TRP 1990 400 ET400TR Enticer Snowmobile
ET400TRR 1991 400 ET400TR Enticer Snowmobile
ET410TRA 1997 410 ET410TR Snowmobile
ET410TRB 1998 410 ET410TR Snowmobile
ET410TRC 1999 410 ET410TR Snowmobile
ET410TRD 2000 410 ET410TR Snowmobile
ET410TRF 2001 410 ET410TR Snowmobile
ET410TRS 1992 410 ET410TR Snowmobile
ET410TRT 1993 410 ET410TR Snowmobile
ET410TRU 1994 410 ET410TR Snowmobile
ET410TRV 1995 410 ET410TR Snowmobile
ET410TRW 1996 410 ET410TR Snowmobile
ET600 N/A 600 ET600 Generator
ET900 N/A 900 ET900 Generator
EX570EM 1988 570 EX570E Exciter Snowmobile
EX570EN 1989 570 EX570E Exciter Snowmobile
EX570EP 1990 570 EX570E Exciter Snowmobile
EX570ER 1991 570 EX570E Exciter Snowmobile
EX570ES 1992 570 EX570E Exciter Snowmobile
EX570ET 1993 570 EX570E Exciter Snowmobile
EX570L 1987 570 EX570 Exciter Snowmobile
EX570M 1988 570 EX570 Exciter Snowmobile
EX570N 1989 570 EX570 Exciter Snowmobile
EX570P 1990 570 EX570 Exciter Snowmobile
EX570R 1991 570 EX570 Exciter Snowmobile
EX570S 1992 570 EX570 Exciter Snowmobile
EX570STT 1993 570 EX570ST Exciter Snowmobile
EX570SXT 1993 570 EX570SX Exciter Snowmobile
F100TLRA 2002 100 F100TLR Outboard
F100TLRB 2003 100 F100TLR Outboard
F100TLRX 1999 100 F100TLR Outboard
F100TLRY 2000 100 F100TLR Outboard
F100TLRZ 2001 100 F100TLR Outboard
F115TJRA 2002 115 F115TJR Outboard
F115TLRB 2003 115 F115TLR Outboard
F115TLRY 2000 115 F115TLR Outboard
F115TLRZ 2001 115 F115TLR Outboard
F15ELHA 2002 15 F15ELH Outboard
F15ELHB 2003 15 F15ELH Outboard
F15ELHW 1998 15 F15ELH Outboard
F15ELHY 2000 15 F15ELH Outboard
F15ELHZ 2001 15 F15ELH Outboard
F15MLHA 2002 15 F15MLH Outboard
F15MLHB 2003 15 F15MLH Outboard
F15MLHW 1998 15 F15MLH Outboard
F15MLHY 2000 15 F15MLH Outboard
F15MLHZ 2001 15 F15MLH Outboard
F15PLHA 2002 15 F15PLH Outboard
F15PLHB 2003 15 F15PLH Outboard
F15PLHY 2000 15 F15PLH Outboard
F15PLHZ 2001 15 F15PLH Outboard
F15PLRA 2002 15 F15PLR Outboard
F15PLRB 2003 15 F15PLR Outboard
F15PLRY 2000 15 F15PLR Outboard
F15PLRZ 2001 15 F15PLR Outboard
F2.5MLHB 2003 2.5 F2.5MLH Outboard
F200TXRA 2002 200 F200TXR Outboard
F200TXRB 2003 200 F200TXR Outboard
F225TXRA 2002 225 F225TXR Outboard
F225TXRB 2003 225 F225TXR Outboard
F25ELHA 2002 25 F25ELH Outboard
F25ELHB 2003 25 F25ELH Outboard
F25ELHY 2000 25 F25ELH Outboard
F25ELHZ 2001 25 F25ELH Outboard
F25ELRA 2002 25 F25ELR Outboard
F25ELRB 2003 25 F25ELR Outboard
F25ELRW 1998 25 F25ELR Outboard
F25ELRX 1999 25 F25ELR Outboard
F25ELRY 2000 25 F25ELR Outboard
F25ELRZ 2001 25 F25ELR Outboard
F25MLHA 2002 25 F25MLH Outboard
F25MLHB 2003 25 F25MLH Outboard
F25MLHX 1999 25 F25MLH Outboard
F25MLHY 2000 25 F25MLH Outboard
F25MLHZ 2001 25 F25MLH Outboard
F25TLHW 1998 25 F25TLH Outboard
F25TLHX 1999 25 F25TLH Outboard
F25TLHY 2000 25 F25TLH Outboard
F25TLRA 2002 25 F25TLR Outboard
F25TLRB 2003 25 F25TLR Outboard
F25TLRW 1998 25 F25TLR Outboard
F25TLRX 1999 25 F25TLR Outboard
F25TLRY 2000 25 F25TLR Outboard
F25TLRZ 2001 25 F25TLR Outboard
F30ELHB 2003 30 F30ELH Outboard
F30MLHA 2002 30 F30MLH Outboard
F30MLHZ 2001 30 F30MLH Outboard
F40ELHA 2002 40 F40ELH Outboard
F40ELHX 1999 40 F40ELH Outboard
F40ELHZ 2001 40 F40ELH Outboard
F40ELRA 2002 40 F40ELR Outboard
F40ELRB 2003 40 F40ELR Outboard
F40ELRX 1999 40 F40ELR Outboard
F40ELRY 2000 40 F40ELR Outboard
F40ELRZ 2001 40 F40ELR Outboard
F40MJHB 2003 40 F40MJH Outboard
F40MLHY 2000 40 F40MLH Outboard
F40MLHZ 2001 40 F40MLH Outboard
F40TLRA 2002 40 F40TLR Outboard
F40TLRB 2003 40 F40TLR Outboard
F40TLRY 2000 40 F40TLR Outboard
F40TLRZ 2001 40 F40TLR Outboard
F4MLHA 2002 4 F4MLH Outboard
F4MLHB 2003 4 F4MLH Outboard
F4MLHY 2000 4 F4MLH Outboard
F4MLHZ 2001 4 F4MLH Outboard
F4MSHW 1998 4 F4MSH Outboard
F50TJRA 2002 50 F50TJR Outboard
F50TJRB 2003 50 F50TJR Outboard
F50TLHA 2002 50 F50TLH Outboard
F50TLHB 2003 50 F50TLH Outboard
F50TLHU 1996 50 F50TLH Outboard
F50TLHV 1997 50 F50TLH Outboard
F50TLHW 1998 50 F50TLH Outboard
F50TLHX 1999 50 F50TLH Outboard
F50TLHY 2000 50 F50TLH Outboard
F50TLHZ 2001 50 F50TLH Outboard
F50TLRT 1995 50 F50TLR Outboard
F50TLRX 1999 50 F50TLR Outboard
F50TLRY 2000 50 F50TLR Outboard
F50TLRZ 2001 50 F50TLR Outboard
F60TLHA 2002 60 F60TLH Outboard
F60TLHB 2003 60 F60TLH Outboard
F60TLRA 2002 60 F60TLR Outboard
F60TLRB 2003 60 F60TLR Outboard
F6MLHA 2002 6 F6MLH Outboard
F6MLHB 2003 6 F6MLH Outboard
F6MLHY 2000 6 F6MLH Outboard
F6MLHZ 2001 6 F6MLH Outboard
F75TLRB 2003 75 F75TLR Outboard
F80TJRB 2003 80 F80TJR Outboard
F80TLRA 2002 80 F80TLR Outboard
F80TLRX 1999 80 F80TLR Outboard
F80TLRY 2000 80 F80TLR Outboard
F80TLRZ 2001 80 F80TLR Outboard
F8MLHA 2002 8 F8MLH Outboard
F8MLHB 2003 8 F8MLH Outboard
F8MLHY 2000 8 F8MLH Outboard
F8MLHZ 2001 8 F8MLH Outboard
F9.9ELHA 2002 9.9 F9.9ELH Outboard
F9.9ELHB 2003 9.9 F9.9ELH Outboard
F9.9ELHT 1995 9.9 F9.9ELH Outboard
F9.9ELHU 1996 9.9 F9.9ELH Outboard
F9.9ELHV 1997 9.9 F9.9ELH Outboard
F9.9ELHX 1998 9.9 F9.9ELH Outboard
F9.9ELHZ 2001 9.9 F9.9ELH Outboard
F9.9LD 1990 9.9 F9.9L Outboard
F9.9MLHA 2002 9.9 F9.9MLH Outboard
F9.9MLHB 2003 9.9 F9.9MLH Outboard
F9.9MLHP 1991 9.9 F9.9MLH Outboard
F9.9MLHQ 1992 9.9 F9.9MLH Outboard
F9.9MLHR 1993 9.9 F9.9MLH Outboard
F9.9MLHS 1994 9.9 F9.9MLH Outboard
F9.9MLHX 1999 9.9 F9.9MLH Outboard
F9.9MLHZ 2001 9.9 F9.9MLH Outboard
F9.9SF 1989 9.9 F9.9S Outboard
F9.9SG 1988 9.9 F9.9S Outboard
F9.9SH 1987 9.9 F9.9S Outboard
F9.9SJ 1986 9.9 F9.9S Outboard
F9.9SK 1985 9.9 F9.9S Outboard
F90TJRB 2003 90 F90TJR Outboard
FJ1100L 1984 1100 FJ1100 Street
FJ1100LC 1984 1100 FJ1100 (Cal) Street
FJ1100N 1985 1100 FJ1100 Street
FJ1100NC 1985 1100 FJ1100 (Cal) Street
FJ1200A 1990 1200 FJ1200 Street
FJ1200AC 1990 1200 FJ1200 (Cal) Street
FJ1200AD 1992 1200 FJ1200A ABS Street
FJ1200ADC 1992 1200 FJ1200A ABS (Cal) Street
FJ1200AE 1993 1200 FJ1200A ABS Street
FJ1200AEC 1993 1200 FJ1200A ABS (Cal) Street
FJ1200B 1991 1200 FJ1200 Street
FJ1200BC 1991 1200 FJ1200 (Cal) Street
FJ1200D 1992 1200 FJ1200 Street
FJ1200DC 1992 1200 FJ1200 (Cal) Street
FJ1200E 1993 1200 FJ1200 Street
FJ1200S 1986 1200 FJ1200 Street
FJ1200SC 1986 1200 FJ1200 (Cal) Street
FJ1200T 1987 1200 FJ1200 Street
FJ1200TC 1987 1200 FJ1200 (Cal) Street
FJ1200U 1988 1200 FJ1200 Street
FJ1200W 1989 1200 FJ1200 Street
FJ1200WC 1989 1200 FJ1200 (Cal) Street
FJ600L 1984 600 FJ600 Street
FJ600LC 1984 600 FJ600 (Cal) Street
FJ600N 1985 600 FJ600 Street
FJ600NC 1985 600 FJ600 (Cal) Street
FJ600W 1989 600 FJ600 Street
FJR1300AS 2004 1300 FJR1300 ABS Touring
FJR1300ASC 2004 1300 FJR1300 ABS (Cal) Touring
FJR1300RC 2003 1300 FJR1300 (Cal) Touring
FJR1300S 2004 1300 FJR1300 Touring
FJR1300SC 2004 1300 FJR1300 (Cal) Touring
FJR13AT 2005 1300 FJR1300 ABS Touring
FJR13ATC 2005 1300 FJR1300 ABS (Cal) Touring
FJR13R 2003 1300 FJR1300 Touring
FJR13T 2005 1300 FJR1300 Touring
FJR13TC 2005 1300 FJR1300 (Cal) Touring
FM48 1988 N/A FM48 ATV Attachment
FT9.9ELD 1990 9.9 FT9.9EL Outboard
FT9.9ELF 1989 9.9 FT9.9EL Outboard
FT9.9ELG 1988 9.9 FT9.9EL Outboard
FT9.9ELH 1987 9.9 FT9.9EL Outboard
FT9.9ELJ 1986 9.9 FT9.9EL Outboard
FT9.9EXK 1985 9.9 FT9.9EX Outboard
FX1000A 2002 1000 FX1000 FX140 PWC
FX1000B 2003 1000 FX1000 FX140 PWC
FX140DX 2003 140 FX140DX PWC
FX700S 1994 700 FX700 FX-1 PWC
FX700T 1995 700 FX700 FX-1 PWC
FX700U 1996 700 FX700 FX-1 PWC
FZ1S 2004 1000 FZ1 Street
FZ1SC 2004 1000 FZ1 (Cal) Street
FZ600S 1986 600 FZ600 Street
FZ600SC 1986 600 FZ600 (Cal) Street
FZ600SS 2004 600 FZ6 Street
FZ600SSC 2004 600 FZ6 (Cal) Street
FZ600T 1987 600 FZ600 Street
FZ600TC 1987 600 FZ600 (Cal) Street
FZ600U 1988 600 FZ600 Street
FZ600UC 1988 600 FZ600 (Cal) Street
FZ700T 1987 700 FZ700 Street
FZ700TC 1987 700 FZ700 (Cal) Street
FZ750N 1985 750 FZ750 Street
FZ750S 1986 750 FZ750 Street
FZ750SC 1986 750 FZ750 (Cal) Street
FZ750T 1987 750 FZ750 Street
FZ750U 1988 750 FZ750 Street
FZ750UC 1988 750 FZ750 (Cal) Street
FZR1000A 1990 1000 FZR1000 Street
FZR1000AC 1990 1000 FZR1000 (Cal) Street
FZR1000B 1991 1000 FZR1000 Street
FZR1000BC 1991 1000 FZR1000 (Cal) Street
FZR1000D 1992 1000 FZR1000 Street
FZR1000DC 1992 1000 FZR1000 (Cal) Street
FZR1000E 1993 1000 FZR1000 Street
FZR1000EC 1993 1000 FZR1000 (Cal) Street
FZR1000F 1994 1000 FZR1000 Street
FZR1000FC 1994 1000 FZR1000 (Cal) Street
FZR1000G 1995 1000 FZR1000 Street
FZR1000GC 1995 1000 FZR1000 (Cal) Street
FZR1000T 1987 1000 FZR1000 Street
FZR1000TC 1987 1000 FZR1000 (Cal) Street
FZR1000U 1988 1000 FZR1000 Street
FZR1000UC 1988 1000 FZR1000 (Cal) Street
FZR1000W 1989 1000 FZR1000 Street
FZR1000WC 1989 1000 FZR1000 (Cal) Street
FZR400A 1990 400 FZR400 Street
FZR400SAC 1990 400 FZR400S (Cal) Street
FZR400SUC 1988 400 FZR400S (Cal) Street
FZR400SWC 1989 400 FZR400S (Cal) Street
FZR400U 1988 400 FZR400 Street
FZR400W 1989 400 FZR400 Street
FZR600A 1990 600 FZR600 Street
FZR600AC 1990 600 FZR600 (Cal) Street
FZR600B 1991 600 FZR600 Street
FZR600D 1992 600 FZR600 Street
FZR600E 1993 600 FZR600 Street
FZR600F 1994 600 FZR600 Street
FZR600G 1995 600 FZR600 Street
FZR600RA 1990 600 FZR600R Street
FZR600RAC 1990 600 FZR600R (Cal) Street
FZR600RB 1991 600 FZR600R Street
FZR600RBC 1991 600 FZR600R (Cal) Street
FZR600RD 1992 600 FZR600R Street
FZR600RDC 1992 600 FZR600R (Cal) Street
FZR600RE 1993 600 FZR600R Street
FZR600REC 1993 600 FZR600R (Cal) Street
FZR600RF 1994 600 FZR600R Street
FZR600RFC 1994 600 FZR600R (Cal) Street
FZR600RG 1995 600 FZR600R Street
FZR600RGC 1995 600 FZR600R (Cal) Street
FZR600RH 1996 600 FZR600R Street
FZR600RHC 1996 600 FZR600R (Cal) Street
FZR600RJ 1997 600 FZR600R Street
FZR600RJC 1997 600 FZR600R (Cal) Street
FZR600RK 1998 600 FZR600R Street
FZR600RKC 1998 600 FZR600R (Cal) Street
FZR600RL 1999 600 FZR600R Street
FZR600RLC 1999 600 FZR600R (Cal) Street
FZR600W 1989 600 FZR600 Street
FZR600WC 1989 600 FZR600 (Cal) Street
FZR750RA 1990 750 FZR750R Street
FZR750RT 1987 750 FZR750R Street
FZR750RU 1988 750 FZR750R Street
FZR750RW 1989 750 FZR750R Street
FZS1000N 2001 1000 FZ1 Street
FZS1000NC 2001 1000 FZ1 (Cal) Street
FZS1000P 2002 1000 FZ1 Street
FZS1000PC 2002 1000 FZ1 (Cal) Street
FZS1000R 2003 1000 FZ1 Street
FZS1000RC 2003 1000 FZ1 (Cal) Street
FZS1000SPR 2003 1000 FZ1 Street
FZS1000SPRC 2003 1000 FZ1 (Cal) Street
FZS10P 2002 1000 FZS10 Street
FZS10R 2003 1000 FZS10 Street
FZS10SPR 2003 1000 FZS10SP Street
FZX700S 1986 700 FZX700 FAZER Street
FZX700SC 1986 700 FZX700 FAZER (Cal) Street
FZX700T 1987 700 FZX700 FAZER Street
FZX700TC 1987 700 FZX700 FAZER (Cal) Street
FZX750S 1986 750 FZX750 FAZER Street
FZX750T 1987 750 FZX750 FAZER Street
G6S 1970 80 G6S Street
G6SB 1971 80 G6S Street
G7S 1972 80 G7S Street
GP1200AA 2002 1200 GP1200A PWC
GP1200AY 2000 1200 GP1200A PWC
GP1200AZ 2001 1200 GP1200A PWC
GP1200V 1997 1200 GP1200 Waverunner PWC
GP1200W 1998 1200 GP1200 Waverunner PWC
GP1200X 1999 1200 GP1200 Waverunner PWC
GP1300B 2003 1300 GP1300 PWC
GP760V 1997 760 GP760 PWC
GP760W 1998 760 GP760 PWC
GP760X 1999 760 GP760 PWC
GP800W 1998 800 GP800 Waverunner PWC
GP800X 1999 800 GP800 Waverunner PWC
GP800Y 2000 800 GP800 Waverunner PWC
GT1 1973 80 GT1 Street
GT80A 1974 80 GT80 Street
GT80B 1975 80 GT80 Street
GT80C 1976 80 GT80 Street
GT80E 1978 80 GT80 Street
GT80F 1979 80 GT80 Street
GT80G 1980 80 GT80 Street
GTMX 1973 80 GTMX Motocross
GTMXA 1974 80 GTMX Motocross
GTMXB 1975 80 GTMX Motocross
GTMXC 1976 80 GTMX Motocross
GTMXD 1977 80 GTMX Motocross
GTMXE 1978 80 GTMX Motocross
GTMXF 1979 72 GTMX Motocross
GTS1000AE 1993 1000 GTS1000A Street
GTS1000AEC 1993 1000 GTS1000A (Cal) Street
GTS1000AF 1994 1000 GTS1000A Street
GTS1000AFC 1994 1000 GTS1000A (Cal) Street
HS1 1970 90 HS1 Street
HS1B 1971 90 HS1 Street
HT1 1970 90 HT1 Street
HT1B 1971 90 HT1 Street
HT1BM 1971 90 HT1BM Dual-Purpose
IT125G 1980 125 IT125 Dual-Purpose
IT125H 1981 125 IT125 Dual-Purpose
IT175D 1977 175 IT175 Dual-Purpose
IT175E 1978 175 IT175 Dual-Purpose
IT175F 1979 175 IT175 Dual-Purpose
IT175G 1980 175 IT175 Dual-Purpose
IT175H 1981 175 IT175 Dual-Purpose
IT175J 1982 175 IT175 Dual-Purpose
IT175K 1983 175 IT175 Dual-Purpose
IT200L 1984 200 IT200 Dual-Purpose
IT200N 1985 200 IT200 Dual-Purpose
IT200S 1986 200 IT200 Dual-Purpose
IT200T 1987 200 IT200 Dual-Purpose
IT250D 1977 250 IT250 Dual-Purpose
IT250E 1978 250 IT250 Dual-Purpose
IT250F 1979 250 IT250 Dual-Purpose
IT250G 1980 250 IT250 Dual-Purpose
IT250H 1981 250 IT250 Dual-Purpose
IT250J 1982 250 IT250 Dual-Purpose
IT250K 1982 250 IT250 Dual-Purpose
IT400C 1976 400 IT400 Dual-Purpose
IT400D 1977 400 IT400 Dual-Purpose
IT400E 1978 400 IT400 Dual-Purpose
IT400F 1979 400 IT400 Dual-Purpose
IT425G 1980 425 IT425 Dual-Purpose
IT465H 1981 465 IT465 Dual-Purpose
IT465J 1982 465 IT465 Dual-Purpose
IT490K 1983 490 IT490 Dual-Purpose
IT490L 1984 490 IT490 Dual-Purpose
JT1 1971 60 JT1 Dual-Purpose
JT1L 1971 60 JT1L Dual-Purpose
JT2 1972 60 JT2 Dual-Purpose
JT2MX 1972 60 JT2MX Motocross
L130ETXD 1990 130 L130ETX Outboard
L130ETXF 1989 130 L130ETX Outboard
L130TXRY 2000 130 L130TXR Outboard
L150TXRV 1997 150 L130TXR Outboard
L150TXRW 1998 150 L130TXR Outboard
L200ETXD 1990 200 L200ETX Outboard
L200ETXF 1989 200 L200ETX Outboard
L200ETXG 1988 200 L200ETX Outboard
L200ETXH 1987 200 L200ETX Outboard
L200TXRP 1991 200 L200TXR Outboard
L200TXRQ 1992 200 L200TXR Outboard
L200TXRR 1993 200 L200TXR Outboard
L200TXRU 1996 200 L200TXR Outboard
L225TXRV 1997 225 L200TXR Outboard
L225TXRW 1998 225 L200TXR Outboard
L250ETXD 1990 250 L250ETX Outboard
L250TXRR 1993 250 L250TXR Outboard
L250TXRU 1996 250 L250TXR Outboard
L5T 1969 100 L5T Trailmaster 100 Dual-Purpose
L5TA 1970 100 L5T Trailmaster 100 Dual-Purpose
LB50PE 1978 50 LB50P Chappy Mini-Bike
LB50PF 1979 50 LB50P Chappy Mini-Bike
LB50PG 1980 50 LB50P Chappy Mini-Bike
LB50PH 1981 50 LB50P Chappy Mini-Bike
LB50PJ 1982 50 LB50P Chappy Mini-Bike
LB80-2AC 1976 80 LB80 Chappy Mini-Bike
LB80-2AD 1977 80 LB80 Chappy Mini-Bike
LB80-2AE 1978 80 LB80 Chappy Mini-Bike
LB80-2HC 1976 80 LB80 Chappy Mini-Bike
LB80-3D 1977 80 LB80 Champ Mini-Bike
LC50G 1980 50 LC50 Mini-Bike
LC50H 1981 50 LC50 Mini-Bike
LF115TXRA 2002 115 LF115TXR Outboard
LF115TXRB 2003 115 LF115TXR Outboard
LF115TXRY 2000 115 LF115TXR Outboard
LF115TXRZ 2001 115 LF115TXR Outboard
LF200TXRA 2002 200 LF200TXR Outboard
LF200TXRB 2003 200 LF200TXR Outboard
LF225TXRA 2002 225 LF225TXR Outboard
LF225TXRB 2003 225 LF225TXR Outboard
LIT N/A N/A Books and Literature Accessory
LS2 1972 100 LS2 Street
LT2 1972 100 LT2 Dual-Purpose
LT2M 1972 100 LT2M Off-Road
LT3 1973 100 LT3 Dual-Purpose
LTMX 1973 100 LTMX Off-Road
LX150TXRA 2002 150 LX150TXR Outboard
LX150TXRB 2003 150 LX150TXR Outboard
LX150TXRX 1999 150 LX150TXR Outboard
LX150TXRY 2000 150 LX150TXR Outboard
LX150TXRZ 2001 150 LX150TXR Outboard
LX200TXRA 2002 200 LX200TXR Outboard
LX200TXRB 2003 200 LX200TXR Outboard
LX200TXRY 2000 200 LX200TXR Outboard
LX200TXRZ 2001 200 LX200TXR Outboard
LX225TXRA 2002 225 LX225TXR Outboard
LX225TXRB 2003 225 LX225TXR Outboard
LX225TXRY 2000 225 LX225TXR Outboard
LX225TXRZ 2001 225 LX225TXR Outboard
LX250TXRA 2002 225 LX250TXR Outboard
LX250TXRB 2003 250 LX250TXR Outboard
LX250TXRY 2000 250 LX250TXR Outboard
LX250TXRZ 2001 250 LX250TXR Outboard
LZ150TXRA 2002 150 LZ150TXR Outboard
LZ150TXRB 2003 150 LZ150TXR Outboard
LZ150TXRY 2000 150 LZ150TXR Outboard
LZ150TXRZ 2001 150 LZ150TXR Outboard
LZ200TXRA 2002 200 LZ200TXR Outboard
LZ200TXRB 2003 200 LZ200TXR Outboard
LZ200TXRY 2000 200 LZ200TXR Outboard
LZ200TXRZ 2001 200 LZ200TXR Outboard
LZ250TXRB 2003 250 LZ250TXR Outboard
MF150S N/A 150 MF150S Engine
MF180A N/A 180 MF180A Engine
MF180S N/A 180 MF180S Engine
MF260A N/A 260 MF260A Engine
MF260S N/A 260 MF260S Engine
MF410S N/A 410 MF410S Engine
MJ50J 1982 50 MJ50 Towny Scooter
MJ50L 1984 50 MJ50 Towny Scooter
MM600A 1997 600 MM600 Mountain Max 600 Snowmobile
MM600D 2000 600 MM600 Mountain Max 600 Snowmobile
MM600F 2001 600 MM600 Mountain Max 600 Snowmobile
MM600G 2002 600 MM600 Mountain Max 600 Snowmobile
MM600PB 1998 600 MM600P Mountain Max 600 Snowmobile
MM600PC 1999 600 MM600P Mountain Max 600 Snowmobile
MM700D 2000 700 MM700 Mountain Max 700 Snowmobile
MM700F 2001 700 MM700 Mountain Max 700 Snowmobile
MM700G 2002 700 MM700 Mountain Max 700 Snowmobile
MM700H 2003 700 MM700 Mountain Max 700 Snowmobile
MM700PB 1998 700 MM700P Mountain Max 700 Snowmobile
MM700PC 1999 700 MM700P Mountain Max 700 Snowmobile
MM800A 1997 800 MM800 Mountain Max 800 Snowmobile
MSRX700PB 1998 700 MSRX700P Mountain SRX 700 Snowmobile
MX100A 1974 100 MX100 Off-Road
MX100B 1975 100 MX100 Off-Road
MX100F 1979 100 MX100 Off-Road
MX100G 1980 100 MX100 Off-Road
MX100H 1981 100 MX100 Off-Road
MX100J 1982 100 MX100 Off-Road
MX100K 1983 100 MX100 Off-Road
MX125A 1974 125 MX125 Off-Road
MX125B 1975 125 MX125 Off-Road
MX125C 1976 125 MX125 Off-Road
MX175A 1974 175 MX175 Off-Road
MX175B 1975 175 MX175 Off-Road
MX175F 1979 175 MX175 Off-Road
MX175G 1980 175 MX175 Off-Road
MX175H 1981 175 MX175 Off-Road
MX250A 1974 250 MX250 Off-Road
MX250B 1975 250 MX250 Off-Road
MX360A 1974 360 MX360 Off-Road
MX400B 1975 400 MX400 Off-Road
MX80G 1980 80 MX80 Off-Road
MX80H 1981 80 MX80 Off-Road
MX80J 1982 80 MX80 Off-Road
MZ125-A1 N/A 125 MZ125-A1 Engine
MZ300-A1 N/A 300 MZ300-A1 Engine
P115TLRR 1993 115 P115TLR Outboard
P115TLRS 1994 115 P115TLR Outboard
P115TLRT 1995 115 P115TLR Outboard
P115TLRU 1996 115 P115TLR Outboard
P115TLRV 1997 115 P115TLR Outboard
P150TLRP 1991 150 P150TLR Outboard
P150TLRQ 1992 150 P150TLR Outboard
P150TLRR 1993 150 P150TLR Outboard
P150TLRS 1994 150 P150TLR Outboard
P150TLRT 1995 150 P150TLR Outboard
P150TLRU 1996 150 P150TLR Outboard
P150TLRV 1997 150 P150TLR Outboard
P150TLRW 1998 150 P150TLR Outboard
P200TLRP 1991 200 P200TLR Outboard
P200TLRQ 1992 200 P200TLR Outboard
P200TLRR 1993 200 P200TLR Outboard
P50TLHP 1991 50 P50TLH Outboard
P50TLHQ 1992 50 P50TLH Outboard
P50TLRR 1993 50 P50TLH Outboard
P50TLRS 1994 50 P50TLH Outboard
P60TLHR 1993 60 P60TLH Outboard
P60TLHS 1994 60 P60TLH Outboard
P60TLHT 1995 60 P60TLH Outboard
P60TLHU 1996 60 P60TLH Outboard
P60TLHV 1997 60 P60TLH Outboard
P60TLHW 1998 60 P60TLH Outboard
P60TLHY 2000 60 P60TLH Outboard
PRO50LD 1990 50 PRO50L Outboard
PRO50LF 1989 50 PRO50L Outboard
PRO50LG 1988 50 PRO50L Outboard
PRO50LH 1987 50 PRO50L Outboard
PROV150LD 1990 150 PROV150L Outboard
PROV150LF 1989 150 PROV150L Outboard
PROV150LG 1988 150 PROV150L Outboard
PROV150LH 1987 150 PROV150L Outboard
PROV150LJ 1986 150 PROV150L Outboard
PS100 1988 N/A PS100 ATV Attachment
PS50 1988 N/A PS50 ATV Attachment
PW50A 1990 50 PW50 Y-Zinger Off-Road
PW50B 1991 50 PW50 Y-Zinger Off-Road
PW50D 1992 50 PW50 Y-Zinger Off-Road
PW50E 1993 50 PW50 Y-Zinger Off-Road
PW50F 1994 50 PW50 Y-Zinger Off-Road
PW50G 1995 50 PW50 Y-Zinger Off-Road
PW50H 1981 50 PW50 Y-Zinger Off-Road
PW50H1 1996 50 PW50 Y-Zinger Off-Road
PW50J 1982 50 PW50 Y-Zinger Off-Road
PW50J1 1997 50 PW50 Y-Zinger Off-Road
PW50K 1983 50 PW50 Y-Zinger Off-Road
PW50K1 1998 50 PW50 Y-Zinger Off-Road
PW50L 1999 50 PW50 Y-Zinger Off-Road
PW50M 2000 50 PW50 Y-Zinger Off-Road
PW50N 1985 50 PW50 Zinger Off-Road
PW50N1 2001 50 PW50 Zinger Off-Road
PW50P 2002 50 PW50 Zinger Off-Road
PW50R 2003 50 PW50 Zinger Off Road
PW50S 1986 50 PW50 Zinger Off Road
PW50S1 2004 50 PW50 Zinger Off-Road
PW50T 1987 50 PW50 Zinger Off-Road
PW50T1 2005 50 PW50 Zinger Off-Road
PW50U 1988 50 PW50 Zinger Off-Road
PW50W 1989 50 PW50 Zinger Off-Road
PW80B 1991 80 PW80 Y-Zinger Off-Road
PW80D 1992 80 PW80 Y-Zinger Off-Road
PW80E 1993 80 PW80 Y-Zinger Off-Road
PW80F 1994 80 PW80 Y-Zinger Off-Road
PW80G 1995 80 PW80 Y-Zinger Off-Road
PW80H 1996 80 PW80 Y-Zinger Off-Road
PW80J 1997 80 PW80 Y-Zinger Off-Road
PW80K 1983 80 PW80 Y-Zinger Off-Road
PW80K1 1998 80 PW80 Y-Zinger Off-Road
PW80L 1999 80 PW80 Y-Zinger Off-Road
PW80M 2000 80 PW80 Y-Zinger Off-Road
PW80N 1985 80 PW80 Zinger Off-Road
PW80N1 2001 80 PW80 Zinger Off-Road
PW80P 2002 80 PW80 Zinger Off-Road
PW80R 2003 80 PW80 Zinger Off-Road
PW80S 2004 80 PW80 Zinger Off-Road
PW80T 2005 80 PW80 Zinger Off-Road
PX150TLRX 1999 150 PX150TLR Outboard
PZ480A 1997 480 PZ480 Phazer SS Snowmobile
PZ480B 1998 480 PZ480 Phazer SS Snowmobile
PZ480EA 1997 480 PZ480E Phazer SS Electric Snowmobile
PZ480EB 1998 480 PZ480E Phazer SS Electric Snowmobile
PZ480EJ 1985 480 PZ480E Phazer E Snowmobile
PZ480EK 1986 480 PZ480E Phazer Deluxe Snowmobile
PZ480EL 1987 480 PZ480E Phazer Deluxe Snowmobile
PZ480EM 1988 480 PZ480E Phazer Deluxe Snowmobile
PZ480EN 1989 480 PZ480E Phazer Deluxe Snowmobile
PZ480EP 1990 480 PZ480E Phazer II LE Snowmobile
PZ480ER 1991 480 PZ480E Phazer II LE Snowmobile
PZ480ES 1992 480 PZ480E Phazer II LE Snowmobile
PZ480ET 1993 480 PZ480E Phazer II LE Snowmobile
PZ480EU 1994 480 PZ480E Phazer II LE Snowmobile
PZ480EV 1995 480 PZ480E Phazer II LE Snowmobile
PZ480EW 1996 480 PZ480E Phazer II LE Snowmobile
PZ480FXN 1989 480 PZ480FX Phazer Snowmobile
PZ480H 1984 480 PZ480 Phazer Snowmobile
PZ480J 1985 480 PZ480 Phazer Snowmobile
PZ480K 1986 480 PZ480 Phazer Snowmobile
PZ480L 1987 480 PZ480 Phazer Snowmobile
PZ480M 1988 480 PZ480 Phazer Snowmobile
PZ480N 1989 480 PZ480 Phazer Snowmobile
PZ480P 1990 480 PZ480 Phazer II Snowmobile
PZ480R 1991 480 PZ480 Phazer II Snowmobile
PZ480S 1992 480 PZ480 Phazer II Snowmobile
PZ480STA 1997 480 PZ480ST Phazer Mountain Lite Snowmobile
PZ480STB 1998 480 PZ480ST Phazer Mountain Lite Snowmobile
PZ480STC 1999 480 PZ480ST Phazer Mountain Lite Snowmobile
PZ480STR 1991 480 PZ480ST Phazer II ST Snowmobile
PZ480STS 1992 480 PZ480ST Phazer II ST Snowmobile
PZ480STT 1993 480 PZ480ST Phazer II ST Snowmobile
PZ480STU 1994 480 PZ480ST Phazer II ST Snowmobile
PZ480STV 1995 480 PZ480ST Phazer II ST Snowmobile
PZ480STW 1996 480 PZ480ST Phazer Mountain Lite Snowmobile
PZ480U 1994 480 PZ480 Phazer II Snowmobile
PZ480V 1995 480 PZ480 Phazer II Snowmobile
PZ480W 1996 480 PZ480 Phazer II Snowmobile
PZ500C 1999 500 PZ500 Phazer 500 Snowmobile
PZ500D 2000 500 PZ500 Phazer 500 Snowmobile
PZ500DXF 2001 500 PZ500DX Phazer Deluxe Snowmobile
PZ500F 2001 500 PZ500 Phazer 500 Snowmobile
PZ500MLD 2000 500 PZ500ML Phazer Mountain Lite Snowmobile
PZ500MLF 2001 500 PZ500ML Phazer Mountain Lite Snowmobile
QT50-2G 1980 50 QT50 Scooter
QT50F 1979 50 QT50 Yamahopper Scooter
QT50G 1980 50 QT50 Yamahopper Scooter
QT50-H 1981 50 QT50 Scooter
QT50J 1982 50 QT50 Yamahopper Scooter
QT50K 1983 50 QT50 Yamahopper Scooter
QT50L 1984 50 QT50 Yamahopper Scooter
QT50N 1985 50 QT50 Yamahopper Scooter
QT50S 1986 50 QT50 Yamahopper Scooter
QT50T 1987 50 QT50 Yamahopper Scooter
R3 1969 350 R3 Grand Prix Street
R5 1970 350 R5 Street
R5B 1971 350 R5 Street
R5C 1972 350 R5 Street
RA1100T 1995 1100 RA1100 Wave Raider 1100 PWC
RA1100U 1996 1100 RA1100 Wave Raider 1100 PWC
RA700AT 1995 700 RA700A Wave Raider Deluxe PWC
RA700BU 1996 700 RA700 Wave Raider PWC
RA700S 1994 700 RA700 Wave Raider PWC
RA760U 1996 760 RA700 Wave Raider 760 PWC
RC42 1988 N/A RC42 ATV Attachment
RD125B 1975 125 RD125 Street
RD125C 1976 125 RD125 Street
RD200A 1974 200 RD200 Street
RD200B 1975 200 RD200 Street
RD200C 1976 200 RD200 Street
RD250 1973 250 RD250 Street
RD250A 1974 250 RD250 Street
RD250B 1975 250 RD250 Street
RD350 1973 350 RD350 Street
RD350A 1974 350 RD350 Street
RD350B 1975 350 RD350 Street
RD400C 1976 400 RD400 Street
RD400D 1977 400 RD400 Street
RD400E 1978 400 RD400 Street
RD400F 1979 400 RD400 Street
RD60 1973 60 RD60 Street
RD60A 1974 60 RD60 Street
RD60B 1975 60 RD60 Street
RS100B 1975 100 RS100 Street
RS100C 1976 100 RS100 Street
RT1 1970 360 RT1 Off-Road
RT100A 1990 100 RT100 Off-Road
RT100B 1991 100 RT100 Off-Road
RT100D 1992 100 RT100 Off-Road
RT100E 1993 100 RT100 Off-Road
RT100F 1994 100 RT100 Off-Road
RT100G 1995 100 RT100 Off-Road
RT100H 1996 100 RT100 Off-Road
RT100J 1997 100 RT100 Off-Road
RT100K 1998 100 RT100 Off-Road
RT100L 1999 100 RT100 Off-Road
RT100M 2000 100 RT100 Off-Road
RT180A 1990 180 RT180 Off-Road
RT180B 1991 180 RT180 Off-Road
RT180D 1992 180 RT180 Off-Road
RT180E 1993 180 RT180 Off-Road
RT180G 1995 180 RT180 Off-Road
RT180H 1996 180 RT180 Off-Road
RT180J 1997 180 RT180 Off-Road
RT180K 1998 180 RT180 Off-Road
RT1B 1971 360 RT1 Off-Road
RT1M 1970 360 RT1M Off-Road
RT1MX 1971 360 RT1MX Off-Road
RT2 1973 360 RT2 Off-Road
RT2MX 1972 360 RT2MX Off-Road
RT3 1973 360 RT3 Off-Road
RT38 1988 N/A RT38 ATV Attachment
RX10H 2003 1000 RX10 RX 1 Snowmobile
RX10MH 2003 1000 RX10 RX 1 Mountain Snowmobile
RX10MSH 2003 1000 RX10MS RX 1 Mountain LE Snowmobile
RX10RH 2003 1000 RX10R RX 1 ER Snowmobile
RX10RSH 2003 1000 RX10RS RX 1 ER LE Snowmobile
RX10SH 2003 1000 RX10S RX 1 LE Snowmobile
RX50K 1983 50 RX50 50 Special Street
RX50L 1984 50 RX50 50 Special Street
RX50MK 1983 50 RX50 Midnight Special Street
RZ350L 1984 350 RZ350 Street
RZ350N 1985 350 RZ350 Street
RZ350NC 1985 350 RZ350 (Cal) Street
RZ350NCII 1985 350 RZ350 II (Cal) Street
RZ350S 1986 350 RZ350 Street
RZ350T 1987 350 RZ350 Street
RZ350U 1988 350 RZ350 Street
RZ350W 1989 350 RZ350 Street
RZ500S 1986 500 RZ500 Street
SC500 1973 500 SC500 Off-Road
SC500A 1974 500 SC500 Off-Road
SH50A 1990 50 SH50A Razz Scooter
SH50B 1991 50 SH50A Razz Scooter
SH50F 1994 50 SH50A Razz Scooter
SH50H 1996 50 SH50A Razz Scooter
SH50J-R 1997 50 SH50A Razz Scooter
SH50K-R 1998 50 SH50A Razz Scooter
SH50L 1999 50 SH50A Razz Scooter
SH50M 2000 50 SH50A Razz Scooter
SH50T 1987 50 SH50A Razz Scooter
SH50U 1988 50 SH50A Razz Scooter
SH50W 1989 50 SH50A Razz Scooter
SJ650D 1990 650 SJ650 Super Jet PWC
SJ650P 1991 650 SJ650 Super Jet PWC
SJ650Q 1992 650 SJ650 Super Jet PWC
SJ650R 1993 650 SJ650 Super Jet PWC
SJ700AU 1996 700 SJ700A Super Jet PWC
SJ700AV 1997 700 SJ700A Super Jet PWC
SJ700AW 1998 700 SJ700A Super Jet PWC
SJ700AX 1999 700 SJ700A Super Jet PWC
SJ700AY 2000 700 SJ700A Super Jet PWC
SJ700AZ 2001 700 SJ700A Super Jet PWC
SJ700S 1994 700 SJ700 Super Jet PWC
SJ700T 1995 700 SJ700 Super Jet PWC
SR185H 1981 185 SR185 Exciter Street
SR185J 1982 185 SR185 Exciter Street
SR250G 1980 250 SR250 Exciter Street
SR250H 1981 250 SR250 Exciter I Street
SR250J 1982 250 SR250 Exciter Street
SR250TH 1981 250 SR250 Exciter II Street
SR500E 1978 500 SR500 Street
SR500F 1979 500 SR500 Street
SR500G 1980 500 SR500 Street
SR500H 1981 500 SR500 Street
SR540K 1986 540 SR540 SRV Snowmobile
SR540L 1987 540 SR540 SRV Snowmobile
SR540M 1988 540 SR540 SRV Snowmobile
SR540N 1989 540 SR540 SRV Snowmobile
SR540P 1990 540 SR540 SRV Snowmobile
SR540R 1991 540 SR540 SRV Snowmobile
SRX250T 1987 250 SRX250 Street
SRX250TC 1987 250 SRX250 (Cal) Street
SRX600S 1986 600 SRX600 Street
SRX600SB 1998 600 SRX600S Snowmobile
SRX600SC 1999 600 SRX600S Snowmobile
SRX600SCal 1986 600 SRX600 (Cal) Street
SRX700D 2000 700 SRX700 Snowmobile
SRX700F 2001 700 SRX700 Snowmobile
SRX700SB 1998 700 SRX700S Snowmobile
SRX700SC 1999 700 SRX700S Snowmobile
SRX700SD 2000 700 SRX700S Snowmobile
SRX700SF 2001 700 SRX700S Snowmobile
SRX700SG 2002 700 SRX700S Snowmobile
SV1200A 2002 1200 SV1200 PWC
SV1200B 2003 1200 SV1200 PWC
SV1200Y 2000 1200 SV1200 PWC
SV1200Z 2001 1200 SV1200 SUV1200 PWC
SV125EP 1990 125 SV125E Sno-Sport Snowmobile
SV125ER 1991 125 SV125E Sno-Sport Snowmobile
SV80EM 1988 80 SV80E SnoScoot Snowmobile
SV80EN 1989 80 SV80E SnoScoot Snowmobile
SV80M 1988 80 SV80 SnoScoot Snowmobile
SV80N 1989 80 SV80 SnoScoot Snowmobile
SX150TXRA 2002 150 SX150TXR Outboard
SX150TXRB 2003 150 SX150TXR Outboard
SX150TXRX 1999 150 SX150TXR Outboard
SX150TXRY 2000 150 SX150TXR Outboard
SX150TXRZ 2001 150 SX150TXR Outboard
SX200TXRA 2002 200 SX200TXR Outboard
SX200TXRB 2003 200 SX200TXR Outboard
SX200TXRY 2000 200 SX200TXR Outboard
SX200TXRZ 2001 200 SX200TXR Outboard
SX225TURY 2000 225 SX225TUR Outboard
SX225TXRA 2002 225 SX225TXR Outboard
SX225TXRB 2003 225 SX225TXR Outboard
SX225TXRZ 2001 225 SX225TXR Outboard
SX250TXRA 2002 250 SX250TXR Outboard
SX250TXRB 2003 250 SX250TXR Outboard
SX250TXRY 2000 250 SX250TXR Outboard
SX500D 2000 500 SX500R Snowmobile
SX500F 2001 500 SX500 Snowmobile
SX600D 2000 600 SX600R Snowmobile
SX600F 2001 600 SX600 Snowmobile
SX600G 2002 600 SX600 Snowmobile
SX700D 2000 700 SX700R Snowmobile
SX700F 2001 700 SX700 Snowmobile
SXV70ERG 2002 700 SXV700ER SX Viper ER Snowmobile
SXV70ERH 2003 700 SXV700ER SX Viper ER Snowmobile
SXV70G 2002 700 SXV700 SX Viper Snowmobile
SXV70H 2003 700 SXV700 SX Viper Snowmobile
SXV70MH 2003 700 SXV700M SX Viper Mountain Snowmobile
T25ELRY 2000 25 T25ELR Outboard
T25ELRZ 2001 25 T25ELR Outboard
T25TLRA 2002 25 T25TLR Outboard
T25TLRB 2003 25 T25TLR Outboard
T25TLRY 2000 25 T25TLR Outboard
T25TLRZ 2001 25 T25TLR Outboard
T50TLRA 2002 50 T50TLR Outboard
T50TLRB 2003 50 T50TLR Outboard
T50TLRX 1999 50 T50TLR Outboard
T50TLRY 2000 50 T50TLR Outboard
T50TLRZ 2001 50 T50TLR Outboard
T60TLRB 2003 60 T60TLR Outboard
T8ELRA 2002 8 T8ELR Outboard
T8ELRB 2003 8 T8ELR Outboard
T8MLHA 2002 8 T8MLH Outboard
T8MLHB 2003 8 T8MLH Outboard
T8PLRA 2002 8 T8PLR Outboard
T8PLRB 2003 8 T8PLR Outboard
T9.9ELHA 2002 9.9 T9.9ELH Outboard
T9.9ELHB 2003 9.9 T9.9ELH Outboard
T9.9ELHP 1991 9.9 T9.9ELH Outboard
T9.9ELHQ 1992 9.9 T9.9ELH Outboard
T9.9ELHR 1993 9.9 T9.9ELH Outboard
T9.9ELHS 1994 9.9 T9.9ELH Outboard
T9.9ELHT 1995 9.9 T9.9ELH Outboard
T9.9ELHU 1996 9.9 T9.9ELH Outboard
T9.9ELHV 1997 9.9 T9.9ELH Outboard
T9.9ELHX 1999 9.9 T9.9ELH Outboard
T9.9ELHZ 2001 9.9 T9.9ELH Outboard
T9.9ELRA 2002 9.9 T9.9ELR Outboard
T9.9ELRB 2003 9.9 T9.9ELR Outboard
T9.9ELRX 1999 9.9 T9.9ELR Outboard
T9.9ELRZ 2001 9.9 T9.9ELR Outboard
T9.9PLRA 2002 9.9 T9.9PLR Outboard
T9.9PLRY 2000 9.9 T9.9PLR Outboard
T9.9PLRZ 2001 9.9 T9.9PLR Outboard
TD2 1970 250 TD2 Road Racer
TD2B 1971 250 TD2 Road Racer
TD3 1972 250 TD3 Road Racer
TDM850D 1992 850 TDM850 Street
TDM850DC 1992 850 TDM850 (Cal) Street
TDM850E 1993 850 TDM850 Street
TDM850EC 1993 850 TDM850 (Cal) Street
TDR250A 1990 250 TDR250 Dual-Sport
TDR250W 1989 250 TDR250 Dual-Sport
TR2 1970 350 TR2 Road Racer
TR2B 1971 350 TR2 Road Racer
TR3 1972 350 TR3 Road Racer
TT225RL 1999 225 TT225R Off-Road
TT225RM 2000 225 TT225R Off-Road
TT225RN 2001 225 TT225R Off-Road
TT225S 1986 225 TT225 Off-Road
TT225T 1987 225 TT225 Off-Road
TT250G 1980 250 TT250 Off-Road
TT250J 1982 250 TT250 Off-Road
TT350S 1986 350 TT350 Off-Road
TT350T 1987 350 TT350 Off-Road
TT500C 1976 500 TT500 Off-Road
TT500D 1977 500 TT500 Off-Road
TT500F 1979 500 TT500 Off-Road
TT500G 1980 500 TT500 Off-Road
TT500H 1981 500 TT500 Off-Road
TT600K 1983 600 TT600 Off-Road
TT600L 1984 600 TT600 Off-Road
TT600N 1985 600 TT600 Off-Road
TT600S 1986 600 TT600 Off-Road
TTR125ER 2003 125 TTR125E Off-Road
TTR125ES 2004 125 TT-R125E Off-Road
TTR125ET 2005 125 TT-R125E Off-Road
TTR125LER 2003 125 TTR125LE Off-Road
TTR125LES 2004 125 TT-R125LE Off-Road
TTR125LET 2005 125 TT-R125LE Off-Road
TTR125LM 2000 125 TTR125L Off-Road
TTR125LN 2001 125 TTR125L Off-Road
TTR125LP 2002 125 TTR125L Off-Road
TTR125LPC 2002 125 TTR125L (Cal) Off-Road
TTR125LR 2003 125 TTR125L Off-Road
TTR125LS 2004 125 TT-R125L Off-Road
TTR125LT 2005 125 TT-R125L Off-Road
TTR125LWM 2000 125 TTR125LW Off-Road
TTR125LWN 2001 125 TTR125LW Off-Road
TTR125M 2000 125 TT-R125 Off-Road
TTR125MC 2000 125 TT-R125 (Cal) Off-Road
TTR125N 2001 125 TTR125 Off-Road
TTR125P 2002 125 TTR125 Off-Road
TTR125R 2003 125 TTR125 Off-Road
TTR125S 2004 125 TT-R125 Off-Road
TTR225L 1999 225 TTR225 Off-Road
TTR225LC 1999 225 TTR225 (Cal) Off-Road
TTR225M 2000 225 TTR225 Off-Road
TTR225MC 2000 225 TTR225 (Cal) Off-Road
TTR225N 2001 225 TTR225 Off-Road
TTR225NC 2001 225 TTR225 (Cal) Off-Road
TTR225P 2002 225 TTR225 Off-Road
TTR225R 2003 225 TTR225 Off-Road
TTR250L 1999 250 TT-R250 Off-Road
TTR250LC 1999 250 TT-R250 (cal) Off-Road
TTR250M 2000 250 TT-R250 Off-Road
TTR250MC 2000 250 TT-R250 (cal) Off-Road
TTR250N 2001 250 TT-R250 Off-Road
TTR250NC 2001 250 TT-R250 (cal) Off-Road
TTR250P 2002 250 TT-R250 Off-Road
TTR250R 2003 250 TT-R250 Off-Road
TTR90ER 2003 90 TTR90E Off-Road
TTR90ES 2004 90 TT-R90E Off-Road
TTR90ET 2005 250 TT-R90E Off-Road
TTR90M 2000 90 TTR90 Off-Road
TTR90MC 2000 90 TTR90 (Cal) Off-Road
TTR90N 2001 90 TTR90 Off-Road
TTR90P 2002 90 TTR90 Off-Road
TTR90R 2003 90 TTR90 Off-Road
TTR90S 2004 90 TT-R90 Off-Road
TW200A 1990 200 TW200 TRAILWAY Dual Purpose
TW200AC 1990 200 TW200 TRAILWAY (Cal) Dual Purpose
TW200B 1991 200 TW200 TRAILWAY Dual Purpose
TW200BC 1991 200 TW200 TRAILWAY (Cal) Dual Purpose
TW200D 1992 200 TW200 TRAILWAY Dual Purpose
TW200DC 1992 200 TW200 TRAILWAY (Cal) Dual Purpose
TW200E 1993 200 TW200 TRAILWAY Dual Purpose
TW200EC 1993 200 TW200 TRAILWAY (Cal) Dual Purpose
TW200EK 1998 200 TW200 TRAILWAY Dual Purpose
TW200EKC 1998 200 TW200 TRAILWAY (Cal) Dual Purpose
TW200F 1994 200 TW200 TRAILWAY Dual Purpose
TW200FC 1994 200 TW200 TRAILWAY (Cal) Dual Purpose
TW200G 1995 200 TW200 TRAILWAY Dual Purpose
TW200GC 1995 200 TW200 TRAILWAY (Cal) Dual Purpose
TW200H 1996 200 TW200 TRAILWAY Dual Purpose
TW200HC 1996 200 TW200 TRAILWAY (Cal) Dual Purpose
TW200J 1997 200 TW200 TRAILWAY Dual Purpose
TW200JC 1997 200 TW200 TRAILWAY (Cal) Dual Purpose
TW200K 1998 200 TW200 TRAILWAY Dual Purpose
TW200L 1999 200 TW200 TRAILWAY Dual Purpose
TW200LC 1999 200 TW200 TRAILWAY (Cal) Dual Purpose
TW200M 2000 200 TW200 TRAILWAY Dual Purpose
TW200MC 2000 200 TW200 TRAILWAY (Cal) Dual Purpose
TW200N 2001 200 TW200 TRAILWAY Dual Purpose
TW200NC 2001 200 TW200 TRAILWAY (Cal) Dual Purpose
TW200P 2002 200 TW200 Trailway Dual Purpose
TW200PC 2002 200 TW200 Trailway (Cal) Dual Purpose
TW200R 2003 200 TW200 Trailway Dual Purpose
TW200T 1987 200 TW200 TRAILWAY Dual Purpose
TW200TC 1987 200 TW200 TRAILWAY (Cal) Dual Purpose
TW200U 1988 200 TW200 TRAILWAY Dual Purpose
TW200UC 1988 200 TW200 TRAILWAY (Cal) Dual Purpose
TW200W 1989 200 TW200 TRAILWAY Dual Purpose
TW200WC 1989 200 TW200 TRAILWAY (Cal) Dual Purpose
TX500 1973 500 TX500 Street
TX500A 1974 500 TX500 Street
TX650 1973 650 TX650 Street
TX650A 1974 650 TX650 Street
TX750 1973 750 TX750 Street
TX750A 1974 750 TX750 Street
TY175B 1975 175 TY175 Trials
TY175C 1976 175 TY175 Trials
TY175D 1977 175 TY175 Trials
TY175E 1978 175 TY175 Trials
TY175F 1979 175 TY175 Trials
TY250A 1974 250 TY250 Trials
TY250C 1976 250 TY250 Trials
TY250D 1977 250 TY250 Trials
TY250E 1978 250 TY250 Trials
TY250RD 1992 250 TY250R Trials
TY250ZE 1993 250 TY250Z Trials
TY250ZF 1994 250 TY250Z Trials
TY350N 1985 350 TY350 TRIALS Trials
TY350S 1986 350 TY350 TRIALS Trials
TY80A 1974 80 TY80 Trials
TY80B 1975 80 TY80 Trials
TZ125G 1980 125 TZ125 Road Racer
TZ250 1973 250 TZ250 Road Racer
TZ250A 1990 250 TZ250 Road Racer
TZ250B 1991 250 TZ250 Road Racer
TZ250C 1976 250 TZ250 Road Racer
TZ250D 1977 250 TZ250 Road Racer
TZ250E 1978 250 TZ250 Road Racer
TZ250F 1979 250 TZ250 Road Racer
TZ250G 1980 250 TZ250 Road Racer
TZ250H 1981 250 TZ250 Road Racer
TZ250H1 1996 250 TZ250 Road Racer
TZ250J 1982 250 TZ250 Road Racer
TZ250M 2000 250 TZ250 Road Racer
TZ250N 2001 250 TZ250 Road Racer
TZ350 1974 350 TZ350 Road Racer
TZ350C 1976 350 TZ350 Road Racer
TZ350D 1977 350 TZ350 Road Racer
TZ350E 1978 350 TZ350 Road Racer
TZ750A 1974 750 TZ750 Road Racer
TZ750D 1977 750 TZ750 Road Racer
TZR250T 1987 250 TZR250 Road Racer
TZR250U 1988 250 TZR250 Road Racer
U7E 1972 70 U7E Scooter
V175TLRY 2000 175 V175TLR Outboard
V200TLRW 1998 200 V200TLR Outboard
V200TLRX 1999 200 V200TLR Outboard
V200TLRY 2000 200 V200TLR Outboard
V225TLRW 1998 225 V225TLR Outboard
V225TLRX 1999 225 V225TLR Outboard
V6EXCELLF 1989 225 V6 Excel L Outboard
V6EXCELLG 1988 225 V6 Excel L Outboard
V6EXCELLH 1987 225 V6 Excel L Outboard
V6SPCLLJ 1986 225 V6 Special Outboard
V6SPCLLK 1985 225 V6 Special Outboard
V6SPCLLN 1984 225 V6 Special Outboard
VK540EA 1997 540 VK540 II Snowmobile
VK540EB 1998 540 VK540 II Snowmobile
VK540EC 1999 540 VK540 II Snowmobile
VK540ED 2000 540 VK540 III Snowmobile
VK540EF 2001 540 VK540 III Snowmobile
VK540EG 2002 540 VK540 III Snowmobile
VK540EH 2003 540 VK540 III Snowmobile
VK540EN 1989 540 VK540 Snowmobile
VK540EP 1990 540 VK540 Snowmobile
VK540ER 1991 540 VK540 Snowmobile
VK540ES 1992 540 VK540 Snowmobile
VK540ET 1993 540 VK540 II Snowmobile
VK540EU 1994 540 VK540 II Snowmobile
VK540EV 1995 540 VK540 II Snowmobile
VK540EW 1996 540 VK540 II Snowmobile
VK540M 1998 540 VK540 Snowmobile
VMAX12P 2002 1200 VXM1200 V-MAX Street
VMX1200A 1990 1200 VXM1200 V-MAX Street
VMX1200AC 1990 1200 VXM1200 V-MAX (Cal) Street
VMX1200B 1991 1200 VXM1200 V-MAX Street
VMX1200BC 1991 1200 VXM1200 V-MAX (Cal) Street
VMX1200D 1992 1200 VXM1200 V-MAX Street
VMX1200DC 1992 1200 VXM1200 V-MAX (Cal) Street
VMX1200EC 1993 1200 VXM1200 V-MAX (Cal) Street
VMX1200FC 1994 1200 VXM1200 V-MAX (Cal) Street
VMX1200GC 1995 1200 VXM1200 V-MAX (Cal) Street
VMX1200HC 1996 1200 VXM1200 V-MAX (Cal) Street
VMX1200JC 1997 1200 VXM1200 V-MAX (Cal) Street
VMX1200KC 1998 1200 VXM1200 V-MAX (Cal) Street
VMX1200LC 1999 1200 VXM1200 V-MAX (Cal) Street
VMX1200MC 2000 1200 VXM1200 V-MAX (Cal) Street
VMX1200N 1985 1200 VXM1200 V-MAX Street
VMX1200NC 1985 1200 VXM1200 V-MAX (Cal) Street
VMX1200NC1 2001 1200 VXM1200 V-MAX (Cal) Street
VMX1200PC 2002 1200 VXM1200 V-MAX (Cal) Street
VMX1200RC 2003 1200 VXM1200 V-MAX (Cal) Street
VMX1200SC 1986 1200 VXM1200 V-MAX (Cal) Street
VMX1200T 1987 1200 V-MAX Street
VMX1200UC 1988 1200 VXM1200 V-MAX (Cal) Street
VMX1200WC 1989 1200 VXM1200 V-MAX (Cal) Street
VMX12E 1993 1200 VXM1200 V-MAX Street
VMX12F 1994 1200 VXM1200 V-MAX Street
VMX12G 1995 1200 VXM1200 V-MAX Street
VMX12H 1996 1200 VXM1200 V-MAX Street
VMX12J 1997 1200 VXM1200 V-MAX Street
VMX12K-B 1998 1200 VXM1200 V-MAX Street
VMX12L 1999 1200 VXM1200 V-MAX Street
VMX12M 2000 1200 VXM1200 V-MAX Street
VMX12N 2001 1200 VXM1200 V-MAX Street
VMX12R 2003 1200 VXM1200 V-MAX Street
VMX12S 1986 1200 VXM1200 V-MAX Street
VMX12S1 2004 1200 V-MAX Street
VMX12SC1 2004 1200 V-MAX (Cal) Street
VMX12T 2005 1200 V-MAX Street
VMX12TC 2005 1200 V-MAX (Cal) Street
VMX12U 1988 1200 V-MAX Street
VMX12W 1989 1200 V-MAX Street
VMX540K 1986 540 VMX540 VMAX Snowmobile
VMX540L 1987 540 VMX540 VMAX Snowmobile
VMX540M 1988 540 VMX540 VMAX Snowmobile
VMX540N 1989 540 VMX540 VMAX Snowmobile
VMX540P 1990 540 VMX540 VMAX Snowmobile
VMX540R 1991 540 VMX540 VMAX Snowmobile
VT480A 1997 480 VT480 Venture XL Snowmobile
VT480B 1998 480 VT480 Venture XL Snowmobile
VT480GTS 1992 480 VT480GT Venture GT Snowmobile
VT480GTT 1993 480 VT480GT Venture GT Snowmobile
VT480R 1991 480 VT480 Venture XL Snowmobile
VT480S 1992 480 VT480 Venture XL Snowmobile
VT480T 1993 480 VT480 Venture XL Snowmobile
VT480TFA 1997 480 VT480TF Venture Snowmobile
VT480TFB 1998 480 VT480TF Venture Snowmobile
VT480TFC 1999 480 VT480TF Venture Snowmobile
VT480TFD 2000 480 VT480TF Venture Snowmobile
VT480TFF 2001 480 VT480TF Venture Snowmobile
VT480TFS 1992 480 VT480TF Venture Snowmobile
VT480TFT 1993 480 VT480TF Venture Snowmobile
VT480TFU 1994 480 VT480TF Venture Snowmobile
VT480TFV 1995 480 VT480TF Venture Snowmobile
VT480TFW 1996 480 VT480TF Venture Snowmobile
VT480TRA 1997 480 VT480TR Venture TR Snowmobile
VT480TRW 1996 480 VT480TR Venture TR Snowmobile
VT480U 1994 480 VT480 Venture XL Snowmobile
VT480V 1995 480 VT480 Venture XL Snowmobile
VT480W 1996 480 VT480 Venture XL Snowmobile
VT500A 1997 500 VT500 Venture 500 Snowmobile
VT500B 1998 500 VT500 Venture 500 Snowmobile
VT500C 1999 500 VT500 Venture 500 Snowmobile
VT500D 2000 500 VT500 Venture 500 Snowmobile
VT500F 2001 500 VT500 Venture 500 Snowmobile
VT500XLC 1999 500 VT500XL Venture 500 XL Snowmobile
VT500XLD 2000 500 VT500XL Venture 500 XL Snowmobile
VT500XLF 2001 500 VT500XL Venture 500 XL Snowmobile
VT600B 1998 600 VT600 Venture 600 Snowmobile
VT600C-R 1999 600 VT600 Venture 600 Snowmobile
VT600D 2000 600 VT600 Venture 600 Snowmobile
VT600F 2001 600 VT600 Venture 600 Snowmobile
VT600G 2002 600 VT600 Venture 600 Snowmobile
VT600H 2003 600 VT600 Venture 600 Snowmobile
VT700B 1998 700 VT600 Venture 700 Snowmobile
VT700C 1999 700 VT600 Venture 700 Snowmobile
VT700D 2000 700 VT600 Venture 700 Snowmobile
VT700F 2001 700 VT600 Venture 700 Snowmobile
VT700G 2002 700 VT600 Venture 700 Snowmobile
VT700H 2003 700 VT600 Venture 700 Snowmobile
VX150TLRA 2002 150 VX150TLR Outboard
VX150TLRB 2003 150 VX150TLR Outboard
VX150TLRY 2000 150 VX150TLR Outboard
VX150TLRZ 2001 150 VX150TLR Outboard
VX200TLRA 2002 200 VX200TLR Outboard
VX200TLRB 2003 200 VX200TLR Outboard
VX200TLRY 2000 200 VX200TLR Outboard
VX200TLRZ 2001 200 VX200TLR Outboard
VX225TLRA 2002 225 VX225TLR Outboard
VX225TLRB 2003 225 VX225TLR Outboard
VX225TLRY 2000 225 VX225TLR Outboard
VX225TLRZ 2001 225 VX225TLR Outboard
VX250TLRA 2002 250 VX250TLR Outboard
VX250TLRB 2003 250 VX250TLR Outboard
VX500C 1999 500 VX500 VMAX Snowmobile
VX500D 2000 500 VX500 VMAX Snowmobile
VX500DXD 2000 500 VX500DX VMAX 500 Deluxe Snowmobile
VX500DXF 2001 500 VX500DX VMAX 500 Deluxe Snowmobile
VX500DXW 1996 500 VX500DX VMAX 500 Deluxe Snowmobile
VX500ERC 1999 500 VX500ER VMAX Deluxe Snowmobile
VX500F 2001 500 VX500 VMAX Snowmobile
VX500SXBC 1999 500 VX500SXB VMAX 500 SX Snowmobile
VX500U 1994 500 VX500 VMAX Snowmobile
VX500V 1995 500 VX500 VMAX Snowmobile
VX500W 1996 500 VX500 VMAX Snowmobile
VX500XTW 1996 500 VX500XT VMAX 500 XT Proaction Plus Snowmobile
VX5XTA 1997 500 VX500XT VMAX 500 XT Proaction Plus Snowmobile
VX5XTB 1998 500 VX500XT VMAX 500 XT Proaction Plus Snowmobile
VX5XTCA 1997 500 VX500XT VMAX 500 XTC Snowmobile
VX5XTRB 1998 500 VX500XT VMAX 500 XTR Snowmobile
VX600C 1999 600 VX600 VMAX 600 Snowmobile
VX600DXD 2000 600 VX600DX VMAX 600 Deluxe Snowmobile
VX600DXF 2001 600 VX600DX VMAX 600 Deluxe Snowmobile
VX600DXW 1996 600 VX600DX VMAX 600 Deluxe Snowmobile
VX600ERC 1999 600 VX600DX VMAX 600 Deluxe Snowmobile
VX600ERG 2002 600 VX600DX VMAX 600 Deluxe Snowmobile
VX600ERH 2003 600 VX600DX VMAX 600 Deluxe Snowmobile
VX600EW 1996 600 VX600EW VMAX 600 LE Snowmobile
VX600STW 1996 600 VX600ST VMAX 600 Mountain Max Snowmobile
VX600SXBC 1999 600 VX600SXB VMAX 600 SX Snowmobile
VX600U 1994 600 VX600 VMAX 600 Snowmobile
VX600V 1995 600 VX600 VMAX 600 Snowmobile
VX600W 1996 600 VX600 VMAX 600 Snowmobile
VX600XTW 1996 600 VX600XT VMAX 500 XT Proaction Plus Snowmobile
VX6SXA 1997 600 VX6SXA VMAX 600 SX Snowmobile
VX6SXB 1998 600 VX6SXA VMAX 600 SX Snowmobile
VX6XTB 1998 600 VX6XTB VMAX 600 XT Snowmobile
VX6XTCDB 1998 600 VX6XTCD VMAX 600 XTC Deluxe Snowmobile
VX6XTCEA 1997 600 VX6XTCE VMAX 600 XTC Snowmobile
VX6XTCRA 1997 600 VX6XTCR VMAX 600 XTC Snowmobile
VX6XTRB 1998 600 VX6XTR VMAX 600 XTR Snowmobile
VX700C 1999 700 VX700 VMAX 700 Snowmobile
VX700D 2000 700 VX700 VMAX 700 Snowmobile
VX700DXD 2000 700 VX700DX VMAX 700 Deluxe Snowmobile
VX700DXF 2001 700 VX700DX VMAX 700 Deluxe Snowmobile
VX700ERC 1999 700 VX700DX VMAX 700 Deluxe Snowmobile
VX700ERG 2002 700 VX700DX VMAX 700 Deluxe Snowmobile
VX700F 2001 700 VX700 VMAX 700 Snowmobile
VX700SXBC 1999 700 VX700SXB VMAX 700 SX Snowmobile
VX750S 1992 750 VX750 VMAX-4 Snowmobile
VX750STU 1994 750 VX750ST VMAX-4 ST Snowmobile
VX750T 1993 750 VX750 VMAX-4 Snowmobile
VX750U 1994 750 VX750 VMAX-4 Snowmobile
VX7SXSB 1998 700 VX700SXS VMAX 700 SXS Snowmobile
VX7XTB 1998 700 VX700XT VMAX 700 XT Snowmobile
VX7XTCB 1998 700 VX700XTC VMAX 700 XTC Snowmobile
VX7XTCDB 1998 700 VX700XTCD VMAX 700 XTC Deluxe Snowmobile
VX7XTCPB 1998 700 VX700XTCP VMAX 700 XTCP Snowmobile
VX800STV 1995 800 VX800ST VMAX-4 ST Snowmobile
VX800STW 1996 800 VX800ST VMAX-4 ST Snowmobile
VX800V 1995 800 VX800 VMAX-4 800 Snowmobile
VX800W 1996 800 VX800 VMAX-4 800 Snowmobile
VX8A 1997 800 VX800 VMAX-4 800 Snowmobile
VZ150TLRA 2002 150 VZ150TLR Outboard
VZ150TLRB 2003 150 VZ150TLR Outboard
VZ150TLRY 2000 150 VZ150TLR Outboard
VZ150TLRZ 2001 150 VZ150TLR Outboard
VZ175TLRA 2002 175 VZ175TLR Outboard
VZ175TLRB 2003 175 VZ175TLR Outboard
VZ175TLRZ 2001 175 VZ175TLR Outboard
VZ200TLRA 2002 200 VZ200TLR Outboard
VZ200TLRB 2003 200 VZ200TLR Outboard
VZ225TLRB 2003 225 VZ225TLR Outboard
VZ250TLRB 2003 250 VZ250TLR Outboard
WB700AU 1996 700 WB700A Wave Blaster PWC
WB700R 1993 700 WB700 Wave Blaster PWC
WB700S 1994 700 WB700 Wave Blaster PWC
WB700T 1995 700 WB700 Wave Blaster PWC
WB760U 1996 760 WB700 Wave Blaster PWC
WJ500D 1990 500 WJ500 Wave Jammer PWC
WR200RD 1992 200 WR200R Off-Road
WR250FN 2001 250 WR250F Off-Road
WR250FP 2002 250 WR250F Off-Road
WR250FR 2003 250 WR250F Off Road
WR250FS 2004 250 WR250F Off-Road
WR250ZB 1991 250 WR250Z Off-Road
WR250ZD 1992 250 WR250Z Off-Road
WR250ZE 1993 250 WR250Z Off-Road
WR250ZF 1994 250 WR250Z Off-Road
WR250ZG 1995 250 WR250Z Off-Road
WR250ZH 1996 250 WR250Z Off-Road
WR250ZJ 1997 250 WR250Z Off-Road
WR250ZJ1 1997 250 WR250Z-J1 Off-Road
WR250ZK 1998 250 WR250Z Off-Road
WR400FK 1998 400 WR400F Off-Road
WR400FL 1999 400 WR400F Off-Road
WR400FM 2000 400 WR400F Off-Road
WR426FN 2001 426 WR426F Off-Road
WR426FP 2002 426 WR426F Off-Road
WR450FR 2003 450 WR450F Off Road
WR450FS 2004 450 WR450F Off-Road
WR500D 1990 500 WR500 WaveRunner PWC
WR500Q 1992 500 WR500 WaveRunner PWC
WR500R 1993 500 WR500 WaveRunner PWC
WR500ZD 1992 500 WR500Z Off-Road
WR500ZE 1993 500 WR500Z Off-Road
WR650D 1990 650 WR650 WaveRunner LX PWC
WR650P 1991 650 WR650 WaveRunner LX PWC
WR650Q 1992 650 WR650 WaveRunner LX PWC
WR650R 1993 650 WR650 WaveRunner LX PWC
WRA650D 1990 650 WRA650 WaveRunner III PWC
WRA650P 1991 650 WRA650 WaveRunner III PWC
WRA650Q 1992 650 WRA650 WaveRunner III PWC
WRA650R 1993 650 WRA650 WaveRunner III PWC
WRA650T 1995 650 WRA650 WaveRunner III PWC
WRA700S 1994 700 WRA700 WaveRunner Pro VXR PWC
WRA700T 1995 700 WRA700 WaveRunner Pro VXR PWC
WRB650P 1991 650 WRB650 WaveRunner VXR PWC
WRB650Q 1992 650 WRB650 WaveRunner VXR PWC
WRB650R 1993 650 WRB650 WaveRunner VXR PWC
WRB650S 1994 650 WRB650 WaveRunner VXR PWC
WRB700R 1993 700 WRB700 WaverRunner Pro VXR PWC
WRB700S 1994 700 WRB700 WaverRunner Pro VXR PWC
WVT1100U 1996 1100 WVT1100 Wave Venture 1100 PWC
WVT1100V 1997 1100 WVT1100 Wave Venture 1100 PWC
WVT700T 1995 700 WVT700 Wave Venture 700 PWC
WVT700U 1996 700 WVT700 Wave Venture 700 PWC
WVT760V 1997 760 WVT760 Wave Venture 760 PWC
XA1200AB 2003 1200 XA1200A XLT1200 PWC
XA1200AZ 2001 1200 XA1200A XLT1200 PWC
XA1200TA 2002 1200 XA1200T XLT1200 PWC
XA1200X 1999 1200 XA1200 Wave Runner XL1200 LTD PWC
XA1200Y 2000 1200 XA1200 Wave Runner XL1200 LTD PWC
XA800TA 2002 800 XA800T XLT800 PWC
XA800Y 2000 800 XA800 WaveRunner XL800 PWC
XA800Z 2001 800 XA800 WaveRunner XL800 PWC
XC125S 1986 125 XC125 Riva 125 Scooter
XC125T 1987 125 XC125 Riva 125 Scooter
XC200T 1987 125 XC200 Riva 200 Scooter
XJ1100J 1982 1100 XJ1100 Street
XJ550H 1981 550 XJ550 Maxim Street
XJ550J 1982 550 XJ550 Maxim Street
XJ550K 1983 550 XJ550 Maxim Street
XJ550RH 1981 550 XJ550R Seca Street
XJ550RJ 1982 550 XJ550R Seca Street
XJ550RK 1983 550 XJ550R Seca Street
XJ600SD 1992 600 XJ600 SECA II Street
XJ600SDC 1992 600 XJ600 SECA II (Cal) Street
XJ600SE 1993 600 XJ600 SECA II Street
XJ600SEC 1993 600 XJ600 SECA II (Cal) Street
XJ600SF 1994 600 XJ600 SECA II Street
XJ600SFC 1994 600 XJ600 SECA II (Cal) Street
XJ600SG 1995 600 XJ600 SECA II Street
XJ600SGC 1995 600 XJ600 SECA II (Cal) Street
XJ600SH 1996 600 XJ600 SECA II Street
XJ600SHC 1996 600 XJ600 SECA II (Cal) Street
XJ600SJ 1997 600 XJ600 SECA II Street
XJ600SJC 1997 600 XJ600 SECA II (Cal) Street
XJ600SK 1998 600 XJ600 SECA II Street
XJ600SKC 1998 600 XJ600 SECA II (Cal) Street
XJ650G 1980 650 XJ650 Maxim Street
XJ650H 1981 650 XJ650 Maxim Street
XJ650J 1982 650 XJ650 Maxim Street
XJ650K 1983 650 XJ650 Maxim Street
XJ650L 1984 650 XJ650 Maxim Street
XJ650LH 1981 650 XJ650L Midnight Street
XJ650LJ 1982 650 XJ650L Seca-Turbo Street
XJ650LK 1983 650 XJ650L Seca-Turbo Street
XJ650RJ 1982 650 XJ650 SECA Street
XJ700N 1985 700 XJ700 MAXIM Street
XJ700NC 1985 700 XJ700 MAXIM (Cal) Street
XJ700S 1986 700 XJ700 MAXIM Street
XJ700SC 1986 700 XJ700 MAXIM (Cal) Street
XJ700XN 1985 700 XJ700 MAXIM X Street
XJ700XNC 1985 700 XJ700 MAXIM X (Cal) Street
XJ700XS 1986 700 XJ700 MAXIM X Street
XJ700XSC 1986 700 XJ700 MAXIM X (Cal) Street
XJ750J 1982 750 XJ750 Maxim Street
XJ750K 1983 750 XJ750 Maxim Street
XJ750MK 1983 750 XJ750M Midnight Maxim Street
XJ750RH 1981 750 XJ750R Seca Street
XJ750RJ 1982 750 XJ750R Seca Street
XJ750RK 1983 750 XJ750R Seca Street
XJ750XS 1986 750 XJ750X MAXIM Street
XJ900RK 1983 900 XJ900R Street
XL1200W 1998 1200 XL1200 WaveRunner PWC
XL540K 1986 540 XL540 XLV Snowmobile
XL540L 1987 540 XL540 XLV Snowmobile
XL540M 1988 540 XL540 XLV Snowmobile
XL540N 1989 540 XL540 XLV Snowmobile
XL540P 1990 540 XL540 XLV Snowmobile
XL700X 1999 700 XL700 WaveRunner PWC
XL700Y 2000 700 XL700 WaveRunner PWC
XL700Z 2001 700 XL700 WaveRunner PWC
XL760W 1998 760 XL760 WaveRunner PWC
XL760X 1999 760 XL760 WaveRunner PWC
XS1 1970 650 XS1 Street
XS1100E 1978 1100 XS1100 Street
XS1100F 1979 1100 XS1100 Street
XS1100G 1980 1100 XS1100 Street
XS1100H 1981 1100 XS1100 Street
XS1100LG 1980 1100 XS1100L Midnight Special Street
XS1100LH 1981 1100 XS1100L Midnight Special Street
XS1100SF 1979 1100 XS1100S Street
XS1100SG 1980 1100 XS1100S Street
XS1100SH 1981 1100 XS1100S Street
XS1B 1971 650 XS1 Street
XS2 1972 650 XS2 Street
XS360-2D 1977 360 XS360 2 Street
XS360C 1976 360 XS360 Street
XS360D 1977 360 XS360 Street
XS400-2E 1978 400 XS400-2 Street
XS400-2F 1979 400 XS400-2 Street
XS400D 1977 400 XS400 Street
XS400E 1978 400 XS400 Street
XS400F 1979 400 XS400 Street
XS400G 1980 400 XS400 Special 2 Street
XS400H 1981 400 XS400 Street
XS400J 1982 400 XS400 Maxim Street
XS400K 1983 400 XS400 Maxim Street
XS400L 1984 400 XS400 Maxim Street
XS400RJ 1982 400 XS400R Seca Street
XS400RK 1983 400 XS400R Seca Street
XS400SG 1980 400 XS400S Heritage Street
XS400SH 1981 400 XS400S Heritage Street
XS400SJ 1982 400 XS400S Heritage Street
XS500B 1975 500 XS500 Street
XS500C 1976 500 XS500 Street
XS500D 1977 500 XS500 Street
XS500E 1978 500 XS500 Street
XS650-2F 1979 650 XS650-2 Street
XS650B 1975 650 XS650 Street
XS650C 1976 650 XS650 Street
XS650D 1977 650 XS650 Street
XS650E 1978 650 XS650 Street
XS650E-006501 1978 650 XS650 Street
XS650F 1979 650 XS650 Street
XS650G 1980 650 XS650 Special II Street
XS650H 1981 650 XS650 Special II Street
XS650LK 1983 650 XS650L Street
XS650SE 1978 650 XS650S Street
XS650SE-114241 1978 650 XS650S Street
XS650SF 1979 650 XS650S Street
XS650SG 1980 650 XS650S Street
XS650SH 1981 650 XS650S Street
XS650SJ 1982 650 XS650S Heritage Street
XS650SK 1983 650 XS650S Heritage Special Street
XS650SL 1984 650 XS650S Heritage Special Street
XS750-2D 1977 750 XS750 Street
XS750D 1977 750 XS750 Street
XS750E 1978 750 XS750 Street
XS750E-227501 1978 750 XS750 Street
XS750F 1979 750 XS750 Street
XS750SE 1978 750 XS750S Street
XS750SE-311211 1978 750 XS750S Street
XS750SF 1979 750 XS750S Street
XS850G 1980 850 XS850 Street
XS850H 1981 850 XS850 Street
XS850LG 1980 850 XS850L Street
XS850LH 1981 850 XS850L Street
XS850SG 1980 850 XS850S Street
XS850SH 1981 850 XS850S Street
XT125J 1982 125 XT125 Dual Purpose
XT125K 1983 125 XT125 Dual Purpose
XT125KC 1983 125 XT125 (Cal) Dual Purpose
XT200J 1982 200 XT200 Dual Purpose
XT200K 1983 200 XT200 Dual Purpose
XT200KC 1983 200 XT200 (Cal) Dual Purpose
XT225D 1992 225 XT225 SEROW Dual Purpose
XT225DC 1992 225 XT225 SEROW (Cal) Dual Purpose
XT225E 1993 225 XT225 SEROW Dual Purpose
XT225EC 1993 225 XT225 SEROW (Cal) Dual Purpose
XT225F 1994 225 XT225 SEROW Dual Purpose
XT225FC 1994 225 XT225 SEROW (Cal) Dual Purpose
XT225G 1995 225 XT225 SEROW Dual Purpose
XT225GC 1995 225 XT225 SEROW (Cal) Dual Purpose
XT225H 1996 225 XT225 SEROW Dual Purpose
XT225HC 1996 225 XT225 SEROW (Cal) Dual Purpose
XT225J 1997 225 XT225 SEROW Dual Purpose
XT225JC 1997 225 XT225 SEROW (Cal) Dual Purpose
XT225K 1998 225 XT225 SEROW Dual Purpose
XT225KC 1998 225 XT225 SEROW (Cal) Dual Purpose
XT225L 1999 225 XT225 SEROW Dual Purpose
XT225LC 1999 225 XT225 SEROW (Cal) Dual Purpose
XT225M 2000 225 XT225 SEROW Dual Purpose
XT225MC 2000 225 XT225 SEROW (Cal) Dual Purpose
XT225N 2001 225 XT225 SEROW Dual Purpose
XT225NC 2001 225 XT225 SEROW (Cal) Dual Purpose
XT225P 2002 225 XT225 SEROW Dual Purpose
XT225PC 2002 225 XT225 SEROW (Cal) Dual Purpose
XT225R 2003 225 XT225 SEROW Dual Purpose
XT225RC 2003 225 XT225 SEROW (Cal) Dual Purpose
XT225S 2004 225 XT225 SEROW Dual Purpose
XT225SC 2004 225 XT225 SEROW (Cal) Dual Purpose
XT225T 2005 225 XT225 SEROW Dual Purpose
XT225TC 2005 225 XT225 SEROW (Cal) Dual Purpose
XT250G 1980 250 XT250 Dual Purpose
XT250H 1981 250 XT250 Dual Purpose
XT250J 1982 250 XT250 Dual Purpose
XT250K 1983 250 XT250 Dual Purpose
XT250KC 1983 250 XT250 (Cal) Dual Purpose
XT250L 1984 250 XT250 Dual Purpose
XT250LC 1984 250 XT250 (Cal) Dual Purpose
XT350A 1990 350 XT350 Dual Purpose
XT350AC 1990 350 XT350 (Cal) Dual Purpose
XT350B 1991 350 XT350 Dual Purpose
XT350BC 1991 350 XT350 (Cal) Dual Purpose
XT350D 1992 350 XT350 Dual Purpose
XT350DC 1992 350 XT350 (Cal) Dual Purpose
XT350E 1993 350 XT350 Dual Purpose
XT350EC 1993 350 XT350 (Cal) Dual Purpose
XT350F 1994 350 XT350 Dual Purpose
XT350FC 1994 350 XT350 (Cal) Dual Purpose
XT350G 1995 350 XT350 Dual Purpose
XT350GC 1995 350 XT350 (Cal) Dual Purpose
XT350H 1996 350 XT350 Dual Purpose
XT350HC 1996 350 XT350 (Cal) Dual Purpose
XT350J 1997 350 XT350 Dual Purpose
XT350JC 1997 350 XT350 (Cal) Dual Purpose
XT350K 1998 350 XT350 Dual Purpose
XT350KC 1998 350 XT350 (Cal) Dual Purpose
XT350L 1999 350 XT350 Dual Purpose
XT350LC 1999 350 XT350 (Cal) Dual Purpose
XT350M 2000 350 XT350 Dual Purpose
XT350MC 2000 350 XT350 (Cal) Dual Purpose
XT350N 1985 350 XT350 Dual Purpose
XT350NC 1985 350 XT350 (Cal) Dual Purpose
XT350S 1986 350 XT350 Dual Purpose
XT350SC 1986 350 XT350 (Cal) Dual Purpose
XT350T 1987 350 XT350 Dual Purpose
XT350TC 1987 350 XT350 (Cal) Dual Purpose
XT350U 1988 350 XT350 Dual Purpose
XT350UC 1988 350 XT350 (Cal) Dual Purpose
XT350W 1989 350 XT350 Dual Purpose
XT350WC 1989 350 XT350 (Cal) Dual Purpose
XT500C 1976 500 XT500 Dual Purpose
XT500D 1977 500 XT500 Dual Purpose
XT500E 1978 500 XT500 Dual Purpose
XT500E-205001 1978 500 XT500 Dual Purpose
XT500F 1979 500 XT500 Dual Purpose
XT500G 1980 500 XT500 Dual Purpose
XT500H 1981 500 XT500 Dual Purpose
XT550J 1982 500 XT500 Dual Purpose
XT550K 1983 500 XT500 Dual Purpose
XT600A 1990 600 XT600 Dual Purpose
XT600EA 1990 600 XT600 Dual Purpose
XT600EAC 1990 600 XT600 (Cal) Dual Purpose
XT600EB 1991 600 XT600 Dual Purpose
XT600EBC 1991 600 XT600 (Cal) Dual Purpose
XT600ED 1992 600 XT600 Dual Purpose
XT600EDC 1992 600 XT600 (Cal) Dual Purpose
XT600EE 1993 600 XT600 Dual Purpose
XT600EEC 1993 600 XT600 (Cal) Dual Purpose
XT600EF 1994 600 XT600 Dual Purpose
XT600EFC 1994 600 XT600 (Cal) Dual Purpose
XT600EG 1995 600 XT600 Dual Purpose
XT600EGC 1995 600 XT600 (Cal) Dual Purpose
XT600L 1984 600 XT600 Dual Purpose
XT600LC 1984 600 XT600 (Cal) Dual Purpose
XT600N 1985 600 XT600 Dual Purpose
XT600NC 1985 600 XT600 (Cal) Dual Purpose
XT600S 1986 600 XT600 Dual Purpose
XT600SC 1986 600 XT600 (Cal) Dual Purpose
XT600T 1987 600 XT600 Dual Purpose
XT600TC 1987 600 XT600 (Cal) Dual Purpose
XT600U 1988 600 XT600 Dual Purpose
XT600UC 1988 600 XT600 (Cal) Dual Purpose
XT600W 1989 600 XT600 Dual Purpose
XT600WC 1989 600 XT600 (Cal) Dual Purpose
XTZ750A 1990 750 XTZ750 Super Tenere Street
XTZ750B 1991 750 XTZ750 Super Tenere Street
XV1000L 1984 1000 XV1000 VIRAGO 1000 Street
XV1000LC 1984 1000 XV1000 VIRAGO 1000 (Cal) Street
XV1000N 1985 1000 XV1000 VIRAGO 1000 Street
XV1000NC 1985 1000 XV1000 VIRAGO 1000 (Cal) Street
XV1100A 1990 1100 XV1100 VIRAGO 1100 Street
XV1100AC 1990 1100 XV1100 VIRAGO 1100 (Cal) Street
XV1100B 1991 1100 XV1100 VIRAGO 1100 Street
XV1100BC 1991 1100 XV1100 VIRAGO 1100 (Cal) Street
XV1100D 1992 1100 XV1100 VIRAGO 1100 Street
XV1100DC 1992 1100 XV1100 VIRAGO 1100 (Cal) Street
XV1100E 1993 1100 XV1100 VIRAGO 1100 Street
XV1100EC 1993 1100 XV1100 VIRAGO 1100 (Cal) Street
XV1100F 1994 1100 XV1100 VIRAGO 1100 Street
XV1100FC 1994 1100 XV1100 VIRAGO 1100 (Cal) Street
XV1100G 1995 1100 XV1100 VIRAGO 1100 Street
XV1100GC 1995 1100 XV1100 VIRAGO 1100 (Cal) Street
XV1100H 1996 1100 XV1100 VIRAGO 1100 Street
XV1100HC 1996 1100 XV1100 VIRAGO 1100 (Cal) Street
XV1100J 1997 1100 XV1100 VIRAGO 1100 Street
XV1100JC 1997 1100 XV1100 VIRAGO 1100 (Cal) Street
XV1100K 1998 1100 XV1100 VIRAGO 1100 Street
XV1100KC 1998 1100 XV1100 VIRAGO 1100 (Cal) Street
XV1100K-L 1998 1100 XV1100K-L VIRAGO 1100 Street
XV1100L 1999 1100 XV1100 VIRAGO 1100 Street
XV1100LC 1999 1100 XV1100 VIRAGO 1100 (Cal) Street
XV1100S 1986 1100 XV1100 VIRAGO 1100 Street
XV1100SC 1986 1100 XV1100 VIRAGO 1100 (Cal) Street
XV1100SH 1996 1100 XV1100S VIRAGO 1100 SPECIAL Street
XV1100SHC 1996 1100 XV1100S VIRAGO 1100 SPECIAL (Cal) Street
XV1100SJ 1997 1100 XV1100S VIRAGO 1100 SPECIAL Street
XV1100SJC 1997 1100 XV1100S VIRAGO 1100 SPECIAL (Cal) Street
XV1100SK 1998 1100 XV1100S VIRAGO 1100 SPECIAL Street
XV1100SKC 1998 1100 XV1100S VIRAGO 1100 SPECIAL (Cal) Street
XV1100SL 1999 1100 XV1100S VIRAGO 1100 SPECIAL Street
XV1100T 1987 1100 XV1100 VIRAGO 1100 Street
XV1100TC 1987 1100 XV1100 VIRAGO 1100 (Cal) Street
XV1100U 1988 1100 XV1100 VIRAGO 1100 Street
XV1100UC 1988 1100 XV1100 VIRAGO 1100 (Cal) Street
XV1100W 1989 1100 XV1100 VIRAGO 1100 Street
XV1100WC 1989 1100 XV1100 VIRAGO 1100 (Cal) Street
XV1600ALC 1999 1600 XV1600A ROAD STAR (Cal) Cruiser
XV1600ALER 2003 1600 XV1600ALE Road Star Limited Edition Cruiser
XV1600AMC 2000 1600 XV1600A ROAD STAR (Cal) Cruiser
XV1600AN 2001 1600 XV1600A ROAD STAR Cruiser
XV1600ANC 2001 1600 XV1600A ROAD STAR (Cal) Cruiser
XV1600APC 2002 1600 XV1600A ROAD STAR (Cal) Cruiser
XV1600ASMC 2000 1600 XV1600AL ROAD STAR MM LIMITED (Cal) Cruiser
XV1600ASNC 2001 1600 XV1600AS ROAD STAR MIDNIGHT STAR (Cal) Cruiser
XV1600ASPC 2002 1600 XV1600AS ROAD STAR MIDNIGHT STAR (Cal) Cruiser
XV1600ATL 1999 1600 XV1600AT ROAD STAR SILVERADO Cruiser
XV1600ATLC 1999 1600 XV1600AT ROAD STAR SILVERADO (Cal) Cruiser
XV1600ATM 2000 1600 XV1600AT ROAD STAR SILVERADO Cruiser
XV1600ATMC 2000 1600 XV1600AT ROAD STAR SILVERADO (Cal) Cruiser
XV1600ATN 2001 1600 XV1600AT ROAD STAR SILVERADO Cruiser
XV1600ATNC 2001 1600 XV1600AT ROAD STAR SILVERADO (Cal) Cruiser
XV1600ATP 2002 1600 XV1600AT ROAD STAR SILVERADO Cruiser
XV1600ATPC 2002 1600 XV1600AT ROAD STAR SILVERADO (Cal) Cruiser
XV16AL-B 1999 1600 XV1600A ROAD STAR Cruiser
XV16AM-B 2000 1600 XV1600A ROAD STAR Cruiser
XV16AP 2002 1600 XV1600A ROAD STAR Cruiser
XV16AR 2003 1600 XV1600A ROAD STAR Cruiser
XV16ASM 2000 1600 XV1600AL ROAD STAR MM LIMITED Cruiser
XV16ASN 2001 1600 XV1600AL ROAD STAR Midnight Star Cruiser
XV16ASP 2002 1600 XV1600AL ROAD STAR Midnight Star Cruiser
XV16ASR 2003 1600 XV1600AL ROAD STAR Midnight Star Cruiser
XV16ATLER 2003 1600 XV1600ALE Road Star Silverado Limited Edition Cruiser
XV16ATL-GR 1999 1600 XV16ATL-GR Road Star Cruiser
XV16ATM-B 2000 1600 XV1600AT ROAD STAR SILVERADO Cruiser
XV16ATP 2002 1600 XV1600AT ROAD STAR SILVERADO Cruiser
XV16ATR 2003 1600 XV1600AT ROAD STAR SILVERADO Cruiser
XV1700PCP 2002 1700 XV1700PC Road Star Warrior Cruiser
XV17PCR 2003 1700 XV1700PC Road Star Warrior Cruiser
XV17PCR(SP) 2003 1700 XV1700PC Road Star Warrior Special Cruiser
XV250A 1990 250 XV250 ROUTE 66 Street
XV250AC 1990 250 XV250 ROUTE 66 (Cal) Street
XV250F 1994 250 VIRAGO 250 Street
XV250G 1995 250 VIRAGO 250 Street
XV250GC 1995 250 VIRAGO 250 (Cal) Street
XV250H 1996 250 VIRAGO 250 Street
XV250HC 1996 250 VIRAGO 250 (Cal) Street
XV250J 1997 250 VIRAGO 250 Street
XV250JC 1997 250 VIRAGO 250 (Cal) Street
XV250K 1998 250 VIRAGO 250 Street
XV250KC 1998 250 VIRAGO 250 (Cal) Street
XV250L 1999 250 VIRAGO 250 Street
XV250LC 1999 250 VIRAGO 250 (Cal) Street
XV250P 2002 250 VIRAGO 250 Street
XV250PC 2002 250 VIRAGO 250 (Cal) Street
XV250R 2003 250 VIRAGO 250 Street
XV250SG 1995 250 XV250S Virago Street
XV250SH 1996 250 XV250S Virago Street
XV250U 1988 250 XV250 ROUTE 66 Street
XV250UC 1988 250 XV250 ROUTE 66 (Cal) Street
XV250W 1989 250 XV250 ROUTE 66 Street
XV250WC 1989 250 XV250 ROUTE 66 (Cal) Street
XV500K 1983 500 XV500 Virago Street
XV500L 1984 500 XV500 Virago Street
XV535A 1990 535 VIRAGO 535 Street
XV535AC 1990 535 VIRAGO 535 (Cal) Street
XV535E 1993 535 VIRAGO 535 Street
XV535EC 1993 535 VIRAGO 535 (Cal) Street
XV535F 1994 535 VIRAGO 535 Street
XV535FC 1994 535 VIRAGO 535 (Cal) Street
XV535G 1995 535 VIRAGO 535 Street
XV535GC 1995 535 VIRAGO 535 (Cal) Street
XV535H 1996 535 VIRAGO 535 Street
XV535HC 1996 535 VIRAGO 535 (Cal) Street
XV535J 1997 535 VIRAGO 535 Street
XV535JC 1997 535 VIRAGO 535 (Cal) Street
XV535K 1998 535 VIRAGO 535 Street
XV535KC 1998 535 VIRAGO 535 (Cal) Street
XV535L 1999 535 VIRAGO 535 Street
XV535LC 1999 535 VIRAGO 535 (Cal) Street
XV535SF 1994 535 XV535S VIRAGO 535 Street
XV535SFC 1994 535 XV535S VIRAGO 535 (Cal) Street
XV535SG 1995 535 XV535S VIRAGO 535 Street
XV535SGC 1995 535 XV535S VIRAGO 535 (Cal) Street
XV535SH 1996 535 XV535S VIRAGO 535 Street
XV535SHC 1996 535 XV535S VIRAGO 535 (Cal) Street
XV535SJ 1997 535 XV535S VIRAGO 535 Street
XV535SJC 1997 535 XV535S VIRAGO 535 (Cal) Street
XV535SK 1998 535 XV535S VIRAGO 535 Street
XV535T 1987 535 VIRAGO 535 Street
XV535TC 1987 535 VIRAGO 535 (Cal) Street
XV535U 1988 535 VIRAGO 535 Street
XV535UC 1988 535 XV535 VIRAGO 535 (Cal) Street
XV535W 1989 535 VIRAGO 535 Street
XV700CS 1986 700 XV700C VIRAGO 700 Street
XV700CSC 1986 700 XV700C VIRAGO 700 (Cal) Street
XV700CT 1987 700 XV700C VIRAGO 700 Street
XV700CTC 1987 700 XV700C VIRAGO 700 (Cal) Street
XV700L 1984 700 XV700 VIRAGO 700 Street
XV700LC 1984 700 XV700 VIRAGO 700 (Cal) Street
XV700N 1985 700 XV700 VIRAGO 700 Street
XV700NC 1985 700 XV700 VIRAGO 700 (Cal) Street
XV700SS 1986 700 XV700S VIRAGO 700 Street
XV700SSC 1986 700 XV700S VIRAGO 700 (Cal) Street
XV750A 1990 750 XV750 VIRAGO 750 Street
XV750AC 1990 750 XV750 VIRAGO 750 (Cal) Street
XV750B 1991 750 XV750 VIRAGO 750 Street
XV750BC 1991 750 XV750 VIRAGO 750 (Cal) Street
XV750D 1992 750 XV750 VIRAGO 750 Street
XV750DC 1992 750 XV750 VIRAGO 750 (Cal) Street
XV750E 1993 750 XV750 VIRAGO 750 Street
XV750EC 1993 750 XV750 VIRAGO 750 (Cal) Street
XV750F 1994 750 XV750 VIRAGO 750 Street
XV750FC 1994 750 XV750 VIRAGO 750 (Cal) Street
XV750G 1995 750 XV750 VIRAGO 750 Street
XV750GC 1995 750 XV750 VIRAGO 750 (Cal) Street
XV750H 1981 750 XV750 VIRAGO 750 Street
XV750H1 1996 750 XV750 VIRAGO 750 Street
XV750HC1 1996 750 XV750 VIRAGO 750 (Cal) Street
XV750J 1982 750 XV750 VIRAGO 750 Street
XV750J-B 1997 750 XV750 VIRAGO 750 Street
XV750JC1 1997 750 XV750 VIRAGO 750 (Cal) Street
XV750K 1983 750 XV750 VIRAGO 750 Street
XV750K-R 1998 750 XV750 VIRAGO 750 Street
XV750MK 1983 750 XV750M Midnight Virago 750 Street
XV750S 1986 750 XV750 VIRAGO 750 Street
XV750T 1987 750 XV750 VIRAGO 750 Street
XV750U 1988 750 XV750 VIRAGO 750 Street
XV750UC 1988 750 XV750 VIRAGO 750 (Cal) Street
XV750W 1989 750 XV750 VIRAGO 750 Street
XV750WC 1989 750 XV750 VIRAGO 750 (Cal) Street
XV920J 1982 920 XV920 Street
XV920K 1983 920 XV920 Street
XV920MK 1983 920 XV920M Midnight Virago Street
XV920RH 1981 920 XV920R Virago Street
XV920RJ 1982 920 XV920R Virago Street
XVS1100AMC 2000 1100 XVS1100A V STAR 1100 CLASSIC (Cal) Cruiser
XVS1100AN 2001 1100 XVS1100A V STAR 1100 CLASSIC Cruiser
XVS1100ANC 2001 1100 XVS1100A V STAR 1100 CLASSIC (Cal) Cruiser
XVS1100APC 2002 1100 XVS1100A V STAR 1100 CLASSIC (Cal) Cruiser
XVS1100LC 1999 1100 XVS1100 V STAR 1100 (Cal) Cruiser
XVS1100MC 2000 1100 XVS1100 V STAR 1100 CUSTOM (Cal) Cruiser
XVS1100N 2001 1100 XVS1100 V STAR 1100 CUSTOM Cruiser
XVS1100NC 2001 1100 XVS1100 V STAR 1100 CUSTOM (Cal) Cruiser
XVS1100PC 2002 1100 XVS1100 V STAR 1100 CUSTOM (Cal) Cruiser
XVS11AM-B 2000 1100 XVS1100A V STAR 1100 CLASSIC Cruiser
XVS11AP 2002 1100 XVS1100A V STAR 1100 CLASSIC Cruiser
XVS11AR 2003 1100 XVS1100A V STAR 1100 CLASSIC Cruiser
XVS11L 1999 1100 XVS1100A V STAR 1100 CLASSIC Cruiser
XVS11M-B 2000 1100 XVS1100A V STAR 1100 CLASSIC Cruiser
XVS11P 2002 1100 XVS1100A V STAR 1100 CLASSIC Cruiser
XVS11R 2003 1100 XVS1100A V STAR 1100 CLASSIC Cruiser
XVS650AKC 1998 650 XVS650A V STAR CLASSIC (Cal) Cruiser
XVS650ALC 1999 650 XVS650A V STAR CLASSIC (Cal) Cruiser
XVS650AMC 2000 650 XVS650A V STAR CLASSIC (Cal) Cruiser
XVS650AN 2001 650 XVS650A V STAR CLASSIC Cruiser
XVS650ANC 2001 650 XVS650A V STAR CLASSIC (Cal) Cruiser
XVS650AP 2002 650 XVS650A V STAR CLASSIC Cruiser
XVS650APC 2002 650 XVS650A V STAR CLASSIC (Cal) Cruiser
XVS650AR 2003 650 XVS650A V STAR CLASSIC Cruiser
XVS650ATR 2003 650 XVS650AT V STAR SILVERALDO Cruiser
XVS650KC 1998 650 XVS650 V STAR CUSTOM (Cal) Cruiser
XVS650LC 1999 650 XVS650 V STAR CUSTOM (Cal) Cruiser
XVS650MC 2000 650 XVS650 V STAR CUSTOM (Cal) Cruiser
XVS650N 2001 650 XVS650 V STAR CUSTOM Cruiser
XVS650NC 2001 650 XVS650 V STAR CUSTOM (Cal) Cruiser
XVS650PC 2002 650 V STAR CUSTOM (Cal) Cruiser
XVS65AK-B 1998 650 XVS650A V STAR CLASSIC Cruiser
XVS65AL-B 1999 650 XVS650A V STAR CLASSIC Cruiser
XVS65AM-B 2000 650 XVS650A V STAR CLASSIC Cruiser
XVS65AP 2002 650 XVS650A V STAR CLASSIC Cruiser
XVS65K-B 1998 650 XVS650 V STAR CLASSIC Cruiser
XVS65K-G 1998 650 XVS65K-G V STAR Cruiser
XVS65L-B 1999 650 XVS650 V STAR CUSTOM Cruiser
XVS65M-B 2000 650 XVS650 V STAR CUSTOM Cruiser
XVS65P 2002 650 V STAR CUSTOM Cruiser
XVS65R 2003 650 V STAR CUSTOM Cruiser
XVZ1200DL 1984 1200 XVZ1200D VENTURE ROYALE Touring
XVZ1200DLC 1984 1200 XVZ1200D VENTURE ROYALE (Cal) Touring
XVZ1200DN 1985 1200 XVZ1200D VENTURE ROYALE Touring
XVZ1200L 1984 1200 XVZ1200 VENTURE Touring
XVZ1200LC 1984 1200 XVZ1200 VENTURE (Cal) Touring
XVZ12TDK 1983 1200 XVZ12TD Venture Royale Touring
XVZ12TK 1983 1200 XVZ12T Venture Touring
XVZ1300AHC 1996 1300 XVZ1300A ROYAL STAR (Cal) Touring
XVZ1300AJC 1997 1300 XVZ1300A ROYAL STAR (Cal) Touring
XVZ1300AK 1998 1300 XVZ1300A ROYAL STAR STANDARD Touring
XVZ1300AKC 1998 1300 XVZ1300A ROYAL STAR STANDARD (Cal) Touring
XVZ1300AL 1999 1300 XVZ1300A ROYAL STAR BOULEVARD Touring
XVZ1300ALC 1999 1300 XVZ1300A ROYAL STAR BOULEVARD (Cal) Touring
XVZ1300AM 2000 1300 XVZ1300A ROYAL STAR BOULEVARD Touring
XVZ1300AMC 2000 1300 XVZ1300A ROYAL STAR BOULEVARD (Cal) Touring
XVZ1300AN 2001 1300 XVZ1300A ROYAL STAR BOULEVARD Touring
XVZ1300ANC 2001 1300 XVZ1300A ROYAL STAR BOULEVARD (Cal) Touring
XVZ1300ATH 1996 1300 XVZ1300AT ROYAL STAR TOUR CLASSIC Touring
XVZ1300ATHC 1996 1300 XVZ1300AT ROYAL STAR TOUR CLASSIC (Cal) Touring
XVZ1300ATJ 1997 1300 XVZ1300AT ROYAL STAR TOUR CLASSIC Touring
XVZ1300ATJC 1997 1300 XVZ1300AT ROYAL STAR TOUR CLASSIC (Cal) Touring
XVZ1300ATKC 1998 1300 XVZ1300AT ROYAL STAR TOUR CLASSIC (Cal) Touring
XVZ1300ATLC 1999 1300 XVZ1300AT ROYAL STAR TOUR CLASSIC (Cal) Touring
XVZ1300ATM 2000 1300 XVZ1300AT ROYAL STAR TOUR CLASSIC Touring
XVZ1300ATMC 2000 1300 XVZ1300AT ROYAL STAR TOUR CLASSIC (Cal) Touring
XVZ1300DAC 1990 1300 XVZ1300D VENTURE ROYALE (Cal) Touring
XVZ1300DBC 1991 1300 XVZ1300D VENTURE ROYALE (Cal) Touring
XVZ1300DDC 1992 1300 XVZ1300D VENTURE ROYALE (Cal) Touring
XVZ1300DE 1993 1300 XVZ1300D VENTURE ROYALE Touring
XVZ1300DEC 1993 1300 XVZ1300D VENTURE ROYALE (Cal) Touring
XVZ1300DSC 1986 1300 XVZ1300D VENTURE ROYALE (Cal) Touring
XVZ1300DTC 1987 1300 XVZ1300D VENTURE ROYALE (Cal) Touring
XVZ1300DUC 1988 1300 XVZ1300D VENTURE ROYALE (Cal) Touring
XVZ1300DWC 1989 1300 XVZ1300D VENTURE ROYALE (Cal) Touring
XVZ1300LTJC 1997 1300 XVZ1300LT ROYAL STAR TOUR DELUXE (Cal) Touring
XVZ1300LTKC 1998 1300 XVZ1300LT ROYAL STAR TOUR DELUXE (Cal) Touring
XVZ1300LTLC 1999 1300 XVZ1300LT ROYAL STAR TOUR DELUXE (Cal) Touring
XVZ1300LTM 2000 1300 XVZ1300LT ROYAL STAR TOUR DELUXE Touring
XVZ1300LTMC 2000 1300 XVZ1300LT ROYAL STAR TOUR DELUXE (Cal) Touring
XVZ1300LTNC 2001 1300 XVZ1300LT ROYAL STAR TOUR DELUXE (Cal) Touring
XVZ1300TC 1987 1300 XVZ1300 VENTURE (Cal) Touring
XVZ1300TFLC 1999 1300 XVZ1300TF ROYAL STAR VENTURE (Cal) Touring
XVZ1300TFMC 2000 1300 XVZ1300TF ROYAL STAR VENTURE (Cal) Touring
XVZ1300TFNC 2001 1300 XVZ1300TF VENTURE (Cal) Touring
XVZ1300TFSMC 2000 1300 XVZ1300TFS ROYAL STAR VENTURE MM (Cal) Touring
XVZ1300U 1988 1300 XVZ1300 VENTURE Touring
XVZ1300UC 1988 1300 XVZ1300 VENTURE (Cal) Touring
XVZ13AH 1996 1300 XVZ1300A ROYAL STAR Touring
XVZ13AJ 1997 1300 XVZ1300A ROYAL STAR Touring
XVZ13AK-BR 1998 1300 XVZ13AK-BR Royal Star Touring
XVZ13AL 1999 1300 XVZ1300A ROYAL STAR Touring
XVZ13AN 2001 1300 XVZ1300A ROYAL STAR Touring
XVZ13ATK-B 1998 1300 XVZ1300AT ROYAL STAR TOUR CLASSIC Touring
XVZ13ATL-B 1999 1300 XVZ1300AT ROYAL STAR TOUR CLASSIC Touring
XVZ13DA 1990 1300 XVZ1300D VENTURE ROYALE Touring
XVZ13DB 1991 1300 XVZ1300D VENTURE ROYALE Touring
XVZ13DD 1992 1300 XVZ1300D VENTURE ROYALE Touring
XVZ13DS 1986 1300 XVZ1300D VENTURE ROYALE Touring
XVZ13DT 1987 1300 XVZ1300D VENTURE ROYALE Touring
XVZ13DU 1988 1300 XVZ1300D VENTURE ROYALE Touring
XVZ13DW 1989 1300 XVZ1300D VENTURE ROYALE Touring
XVZ13LTJ 1997 1300 XVZ1300D VENTURE ROYALE Touring
XVZ13LTK 1998 1300 XVZ1300D VENTURE ROYALE Touring
XVZ13LTL 1999 1300 XVZ1300D VENTURE ROYALE Touring
XVZ13LTN 2001 1300 XVZ1300D VENTURE ROYALE Touring
XVZ13S 1986 1300 XVZ1300 VENTURE Touring
XVZ13T 1987 1300 XVZ1300 VENTURE Touring
XVZ13TFL 1999 1300 XVZ1300TF ROYAL STAR VENTURE Touring
XVZ13TFM 2000 1300 XVZ1300TF ROYAL STAR VENTURE Touring
XVZ13TFN 2001 1300 XVZ1300TF ROYAL STAR VENTURE Touring
XVZ13TFP 2002 1300 XVZ1300TF ROYAL STAR VENTURE Touring
XVZ13TFR 2003 1300 XVZ1300TF ROYAL STAR VENTURE Touring
XVZ13TFSM 2000 1300 XVZ1300TFS ROYAL STAR VENTURE MM Touring
XVZ13TFSP 2002 1300 XVZ1300TFS ROYAL STAR VENTURE MM Touring
XVZ13TFSR 2003 1300 XVZ1300TFS ROYAL STAR VENTURE MM Touring
XZ550RJ 1982 550 XZ550R Vision Street
XZ550RK 1983 550 XZ550R Vision Street
YA6 1966 125 YA6 Santa Barbara 125 Street
YAS1C 1968 125 YAS1C 125 Twin Scrambler Street
YCS1 1967 180 YCS1 Bonanza 180 Street
YCS1C 1968 180 YCS1C 180 Street Scambler Street
YDS5 1967 250 YDS5 Catalina Electra 250 Street
YF60S 1986 60 YF60 4-ZINGER ATV
YFA1A 1990 125 YFA1 BREEZE ATV
YFA1B 1991 125 YFA1 BREEZE ATV
YFA1D 1992 125 YFA1 BREEZE ATV
YFA1E 1993 125 YFA1 BREEZE ATV
YFA1F 1994 125 YFA1 BREEZE ATV
YFA1G 1995 125 YFA1 BREEZE ATV
YFA1H 1996 125 YFA1 BREEZE ATV
YFA1J 1997 125 YFA1 BREEZE ATV
YFA1K 1998 125 YFA1 BREEZE ATV
YFA1L 1999 125 YFA1 BREEZE ATV
YFA1M 2000 125 YFA1 BREEZE ATV
YFA1MC 2000 125 YFA1 BREEZE (Cal) ATV
YFA1N 2001 125 YFA1 BREEZE ATV
YFA1NC 2001 125 YFA1 BREEZE (Cal) ATV
YFA1P 2002 125 YFA1 BREEZE ATV
YFA1PC 2002 125 YFA1 BREEZE (Cal) ATV
YFA1R 2003 125 YFA1 BREEZE ATV
YFA1RC 2003 125 YFA1 BREEZE (Cal) ATV
YFA1S 2004 125 YFA1 BREEZE ATV
YFA1SC 2004 125 YFA1 BREEZE (Cal) ATV
YFA1W 1989 125 YFA1 BREEZE ATV
YFB250D 1992 250 YFB250 TIMBERWOLF 2WD ATV
YFB250D-MNH 1992 250 YFB250 Maine and New Hampshire ATV
YFB250E 1993 250 YFB250 TIMBERWOLF 2WD ATV
YFB250E-MNH 1993 250 YFB250 Maine and New Hampshire ATV
YFB250F 1994 250 YFB250 TIMBERWOLF 2WD ATV
YFB250FWF 1994 250 YFB250FW TIMBERWOLF 4WD ATV
YFB250FWF-MNH 1994 250 YFB250FW Maine and New Hampshire ATV
YFB250FWG 1995 250 YFB250FW TIMBERWOLF 4WD ATV
YFB250FWG-MNH 1995 250 YFB250FW Maine and New Hampshire ATV
YFB250FWH 1996 250 YFB250FW TIMBERWOLF 4WD ATV
YFB250FWH_MNH 1996 250 YFB250FW Maine and New Hampshire ATV
YFB250FWJ 1997 250 YFB250FW TIMBERWOLF 4WD ATV
YFB250FWJ-MNH 1997 250 YFB250FW Maine and New Hampshire ATV
YFB250FWK 1998 250 YFB250FW TIMBERWOLF 4WD ATV
YFB250FWL 1999 250 YFB250FW TIMBERWOLF 4WD ATV
YFB250FWM 2000 250 YFB250FW TIMBERWOLF 4WD ATV
YFB250G 1995 250 YFB250 TIMBERWOLF 2WD ATV
YFB250H 1996 250 YFB250 TIMBERWOLF 2WD ATV
YFB250H_MNH 1996 250 YFB250 Maine and New Hampshire ATV
YFB250J 1997 250 YFB250 TIMBERWOLF 2WD ATV
YFB250K-GR 1998 250 YFB250K-GR TIMBERWOLF ATV
YFB250UH 1996 250 YFB250 TIMBERWOLF 2WD ATV
YFB250UH_MNH 1996 250 YFB250 Maine and New Hampshire ATV
YFB250UJ 1997 250 YFB250 TIMBERWOLF 2WD ATV
YFB250UJ-MNH 1997 250 YFB250 Maine and New Hampshire ATV
YFB250UK 1998 250 YFB250 TIMBERWOLF 2WD ATV
YFM100A 1990 100 YFM100 CHAMP ATV
YFM100B 1991 100 YFM100 CHAMP ATV
YFM100D 1992 100 YFM100 CHAMP ATV
YFM100T 1987 100 YFM100 CHAMP ATV
YFM100U 1988 100 YFM100 CHAMP ATV
YFM100W 1989 100 YFM100 CHAMP ATV
YFM125GHT 2005 125 YFM125GH GRIZZLY 125 HUNTER ATV
YFM125GT 2005 125 YFM125G GRIZZLY 125 ATV
YFM125S 2004 125 YFM125 GRIZZLY 125 ATV
YFM200DXS 1986 200 YFM200DX MOTO-4 ATV
YFM200DXT 1987 200 YFM200DX MOTO-4 Shaft Reverse ATV
YFM200DXU 1988 200 YFM200DX MOTO-4 Shaft Reverse ATV
YFM200DXW 1989 200 YFM200DX MOTO-4 Shaft Reverse ATV
YFM200N 1985 200 YFM200 MOTO-4 ATV
YFM225S 1986 225 YFM225 MOTO-4 ATV
YFM225T 1987 225 YFM225 ATV
YFM225U 1988 225 YFM225 MOTO-4 Shaft Reverse ATV
YFM250A 1990 250 YFM250 MOTO-4 ATV
YFM250B 1991 250 YFM250 MOTO-4 ATV
YFM250W 1989 250 YFM250 MOTO-4 ATV
YFM250XHN 2001 250 YFM250XH BEAR TRACKER REALTREE HUNTER ATV
YFM250XHP 2002 250 YFM250XH BEAR TRACKER ATV
YFM250XL 1999 250 YFM250X BEAR TRACKER 2WD ATV
YFM250XLC 1999 250 YFM250X BEAR TRACKER 2WD (Cal) ATV
YFM250XM 2000 250 YFM250X BEAR TRACKER 2WD ATV
YFM250XMC 2000 250 YFM250X BEAR TRACKER 2WD (Cal) ATV
YFM25XMGR 2000 250 YFM25XMGR BEAR TRACKER ATV
YFM25XN 2001 250 YFM250X BEAR TRACKER ATV
YFM25XP 2002 250 YFM250X BEAR TRACKER ATV
YFM25XR 2003 250 YFM250X BEAR TRACKER ATV
YFM25XS 2004 250 YFM250X BEAR TRACKER ATV
YFM350ERA 1990 350 YFM350ER MOTO-4 ATV
YFM350ERB 1991 350 YFM350ER MOTO-4 ATV
YFM350ERD 1992 350 YFM350ER MOTO-4 ATV
YFM350ERE 1993 350 YFM350ER MOTO-4 ATV
YFM350ERF 1994 350 YFM350ER MOTO-4 ATV
YFM350ERG 1995 350 YFM350ER MOTO-4 ATV
YFM350ERT 1987 350 YFM350ER MOTO-4 ATV
YFM350ERU 1988 350 YFM350ER MOTO-4 ATV
YFM350ERW 1989 350 YFM350ER MOTO-4 ATV
YFM350FAHS 2004 350 YFM350FAH BRUIN 350 AUTO 4 X 4 HARDWOOD CAMO ATV
YFM350FAS 2004 350 YFM350FA BRUIN 350 AUTO 4X4 ATV
YFM350FHL 1999 350 YFM350FH BIG BEAR 4WD HUNTER ATV
YFM350FHLC 1999 350 YFM350FH BIG BEAR 4WD HUNTER (Cal) ATV
YFM350FSJC 1997 350 YFM350FSJ BIG BEAR ATV
YFM350FSPG 1995 350 YFM350FSP Big Bear ATV
YFM350FSPH 1996 350 YFM350FSP Big Bear ATV
YFM350FWA 1990 350 YFM350FW BIG BEAR 4WD ATV
YFM350FWB 1991 350 YFM350FW BIG BEAR 4WD ATV
YFM350FWBJ 1997 350 YFM350FWB BIG BEAR 4WD ATV
YFM350FWBJ-MNH 1997 350 YFM350FWB Big Bear Maine and New Hampshire ATV
YFM350FWBK 1998 350 YFM350FWB BIG BEAR 4WD ATV
YFM350FWBKC 1998 350 YFM350FWB BIG BEAR 4WD (Cal) ATV
YFM350FWBL 1999 350 YFM350FWB BIG BEAR 4WD ATV
YFM350FWBLC 1999 350 YFM350FWB BIG BEAR 4WD (Cal) ATV
YFM350FWD 1992 350 YFM350FW BIG BEAR 4WD ATV
YFM350FWD-MNH 1992 350 YFM350FW Big Bear Maine and New Hampshire ATV
YFM350FWE 1993 350 YFM350FW BIG BEAR 4WD ATV
YFM350FWE-MNH 1993 350 YFM350FW Big Bear Maine and New Hampshire ATV
YFM350FWF 1994 350 YFM350FW BIG BEAR 4WD ATV
YFM350FWF-MNH 1994 350 YFM350FW Big Bear Maine and New Hampshire ATV
YFM350FWG 1995 350 YFM350FW BIG BEAR 4WD ATV
YFM350FWG-MNH 1995 350 YFM350FW Big Bear Maine and New Hampshire ATV
YFM350FWH 1996 350 YFM350FW BIG BEAR 4WD ATV
YFM350FWH_MNH 1996 350 YFM350FW Big Bear Maine and New Hampshire ATV
YFM350FWJ 1997 350 YFM350FW BIG BEAR 4WD ATV
YFM350FWJ-MNH 1997 350 YFM350FW Big Bear Maine and New Hampshire ATV
YFM350FWT 1987 350 YFM350FW BIG BEAR 4WD ATV
YFM350FWU 1988 350 YFM350FW BIG BEAR 4WD ATV
YFM350FWW 1989 350 YFM350FW BIG BEAR 4WD ATV
YFM350FWX 2001 350 YFM350FW BIG BEAR 4WD ATV
YFM350FXG 1995 350 YFM350FX WOLVERINE 4WD ATV
YFM350FXG-MNH 1995 350 YFM350FX WOLVERINE Maine and New Hampshire ATV
YFM350FXH 1996 350 YFM350FX WOLVERINE 4WD ATV
YFM350FXH_MNH 1996 350 YFM350FX WOLVERINE Maine and New Hampshire ATV
YFM350FXJ 1997 350 YFM350FX WOLVERINE 4WD ATV
YFM350FXJ-MNH 1997 350 YFM350FX WOLVERINE Maine and New Hampshire ATV
YFM350FXK 1998 350 YFM350FX WOLVERINE 4WD ATV
YFM350FXL 1999 350 YFM350FX WOLVERINE 4WD ATV
YFM350FXLC 1999 350 YFM350FX WOLVERINE 4WD (Cal) ATV
YFM350FXM 2000 350 YFM350FX WOLVERINE 4WD ATV
YFM350FXMC 2000 350 YFM350FX WOLVERINE 4WD (Cal) ATV
YFM350FXN 2001 350 YFM350FX WOLVERINE ATV
YFM350FXP 2002 350 YFM350FX WOLVERINE ATV
YFM350FXR 2003 350 YFM350FX WOLVERINE 4X4 ATV
YFM350RT 2005 350 YFM350R RAPTOR 350 ATV
YFM350S 2004 350 YFM350 RAPTOR 350 ATV
YFM350UBL 1999 350 YFM350UB BIG BEAR ATV
YFM350UH 1996 350 YFM350U BIG BEAR 2WD ATV
YFM350UH_MNH 1996 350 YFM350U BIG BEAR 2X4 MAINE & NEW HAMPSHIRE ATV
YFM350UJ 1997 350 YFM350U BIG BEAR 2WD ATV
YFM350UJ-MNH 1997 350 YFM350U MAINE & NEW HAMPSHIRE ATV
YFM350UK 1998 350 YFM350U BIG BEAR 2WD ATV
YFM350XA 1990 350 YFM350X WARRIOR ATV
YFM350XB 1991 350 YFM350X WARRIOR ATV
YFM350XB_MNH 1991 350 YFM350X Maine and New Hampshire ATV
YFM350XD 1992 350 YFM350X WARRIOR ATV
YFM350XD_MNH 1992 350 YFM350X Maine and New Hampshire ATV
YFM350XE 1993 350 YFM350X WARRIOR ATV
YFM350XE_MNH 1993 350 YFM350X Maine and New Hampshire ATV
YFM350XF 1994 350 YFM350X WARRIOR ATV
YFM350XF_MNH 1994 350 YFM350X Maine and New Hampshire ATV
YFM350XG 1995 350 YFM350X WARRIOR ATV
YFM350XG_MNH 1995 350 YFM350X Maine and New Hampshire ATV
YFM350XH 1996 350 YFM350X WARRIOR 4WD ATV
YFM350XH_MNH 1996 350 YFM350X Maine and New Hampshire ATV
YFM350XJL 1997 350 YFM350X WARRIOR ATV
YFM350XJ-MNH 1997 350 YFM350X Maine and New Hampshire ATV
YFM350XK 1998 350 YFM350X WARRIOR ATV
YFM350XKC 1998 350 YFM350X WARRIOR (Cal) ATV
YFM350XKR 1998 350 YFM350XKR WARRIOR ATV
YFM350XL 1999 350 YFM350X WARRIOR ATV
YFM350XLC 1999 350 YFM350X WARRIOR (Cal) ATV
YFM350XM 2000 350 YFM350X WARRIOR ATV
YFM350XMC 2000 350 YFM350X WARRIOR (Cal) ATV
YFM350XML 2000 350 YFM350XML WARRIOR ATV
YFM350XN 2001 350 YFM350X WARRIOR ATV
YFM350XNC 2001 350 YFM350X WARRIOR (Cal) ATV
YFM350XP 2002 350 YFM350X WARRIOR ATV
YFM350XPC 2002 350 YFM350X WARRIOR (Cal) ATV
YFM350XR 2003 350 YFM350X WARRIOR ATV
YFM350XRC 2003 350 YFM350X WARRIOR (Cal) ATV
YFM350XT 1987 350 YFM350X WARRIOR ATV
YFM350XU 1988 350 YFM350X WARRIOR ATV
YFM350XW 1989 350 YFM350X WARRIOR ATV
YFM35AS 2004 350 YFM35A BRUIN 350 AUTO 2WD ATV
YFM35BAT 2005 350 YFM35BA BRUIN 2WD ATV
YFM35FAHS 2004 350 YFM35FAH BRUIN 4WD HUNTER ATV
YFM35FAHT 2005 350 YFM35FAH BRUIN 4WD HUNTER ATV
YFM35FAS 2004 350 YFM35FA BRUIN 350 4X4 ATV
YFM35FAT 2005 350 YFM35FA BRUIN 350 4X4 ATV
YFM35FJGR 1997 350 YFM35F Big Bear 4X4 Green ATV
YFM35FKGR 1998 350 YFM35F Big Bear 4X4 Green ATV
YFM35FSKGR 1998 350 YFM35FS Big Bear Special Edition (10-Speed) Green ATV
YFM35FSL 1999 350 YFM35FS Big Bear Special Edition (10-Speed) ATV
YFM35FSMGR 2000 350 YFM35FS Big Bear Special Edition Green ATV
YFM35FXG 1995 350 YFM35FX Wolverine ATV
YFM35FXH 1996 350 YFM35FX Wolverine ATV
YFM35FXJ 1997 350 YFM35FX Wolverine ATV
YFM35FXKGR 1998 350 YFM35FX Wolverine Green ATV
YFM35FXL 1999 350 YFM35FX Wolverine ATV
YFM35FXML 2000 350 YFM35FXML Wolverine ATV
YFM35FXP 2002 350 YFM35FX Wolverine ATV
YFM35FXS 2004 350 YFM35FX WOLVERINE ATV
YFM35FXT 2005 350 YFM35FX WOLVERINE ATV
YFM35XS 2004 350 YFM35X WARRIOR ATV
YFM35XSC 2004 350 YFM35X WARRIOR (Cal) ATV
YFM400AM 2000 400 YFM400A KODIAK 2WD ATV
YFM400AMC 2000 400 YFM400A KODIAK 2WD (Cal) ATV
YFM400AN 2001 400 YFM400A KODIAK 2WD ATV
YFM400AR 2003 400 YFM400A KODIAK 400 ATV
YFM400FAHM 2000 400 YFM400FAH KODIAK 4WD HUNTER Real Tree X-Tra ATV
YFM400FAHMC 2000 400 YFM400FAH KODIAK 4WD HUNTER Real Tree X-Tra (Cal) ATV
YFM400FAHN 2001 400 YFM400FAH KODIAK 4WD HUNTER Real Tree X-Tra ATV
YFM400FAHR 2003 400 YFM400FAH KODIAK 400 4X4 CAMO HARDWOOD ATV
YFM400FAM 2000 400 YFM400FA KODIAK 4WD Automatic ATV
YFM400FAMC 2000 400 YFM400FA KODIAK 4WD Automatic (Cal) ATV
YFM400FAN 2001 400 YFM400FA KODIAK 4WD ATV
YFM400FAP 2002 400 YFM400FA KODIAK 4WD ATV
YFM400FAR 2003 400 YFM400FA KODIAK 400 4WD ATV
YFM400FHAP 2002 400 YFM400FHA KODIAK 4WD HUNTER ATV
YFM400FHP 2002 400 YFM400FH BIG BEAR 4WD REALTREE XTRA ATV
YFM400FJ 1997 400 YFM400F KODIAK ATV
YFM400FKGR 1998 400 YFM400F KODIAK Green ATV
YFM400FM 2000 400 YFM400F KODIAK ATV
YFM400FP 2002 400 YFM400F BIG BEAR 4WD ATV
YFM400FPM 2000 400 YFM400FP Big Bear Professional 10-Speed 4X4 ATV
YFM400FWBL 1999 400 YFM400FW KODIAK 4WD ATV
YFM400FWBLC 1999 400 YFM400FW KODIAK 4WD (Cal) ATV
YFM400FWE 1993 400 YFM400FW KODIAK 4WD ATV
YFM400FWE-MNH 1993 400 YFM400FW Maine and New Hampshire ATV
YFM400FWF 1994 400 YFM400FW KODIAK 4WD ATV
YFM400FWF-MNH 1994 400 YFM400FW Maine and New Hampshire ATV
YFM400FWG 1995 400 YFM400FW KODIAK 4WD ATV
YFM400FWG-MNH 1995 400 YFM400FW Maine and New Hampshire ATV
YFM400FWH 1996 400 YFM400FW KODIAK 4WD ATV
YFM400FWH_MNH 1996 400 YFM400FW Maine and New Hampshire ATV
YFM400FWJ 1997 400 YFM400FW KODIAK 4WD ATV
YFM400FWJ-MNH 1997 400 YFM400FW Maine and New Hampshire ATV
YFM400FWK 1998 400 YFM400FW KODIAK 4WD ATV
YFM400FWL 1999 400 YFM400FW KODIAK 4WD ATV
YFM400FWR 2003 400 YFM400FW BIG BEAR 4WD ATV
YFM400HN 2001 400 YFM400H BIG BEAR 2WD REALTREE HUNTER ATV
YFM400HP 2002 400 YFM400H BIG BEAR 2WD HUNTER ATV
YFM400NM 2000 400 YFM400N BIG BEAR 2WD ATV
YFM400NMC 2000 400 YFM400N BIG BEAR 2WD (Cal) ATV
YFM400NR 2003 400 YFM400N BIG BEAR 400 2WD ATV
YFM400P 2002 400 YFM400 BIG BEAR 2WD ATV
YFM40FML 2000 400 YFM40FML Big Bear 400 ATV
YFM40FN 2001 400 YFM40F Big Bear 400 5-speed ATV
YFM40FP 2002 400 YFM40F Big Bear 400 5-speed ATV
YFM40FPP 2002 400 YFM40FP Big Bear Professional 10-Speed 4X4 ATV
YFM40FPR 2003 400 YFM40FP Big Bear Professional 10-Speed 4X4 ATV
YFM40FS 2004 400 YFM40F BIG BEAR 400 4X4 ATV
YFM40FT 2005 400 YFM40F BIG BEAR 400 4X4 ATV
YFM40N 2001 400 YFM400 BIG BEAR 2WD ATV
YFM40S 2004 400 YFM40 BIG BEAR 400 2WD ATV
YFM450FAHR 2003 450 YFM450FAH KODIAK 450 REAL TREE ATV
YFM450FAR 2003 450 YFM450FA KODIAK 450 4WD ATV
YFM45FAHS 2004 450 YFM45FAH KODIAK 450 AUTO 4X4 HARDWOODS ATV
YFM45FAR 2003 450 YFM45FA Kodiak 450 4WD Ultramatic ATV
YFM45FARLE 2003 450 YFM45FA Kodiak 450 Ultramatic LE ATV
YFM45FAS 2004 450 YFM45FA KODIAK 450 AUTO 4X4 ATV
YFM4AM 2000 400 YFM4A KODIAK 400 2WD ATV
YFM4AS 2004 400 YFM4A KODIAK 400 2WD ATV
YFM4FAHS 2004 400 YFM4FAH KODIAK 400 AUTO 4X4 HARDWOODS ATV
YFM4FAMGR 2000 400 YFM4FA Kodiak Uitramatic 4X4 Green ATV
YFM4FAN 2001 400 YFM4FA Kodiak Uitramatic 4X4 ATV
YFM4FAP 2002 400 YFM4FA Kodiak Uitramatic 4X4 ATV
YFM4FAR 2003 400 YFM4FA Kodiak Uitramatic 4X4 ATV
YFM4FAS 2004 400 YFM4FA Kodiak Uitramatic 4X4 ATV
YFM4FASN 2001 400 YFM4FAS Kodiak Special Edition Ultramatic 4X4 ATV
YFM4FASP 2002 400 YFM4FAS Kodiak Special Edition Ultramatic 4X4 ATV
YFM4FASR 2003 400 YFM4FAS Kodiak Special Edition Ultramatic 4X4 ATV
YFM50RT 2005 50 YFM50R RAPTOR 50 ATV
YFM50S 2004 50 YFM50 RAPTOR 50 ATV
YFM600FHM 2000 600 YFM600FH GRIZZLY, REALTREE ATV
YFM600FHMC 2000 600 YFM600FH GRIZZLY, REALTREE (Cal) ATV
YFM600FHN 2001 600 YFM600FH GRIZZLY REALTREE HUNTER ATV
YFM600FM 2000 600 YFM600F GRIZZLY ATV
YFM600FMC 2000 600 YFM600F GRIZZLY (Cal) ATV
YFM600FME 2000 600 YFM600F GRIZZLY ATV
YFM600FN 2001 600 YFM600F GRIZZLY ATV
YFM600FWAK 1998 600 YFM600FWA GRIZZLY ATV
YFM600FWAKC 1998 600 YFM600FWA GRIZZLY (Cal) ATV
YFM600FWAL 1999 600 YFM600FWA GRIZZLY ATV
YFM600FWALC 1999 600 YFM600FWA GRIZZLY (Cal) ATV
YFM600KGR 1998 600 YFM600 Grizzly 600 Green ATV
YFM600L 1999 600 YFM600 Grizzly 600 ATV
YFM660FHP 2002 660 YFM660FH GRIZZLY 660 HUNTER EDITION ATV
YFM660FHRH 2003 660 YFM660FHH GRIZZLY REALTREE HARDWOOD HUNTER ATV
YFM660FHRWL 2003 660 YFM660FHWL GRIZZLY WETLANDS HUNTER EDITION ATV
YFM660FHS 2004 660 YFM660FH GRIZZLY 660-HARDWOODS HUNTER CAMO ATV
YFM660FHSWL 2004 660 YFM660FHWL GRIZZLY 660 AUTO 4X4 WETLAND ATV
YFM660FLES 2004 660 YFM660FLE GRIZZLY 660 AUTO 4X4 LIMITED EDITION ATV
YFM660FP 2002 660 YFM660F GRIZZLY ATV
YFM660FP_SE 2002 660 YFM660F GRIZZLY Special Edition ATV
YFM660FPS 2002 660 YFM660FS GRIZZLY 660 SILVER ATV
YFM660FR 2003 660 YFM660F GRIZZLY 660 ATV
YFM660FR-GY 2003 660 YFM660FGY GRIZZLY 660 4X4 METALLIC TITANIUM ATV
YFM660FS 2004 660 YFM660F GRIZZLY 660 ATV
YFM660RLER 2003 660 YFM660RLE RAPTOR BLACK LIMITED EDITION ATV
YFM660RLES 2004 660 YFM660RLE RAPTOR LIMITED EDITION BLACK ATV
YFM660RN 2001 660 YFM660R RAPTOR ATV
YFM660RNC 2001 660 YFM660R RAPTOR (Cal) ATV
YFM660RP 2002 660 YFM660R RAPTOR ATV
YFM660RPB 2002 660 YFM660RB RAPTOR Limited Edition - Black ATV
YFM660RR 2003 660 YFM660R RAPTOR 660R ATV
YFM660RS 2004 660 YFM660R RAPTOR 660 ATV
YFM660RT 2005 660 YFM660R RAPTOR 660 ATV
YFM66FAHT 2005 660 YFM66FAH GRIZZLY 660 HUNTER ATV
YFM66FAHWT 2005 660 YFM66FAHW GRIZZLY 660 HUNTER WETLAND ATV
YFM66FAT 2005 660 YFM66FA GRIZZLY 660 ATV
YFM80D 1992 80 YFM80 BADGER ATV
YFM80E 1993 80 YFM80 BADGER ATV
YFM80F 1994 80 YFM80 BADGER ATV
YFM80G 1995 80 YFM80 BADGER ATV
YFM80H 1996 80 YFM80 BADGER ATV
YFM80HN 2001 80 YFM80H BADGER REALTREE HUNTER ATV
YFM80J 1997 80 YFM80 BADGER ATV
YFM80K 1998 80 YFM80 BADGER ATV
YFM80L 1999 80 YFM80 BADGER ATV
YFM80M 2000 80 YFM80 BADGER ATV
YFM80MC 2000 80 YFM80 BADGER (Cal) ATV
YFM80N 1985 80 YFM80 BADGER ATV
YFM80N1 2001 80 YFM80 BADGER ATV
YFM80N1C 2001 80 YFM80 BADGER (Cal) ATV
YFM80RP 2002 80 YFM80R RAPTOR 80 ATV
YFM80RT 2005 80 YFM80R RAPTOR 80 ATV
YFM80S 1986 80 YFM80 BADGER ATV
YFM80T 1987 80 YFM80 BADGER ATV
YFM80U 1988 80 YFM80 BADGER ATV
YFM80WP 2002 80 YFM80W RAPTOR ATV
YFM80WR 2003 80 YFM80W RAPTOR 80 ATV
YFM80WS 2004 80 YFM80W RAPTOR 80 ATV
YFP350U 1988 350 YFP350 TERRA PRO ATV
YFS200A 1990 200 YFS200 BLASTER ATV
YFS200B 1991 200 YFS200 BLASTER ATV
YFS200B-MNH 1991 200 YFS200 BLASTER Maine and New Hampshire ATV
YFS200D 1992 200 YFS200 BLASTER ATV
YFS200D-MNH 1992 200 YFS200 BLASTER Maine and New Hampshire ATV
YFS200E 1993 200 YFS200 BLASTER ATV
YFS200EMNH 1993 200 YFS200 BLASTER Maine and New Hampshire ATV
YFS200F 1994 200 YFS200 BLASTER ATV
YFS200FMNH 1994 200 YFS200 BLASTER Maine and New Hampshire ATV
YFS200G 1995 200 YFS200 BLASTER ATV
YFS200G-MNH 1995 200 YFS200 BLASTER Maine and New Hampshire ATV
YFS200H 1996 200 YFS200 BLASTER ATV
YFS200H-MNH 1996 200 YFS200 BLASTER Maine and New Hampshire ATV
YFS200J 1997 200 YFS200 BLASTER ATV
YFS200J-MNH 1997 200 YFS200 BLASTER Maine and New Hampshire ATV
YFS200K 1998 200 YFS200 BLASTER ATV
YFS200K-R 1998 200 YFS200 BLASTER - R ATV
YFS200L 1999 200 YFS200 BLASTER ATV
YFS200M 2000 200 YFS200 BLASTER ATV
YFS200M-L 2000 200 YFS200 BLASTER - L ATV
YFS200N 2001 200 YFS200 BLASTER ATV
YFS200P 2002 200 YFS200 BLASTER ATV
YFS200R 2003 200 YFS200 BLASTER ATV
YFS200S 2004 200 YFS200 BLASTER ATV
YFS200T 2005 200 YFS200 BLASTER ATV
YFS200U 1988 200 YFS200 BLASTER ATV
YFS200W 1989 200 YFS200 BLASTER ATV
YFU1TW 1989 230 YFU1T Pro-Hauler ATV
YFU1W 1989 230 YFU1 Pro-Hauler ATV
YFZ350A 1990 350 YFZ350 BANSHEE ATV
YFZ350B 1991 350 YFZ350 BANSHEE ATV
YFZ350B-MNH 1991 350 YFZ350 BANSHEE Maine and New Hampshire ATV
YFZ350D 1992 350 YFZ350 BANSHEE ATV
YFZ350D-MNH 1992 350 YFZ350 BANSHEE Maine and New Hampshire ATV
YFZ350E 1993 350 YFZ350 BANSHEE ATV
YFZ350E-MNH 1993 350 YFZ350 BANSHEE Maine and New Hampshire ATV
YFZ350F 1994 350 YFZ350 BANSHEE ATV
YFZ350F-MNH 1994 350 YFZ350 BANSHEE Maine and New Hampshire ATV
YFZ350G 1995 350 YFZ350 BANSHEE ATV
YFZ350G_MNH 1995 350 YFZ350 BANSHEE Maine and New Hampshire ATV
YFZ350H 1996 350 YFZ350 BANSHEE ATV
YFZ350H_MNH 1996 350 YFZ350 BANSHEE Maine and New Hampshire ATV
YFZ350J 1997 350 YFZ350 BANSHEE ATV
YFZ350J_MNH 1997 350 YFZ350 BANSHEE Maine and New Hampshire ATV
YFZ350K 1998 350 YFZ350 BANSHEE ATV
YFZ350L 1999 350 YFZ350 BANSHEE ATV
YFZ350LER 2003 350 YFZ350LE BANSHEE LIMITED EDITION ATV
YFZ350LES 2004 350 YFZ350LE BANSHEE LIMITED EDITION ATV
YFZ350M 2000 350 YFZ350 BANSHEE ATV
YFZ350M-W 2000 350 YFZ350 BANSHEE - M ATV
YFZ350N 2001 350 YFZ350 BANSHEE ATV
YFZ350P 2002 350 YFZ350 BANSHEE ATV
YFZ350R 2003 350 YFZ350 BANSHEE ATV
YFZ350S 2004 350 YFZ350 BANSHEE ATV
YFZ350T 1987 350 YFZ350 BANSHEE ATV
YFZ350T1 2005 350 YFZ350 BANSHEE ATV
YFZ350U 1988 350 YFZ350 BANSHEE ATV
YFZ350W 1989 350 YFZ350 BANSHEE ATV
YFZ450LES 2004 450 YFZ450LE YFZ450 LIMITED EDITION ATV
YFZ450S 2004 450 YFZ450 ATV
YFZ450T 2005 450 YFZ450 ATV
YG1 1963 80 YG1 Trailmaster Street
YG1K 1964 80 YG1 Trailmaster Street
YG1T 1963 80 YG1 Trailmaster Dual-Purpose
YG1TK 1964 80 YG1 Trailmaster Dual-Purpose
YG5S 1969 80 YG5S Dual-Purpose
YG5T 1968 80 YG5T Trailmaster 80 Dual-Purpose
YJ1 1964 60 YJ1 Riverside 55 Street
YJ1K 1964 60 YJ1K Street
YJ2 1965 60 YJ2 Campus 60 Street
YJ2S 1965 60 YJ2S Street
YJ50RAP 2002 50 YJ50RA Vino Classic Scooter
YJ50RAR 2003 50 YJ50RA Vino Classic Scooter
YJ50RN 2001 50 YJ50RA Vino Scooter
YJ50RP 2002 50 YJ50RA Vino Scooter
YJ50RR 2003 50 YJ50RA Vino Scooter
YL1 1966 100 YL1 Twin Jet 100 Street
YL1E 1967 100 YL1 Twin Jet Electra Street
YL2 1967 100 YL2 Rotary Jet 100 Street
YL2C 1967 100 YL2C Trailmaster 100 Dual-Purpose
YL2CM 1968 100 YL2CM Trailmaster 100 Dual-Purpose
YM2C 1967 305 YM2C Big Bear Scambler 305 Dual-Purpose
YP10G N/A 10 YP10G Pump
YP10G-0 2000 10 YP10G 2000 Pump
YP10G-8 1998 10 YP10G (1998) Pump
YP20G N/A 20 YP20G Pump
YP20GA N/A 20 YP20GA Pump
YP20GN N/A 20 YP20GN Pump
YP20GX N/A 20 YP20GX Pump
YP20GX-0 2000 20 YP20GX 2000 Pump
YP20NT N/A 20 YP20NT Pump
YP20TA N/A 20 YP20TA Pump
YP30G N/A 30 YP30G Pump
YP30GA N/A 30 YP30GA Pump
YP30NT N/A 30 YP30NT Pump
YP30T N/A 30 YP30T Pump
YR1 1967 350 YR1 GrandPrix 350 Street
YR2 1968 350 YR2 Grand Prix 350 Street
YR2C 1968 350 YR2C Grand Prix Scambler 350 Street
YS220 N/A 2 YS220 Snowblower
YS624T N/A 6 YS624T Snowblower
YS624T/TE N/A 6 YS624T/TE Snowblower
YS624TEN N/A 6 YS624TEN Snowblower
YS624TM N/A 6 YS624TM Snowblower
YS828T/TE N/A 8 YS828T/TE Snowblower
YS828TEN N/A 8 YS828TEN Snowblower
YS828TM N/A 8 YS828TM Snowblower
YSR50A 1990 50 YSR50 Street
YSR50B 1991 50 YSR50 Street
YSR50D 1992 50 YSR50 Street
YSR50T 1987 50 YSR50 Street
YSR50U 1988 50 YSR50 Street
YSR50W 1989 50 YSR50 Street
YSR80A 1990 80 YSR80 Street
YSR80B 1991 80 YSR80 Street
YT125G 1980 125 YT125 ATV
YT125H 1981 125 YT125 ATV
YT125J 1982 125 YT125 ATV
YT125K 1983 125 YT125 ATV
YT125L 1984 125 YT125 ATV
YT125N 1985 125 YT125 ATV
YT175J 1982 175 YT175 ATV
YT175K 1983 175 YT175 ATV
YT3600M N/A 3600 YT3600M Tractor
YT3600N N/A 3600 YT3600N Tractor
YT3600P N/A 3600 YT3600P Tractor
YT5700P N/A 5700 YT5700P Tractor
YT60L 1984 60 YT60 TRI-ZINGER ATV
YT60N 1985 60 YT60 TRI-ZINGER ATV
YT6800N N/A 6800 YT6800N Tractor
YT6800P N/A 6800 YT6800P Tractor
YTM200EK 1983 200 YTM200E ATV
YTM200EL 1984 200 YTM200E YAMAHAHAULER ATV
YTM200ERN 1985 200 YTM200ER TRI-MOTO ATV
YTM200ERS 1986 200 YTM200ER TRI-MOTO ATV
YTM200K 1983 200 YTM200 TRI-MOTO ATV
YTM200L 1984 200 YTM200 TRI-MOTO ATV
YTM200N 1985 200 YTM200 TRI-MOTO ATV
YTM200S 1986 200 YTM200 TRI-MOTO ATV
YTM225DRN 1985 225 YTM225DR TRI-MOTO ATV
YTM225DRS 1986 225 YTM225DR TRI-MOTO 4-STROKE ATV
YTM225DRT 1987 225 YTM225DR TRI-MOTO 4-STROKE ATV
YTM225DXK 1983 225 YTM225DX TRI-MOTO 225DX ATV
YTM225DXL 1984 225 YTM225DX TRI-MOTO 225DX ATV
YTM225DXN 1985 225 YTM225DX TRI-MOTO 225DX ATV
YTZ250N 1985 250 YTZ250 TRI-Z ATV
YTZ250S 1986 250 YTZ250 TRI-Z ATV
YW50P 2002 50 YW50P Zuma Scooter
YW50R 2003 50 YW50P Zuma Scooter
YX600A 1990 600 YX600 RADIAN Street
YX600AC 1990 600 YX600 RADIAN (Cal) Street
YX600B 1991 600 YX600 RADIAN Street
YX600S 1986 600 YX600 RADIAN Street
YX600SC 1986 600 YX600 RADIAN (Cal) Street
YX600T 1987 600 YX600 RADIAN Street
YX600TC 1987 600 YX600 RADIAN (Cal) Street
YX600U 1988 600 YX600 RADIAN Street
YX600UC 1988 600 YX600 RADIAN (Cal) Street
YX600W 1989 600 YX600 RADIAN Street
YX600WC 1989 600 YX600 RADIAN (Cal) Street
YZ100C 1976 100 YZ100 Competition Motocross
YZ100D 1977 100 YZ100 Competition Motocross
YZ100E 1978 100 YZ100 Competition Motocross
YZ100F 1979 100 YZ100 Competition Motocross
YZ100G 1980 100 YZ100 Competition Motocross
YZ100H 1981 100 YZ100 Competition Motocross
YZ100J 1982 100 YZ100 Competition Motocross
YZ100K 1983 100 YZ100 Competition Motocross
YZ125A 1974 125 YZ125 Competition Motocross
YZ125A1 1990 125 YZ125 Competition Motocross
YZ125B 1975 125 YZ125 Competition Motocross
YZ125B1 1991 125 YZ125 Competition Motocross
YZ125C 1976 125 YZ125 Competition Motocross
YZ125D 1977 125 YZ125 Competition Motocross
YZ125D1 1992 125 YZ125 Competition Motocross
YZ125E 1978 125 YZ125 Competition Motocross
YZ125E1 1993 125 YZ125 Competition Motocross
YZ125F 1979 125 YZ125 Competition Motocross
YZ125F1 1994 125 YZ125 Competition Motocross
YZ125G 1980 125 YZ125 Competition Motocross
YZ125G1 1995 125 YZ125 Competition Motocross
YZ125H 1981 125 YZ125 Competition Motocross
YZ125H1 1996 125 YZ125 Competition Motocross
YZ125J 1982 125 YZ125 Competition Motocross
YZ125J1 1997 125 YZ125 Competition Motocross
YZ125K 1983 125 YZ125 Competition Motocross
YZ125K1 1998 125 YZ125 Competition Motocross
YZ125L 1984 125 YZ125 Competition Motocross
YZ125L1 1999 125 YZ125 Competition Motocross
YZ125M 2000 125 YZ125 Competition Motocross
YZ125N 1985 125 YZ125 Competition Motocross
YZ125N1 2001 125 YZ125 Competition Motocross
YZ125P 2002 125 YZ125 Competition Motocross
YZ125R 2003 125 YZ125 Competition Motocross
YZ125S 1986 125 YZ125 Competition Motocross
YZ125S1 2004 125 YZ125 Competition Motocross
YZ125T 1987 125 YZ125 Competition Motocross
YZ125T1 2005 125 YZ125 Competition Motocross
YZ125U 1988 125 YZ125 Competition Motocross
YZ125W 1989 125 YZ125 Competition Motocross
YZ125X 1976 125 YZ125X Competition Motocross
YZ175C 1976 175 YZ175 Competition Motocross
YZ250A 1974 250 YZ250 Competition Motocross
YZ250A1 1990 250 YZ250 Competition Motocross
YZ250B 1975 250 YZ250 Competition Motocross
YZ250B1 1991 250 YZ250 Competition Motocross
YZ250C 1976 250 YZ250 Competition Motocross
YZ250D 1977 250 YZ250 Competition Motocross
YZ250D1 1992 250 YZ250 Competition Motocross
YZ250E 1978 250 YZ250 Competition Motocross
YZ250E1 1993 250 YZ250 Competition Motocross
YZ250F 1979 250 YZ250 Competition Motocross
YZ250F1 1994 250 YZ250 Competition Motocross
YZ250FN 2001 250 YZ250F Competition Motocross
YZ250FP 2002 250 YZ250F Competition Motocross
YZ250FR 2003 250 YZ250F Competition Motocross
YZ250FS 2004 250 YZ250F Competition Motocross
YZ250G 1980 250 YZ250 Competition Motocross
YZ250G1 1995 250 YZ250 Competition Motocross
YZ250H 1981 250 YZ250 Competition Motocross
YZ250H1 1996 250 YZ250 Competition Motocross
YZ250J 1982 250 YZ250 Competition Motocross
YZ250J1 1997 250 YZ250 Competition Motocross
YZ250K 1983 250 YZ250 Competition Motocross
YZ250K1 1998 250 YZ250 Competition Motocross
YZ250L 1984 250 YZ250 Competition Motocross
YZ250L1 1999 250 YZ250 Competition Motocross
YZ250M 2000 250 YZ250 Competition Motocross
YZ250N 1985 250 YZ250 Competition Motocross
YZ250N1 2001 250 YZ250 Competition Motocross
YZ250P 2002 250 YZ250 Competition Motocross
YZ250R 2003 250 YZ250 Competition Motocross
YZ250S 1986 250 YZ250 Competition Motocross
YZ250S1 2004 250 YZ250 Competition Motocross
YZ250T 1987 250 YZ250 Competition Motocross
YZ250T1 2005 250 YZ250 Competition Motocross
YZ250U 1988 250 YZ250 Competition Motocross
YZ250W 1989 250 YZ250 Competition Motocross
YZ250WRA 1990 250 YZ250WR Competition Motocross
YZ250WRW 1989 250 YZ250WR Competition Motocross
YZ360A 1974 360 YZ360 Competition Motocross
YZ360B 1975 360 YZ360 Competition Motocross
YZ400C 1976 400 YZ400 Competition Motocross
YZ400D 1977 400 YZ400 Competition Motocross
YZ400E 1978 400 YZ400 Competition Motocross
YZ400F 1979 400 YZ400 Competition Motocross
YZ400FK 1998 400 YZ400F MOTOCROSS 4-STROKE Motocross
YZ400FL 1999 400 YZ400F MOTOCROSS 4-STROKE Motocross
YZ426FM 2000 426 YZ426F MOTOCROSS 4-STROKE Motocross
YZ426FN 2001 426 YZ426F MOTOCROSS 4-STROKE Motocross
YZ426FP 2002 426 YZ426F MOTOCROSS 4-STROKE Motocross
YZ450FR 2003 450 YZ450F MOTOCROSS 4-STROKE Motocross
YZ450FS 2004 450 YZ450F MOTOCROSS 4-STROKE Motocross
YZ465G 1980 465 YZ465 Competition Motocross
YZ465H 1981 465 YZ465 Competition Motocross
YZ490A 1990 490 YZ490 Motocross Motocross
YZ490J 1982 490 YZ490 Motocross Motocross
YZ490K 1983 490 YZ490 Motocross Motocross
YZ490L 1984 490 YZ490 Motocross Motocross
YZ490N 1985 490 YZ490 Motocross Motocross
YZ490S 1986 490 YZ490 Motocross Motocross
YZ490T 1987 490 YZ490 Motocross Motocross
YZ490U 1988 490 YZ490 Motocross Motocross
YZ490W 1989 490 YZ490 Motocross Motocross
YZ50G 1980 50 YZ50 Motocross
YZ60H 1981 50 YZ50 Motocross
YZ60J 1982 50 YZ50 Motocross
YZ60K 1983 50 YZ50 Motocross
YZ80A 1974 80 YZ80 Competition Motocross
YZ80A1 1990 80 YZ80 Competition Motocross
YZ80B 1975 80 YZ80 Competition Motocross
YZ80B1 1991 80 YZ80 Competition Motocross
YZ80C 1976 80 YZ80 Competition Motocross
YZ80D 1977 80 YZ80 Competition Motocross
YZ80D1 1992 80 YZ80 Competition Motocross
YZ80E 1978 80 YZ80 Competition Motocross
YZ80E1 1993 80 YZ80 Competition Motocross
YZ80F 1979 80 YZ80 Competition Motocross
YZ80F1 1994 80 YZ80 Competition Motocross
YZ80G 1980 80 YZ80 Competition Motocross
YZ80G1 1995 80 YZ80 Competition Motocross
YZ80H 1981 80 YZ80 Competition Motocross
YZ80H1 1996 80 YZ80 Competition Motocross
YZ80J 1982 80 YZ80 Competition Motocross
YZ80J1 1997 80 YZ80 Competition Motocross
YZ80K 1983 80 YZ80 Competition Motocross
YZ80K1 1998 80 YZ80 Competition Motocross
YZ80L 1984 80 YZ80 Competition Motocross
YZ80L1 1999 80 YZ80 Competition Motocross
YZ80M 2000 80 YZ80 Competition Motocross
YZ80N 1985 80 YZ80 Competition Motocross
YZ80N1 2001 80 YZ80 Competition Motocross
YZ80S 1986 80 YZ80 Competition Motocross
YZ80T 1987 80 YZ80 Competition Motocross
YZ80U 1988 80 YZ80 Competition Motocross
YZ80W 1989 80 YZ80 Competition Motocross
YZ85P 2002 85 YZ85 Motocross
YZ85R 2003 85 YZ85 Motocross
YZ85S 2004 85 YZ85 Motocross
YZ85T 2005 85 YZ85 Motocross
YZF1000RH 1996 1000 YZF1000R Sport
YZF1000RJC 1997 1000 YZF1000R (Cal) Sport
YZF10RJB 1997 1000 YZF1000R Sport
YZF10RK-L 1998 1000 YZF1000R Sport
YZF350RB 2003 350 YZF350B BANSHEE LIMITED EDITION ATV
YZF600RG 1995 600 YZF600R Sport
YZF600RH 1996 600 YZF600R Sport
YZF600RH2 1996 600 YZF600R-2 Sport
YZF600RHC 1996 600 YZF600R (Cal) Sport
YZF600RJ-B 1997 600 YZF600R Sport
YZF600RJC 1997 600 YZF600R (Cal) Sport
YZF600RK-B 1998 600 YZF600R Sport
YZF600RKC 1998 600 YZF600R (Cal) Sport
YZF600RLC 1999 600 YZF600R (Cal) Sport
YZF600RL-L 1999 600 YZF600R Sport
YZF600RMC 2000 600 YZF600R (Cal) Sport
YZF600RM-L 2000 600 YZF600R Sport
YZF600RN 2001 600 YZF600R Sport
YZF600RNC 2001 600 YZF600R (Cal) Sport
YZF600RP 2002 600 YZF600R Sport
YZF600RPC 2002 600 YZF600R (Cal) Sport
YZF600RR 2003 600 YZF600R Sport
YZF750RE 1993 750 YZF750R Sport
YZF750RF 1994 750 YZF750R Sport
YZF750RFC 1994 750 YZF750R (Cal) Sport
YZF750RG 1995 750 YZF750R Sport
YZF750RH 1996 750 YZF750R Sport
YZF750RHC 1996 750 YZF750R (Cal) Sport
YZF750RJ 1997 750 YZF750R Sport
YZF750RJC 1997 750 YZF750R (Cal) Sport
YZF750RK 1998 750 YZF750R Sport
YZF750RKC 1998 750 YZF750R (Cal) Sport
YZF750SPE 1993 750 YZF750 Special Sport
YZF750SPF 1994 750 YZF750 Special Sport
YZFR1K 1998 1000 YZF-R1 Sport
YZFR1KC 1998 1000 YZF-R1 (Cal) Sport
YZFR1LC 1999 1000 YZF-R1 (Cal) Sport
YZFR1L-L 1999 1000 YZF-R1 Sport
YZFR1MC 2000 1000 YZF-R1 (Cal) Sport
YZFR1M-L 2000 1000 YZF-R1 Sport
YZFR1N 2001 2001 1000 YZF-R1 Sport
YZFR1NC 2001 1000 YZF-R1 (Cal) Sport
YZF-R1P 2002 1000 YZF-R1 Sport
YZFR1R 2003 1000 YZF-R1 Sport
YZFR1R(SP) 2003 1000 YZF-R1 Special Sport
YZFR1SN 2001 1000 YZF-R1S CHAMPIONS LIMITED EDITION Sport
YZFR1SNC 2001 1000 YZF-R1S CHAMPIONS LIMITED EDITION (Cal) Sport
YZFR6L 1999 600 YZF-R6 Sport
YZFR6LC 1999 600 YZF-R6 (Cal) Sport
YZFR6MC 2000 600 YZF-R6 (Cal) Sport
YZFR6M-L 2000 600 YZF-R6 Sport
YZFR6N 2001 600 YZF-R6 Sport
YZFR6NC 2001 600 YZF-R6 (Cal) Sport
YZF-R6P 2002 600 YZF-R6 Sport
YZFR6SN 2001 600 YZF-R6S CHAMPIONS LIMITED EDITION Sport
YZFR6SNC 2001 600 YZF-R6S CHAMPIONS LIMITED EDITION (Cal) Sport
Z150TXRA 2002 2600 150hp 2-stroke HPDI 2.6L Outboard
Z150TXRB 2003 2600 150hp 2-stroke HPDI 2.6L Outboard
Z150TXRY 2000 2600 150hp 2-stroke HPDI 2.6L Outboard
Z150TXRZ 2001 2600 150hp 2-stroke HPDI 2.6L Outboard
Z175TXRA 2002 2600 175hp 2-stroke HPDI 2.6L Outboard
Z175TXRB 2003 2600 175hp 2-stroke HPDI 2.6L Outboard
Z175TXRZ 2001 2600 175hp 2-stroke HPDI 2.6L Outboard
Z200TXRA 2002 2600 200hp 2-stroke HPDI 2.6L Outboard
Z200TXRB 2003 2600 200hp 2-stroke HPDI 2.6L Outboard
Z200TXRY 2000 2600 200hp 2-stroke HPDI 2.6L Outboard
Z200TXRZ 2001 2600 200hp 2-stroke HPDI 2.6L Outboard
Z250TXRB 2003 3300 250hp 2-stroke HPDI 3.3L Outboard